East Sumba Regent Gidion Mbilijora: There are No Human Rights Violations
The opening of sugarcane plantations in East Sumba, East Nusa Tenggara, by Muria Sumba Manis (MSM), a company affiliated with the Djarum and Wings groups, sparked conflicts with some Marapu followers.
Edition : 28 September 2020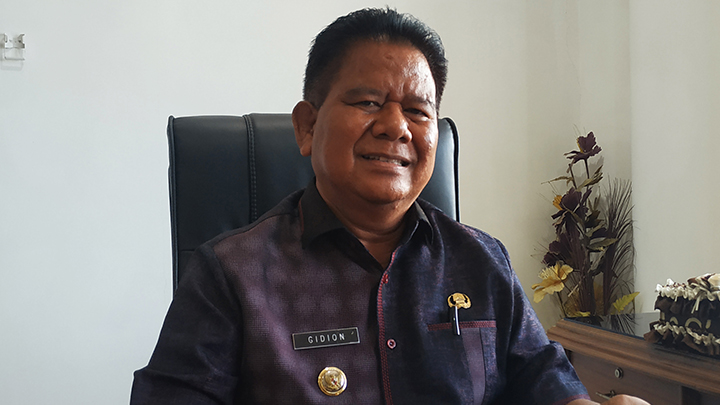 ALTHOUGH several institutions have criticized the East Sumba Regency administration and MSM's treatment towards the worshippers, sugarcane planting is still ongoing. Thus, frictions between the Marapus and MSM also continue. East Sumba Regent Gidion Mbilijora spoke with Tempo reporter Budiarti Utami Putri in his office on Thursday, August 13. Gidion was confident that the permit for MSM was issued according to procedures.
What is the government's consideration in handing out a permit to MSM?
We consider regional economic growth which also has an impact on people's incomes. Based on this, we accepted MSM's investment plans. That land is able to produce good sugar. After it was ongoing, some frictions indeed occurred.
What kinds of friction?
It began with uang sirih pinang (a customary money gift). There are many clans here. Every clan is again divided into several tribes. There are people who feel left behind because they didn't get their share of sirih pinang. At the plantation there is also a place for prayer for the Marapu faith.
We received information that there was manipulation surrounding the uang sirih pinang.
Actually, there is no real need for uang sirih pinang. But maybe there was an agreement between the company and the community. The regional administration was not involved. Managing uang sirih pinang is not our job.
The education and culture ministry has also sent a letter regarding the existence of the Marapu community.
The ministry has to do with culture. The destruction of the ritual site was not done on purpose. There was already an agreement to issue a permit, and that's why the land was developed. However, we are still trying to exclude land claimed as clan ritual sites from the plantation.
The environment and forestry ministry (KLHK) has asked you to give reprimands to MSM due to alleged violations of plantation zoning. How have you followed up on this?
It's true that there was a KLHK recommendation letter, and that has been followed up. We invited them to check it out for themselves. After that was done, it turned out that some things in the recommendation letter were inaccurate. Meanwhile, some of the letter's recommendations have already been carried out.
You are reported to the Ombudsman of the Republic of Indonesia for disregarding those two aforementioned letters.
We have already been summoned and given our explanations, including on the accusations of human rights violations. The National Human Rights Commission (Komnas HAM) has even been here to check on the alleged violations. And there were none.
What about accusations of cutting off people's access to worship?
Where is the potential for violation? I believe it's not there. Even if they speak about tanah ulayat (communal customary land), there are no ownership certificates. There is no structure of customary land. Only after plantation activities started did they mention prayer sites. In fact, no one goes there to pray.
Why isn't that area protected by the government?
It is true that people used to pray there. We respect that as part of the culture. However, we cannot obstruct investments based on this. This is also for the good of people at large.
Did you write to MSM and ask them not to cut trees in 2016?
We have asked that after there was some tree cutting, even though it was within their zoning. Primary natural forests there are used as a source for spring water. We will surely give out sanctions if MSM violates that.