Civil Society After #Reformasi Corrupted
Robertus Robet Sociologist, Jakarta State University
Edition : 28 September 2020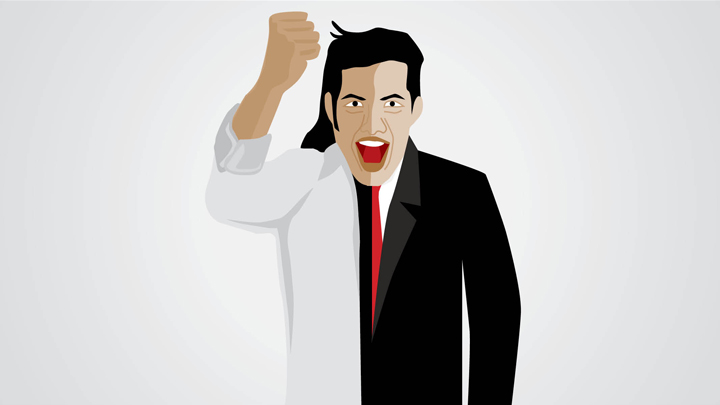 ONE YEAR ago on September 23, 2019, there emerged a movement called #ReformasiDikorupsi—#Reformasi Has Been Corrupted. It was very short-lived. Some even consider it a failed movement because none of its demands came to fruition. For one, it did not succeed in flunking government's plan to revise the Corruption Eradication Commission Law which amputated many of the Commission's powers, pulling out the oomph in an institution that had contained so much hope for Reformasi.
Yet for me, #ReformasiDikorupsi held a larger significance than a mere bunch of failed demands. The one-moment movement succeeded in provoking the birth of a new civil society generation in Indonesia.
To understand this, we need to take a look at the civil society situation of the past decade. In 2012, Marcus Mietzner identified signs of stagnation in democracy in Indonesia. He found that most Indonesians in general held strong aspirations for democracy. Indonesia, according to Mietzner, also had a robust civil society, one that could waylay the flux of democratic decay from further deterioration.
According to Mietzner, the stagnation of democracy was more or less caused by an anti-reformist elite who were damaging the post-New Order democratic political constructs. Worse, Indonesian civil society was practically working singlehandedly, trying to uphold that constuct named democracy, as a result of—and quoting from a study by Ed Aspinall—a shift in donor policy, who had reallocated their programs from civil society to government institutions.
The donor community considered that democracy in Indonesia had succeeeded in passing through the eye of the needle, and collaboration with the government was considered more effective and would show the bigger impacts they desired (Mietzner, Democratization, April 2012). Now, eight years later, Mietzner has written a new article in which he concluded Indonesian democratization is greatly worse off. Not only did it deteriorate into stagnation, it went into regression.
Further, and more importantly, he found that civil society in Indonesia had suffered a decline in capacity as a result of political polarization rooted in the presidential elections of 2014 and 2019. This polarization was manipulated by the elite for their own interests. As a result, the capacity of civil society to maintain democracy was hugely debilitated (Mietzner, Democratization, July 2020).
What Mietzner did not focus too much on, was the fact that Joko Widodo's victory in the 2014 general election was a triumph more or less bolstered by a civil society generation in Indonesia. The 2014 general election, it can be said, was an event in which a big cache of civil society went into Joko Widodo's government. It was marked by the attachment of many former activists into government posts, both as public officials and as commissioners in state corporations. As such, the diminution of civil society was not merely the fruit of polarisation, rather it was a political paradox resulting from accomodation and cooptation.
What Mietzner detected was mainly accurate: the biggest victim in the 2019 general election was civil society. The ravaging and pressuring piled upon it first began as an upshot of destruction of public discourse dominated by partisan politics, whisperers, and hoax-mongers. The outcome was that public rationale went down the drain, while basic democracy and human rights agendas escaped discussion.
The second impairment was caus-ed by polarization and partisanship, which pushed the camps of the two presidential candidates to put pressure on civil society groups calling for abstention (golput) in the 2019 general election. Surprisingly, the pressure and jeering against abstention and human rights activists was extended by the very activists and intellectuals who originally came from civil society.
Pressure against golput and human rights upholders indicated several things. One, the illusion that democracy and human rights could only be rescued by a presidential election. The illusion emerged because they conveniently forgot the historical fact of persistence failed human rights promises from the prior presidential elections. Neither could they imagine a democracy that could grow with no civil society. Second, there was a certain vain ethic that 'good and just' politics could only exist around state power. Third, they forgot the fact that a healthy democracy can only be guaranteed with a strong civil society in place, and one courageous enough to both stand off against and stand together with the state.
Further, the weakening of civil society did not only spring from differences in political choices in an election, but was also caused by the incapabality of former activists in positions of power to 'provide a public sphere', which allowed space for criticism and nonpartisanship to ensure civil soiety still maintained a true, strong voice. In the 2019 presidential election, many former activists gathered in one camp appeared to lose their 'civilian'ness and instead replicated the behavior of the élites above them.
It was at this point the #ReformasiDikorupsi movement bowed to the behest of history. Noting its agenda and demands, the movement was a planned meeting point between campuses and civil society in many cities. Politically, the movement had moved beyond the redundant political polarization bequeathed by the 2014 and 2019 presidential elections. In the final say, the movement put closure on the generation of old civil society activists. Indeed, it only appeared briefly. But #ReformasiDikorupsi managed to ask new and existential questions regarding the choices made by civil society components in Indonesia, namely: "Where are you?"
In this respect, it was as if #ReformasiDikorupsi offered reconciliation to old civil society players absorbed in political polarization to make their way back home. In other words, while politically it probably made no change whatsoever to the power matrix, socially it created a manner of ethical selection: which ones of you have remained at society's demarcation line, and which have chosen to stay in the lap of power?
Concepts and theories abound regarding what constitutes civil society. In the Indonesian context, civil society emerged in the late 1980s to the 1990s. After Reformasi, it has practically lost all importance. In its heyday, Indonesian civil society emerged as epistemic provision to accompany democratization and a human rights movement in opposition to the authoritarian New Order government. Putting aside complicated and theoretical variations, on a practical level, civil society can basically be grasped as a platform of ethical engagement. Ethical engagement is handed down from demarcation-based politics: are you under state cooptation, or are you leading a free and autonomous existence?
In the New Order, civil society was identified based on this ethical engagement: hand-in-glove with the political regime or exist independent and free. From this demarcation, ideas and demands were put forward and change was made possible. Without distance from power, it is difficult to demand change.
These ethics of engagement later swirled and shifted after Reformasi. Reformasi smashed all the old demarcations and shaped a new manner of space wherein the old civil society actors together with other old actors came together in a new power format. Political parties emerged and former old activists joined them. New state institutions, such as the National Commission for Human Rights, the Corruption Eradication Commission, the Indonesian Ombudsman, and many others, were filled by activists. From here on, the old demarcation and autonomy model provided by ethics in an authoritarian era experienced a total turnaround.
Having said this, the injurious degeneration of democracy and the big wave of disappointment towards Jokowi's government is beginning to push forward new ways of thinking and attitudes about the state among the remaining civil society players. On the one hand, all the pressures and hardships they faced in the past several years have shown up their own weaknesses. On the other hand, this apparently is motivating them to begin taking action by choosing the ethical road based on the demarcation of old: keeping a distance from the state, building autonomy, and refuting intervention.
For sure, they will continue to face certain hardships as a direct result of bad donor politics in Indonesia, which is partisan and has a tendency for cooptation by formal politics. But, looking on the experience of these past few years, even in this Covid-19 pandemic with space becoming ever more restricted, they have continued to be capable of organizing, mobilizing protests, and maintaining a critical stance. Indonesian civil society may rise and fall, but it has always been our last hope and it has proven itself capable of taking on any beating.