Before Rossi Races at Mandalika
The construction of Mandalika International Street Circuit in Lombok allegedly takes over the land of local residents. The authorities are accused of intimidating villagers.
Edition : Monday, October 5, 2020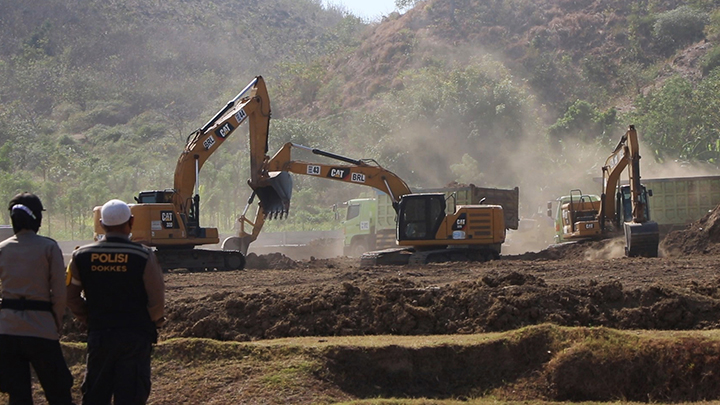 A half-hour meeting took place in the main conference room of the office of the West Nusa Tenggara (NTB) governor in the City of Mataram. A guest from Jakarta, Commissioner Beka Ulung Hapsara from the National Commission on Human Rights (Komnas HAM), got straight to the point, explaining why he and his team had come to Mataram and Central Lombok for three days.
That Wednesday, September 30, was the last day that Beka would be in Lombok. "We asked that the developer of the Mandalika International Street Circuit project temporarily halt its activity on any land which has issues due to not being paid for," said Beka when contacted by Tempo on Friday, October 2.
The Komnas HAM had gone to NTB to follow up on reports made by some residents who claimed to own land in the Mandalika Special Economic Zone in Central Lombok. Pembangunan Pariwisata Indonesia or Indonesia Tourism Development Corporation (ITDC) is currently building a superbike racing circuit for the MotoGP and World Superbike competitions in that area. The development project is valued at Rp800 billion.
Construction of the racetrack is slated for completion in the middle of next year. This is where top racers such as brothers Marc and Alex Marquez, Alex Rins, and even Valentino Rossi, will race to win points in the grand prix season. However, the Mandalika International Street Circuit project which began last year has run into problems with purchasing the needed land.
Beka said that the Mandalika racetrack project can continue operating. He has however asked for a delay on construction on the land for which residents have filed complaints to the Komnas HAM. He hopes that such a pause will make it easier for ITDC to identify the claims being made by those parties.
W251bGwsIjIwMjEtMDUtMTIgMDk6MjY6MDYiXQ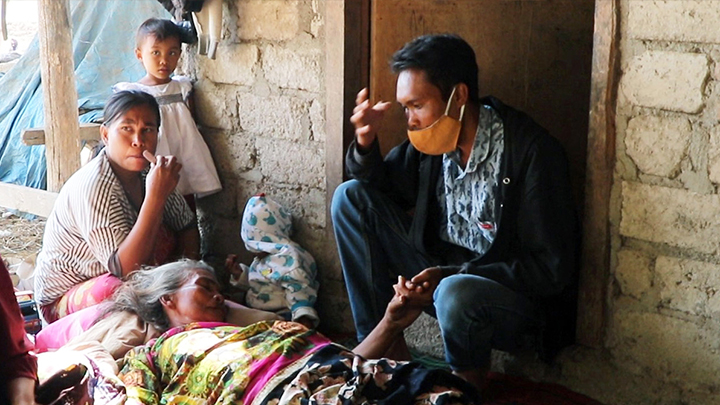 Sibah surrounded by her children after she was fainted learning that her 1.6-hectare plantation was taken over by the Mandalika racetrack project, September 13./Abdul Latif Apriaman
Based on the complaints filed by some residents living in the project area, Beka said there are cases of improperly paid compensation. There are also some who feel that they have not yet been paid, yet their lands have already been leveled. Some of them have already won lawsuits in courts at the appeal level. "At present there are complaints on 16 plots of land which have been submitted to the Komnas HAM," he said.
Based on the records of Komnas HAM, some of the owners and inheritors of land being used for the Mandalika racetrack project include Gema Lazuardi, Amaq Masrup, and Sibawaih. In order to verify the negotiation process, a team from the Komnas HAM is going to visit the Mandalika International Street Circuit project in two weeks.
The arrival of the National Human Rights Commission is eagerly awaited by the family of Amaq Masrup. This man lost 1.6 hectares of land in Ujung hamlet, Kuta village in the Pujut subdistrict. Masrup's land was a part of the planned construction area for the Mandalika racetrack.
A hundred police officers and some other legal authorities swarmed over their land on Saturday, September 12. Masrup and his children tried to fight back, but were outnumbered. Bulldozers flattened his plantation. "We haven't received a single rupiah, and we never sold it," said Masrup's wife, Sibah, a day after the eviction.
Other residents claiming to be the legal inheritors of the land are also getting ready to challenge evictions. This has made Governor Zulkieflimansyah anxious. He is worried there will be further commotion. In that respect, he welcomes the arrival of the Komnas HAM in Lombok as a conflict mediator. "This is in line with the message from the President that this problem be resolved without making a commotion," said the politician from the Justice and Prosperity Party (PKS).
Chief of the NTB Police Department Insp. Gen. Muhammad Iqbal also said that he was pleased by the arrival of the Komnas HAM. The provincial police have formed a verification team for the Mandalika Special Economic Zone construction acceleration task force. "I ordered the joint team to prepare all the data. We are ready to explain it until morning if need be. We are also ready if we are summoned to Jakarta," he said.
ITDC Corporate Secretary Miranti Nasti Rendranti encouraged those who feel that they can prove claims of land ownership to take up the process in court. "The claims in question must be settled or proven in court," said Miranti in her written clarification dated October 2.
• • •
HEAD in hands, Sibah alias Inaq Siti, 60, leaned against a wall in her home. She occasionally watched as some bulldozers were flattening her family's 1.6-hectare plantation. That land is situated on the north side of her bamboo-walled house in Ujung hamlet, Kuta village, Central Lombok.
Sibah has lived and farmed there for decades with her husband, Amaq Masrup. The two of them have been able to raise their five children by working that land. "Most recently we planted tobacco, but now it is all plowed over," she said on September 13.
ITDC is currently on a push to acquire the land it needs in the Pujut subdistrict. The area is being prepared for construction of the Mandalika racetrack, which is referred to as a Special Zone Road (JKK). It covers 130 hectares and is a part of the Mandalika Special Economic Zone which is listed as a strategic national program.
Construction began in October of last year. ITDC claims that it has management rights (HPL) for the region. The land owned by Masrup and Sibah is in a 'super-priority' area, as this land will be used to build the actual race track.
Sibah's son, Sudirman, 29, explained how they came to own that 1.6 hectares. It used to belong to Gowoh, a relative who had no children. Gowoh then bequeathed the land to his nephew, Seratip alias Amaq Kanip.
Masrup purchased that land from Kanip in 1973. A pipil garuda—proof of payment for the land in those days—was issued in 1973 in the name of Amaq Masrup. "The pipil is proof of purchase, and those documents are original and we often showed them, but they were not taken into consideration," said Sudirman.
ITDC is said to ignoring such documents. According to Sudirman, ITDC claims to control that land because it purchased the land from Gowoh in 1993. However, he said, Gowoh died in 1943. "How could Gowoh, who had died in 1943, came back to life and sold his land to ITDC in 1993?" he asked.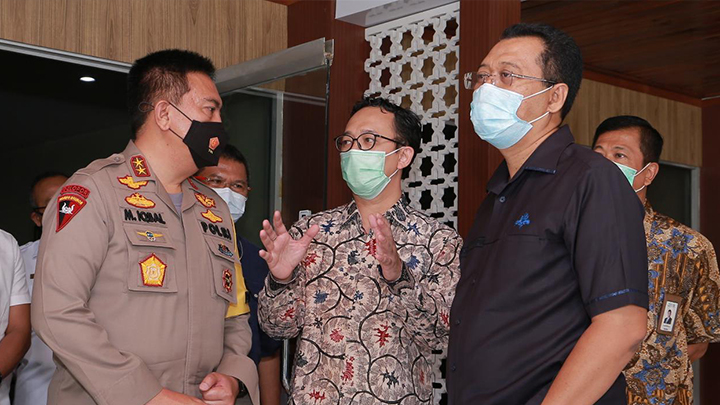 (L-R) West Nusa Tenggara Police Chief Irjen Muhammad Iqbal, Commissioner Beka Ulung Hapsara from the National Commission on Human Rights, and Governor Zulkieflimansyah after the meeting on land conflicts in the Mandalika International Street Circuit project, at the Governor's office in Mataram, West Nusa Tenggara, September 30./Special Photo
Masrup was summoned by the Praya District Court in early 2020. He was found guilty and sentenced to two months imprisonment on the charge of encroaching on ITDC land. However, he won at the appeal level. His life has been uneasy ever since, because police officers have frequently been coming to his hamlet.
Chair of the Verification Team of the Mandalika Special Economic Zone Construction Acceleration Task Force Sr. Adj. Comr. Awan Hariono, said that the land claimed by Masrup's family is in the green zone. This means that the proof claimed by the family is very weak. The team has also categorized some other areas as yellow and red zones, according to the details of the land ownership.
Awan, who is also deputy director of the General Crimes Investigation Directorate at the NTB Police Department, conceded that Masrup purchased that 1.6 hectares of land from Kanip in 1973. However, according to him, Gowoh, the owner of the land, returned home from Malaysia to Kuta in the 1990s. Gowoh, he said, was surprised to find that his nephew had sold his land to Masrup.
As a result, Gowoh sued Kanip and Masrup. It was said that Gowoh always won his lawsuits. "At that time it was found in court that Gowoh was still alive. In order to obtain that inheritance, Kanip had forged a death certificate for Gowoh," said Awan.
Gowoh then sold the land to ITDC in 1993. "Payment has been made in full. Gowoh had rights to the object in question. Masrup was cheated by Kanip," said Awan.
According to Awan, in addition to that 1.6 hectares, Masrup inherited 68 acres or 6,800 square meters of land from Reni, a relative. Of that, 39.5 acres are in ITDC's enclave of land. "We have not touched Masrup's land which is in the enclave," he said.
Due to being actively involved in the evictions, the task force has frequently been accused of intimidating residents. In addition to the police, the task force also consists of personnel from the National Land Agency, district attorney's office, court, Indonesian Military (TNI), regional government representatives, and other institutions.
NTB Police Chief Muhammad Iqbal cited that the task force was formed because of the slow progress being made on that strategic national project. According to him, the task force always values the people's rights. "I have forbidden the team to summon residents to the police office. We talk to the residents nicely. There is no intimidation," he said.
After working for three months, the task force claims that it has encountered some other issues regarding ownership of other land. This includes 4.6 hectares of rice field owned by Sibawaih and 60 acres owned by Gema Lazuardi in Kuta. Their lands also fall in the area planned to be used to build the racetrack.
Speaking to Tempo, Gema said that he purchased land from Amaq Anun in 2014. Anun validated his ownership of that land in Supreme Court Verdict No. 2983/1995. Gema has a receipt for the purchase of the land from Anun and a letter of recognition from the village office.
Gema is in the same boat as Masrup. He has been imprisoned on the charge encroaching upon ITDC land. He also won at the appeal level. The judge said that the land matter fell under civil law.
Oddly, Gema had previously received an offer of Rp2.7 billion from the ITDC to purchase his land. "ITDC had given a written offer. This means that they recognized it as my land," said Gema.
Awan Hariono said that Gema had indeed purchased that land from Amaq Anun in 2014. However, he said, Anun had already sold that land to ITDC for Rp33 million in 1996. Amaq Anun is suspected of reselling the land to Gema in 2014. "This means that Amaq Anun sold it twice. Amaq Anun died early this year," he said.
ITDC Corporate Secretary Miranti Nasti Rendranti said that the lands being claimed by Amaq Masrup and others already fall under the management rights of ITDC. She leaves the resolution of such disputes up to the judges. "We will only provide proof regarding the process of purchasing or the relinquishment of rights as has been done by LTDC/ITDC in a trial process," said Miranti.
Linda Trianita, Abdul Latief Apriaman
(Mataram)