New Rush for Gold
The spike in international gold prices prompts mining corporates to expand businesses. Companies are aggressively exploring for new reserves.
Edition : Monday, October 12, 2020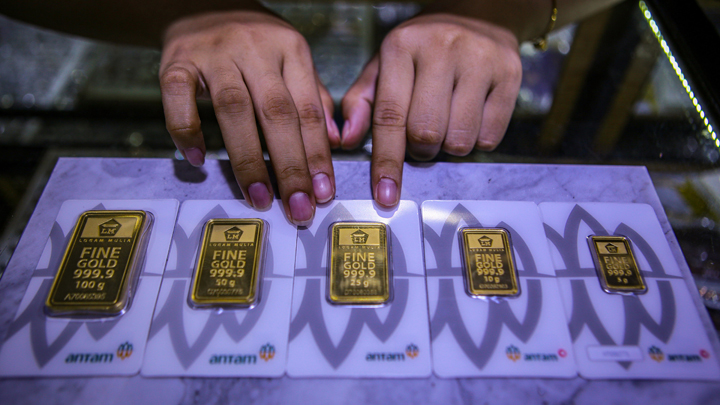 AFTER a long stagnation at Rp50, the share of Bumi Resources (IDX: BUMI) finally inched up to Rp51 on Wednesday, October 7. The price gain came a day after the issuer announced that its subsidiary, Bumi Resources Minerals (IDX: BRMS), was building a new gold processing facility in addition to increasing production and reserves.
Bumi Resources Minerals' Director and Investor Relations Manager Herwin Hidayat said the new refinery is designed to have a capacity of 4,000 tons of gold ore per day, a major expansion from their current operating capacity of 500 tons per day. "We need this factory to increase gold and silver production volume from the mining project in Palu, Central Sulawesi," he said in a public disclosure on October 6.
BMRS will also build supporting facilities as well as add new mining equipment. The company will start drilling for new gold and silver reserves at the work area of another subsidiary, Citra Palu Minerals. The same activities are also planned for Gorontalo Minerals, which recently bagged a permit for gold and copper mining and production. To finance these expansion plans, the company is garnering fresh funds through a pre-emptive rights issue (HMETD). "The plan to increase production is expected to have a positive impact on the company's financial performance," Herwin said.
Gold mining companies are aggressively planning expansions as prices rise across the globe. In mid-2019, gold was still traded for US$1,400 per troy ounce. But prices continue to go on an uptrend with global economic uncertainties that are made worse by the Covid-19 pandemic. Last August, gold price soared above US$2,000. On Friday, October 9, it was traded for US$1,914. In the domestic market, Aneka Tambang has offered gold for Rp1,007,000 per gram, up by Rp3,000 from the day before.
New players in the gold mining sector are also enjoying the price hike, such as United Tractors (IDX: UNTR) which is known for its work as a mining support service contractor, providing heavy equipment. At the end of 2018, the company tapped the gold business by acquiring the Martabe gold mine in North Sumatra managed by Agincourt Resources.
W251bGwsIjIwMjEtMDUtMDggMTQ6MTQ6MTQiXQ
As a new portfolio, Martabe contributed significantly to UNTR's consolidated revenue. In the first half of 2020, the gold mining business contributed Rp4.04 trillion to net income, an increase from Rp3.63 trillion in the same period of 2019. Throughout last year, the gold segment contributed Rp7.7 trillion to United Tractors' revenue.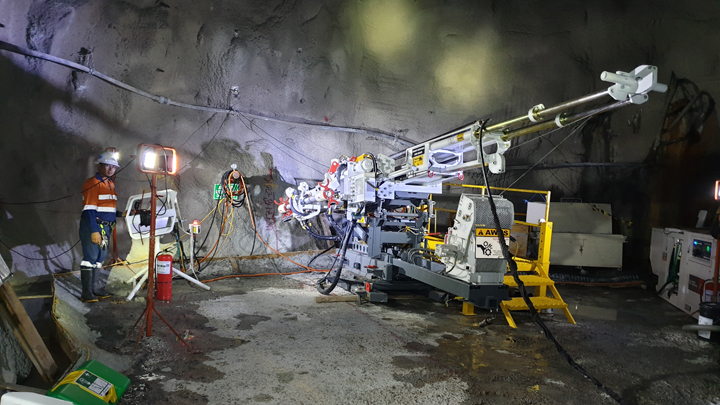 Merdeka Copper Gold's mine/ https://www.linkedin.com/company/pt-merdeka-copper-gold-tbk
The contribution jacked up the company's first semester earnings before taxes to Rp1.7 trillion, about half a trillion more than June 2019's Rp1.27 trillion. For 2020, the company is targeting to sell 255,000 to 300,000 ounces of gold.
For the future, UNTR Chief Executive Officer (CEO) Frans Kesuma said that gold will be one of the company's focuses in the strategy to boost income. "If we find gold mines that match our criteria, we will acquire them," he said on August 25.
For 2021, assuming the pandemic is over by then, the company plans the Martabe project to produce 350,000 ounces of gold. To achieve said goal, UNTR is planning to spend up to Rp800 billion in capital expenditure for the gold mining segment. The amount is equivalent to 22.8 percent of the company's total capex, which was set at Rp3.5 trillion. The rest of it would be allocated for construction machinery and other segments.
Another newcomer, Indika Energy (IDX: INDY), is also in high spirits for gold. Through its subsidiary Indika Mineral Investindo, the company tapped the gold mining business in 2018 after purchasing ownership in Nusantara Resources Ltd, a mining company listed on the Australian Stock Exchange. The company has been acquiring stakes at stages, and right now it has 23.2 percent.
Nusantara Resources is a shareholder of Masmindo Dwi Area. The company has exclusive rights for exploration in Awak Mas in Luwu Regency, South Sulawesi, until 2050. This working area is estimated to have 1.1 million ounces gold ore reserves, with an estimated resource of up to 2 million ounces.
In the capital participation agreement, Indika also has the option to increase ownership—directly or indirectly—up to 52.6 percent. This is a plausible scenario considering Masmindo has contributed US$1.38 million to INDY's revenue, which is 0.12 percent of the company's total income in the first semester of 2020.
Merdeka Copper Gold (IDX: MDKA), the parent company of a number of gold, silver and copper mining firms, also posted positive performances. One of its biggest assets is the Tujuh Bukit gold mine in Banyuwangi, East Java.
As per the first half of 2020, MDKA had booked US$199 million in revenue, a year-on-year increase from US$192 million. In the first half of 2020, the company booked US$35.42 million net profit.
In a virtual public expose on September 15, MDKA CEO Tri Boewono hinted that the company will not only be preparing to expand existing assets, but also new ones. MDKA Corporate Secretary, Adi Adriansyah Sjoekri, added that Merdeka and J Resources Asia Pasifik (IDX: PSAB) were working fast on establishing a joint venture for the Gunung Pani gold mine in Gorontalo—predicted to produce up to 250,000 ounces of gold per year.
Despite all of the excitements, gold mining companies are not without problems. Take Aneka Tambang, for example. The state mining company—part of the mining state-owned enterprises (SOEs) holding Mining Industry Indonesia (MIND ID)—is haunted by the depleting gold reserves in their mining areas.
MIND ID CEO Orias Petrus Moedak had issued a warning over the depletion. "For the next two or three years, Antam's gold reserve will be increasingly reduced," he said at the end of June during a hearing with the House of Representatives' (DPR) Energy Commission. He reminded the need for Antam to cooperate with other companies for mining exploration, in a bid to boost gold reserves.
According to its annual report, Antam is still relying on the Pongkor mine in Bogor, West Java, which produces 1,500-2,000 kilograms of gold per year. Antam also has the Cibaliung mine in Pandeglang, Banten, which can produce 1,000 kilograms of gold.
Last year, the company produced 1,788 kilograms of gold, a very small increase from 2018's 1,783 kilograms. Gold ore reserves at the end of 2019 are estimated to reach 3,439,000 dry metric tons (DMT), while gold ore resources are estimated at 9,187,000 DMT.
Antam is now waiting for a decision from the Energy and Mineral Resources Minister, Arifin Tasrif. Arifin has yet replied to SOEs Minister Erick Thohir, who requested for Antam to be allowed to manage the former working area of Freeport Indonesia in Papua.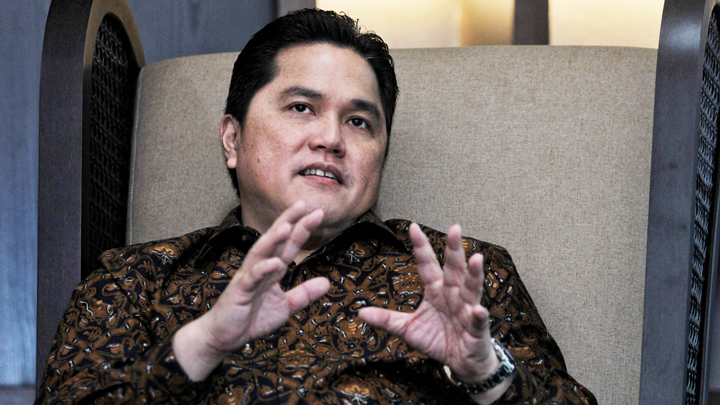 Merdeka Copper Gold's mine/TEMPO/Hilman Fathurrahman
According to Erick, the management of Freeport's former mine by Antam will allow the SOE to be more than just an intermediary, but become a gold miner. "(Antam) has quite a lot of employees, almost 1,000 official employees, but they do not own mines," Erick said during a meeting with the DPR's Industry and Investment Commission in Jakarta, September 22.
Erick did not mention the name and location of the work area. However, Antam Senior Vice President and Corporate Secretary Kunto Hendrapawoko said the company is currently reviewing several prospective areas, such as in the Bintang Mountains area in Papua and Papandayan in West Java.
Kunto said that the company's appointment to manage the former Freeport mine was an initiative by the SOEs ministry, given to Antam through MIND ID. "We welcome the support and opportunity given by the government to manage a prospective gold mine," he said on October 8. "This is an opportunity for us to strengthen the company's gold commodity portfolio."
Freeport Indonesia (IDX: PTFI), now part of MIND ID, is still the biggest player of gold mining in the country. However, PTFI's financial performance in 2019 was less than satisfactory.
Indonesia Asahan Aluminum, which the government appointed in taking Freeport's divested shares, reported in its 2019 statement that PTFI booked US$2.77 billion revenues, or roughly Rp38.7 trillion with the rate of Rp14,800 per US dollar. This was 9 percent more than the company's target of US$2.54 billion. The problem is, the income was consumed by the soaring costs of production, which jumped 20 percent. As a result, last year the company posted a net loss of US$208 million.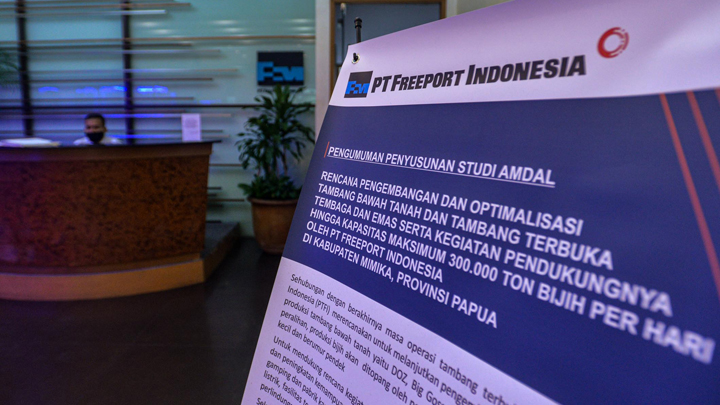 Freeport Indonesia office at Plaza 89, Jakarta, September 9./ Tempo/Tony Hartawan
PTFI spokesperson Riza Pratama said that gold price fluctuations also affected operating costs. Meanwhile, sales and profits are influenced by production volume and commodity prices. Last year, Freeport's copper and gold sales volume fell 41 percent and 58.9 percent, respectively, compared to the previous year. "We are price takers, not price makers. Commodity prices are determined by the market," he said on October 7.
Freeport-McMoRan President & CEO Richard C. Adkerson had also spoken about how 2019's decline was a result of the mining operation transition, from open pit to underground. Referring to Freeport-McMoRan Inc.'s 2019 operations and financial report, Freeport Indonesia's gold production in 2019 was 863,000 ounces, down 64.27 percent from 2018's 2.49 million ounces.
Sales also slumped; from 2.37 million ounces to just 973,000 ounces. The company got a little bit of help from the average sales price of gold in 2019, which rose from US$1,254 per ounce to US$1,416. "PTFI will continue to increase production from its underground mines. Production is expected to increase significantly in 2021," said Adkerson.
Another top miner with slowing performances is Amman Mineral Nusa Tenggara Indonesia, formerly Newmont Nusa Tenggara, the subsidiary of Newmont Mining Corporation. Today, the operator of Batu Hijau and Elang mines in West Nusa Tenggara, is part of Medco Group, which controls 32.34 percent of its shares.
Amman Mineral owns and operates Batu Hijau and Elang in West Sumbawa and Sumbawa Regencies. Batu Hijau is estimated to have 4.2 billion pounds of copper reserves and 3.9 million ounces of gold. Meanwhile, Elang Block is projected to have 10.5 billion pounds of copper and 15.3 million ounces of gold.
Like PTFI, Amman Mineral posted a negative performance. In Medco Energi's first quarter 2020 report, Amman recorded a loss of US$20 million. Medco's profits from the oil, gas and electricity business were forced to compensate for Amman Mineral's losses as the seventh phase of development at Batu Hijau continued. Last year, Amman's loss of US$49 million caused Medco's financial performance to plunge, reaching a minus US$27 million.

Infografis
Amman Mineral spokesperson Kartika Oktaviana said that the recent improvement in commodity prices has started to balance out the situation at the beginning of the year, when prices sunk due to the Covid-19 pandemic. "The price of copper, which is our main product, suffered a huge blow at the beginning of the year," she said on October 7.
Meanwhile, gold prices are projected to continue climbing. Antam Vice President of Precious Metals Sales and Marketing, Iwan Dahlan, said that gold is a special commodity that is constantly associated with the economy, both domestic and global. As the world economy is disturbed by the coronavirus, said Iwan, investors fled to gold as a safe haven to hedge their assets. "That's why prices continue to rise."
The new gold rush has taken everyone by storm, including Warren Buffett, one of the richest man in the world. In the second quarter of 2020, Buffett bought 21 million shares in Barrick Gold Corporation, the second largest gold mining company in the world with a headquarters in Canada. He paid for US$564 million or around Rp7.9 trillion for the shares. His action shocked markets, since Warren—number four at Forbes' richest list—had never invested in gold mines before.
Nevertheless, Iwan said, as gold is a non-renewable mining commodity. Continuous production has caused reserves to run low. Production costs are also becoming more expensive, as operating areas are moving in a direction increasingly difficult to reach. That is why, he added, there are more gold mines closing than ones opening. "Because reserves are decreasing."
It is this need to increase reserves that makes Antam put its hope on the energy minister. Antam wants the mandate to work on the former Freeport area, which has been returned to the state. "As part of MIND ID, Antam will continue to coordinate with MIND ID regarding opportunities that exist," Kunto Hendrapawoko said.
RETNO SULISTYOWATI