Pandemic Management Must be Closely Monitored
Tjandra Yoga Aditama, Professor of Pulmonology and Respiratory Medicine, Faculty of Medicine, University of Indonesia: 
Edition : Monday, October 12, 2020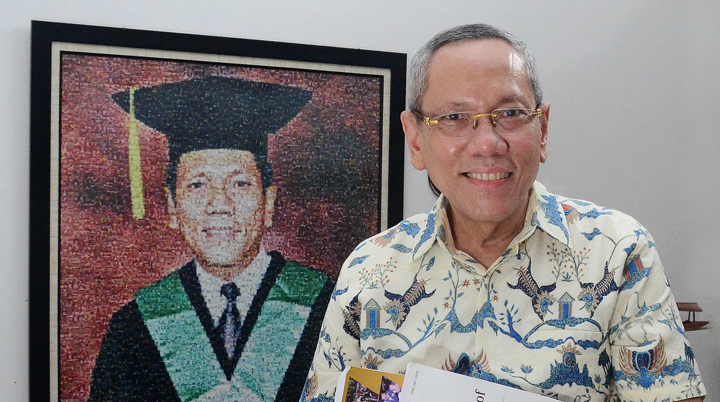 TJANDRA Yoga Aditama has just completed his tenure as World Health Organization (WHO) Southeast Asia's director for communicable diseases on October 1, at the height of the Covid-19 pandemic. Two weeks earlier, he had returned home from New Delhi, India, where he was based for the past five years. He was forced to take a repatriation flight as the Indian government's ban on commercial flights in and out of the Indira Gandhi International Airport was still in effect. "My visa had expired so I was virtually an illegal resident," Tjandra, 65, said with a chuckle during a special interview with Tempo last Thursday, October 8.
Since the end of March, Tjandra observed the stringent lockdown policies introduced by the Indian government. In his neighborhood in Nizamuddin East, he seldom saw people milling about. Tjandra said the polymerase chain reaction (PCR) swab test in India was not as costly as in Indonesia. Two days before his departure, private clinic staff came to his residence at around 10am to swab samples from his nasal and nasal cavities. In less than eight hours, the result came back, negative. "It cost Rp480,000," explained the former echelon I official of the health ministry during the video interview.
As the pandemic raged on, Tjandra was responsible to ensure that health care services for infectious diseases such as tuberculosis (TBC), human immunodeficiency virus (HIV), and malaria went on in the 11 member countries. Although he was not specifically involved in the Covid-19 mitigation which is handled by the director of health security and emergencies, Tjandra followed the news of the Covid-19 situation in Indonesia through news and WhatsApp group chats. He was glad when the government asked for WHO's assistance for the supply of rapid antigen test kits.
During the two-hour chat with Tempo reporters Mahardika Satria Hadi, Nur Alfiyah, and Abdul Manan, Tjandra said the rapid antigen test can help expedite testing and tracing to break the chain of virus transmission. Former chief of the health ministry's health research development agency also talked about vaccine opportunities, the Covid task force, as well as the importance of monitoring the pandemic management. This interview was complemented with a phone conversation on Friday, October 9.
How does the lockdown impact the Covid-19 transmission in India?
I was a bit doubtful at first of whether people could be forced to stay at home. When the nationwide lockdown was in effect, a lot of people indeed stayed at home. But the number of positive cases remained high after the lockdown was lifted and continued to climb after the second and third lockdowns. Eventually, they introduced partial lockdowns. As of today, the international airport in New Delhi is still closed to commercial flights. In the past couple of months, the government began to allow flights from a few countries, the United States among others, under bilateral agreements.
India overtook Brazil as the country with the largest number of Covid positive cases after the US. What actually happened?
India has a population of 1.3 billion with high inequality rate. I think that is one of the reasons why it is hard to keep a lid on the cases. But we must also acknowledge that they do more testing than Indonesia. More testing means more cases found. And the fatality rate is low.
Why is it so?
I can't say for sure but one of the contributing factors may be that the majority of those who got Covid are in the younger age bracket with stronger immunity. But India has also experienced shortages of ICU beds like in Jakarta.
How much are you involved in the pandemic mitigation itself?
I had to get involved whether I like it or not as it is specifically related to the communicable disease directorate. We must continue to handle infectious disease-related matters throughout the pandemic. For example, we must make sure that the immunization programs went on as usual for TBC or HIV patients and they continue to get their medications in spite of the pandemic.
What is the WHO Southeast Asia's support towards the Covid-19 management in the 11 member countries like?
From the start, the WHO has provided support with testing, tracing and treatment, not only through the testing guidelines, but also with testing itself. Some time ago, after it announced that the rapid antigen test was beneficial, the WHO responded to the Indonesian government's request for assistance in procuring the test kits. That is one of the concrete examples. Initially, the WHO recommended PCR as a diagnostic test while advising against the use of rapid antibody test. Then there were new developments regarding the rapid antigen test which can be useful if sensitivity and specifications are in line with the criteria.
To what extent are the member countries following WHO's pandemic guidelines and policies?
Every year, the WHO holds World Health Assembly which brings together health ministers to decide WHO policies. There are two legally binding policies, the Framework Convention on Tobacco Control (FCTC) which Indonesia hasn't ratified, and the International Health Regulations (IHR) which is now related to Covid-19. All the countries have signed IHR. Apart from that, other guidelines, for example the PCR test that the WHO recommends or rapid antibody test that it doesn't recommend, are not binding.
How about the use of certain drugs as Covid-19 treatment?
If we talk about Covid-19 drugs, the WHO has not recommended any treatment medications up till now. It recomended drugs such as chloroquine, remdesivir and the combination of lopinavir-ritonavie only for clinical trials. That's why the WHO facilitated the solidarity trial. In Indonesia, it involves 21 hospitals in efforts to find the ones with the highest efficacy from among several potential drugs.
So, choice of drugs for Covid-19 treatment is left to the discretion of respective health care authorities?
Yes, for all the members. There are WHO-recommended drugs for TBC and HIV but none yet for Covid pending the result of the solidarity trial.
The WHO has also issued guidelines on counting Covid-19 deaths in which patients who die with clinical symptoms of Covid-19 are categorized as Covid-19 deaths. But the government chose not to follow these guidelines. What is your response?
Countries are not obliged to follow WHO guidelines, however, many countries do use this recommendation. It is better when member countries refer to the same guidelines although there are no legal consequences if a given country decides to use different ones. The same applies to the recommendation of testing 1 per 1,000 population per week necessary to count the positivity rate. If the number of tests done is less than that, the result will not be very accurate and not reflect the reality.
Do you agree that only those who were confirmed positive through lab tests should be categorized as Covid deaths?
For sure, the most accurate cases are those confirmed positive. But if patients with Covid symptoms die before their test results are available for some reasons, their deaths should still be categorized as Covid-19 deaths. The problem is patients often die before their test results come out. That's what causes chaos. Nonetheless, if a patient with symptoms similar to Covid symptoms dies without clear explanation or cause of death, then the death should be considered a Covid-19 death.
What about Covid patients who die of comorbidities?
That will call for a sound clinical judgement. Will someone with a comorbidity die if he or she is not infected with Covid-19? If the death is due to Covid-19, albeit a comorbidity, it is considered a Covid-19 fatality.
Is it true that the government does not comply with WHO guidelines because the fatality rate can spike?
Please check No. 3 of WHO guidelines on Covid death certification. Covid-19 deaths used for surveillance are the deaths of patients with probable or confirmed Covid-19 unless there are other causes to rule out Covid-19 as the cause of death. Actually, the fatality rate does not talk about the number of cases per se, but the percentage only. If more people are tested, the rate is likely to go down.
You were also involved in dealing with the avian flu, swine flu and Middle East Respiratory Syndrome (MERS) outbreaks. What do you think of the current Covid-19 mitigation measures?
It's indeed difficult this time compared to the previous outbreaks. The world has never seen a situation like this although the basic principles for control of infectious diseases are all the same: prevent, detect and treat.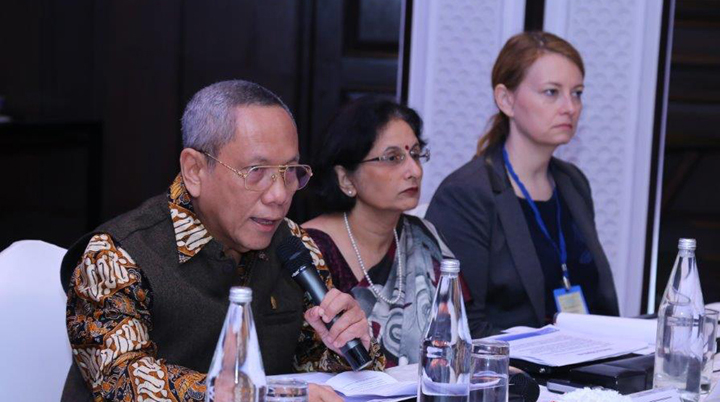 Tjandra Yoga Aditama at a WHO meeting on malaria, 2019. Prvate Doc
Are government's policies already ideal?
I think testing, tracing and treatment remain crucial benchmarks for the world including Indonesia. About a week ago, my uncle suffered fever and stroke. He's 80. The initial swab test at the hospital came back negative. Then a Covid positive patient came in and my uncle was later confirmed positive. He possibly contracted it (from the patient). The hospital immediately informed the neighborhood clinic which in turned contacted his family to have three family members tested. The tests came back negative. It means tracing is running.
If tracing is running reasonably well, why is the number of positive cases still soaring in Indonesia?
I suggest close stringent monitoring to identify where the holes are or what is missing and map them scientifically based on evidence so we can fix the holes. If we can do monitoring properly, we will know exactly the answer to your question.
Where do you think the holes exist in Indonesia?
I don't know exactly but for sure testing has not yet met WHO standards. It's been said repeatedly that tests are limited. I don't have the number. Is tracing already running very well at this stage? How many percentages of the population are wearing masks and washing hands frequently? There should be numbers. Evidence-based data like that will help us determine further steps to take.
A number of experts have already warned the government against relying solely on vaccines to overcome the Covid. What is your view?
The reality is we don't have any Covid-19 remedies. So, vaccine is one of the crucial elements in the fight against the disease. But we learn from the previous diseases that finding a vaccine will neither be easy nor quick. From the available data, it usually takes five to 15 years to find vaccines. In some cases, there are no vaccines at all yet after decades.
In that case, is the government's target to get the Covid vaccine next year realistic?
Experts and even the WHO have said that we may have the vaccines in the near future. At least next year. There are around nine to 10 vaccine candidates in phase 3 clinical trial. From the current estimates, it looks like there may be successful vaccines albeit without 100 percent protection. I agree by saying that we should hope for the vaccine while anticipating at the same time that vaccine may not change everything.
You were once part of the health ministry. What do you think of the ministry's handling of the pandemic?
The problems we faced in the past were not this huge, so there wasn't any task force involved. But now the government decided to form a task force. Initially it was for health issues. But later it became bigger because the pandemic has caused economic consequences. The health minister is also part of it. I think the working mechanism between the health ministry and the task force needs to be looked at. It's okay if each side has clear duties and responsibilities and is working well side by side.
Has the government made the right decision in establishing the task force?
When I was in India, I followed the news from the local TV stations and Singapore's CNA (Channel News Asia). In Singapore, three ministers—one of them was the health minister—were involved in Covid-19 initiatives. So, these ministers often appeared on TV besides Prime Minister Lee Hsien Loong. It seems they had something like an inter-ministerial committee—not a task force—to handle Covid. In India, it was the additional secretary—an echelon I official of the health ministry—who appeared on TV daily to report the cases. He was usually accompanied by the head of the research agency. Prime Minister Narendra Modi spoke once in a while, for example, when the lockdown was announced or when it was extended.
Is the health ministry actually capable of leading the pandemic response measures?
If you talk about capability, of course it is. But it must also work together with other sectors. The WHO is part of the United Nations. In the UN, it is the WHO which manages the Covid-19-related issues. Since this pandemic is an extraordinary situation, the WHO—not the communicable diseases directorate—handles them but the emergencies response directorate was created as a special pathway.
Some experts often question the presence of the task force, arguing that it would only lengthen the chain of bureaucracy. What is your opinion?
Some of my friends in fact call it a total mistake and feel that the functions should be returned to the health ministry. But I'd rather think positively. It can be a good initiative if the aim is to facilitate integrated efforts. So, the health ministry is actually capable but if it can work better by collaborating with other sectors, why not?
What about the health minister's performance?
I am not in the position to judge someone's work, be it the minister's or the director-general's.
Do you personally know Minister Terawan Agus Putranto?
I do. But he is the minister. How come, I keep contact with him?
Have you been asked for advice or feedback on Covid mitigation?
Not for advice or feedback but sometimes I do send my opinions to people including the minister. I would forward a journal, for example, to everybody, WhatsApp groups, everywhere.
Has the minister responded to your messages?
He once acknowledged with thanks. I happened to have some useful information and wanted to share with others. It's up to them whether they want to use it or not. I've been doing it for a long time, even before I joined the ministry. I also sent the same to Bu Nila Moeloek when she was the health minister and she responded too.
---
TJANDRA YOGA ADITAMA | Place and Date of Birth: Jakarta, September 3,1955 | Education: Bachelor of Medicine, University of Indonesia (1980), Diploma in TB Control & Epidemiology, Tuberculosis Research Institute, Tokyo, (1987), Lung Specialist, University of Indonesia (1988), Lung Specialist/Consultant Pulmonologist, Indonesian Lung Doctors Association (1993), Diploma in Tropical Medicine & Hygiene, London School of Hygiene & Tropical Medicine, London (1994), Master of Hospital Administration, University of Indonesia (1998), Professor, Faculty of Medicine, University of Indonesia (since 2008) | Career: Director-General of Disease Control and Environmental Health, Health Ministry (2009-2014), Chief of Health Research and Development Agency, Health Ministry (2014-2015), Regional Coordinator, World Health Emergency, World Health Organization Southeast Asia (2015-2016), Senior Advisor, WHO Southeast Asia (2017-2020), Director of Communicable Diseases, WHO Southeast Asia (2018-2020), Adjunct Professor, Center for Environment and Population Health, Griffith University, Australia | Awards: Bakti Karya Husada Triwindu from the Minister of Health (2011), Satyalancana Karya Satya XXX from the President of the Republic of Indonesia (2011), Ksatria Bakti Husada Aditya from the Minister of Health (2011).
W251bGwsIjIwMjEtMDYtMjUgMDc6MjE6MDIiXQ