Guardians Of Dayak Identity
The arrest of Effendi Buhing, chief of the Laman Kinipan Customary Community, in late August has brought the name Tariu Borneo Bangkule Rajangk to the fore. A militia group named Pasukan Merah (the Red Brigade) has come forward to defend this traditional leader in Lamandau, Central Kalimantan. Red Brigade Chief Pangalangok Jilah claims that he has some 50,000 members spread all over the island of Kalimantan, including in Malaysia and Brunei Darussalam. While it used to be active in preserving Dayak customs and culture, the Red Brigade now also focuses on advocacy for its members who are entangled with the law. Tempo reports from Bukit Raya Toho, Mempawah Regency, West Kalimantan, one of the customary forests under the care of the Red Brigade.
Edition : Monday, October 12, 2020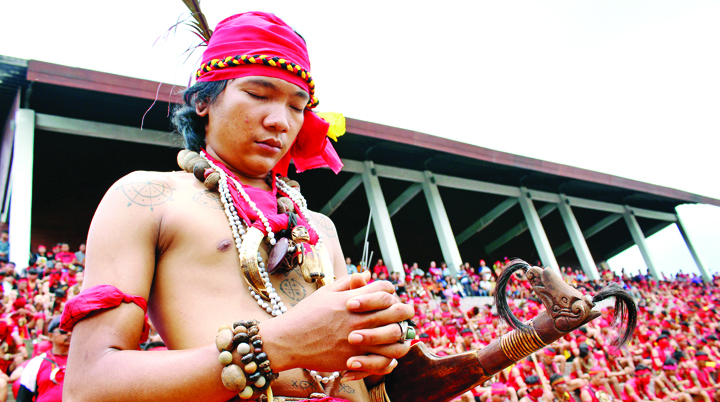 AGUSTINUS casts a spell. The smell of incense fills the room measuring 6 x 5 meters, adorned by statues of various sizes. In another corner of this house in Sambora village, West Kalimantan, are several ceramic jugs and a variety of weapons. Those belong to a 40-year-old man titled Pangalangok Jilah, who heads dozens of Dayak's Red Brigade commanders spread all over Kalimantan.
A copper bowl filled with yellow sticky rice grains is in front of Agustinus. On top of the rice grains is an incense stick. Agustinus scoops up some rice grains, brings them close to his mouth, and whispers in the Dayak Kanayant language: "We are on our way, please guard and protect us," he said on Tuesday, September 29.
Our voyage to Riam Sambora commenced. Riam Sambora is located in a customary forest called Keramat Bukit Raya. For the general public, this area is also known by the name Bukit Raya Toho by the Sambora village, Toho subdistrict, Mempawah Regency, West Kalimantan. It perches at 800 meters above sea level. Keramat Bukit Raya has a seven-tiered waterfall.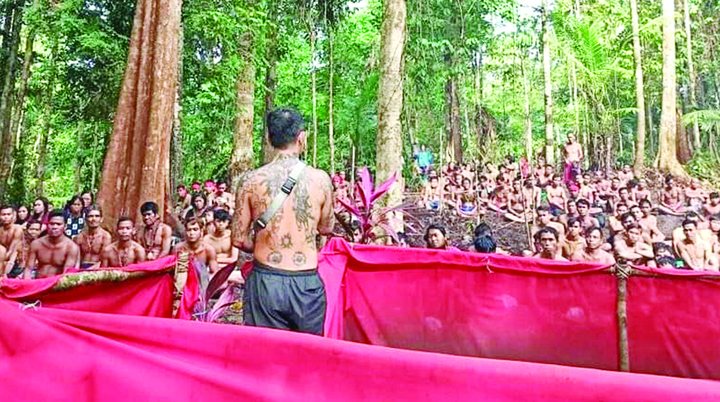 Agustinus or Pangalangok Jilah explaining the environment advocacy and conservation to the Dayak people in Mempawah Regency, West Kalimantan. Private Doc.
The hike to Riam Sambora takes about one-and-a-half hours. The route goes through people's plantations, savannahs, oil palm fields, and a river with clear water. Nearing the cascade, by two trees forming a natural gate, we take off our shoes.
W251bGwsIjIwMjEtMDUtMTEgMTc6MDg6MTgiXQ
Agustinus' assistant Yunus, 25, who had walked at the tail end of the group, lit some incense. Agustinus then took off his shirt. He put on copper bracelets, tied a red cloth on his feet, and took up his sword. "Adil ka'talino, barucamin ka' saruga, basengat ka' Jubata," said Pangalangok Jilah, penetrating through the sound of the waterfall. His cries have deep meaning: justice for all people, reflect on the heavens, and always keep God in mind.
Agustinus did not automatically carry the title pangalangok. In the beginning, he bore the title Jilah Commander, until he was ordained as pangalangok two years ago, putting him at the helm of all the commanders in Borneo. He inherited this power from his parents, Mustar and Paulina, descendants from the Bangkule Rajangk, the kingdom that existed between 1380–1400, and the precursor of the Mempawah Kingdom. Agustinus' parents both descend from Nek Jobek, Nek Bandong, Nek Singa, and Nek Macan. "They were the commanders of the Dayaks," Agustinus explained.
The Kingdom disintegrated when its leader, Patih Gumantar, was killed while at war with another tribe. However, some of his descendants remained, and became the Dayak colony in Mempawah. Pangalangok Jilah's territory spreads throughout Kalimantan, including parts in Malaysia and Brunei Darussalam.
Agustinus is married to Marsiana and has two children, a girl and a boy. The boy, Gantar Pamane, 3, will later inherit the title of Pangalangok Jilah. Similar to Agustinus, Gantar's birth was marked by floods and storms. These natural phenomena abruptly ended when Gantar—just like Agustinus—was born.
***
THE Red Brigade under Agustinus is a special troop in the ancient Dayak tradition. Agustinus brought it back to life in the past five years. When he started it, it was a social organization which focused on conserving Dayak customs and culture. However, as time went by, it shifted more towards advocacy for the Dayaks, particularly related to imbalance of power: the community against the authorities, or big corporations.
Formally, the Red Brigade is called Tariu Borneo Bangkule Rajangk. Currently, it numbers some 50,000 people, spread all over Kalimantan. The Brigade's tasks differ from that of forest control institutions, which are usually formed in social forestry. Red Brigade members carry on with normal daily activities according to their jobs, including as teachers, employees, artists, researchers, or security officers.
The majority of the Brigade are young people, both men and women, with the latter numbering some 10,000. One member is Yono, 41, a resident of Toho in the Landak subdistrict. This Dayak Kanayanti member points out that the Red Brigade not only gives support in people's advocacy, but also in economic empowerment, such as trainings in weaving, stringing beads, cultivating honey, and planting trees on vulnerable soil. "The latter is an effort of young Dayaks who want to recuperate land use," he said on September 29.
Yono, who works at a palm oil firm, carries on his Brigade duties by advocating for sustainable oil palm planting at his workplace. He does his community empowerment activities in addition to his professional work. Red Brigade members indeed do these activities voluntarily. Meanwhile, Agustinus no longer works since he became Pangalangok Jilah. "However, I trust that my family won't starve," he said.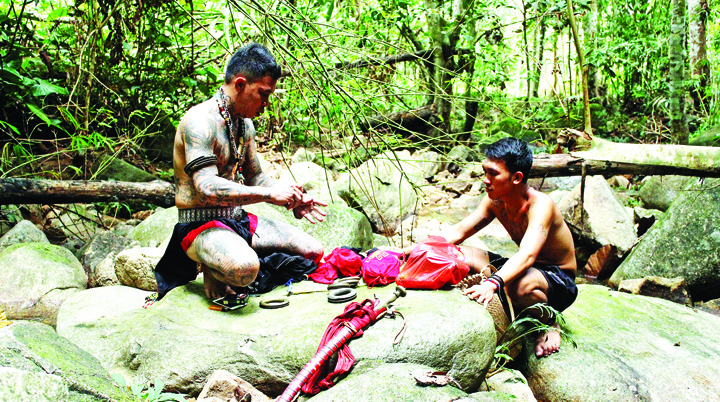 Pangalangok Jilah and an assistant make preparations before performing a ritual to communicate with the Keramat Bukit Raya ancestors in Samboram village, Toho subdistrict, Mempawah Regency, last September. TEMPO/Aseanty Pahlevi
There are 91 Brigade commanders that have control over several customary forests in Kalimantan. But their identities are a secret. "I appoint them. All instructions come from me," said Agustinus. Coordination between the Pangalangok Jilah with his commanders is done through modern means, or spiritually. If there are orders to gather, then the commanders will drive masses to the designated location.
As pangalangok, Agustinus has powers such as communicating with spirits of ancestors. Those spirits, he said, give them guidance, including in carrying out advocacy. If conditions are deemed critical, then he will bring forward the 'red bowl', which is a sign to be alert. In these conditions, the Red Brigade would be ready for battle.
In the past, once a red-bowl alert was issued, the Brigade must be prepared to execute the mengayau tradition, which is to decapitate the enemy. In a communication ritual between the commander and ancestral spirits, the red bowl would be circulated among certain people, and then placed in front of houses as a protective symbol against the enemy.
The color red is identical with the Dayaks, who are philosophically fearless and spirited. Presently, Agustinus is making an effort to return the spirit of protecting customs, culture and the environment in Kalimantan. "God no longer creates land, but humans keep multiplying. Thus, the land must be protected," he said.
Agustinus views the forest as a 'supermarket' for the Dayak people. The forest is a source of their livelihood. However, they never take more than what is needed. If anyone cheats, then customary law will be applied. "Customary law is more effective. It is not like current regulations, which only single out certain people or groups. In customary law, all are equal," he explained.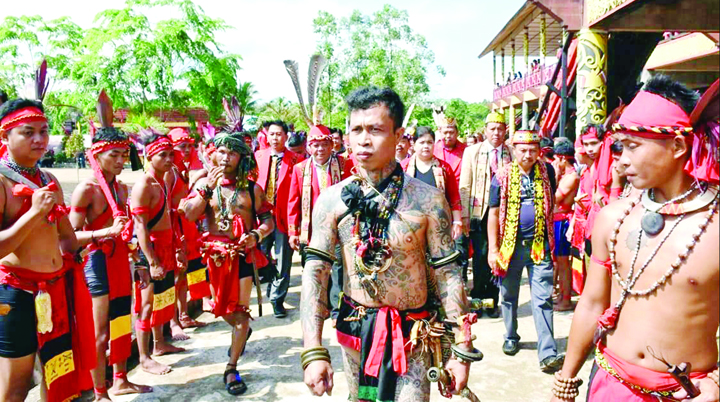 Pangalangok Jilah in a Tariu Borneo Bangkule Rajangk event in Sanggau, West Kalimantan, in September. TEMPO/Aseanty Pahlevi
He gave an example of when they were advocating for a farmer who was threatened with criminal charge in the case of Effendi Buhing. Effendi is chief of the Laman Kinipan Customary Community, which strives for preservation of forests in the Kinipan village, Lamandau Regency, Central Kalimantan. He was arrested by the local police at his home on August 26, accused of theft, coercion, and robbery. Besides Effendi, five other community members were also accused of doing crimes.
This case adds to 28 agrarian conflicts which end with criminalization throughout Indonesia between March and July this year. Effendi was finally released after the National Commission on Human Rights (Komnas HAM) and the Indigenous Peoples Alliance of the Archipelago (AMAN) got involved.
Agustinus said that investments entering Kalimantan has so far not improved the Dayak community's welfare. Even worse, the Dayaks continue to be pushed out of their own backyard. "This is why the Red Brigade continues to remind the Dayaks not to sell their land to corporations," he said.
***
DAYAKS have always been close to nature. However, the indigenous community's wish to be legally recognized remains difficult. The authorities have burdened Kalimantan with a plethora of permits, from plantations and forestry until mining. "We hope that the government will immediately sign a law on customary communities. That recognition is an obligation for every country in order to not loose peoples' identities," said Yohanes S. Laon, a Dayak researcher who is also a Red Brigade member.
That demand, Yohanes continued, does not mean a rejection of the current law. The community is also not against investments. However, the government must pay attention to the fact that the rights of traditional communities disappear as their land has changed in function. He gave an example of traditional Dayak people's plantation activities which are often misinterpreted by the authorities. Dayaks are often accused of shifting cultivation, which in turn causes forest and land fires.
In fact, fires lit by traditional Dayak communities are not done at random. Cultivating land is part of Dayak identity. "We use fire with care. Fire is always safeguarded, with careful attention to seasons and direction of the wind, and keeping in mind people on neighboring land," Yohanes said.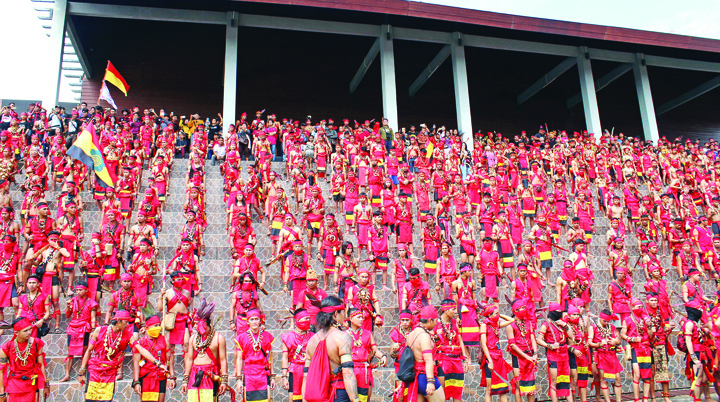 Red Brigade members in the 34th Gawai Dayak Festival in Rumah Radakng, West Kalimantan, May 2019. ANTARA/Jessica Helena Wuysang
The Dayaks, Yohanes continued, actually carry out rotating cultivation rather than a shifting one. Land which has already been turned into plantations will be left behind and filled with fruit trees. People will reuse that land once it has gone through some planting cycles. Scientifically, these are logical steps that will replenish the soil's fertility.
The same goes for maintaining forests. Logging in traditional forests must obtain permission from indigenous leaders, and should only be done for household or village infrastructure improvements.
This is why the Red Brigade also advocates traditional plantation owners in recognizing their rights. Recently, the Brigade gave an explanation to law enforcement and local officials regarding traditional land farming. "We guarantee that there would be no fires," he said. Moreover, officials must execute West Kalimantan Gubernatorial Decree No. 103/2020 regarding clearing farm land based on local wisdom. This regulation was meant to solve cases of forest fires and become the legal umbrella for traditional farmers to open up lands.
Yohanes points out that the Red Brigade now safeguards the Dayak customs and culture with digital technology. Their research team is gathering traditional Dayak folklore, songs, carvings, and tattoos. "The Dayak tradition is handed down orally. So, there must be efforts to archive it," Yohanes said. This should be done so that the younger generation can get to know their tradition as a whole, especially its principles of nature conservation.
ASEANTY PAHLEVI (PONTIANAK)