Towards
Edition : Monday, October 19, 2020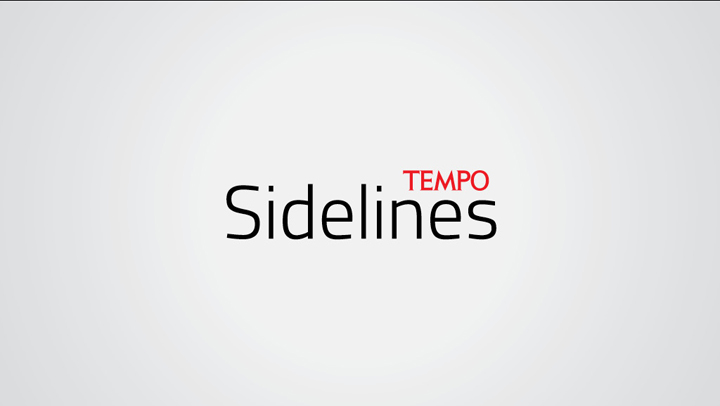 This is how we contemplate worldly phenomena: "Like a dream, an illusion, a bubble, a shadow, /Like dew or a flash of lightning"
—Vajracchedikā Prajñāpāramitā Sūtra
For 10 hours straight beginning at two in the afternoon, we joined a blackboard, chalk and annica: the artist Ugo Untoro drawing. A digital invitation had already been circulated explaining: Through this drawing project on ten blackboards for ten hours, Ugo Untoro pays his respect to what he calls impermanence.
On the computer screen we could see him marking chalk on the black field. Pictures appeared: silhouettes, shadows of figures in mist and dark inner lines. Then—as has always happened on blackboards since sitting in class in primary school—all became wiped, or was wiped.
The chalk itself, with its flying dust, and shrinking as it was used, is not a permanent object. So too the blackboards; they were present only while Ugo scratched something. Before and after, they were beyond our perspective.
Impermanence—or what some people interpret as annica, a Buddhist concept—touched us for almost half a day on September 26 last. "Nothing in this world can be maintained to one's satisfaction" is said to be the rendition of the Sanskrit word annica. It seems that in this busy era, Ugo is not motivated to give important meaning to the formed, the whole, the lasting. Rather, he pays respect, with a tone of melancholy, to the fragile in form—the momentary, the transient. Ugo, as he once said, prefers what he calls "close, small and simple themes, not the heroic." He is motivated to present things that are not extraordinary, "with no message, no great or profound meaning or content."
This was not the first time. In December 2019, in his solo exhibition at the National Gallery—of around 70 works—Ugo presented Buddha. I wrote my impression at the time: He painted like a Zen artist, who with stillness familiarizes himself with the movement of time, and in stillness accepts the ephemeral.
He connects us with the Buddha.
But the Buddha that Ugo presents is not Buddha as a single identity. There is no figure we can grasp quickly. Just the foot. His Buddha does not reveal coherence of form and meaning. He 'sleeps'. He is the Sleeping Buddha. He is Buddha in, to use the phrase from the Javanese poem Wedhatama, 'liyep layaping aluyup', the state of being half awake and half asleep. He is the presence that is barely perceptible but becoming, dumadi, like something that passes indiscernibly: feet as cut-outs on canvas; a foot that, in copper green, morphs into 10 toes, a foot that melts into the red background.
On Ugo's canvases, the Sleeping Buddha distinguishes itself radically from the great Buddhas like the one at Wat Pho in Bangkok, reclining on his side in the sihasaiyas posture, impressive, 14 meters long, a giant in shining gold. Ugo connects us with the Buddha moving below, in the dust, slow, easily forgettable.
In this movement, the Buddha is free of what Nietzsche called the Geist der Schwere or spirit of gravity that is monumental, permanent, heavy, full of messages of truth, forbidding, rigid. Ugo's Buddha, like Nietzsche's Zarasthustra, is the antithesis of all that: the best smile welcomes time, welcomes the movement of becoming that is not always conscious. "Let (it) be a praise and a justification of all impermanence," Zarathustra said.
Ugo Untoro's virtual exhibition was titled Marang, an elegant Javanese word used in wayang kulit (shadow puppet) meaning 'towards'. There was no mention of where from or where to; what was being conveyed was the process of 'moving towards'.
Ugo sees phenomena as process. On the blackboards, his work bore witness to time, not space. For 10 hours forms came and went; lamp posts, bodies staring at white feet, the silhouette of a piano, people standing, people sitting…In every manifestation we saw what is called 'reality' is actually 'be-coming'.
The works on the blackboard seemed to stress a 'philosophy of process'. In this philosophy, the world is built from 'manifesting', not 'manifest', and process is more fundamental than substance.
Further, 'be-coming' brings something new. It is not merely repeating something else. We seem to be reminded that the history of objects and mankind is the history of 'the production of novelty', to use Alfred North Whitehead's words. Life is always creative, and is there impermanence. What is permanent is death. Life is 'towards'.
So Ugo's blackboards did not shape stories (something limited by flow and end). At least to me, the blackboards; the chalk; the hand that for 10 hours scratched, smeared, and wiped, for a moment held at bay the clamor of today; the desire to collect, to possess, and to preserve in time everlasting.
W251bGwsIjIwMjEtMDYtMjUgMDc6MzU6NTgiXQ