Phytopharmacy's Slow Progress
Numerous problems are hindering the development of phytopharmacy in Indonesia, from the reluctance of doctors to prescribe herbal medicines to lack of regulatory support. The industry must work to promote the use of phytopharmaceuticals among medical professionals and the public.
Edition : Monday, October 19, 2020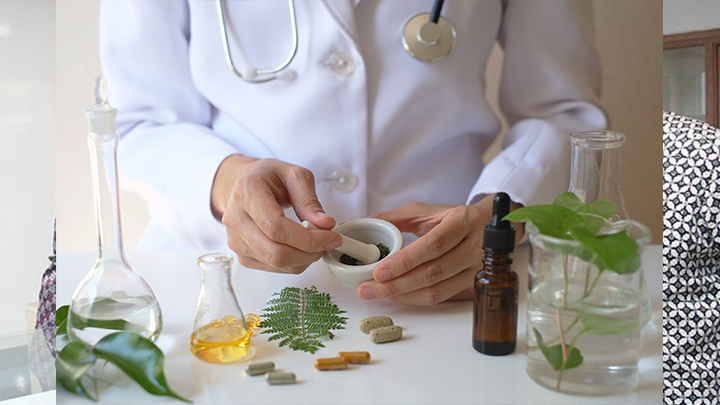 FOR a long time, there has always been a discrepancy between the abundance of our natural medicine resources and their actual utilization. A research of medicines and herbal plants by the health ministry in 2017 identified at least 11,218 types of medicinal plants, very few of which were developed into phytopharmaceuticals. Phytopharmaceuticals are drugs derived from plants that have passed preclinical and clinical tests. Their contents are also standardized and in equal amount compared to their chemical-based counterparts.
Indonesia has only produced 24 phytopharmaceuticals since the Food and Drug Monitoring Agency (BPOM) established the three classifications of natural medicine in 2004 (jamu or traditional herbal drink, standardized herbal medicine, and phytopharmaceuticals). As for standardized herbal medicine (OHT)—drugs using natural, standardized ingredients whose efficacy has been proven through preclinical testing—the number is 64. The largest type remains jamu, with more than 11,000 produced. It means that the five pharmaceutical companies in Indonesia produced only two phytopharmaceuticals every year between 2004 to 2020.
President Joko Widodo had issued the Presidential Instruction No. 6/2016 on the acceleration of pharmaceutical and medical devices industry development. The first point of the instruction says that it aims to ensure the availability of pharmaceuticals and medical devices to improve health services as part of the National Health Insurance. The fourth point mandates the acceleration of self sufficiency and production development of medicines and their raw materials, as well as medical devices to fulfill domestic and export needs, and also to recover and improve industrial activities.
As a follow up to the Presidential Instruction, the coordinating human development and culture minister formed the National Task Force for the Acceleration of Phytopharmacy Development and Utilization on September 13, 2019. That same year, BPOM recorded that there were eight ongoing researches on plant-based medicines, five of which were in the preclinical testing stage, while the other three were in clinical testing.
The number of researches on natural medicine continues to increase, particularly amid the Covid-19 pandemic. "During the time of Covid-19, there are 14 jamus, herbal medicines, or medicinal plants currently undergoing clinical trials under BPOM assistance. These are Covid-19 immunomodulator, which enhance the body's resistance," said BPOM Chair Penny K. Lukito in a special interview with Tempo, Thursday, October 15.
W251bGwsIjIwMjEtMDUtMTEgMTg6MDg6MTIiXQ
As of Friday, October 16, there have been more than 353,000 cases of Covid-19 with 12,347 fatalities in Indonesia. In terms of case numbers, Indonesia ranks 19th in the world. "Covid-19 motivates people to stay healthy and avoid the virus, so they are considering traditional and herbal medicines, as well as phytopharmaceuticals," said dr. Rimenda Sitepu, a member of the Indonesian Herbal Medical Doctors Association (PDHMI) on October 14.
• • •
RAYMOND Tjandrawinata, Dexa Laboratories of Biomolecular Sciences executive director, said that the classification of natural medicines into three groups was done by BPOM Chief M. Sampurno in 2004. A year later, according to Raymond, five natural medicines received official distinction as phytopharmaceuticals. One of these is Stimuno from Dexa Medica. Stimuno is an immunomodulator—a type of substance that affects the immune system. Each capsule of Stimunio contains 50 milligrams of green meniran (Phyllanthus niruri).
Phytopharmacy has been progressing very slowly since then. Danang Ardiyanto, a researcher in the medicinal plants and traditional medicine research and development center of the health ministry, points to the lengthy process and high cost of turning a natural medicinal substance into a phytopharmaceutical as the likely cause. To obtain classification as jamu, all it takes is proof that the medication has been in use for three generations. "One only needs empirical evidence from ancient texts," he said on October 12.
Jamu, said Danang, may obtain higher classification as OHT by going through preclinical trial using test animals to measure efficacy and safety. This stage, according to Danang, aims to determine whether the substance actually does provide its purported benefits or not. Safety aspect is also put to the test. The whole process takes at least six months.
For OHT to be classified as phytopharmaceutical, it must first pass the clinical test. This time, efficacy and safety are tested on human subjects. Aside from its safety, the herbal medicine is also compared to an existing chemical-based drug with similar properties. "This phytopharmaceutical process is the longest, most complicated, and most expensive," said Danang.
In clinical trials, test subjects are among the reasons why the process could be lengthy and costly. Raymond Tjandrawinata said it is not easy to find patients who are willing to participate in a clinical trial, and not every hospital can be expected to gladly play host to such test. Also, there are instances where patients who have previously agreed turn out to be failing to attend the test.
The cost for a preclinical test, according to Danang Ardyanto, is between Rp500 million to Rp1 billion. Larger sum of money is required for clinical test, around Rp1 billion to Rp2 billion. A researcher in the Indonesian Institute of Sciences Chemistry Research Center, Teni Ernawati, estimates the cost of a clinical test to be well above Rp2 billion. Meanwhile, according to Raymond, one testing costs between Rp300 to 500 million.
Like in all tests, sometimes the results are not in line with expectations. Danang said that a clinical test is considered successful if it shows good efficacy and no dangerous side effects. "Also, the efficacy should be better than a comparable chemical-based medicine, or at least equal," he said. Raymond added that companies are discouraged by potentially disappointing clinical test results.
Uncertainties surrounding the test results are deterring companies from investing. "Just like industries in general, they want to be sure. Should I invest, I must be certain of the return of my investment. With phytopharmacy, the certainty factor is much lower than generic drugs, because there are risks of failure and overspending," said Raymond.
Based on Dexa's experience, a phytopharmaceutical takes between four to six years on average to produce. Some may take longer than expected. Raymond mentioned a phytopharmacy product from Dexa Medica as an example, Inlacin—an anti type II diabetes medication. Development started in 2005. The herbal medication was only classified as OHT in 2011, and it took three more years to be officially recognized as a phytopharmaceutical. "It needed nine years to become a phytopharmaceutical," he said.
The problem does not end with achieving phytopharmaceutical status, because there is still the issue of marketing the product. "Many companies are reluctant to do the test from traditional herbal medicine to phytopharmaceutical because doctors would not necessarily be willing to use it," said Raymond. There are factors that could contribute to the doctors' unwillingness, one of which might be the insufficient herbal medicine education in medical schools.
Rimenda acknowledged that the world of medicine remains largely unfamiliar with herbal drugs. "What we know is that traditional medication is commonly used by shamans in their potions," she said. Rimenda, who is an instructor at the Indonesian Defense University Faculty of Military Medicine, added that many campuses now own herbal blocks, so there are also doctors who focus on herbal and conventional medicines.
Research and Technology Minister Bambang Brodjonegoro said that the doctors' reluctance to prescribe herbal drugs does not arise from the lack of knowledge on herbal medication, but rather habit. Once a doctor gets accustomed to using a certain drug, he or she will continue to use it. "This is what we should fix," he said.
Aside from their use by doctors, pharmacy companies also complain that herbal medications are excluded from the national drug formulary, which prevents them from being used by the Health Care and Social Security Agency (BPJS Kesehatan). This is because of Health Ministry Regulation No. 54/2018 on national formulary compilation and implementation. It states that the proposed drugs should not be traditional medicines. Meanwhile, the Health Law defines traditional medicine as substance or concoction containing plant materials, animal materials, mineral materials, prepared materials, extracted materials, or a mixture of these materials.
In order to classify between traditional medicines based in empirical data and modern medicine based on scientific data, the research and technology minister, the health minister, the industry minister, and BPOM have agreed to use the term modern Indonesian medicine (OMAI). The term refers to natural medicines that have been scientifically studied as either OHT or phytopharmaceutical.
This regulation is subject to complaints by the industry because it excludes phytopharmaceuticals from BPJS' list of referral drugs, leading to miniscule demand. "The phytopharmaceuticals industry wishes for a privilege from the government to include Indonesian products in the BPJS Kesehatan," said Teni Ernawati. Indonesian Pharmaceutical Association Executive Director Dorodajtun Sanusi said the government plays a major role in encouraging the use of phytopharmaceuticals. "Such as through the national formulary."
Rimenda said that the doctors need scientific proof in order to prescribe phytopharmaceuticals as an evidence-based medicine. However, she also admitted that, "Inclusion in the formulary serves to ease the way, to direct, and to prescribe a medication." Rimenda added that the research towards a traditional medicine to become acknowledged as phytopharmaceutical needs to be done in a certain way to gain the trust from doctors.
Another challenge standing in the way of phytopharmaceuticals is price. Danang Ardiyanto said that some phytopharmaceuticals that passed clinical tests are facing lack of demand due to high price, aside from insufficient promotion. He mentioned a phytopharmaceutical used to lower blood pressure. A similar, chemical-based drug costs Rp50 apiece, while the phytopharmaceutical drug costs 10 times as much. "That is one of the difficulties," he said.
Raymond realizes the price dilemma. He likens it to the chicken and egg situation. "Once included in the national formulary, there will be a lot more users. Price will decrease to become competitive with generic drugs, because the materials are widely available in Indonesia," he said.
The government also acknowledges such challenge that lies ahead. Bambang Brojonegoro recognizes the problem of phytopharmaceuticals exclusion from the national formulary. He affirmed that the president has instructed to include herbal medicines in the BPJS Kesehatan referrals. "The key is production scale. Therefore, inclusion in the BPJS Kesehatan is important to generate sizeable demand at the start," he said.
Tempo has yet to obtain confirmation regarding the national formulary from Health Ministry Director-General for Health Services Bambang Wibowo. He did not answer neither the phone call nor the text messages sent to reach him on October 14. Other text messages that Tempo sent to Health Ministry Director-General for Pharmaceutical and Medical Devices Engko Sosialine Magdalene also went unanswered.
The research and technology ministry, said Bambang Brodjonegoro, will also help by facilitating discussion between researchers and the industry, as well as proposing a tax incentive. "From the government's side, we would facilitate so that researchers and the pharmaceutical industry may get along well and agree upon what to produce," he said. As for the tax incentive, it has been laid out already in the finance minister regulation on the provision of reduction of gross income from certain research and development activities in Indonesia, issued on October 9.
The government, said Bambang, will also formulate a standard for clinical testing, so that interested parties will not be discouraged by a lengthy and expensive process. "Of course, we also realize that the clinical test is very important and should be undergone. But, there has to be a certain time frame. If it takes too long to obtain permit, many would be disheartened," he said.
Penny Lukito expressed a similar commitment. BPOM will help the industry through preclinical and clinical tests assistance and acceleration of the process. "Efforts are currently being carried out to accelerate the clinical test," she said. Other forms of support, said Penny, include stimulating demand for phytopharmaceutical products by, among others, including them in the BPJS Kesehatan and promoting their use among medical professionals and the general public.
The industry also needs to undertake additional efforts in order to make phytopharmaceuticals more widely accepted. Rimenda suggested that the companies help improve doctors' knowledge of herbal medicines, such as through workshops or seminars. "Those are part of promotion," she said. Bambang Brodjonegoro added that the industry should not expect a product to be immediately included in ministry provisions or e-catalogues upon release. "A direct approach to prospective users is required," he said.
Phytopharmaceuticals education addressed to the public by the companies is still minimal. Rio Tuasikal, a resident of Bandung, West Java, told his mother's experience of having hypertension and heart problem. His mother once considered herbal medicine for treatment. "But she then decided to stick with drugs the doctor prescribed, perhaps because she felt her condition would be better with those drugs," he said.
ABDUL MANAN, MAHARDIKA SATRIA HADI, NUR ALFIYAH