State Money, Private Management
The establishment of the Indonesia Investment Authority is just a matter of waiting for government regulations. It is the key product of the omnibus law, expected to be a vehicle for foreign investors to put in money in the country.
Edition : 26 October 2020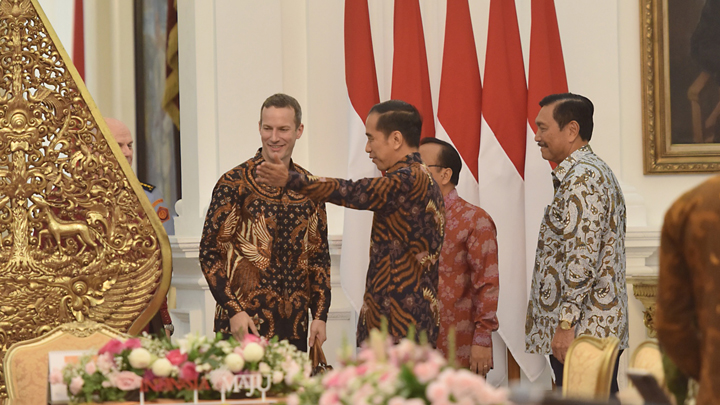 EARLY last week, Ekoputro Adijayanto's received a message on his smart phone from Australia. Immediately, the chief executive of the Government Non-Budget Investment Financing (PINA) replied. "It was AustralianSuper, just found out about the LPI," Eko said when met at the research and technology ministry building in Jakarta, Wednesday, October 21.
AustralianSuper is a pension fund firm that manages the savings of 2.1 million Australian workers. In 2019, its assets under management totaled at US$171.5 billion, roughly Rp2,516 trillion. Almost half of those assets are placed outside Australia. "They have been a long-time target of mine," Eko said.
LPI is short for Indonesia Investment Authority a.k.a. sovereign wealth fund (SWF), which the government of Indonesia will soon establish. The legal basis for founding this institution was passed by the House of Representatives (DPR) through the Job Creation Law on October 5.
Before the concept of LPI was rolled out, Eko has repeatedly offered a number of PINA projects to AustralianSuper. But none struck a deal. In early March, when the government put the LPI establishment plan on the table, Eko contacted the potential investor again. He even invited delegates from AustralianSuper to meet a number of officials from the state-owned enterprises (SOEs) ministry so they could get a clear explanation of the plan. "We have only had initial talks, and that was cut off by the (Covid-19) pandemic, but we have stayed in touch," Eko remarked.
•••
FIRST rolled out in mid-2019, the plan to establish an investment authority was not pursued until early 2020. At the annual meeting of the financial services industry in Jakarta, January 16, President Joko Widodo for the first time mentioned his plan to enact a rule on SWF within the omnibus bill on job creation. Few reviewed Jokowi's statement at the time.
Prior to that, the United Arab Emirates government had offered a SWF blueprint to Indonesia. Apart from offering a concept, ADIA or the Abu Dhabi Investment Authority—the state-owned sovereign wealth fund owned by the United Arab Emirates —promised to deposit an initial capital of US$20 billion.
Not long after that annual meeting, the International Development Finance Corporation's (IDFC) Chief Executive Officer (CEO) Adam Boehler met President Jokowi at the Merdeka Palace. The US financing institution with up to US$60 billion loan capacity promised to provide funding for SWF Indonesia. Later, a similar commitment came from SoftBank, a financing institution owned by Japanese billionaire Masayoshi Son.
After receiving the series of commitments, the plan to establish a sovereign wealth fund rolled out quickly. The SOEs ministry was asked to oversee the framing of this institution's format. The ministry then appointed its deputy minister II, Kartika Wirjoatmodjo, as coordinator of the formulating team.
Kartika received help from four people as members of a core team in his closest circle. Two people came from within the SOEs ministry; Robertus Bilitea, CEO of Bahana Pembinaan Usaha Indonesia; and Adityo Kusumo, a former Bank Mandiri banker who was recruited as a member of Kartika's expert staff at the SOEs ministry.
The other two members are from outside the SOEs ministry. They are Septian Hario Seto, deputy of investment and mining coordination at the coordinating ministry for maritime affairs and investment; and Isa Rachmatarwata, director-general of state assets at the finance ministry. Hario Seto was reportedly sent directly by Coordinating Minister for Maritime Affairs and Investment Luhut Binsar Pandjaitan.
•••
IMMEDIATELY after the omnibus bill was passed, Ekoputro Adijayanto admitted that he was asked many questions by potential investors regarding the concept of Indonesia's investment management institutions. The messages from colleagues at AustralianSuper earlier last week were just one of them.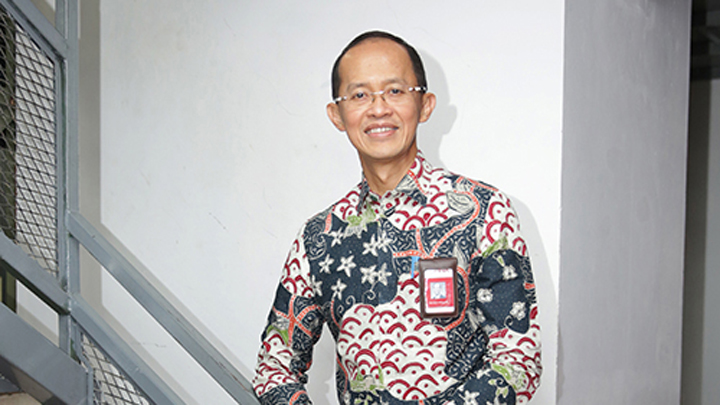 Ekoputro Adijayanto/Tempo/Bintari Rahmanita
After elaborating on the advantages of this institution's scheme, Eko would show a list of infrastructure projects at the SOEs ministry—planned to receive financing through the Indonesia Investment Authority. According to Eko, there are potential investors who are already interested. "They promised they would talk to the investment committee to follow up on the list of potential projects," said Eko.
From the time PINA was under the National Development Planning Agency until it became the private player that it is now, it was the first time Eko felt that his work—offering government projects to managers of global investment funds—was easy. Top investors ranging from pension funds to SWF managers with more than US$20 billion (Rp293.7 trillion) assets under management (AUM) are known to play things safe. They opt to invest in government guaranteed projects. "They always ask whether the government also invests in the projects," he said.
According to Eko, top fund managers tend to favor fixed assets a.k.a. brownfield. When they have to invest in new projects or greenfield, they require investment partners to be directly associated with the government—not just through SOEs. "That's when I often felt like I had just ran into a wall," Eko said, as Indonesia did not have its own SWF.
Today, the situation has changed. "Now all I have to do is say hello to them," Eko said when asked what his next step to attract investors was.
•••
AFTER the government's version of the investment management institution designed was completed on September 21 and 22, the formulating team from the SOEs ministry was invited to represent the government in presenting the concept before the DPR's Job Creation Law work committee. The team sent Robertus Bilitea and Adityo Kusumo to go to the meeting.
Following the presentation, a tough debate ensued. Some DPR members said that the establishment of a SWF was a completely new proposal in the omnibus bill. Unlike other articles, this proposal does not change or add new articles in the old law. They also argued on whether it would be effective in attracting investments.
To convince the legislators, Adityo explained two models of sovereign wealth funds that are developing globally. The first model is an investment management institution scheme, used in developed countries with trade balance surpluses, such as Norway, United Arab Emirates, China, and Kuwait. The second model is an investment authority backed by government funds, and which requires cooperation with other sovereign wealth funds to investing. Adityo emphasized that the government clearly does not have a foreign exchange surplus, so that they have no choice but to adopt the second model.
Prior to presenting the results of their work to the DPR, Adityo said, the formulating team had studied dozens of models of SWF. Apart from studying the Abu Dhabi Investment Authority model, the team also looked at another model of the Kuwait Investment Authority, as well as AustralianSuper, which is the epitome of a private pension fund management agency.
It was concluded that Indonesia's investment management institution must be able to move flexibly in response to market dynamics. The institution would act in similar fashion as a private company, but remains state-owned. For this reason, the formulating team proposed a sui generis status for the institution. With this status, any losses incurred by the institution will not be categorized as a state loss, and its management is not a state administrator.
The granting of this special status triggered a long polemic in Senayan. Badikenita Sitepu, member of the Regional Representative Council (DPD), said she did not understand the scheme. "If the assets belong to the State, and the institution works in private manners, is that not weird?"
The DPR Legislation Body Chairman Supratman Andi Agtas finally ended the debate. He stated that the DPR and the government had agreed on the sui generis arrangement. "The assets are separated from the wealth of the state and thus no longer subject to the standards of state finances," the Gerindra Party politician said.
•••
AMIDTS the formulating team's busy schedule of drafting frames and schemes of the Indonesia Investment Authority, Ekoputro Adijayanto continued to bring prospective investors to the SOEs ministry for discussions, including delegates from AustralianSuper. Eko also brought several other investors with funds under management of US$19 billion and above. "Many small investors are credible ones," he said.
Several other investors chose to meet Kartika Wirjoatmodjo directly without going through Eko. One of them is Caisse de dépôt et placement du Québec (CDPQ), a private institutional investor managing public pension and insurance programs in Quebec, Canada. CDPQ met with Kartika in Singapore November last year.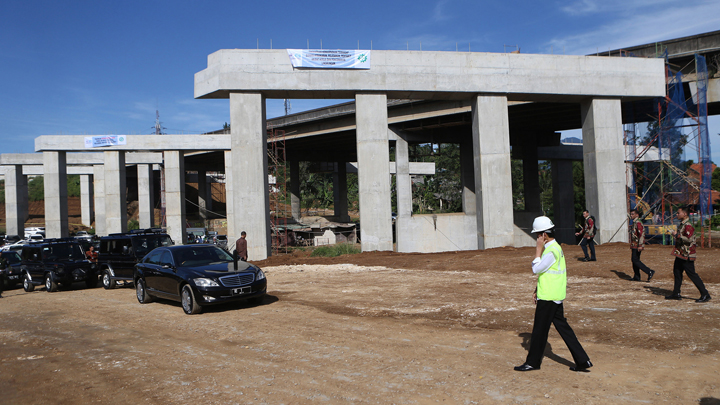 President Joko Widodo at the Bogor-Ciawi-Sukabumi toll road project in Gadog, Bogor, West Java, June 2016./ TEMPO doc./Aditia Noviansyah
With assets of up to US$333 billion or Rp4,878 trillion, CDPQ apparently wanted to copy the success of Canada Pension Plan Investment Board (CPPIB), an investment institution that manages pension funds owned by the Kingdom of Canada with US$434.4 billion funds under management. The CPPIB had invested in Indonesia first.
In November last year, the company bought 45 percent stake in UEM Group Berhad, a toll road company owned by Khazanah Nasional in Lintas Marga Sedaya, the concession holder of the Cikopo-Palimanan toll road. Meanwhile, CDPQ entered through Ivanhoe Cambridge, a company that focuses on the housing sector. The two Canadian investment management agencies are now jointly purchasing four warehousing complexes of LOGOS, an Australian property company, in Indonesia.
•••
AFTER the Job Creation Law was passed, government officials are now struggling to finalize government regulations for the establishment of this investment management agency. President Jokowi gave them just one month.
Without waiting for the rules to be completed, the SOEs ministry started to work. In a meeting with investors last week, the ministry offered a number of national strategic projects that will be financed by investment managers. There are at least five potential assets with a total project value of US$3 billion; including the Bogor-Ciawi-Sukabumi toll road belonging to Waskita Toll Road, and the Jakarta-Cikampek elevated toll road belonging to Jasa Marga.
This plan is not without concerns. A number of economists have warned that the LPI's special authority as a commercially managed state institution could create gaps for corruption. Because even though it regulates trillions of rupiah in state assets, the LPI cannot be audited by the Supreme Audit Agency and cannot be convicted if it suffers a loss.
Politicians from the government coalition also admit there is a big risk behind the scheme. "If it is managed properly, this could be like a Khazanah Nasional," Andreas Eddy Susetyo, member of the DPR Legislation Body from the Indonesian Democratic Party of Struggle (PDI-P) Faction, who also drafted the Job Creation Law, said on Wednesday, October 21. Khazanah is a Malaysian investment institution that manages the country's foreign exchange reserves.
"But, on the other hand, if it is managed poorly, it could end up like 1MDB," Andreas said, reminding of the brutal corruption by the investment management agency in Malaysia, a case that brought down the prime minister.
KHAIRUL ANAM, AISHA SAIDRA, RETNO SULISTYOWATI