Workers are Increasingly Vulnerable to Exploitation
Sharan Burrow, Secretary-General of the International Trade Union Confederation (ITUC):
Edition : 26 October 2020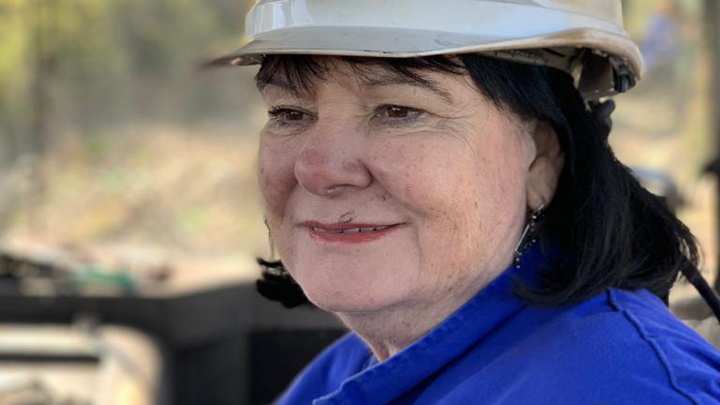 ONE day after the House of Representatives gave the nod to the new job creation law on October 5, the Council of Global Unions—an alliance representing hundreds of millions of workers around the world—wrote to President Joko Widodo. Sharan Burrow, Secretary-General of the International Trade Union Confederation (ITUC) said the council was hoping for the Indonesian government to sit together and have a dialog with labor unions. "But that didn't happen," regretted Burrow during a special video interview with Tempo from her office in Brussels, Belgium, last Friday, October 23.
ITUC is part of 11 federations, confederations and international labor unions joined in the Council of Global Unions. In Indonesia, ITUC is affiliated with the Indonesian Trade Union Confederation and All-Indonesia Labor Union Confederation. ITUC which works together with the International Labor Organization (ILO) and a number of special United Nations agencies represents more than 200 million workers in 163 countries and territories and has 332 national affiliates. Burrow was re-appointed as the ITUC secretary-general in 2010 and she also acts as the secretary of Global Unions.
Burrow, 65, said that the Job Creation Law is a huge setback in the country's progress to provide better protection to workers. She is of view that the labor clauses will rob workers of their rights and adversely affect their welfare. "We understood that labor unions had participated in the discussions with the legislative body but it turned out their views were not accommodated," she said.
Starting her career in education as a high school teacher in New South Wales, Australia in the early 80s, Burrow was already involved in activism that time. She was born to a family with a long history of active involvement in the labor movement and struggles to improve workers' welfare. Her great-great-grand father who participated in the shearers' strike of 1891-1892 was one of the pioneer activists of Australian Workers' Union. He later stood for parliament as a candidate from the Australian Labor Party representing Cobar region in 1896.
Speaking to Tempo reporters Sapto Yunus, Mahardika Satria Hadi, and Abdul Manan, Burrow said it was not too late for President Joko Widodo to revoke the Job Creation Law which can potentially escalate exploitation of workers. She also stressed the importance of formulating regulations that are environment-oriented and are in line with the international legal standards.
W251bGwsIjIwMjEtMDMtMDEgMTE6NDU6MDkiXQ
In its letter of October 6, ITUC urged the Indonesian government to repeal the Job Creation Law and to renegotiate and reopen dialog with workers' unions. What are the considerations?
The ITUC and the industrial union federations around the world are appalled that Indonesia would actually introduce a law that effectively strips away existing workers' rights and entitlements, reduces environmental protections, and simply paves a way for privatization. This is all about attracting foreign investment. So, the Indonesian president and his cabinet have effectively said they didn't care about the Indonesian people. They don't even really care about the domestic economy. The only thing they care about is to actually weaken protection so foreign investment can flow to the country. They just ignore the exploitation that will follow.
Are there any repercussions from enforcing this law?
The consequence is that Indonesian people will be vulnerable to exploitation, local companies can be indeed subjected to unfair competition, and those incredibly valuable assets that support both businesses and workers as well as other areas of the public sectors can be privatized. So, it is an appalling law. It's like the government is actually under the influence of foreign governments that just want to make money by exploiting Indonesian workers.
Until a week after the bill was passed, the parliament was still revising the text several times. Are you aware of it?
Yeah, I read that. There were several changes but they are quite minor. It doesn't change the basis of the law which effectively denies people a guarantee for a decent minimum wage. It weakens protection for workers in terms of contract. They can be fired for no clear reasons and there are no legal sanctions for companies that do that (unfair dismissal).
Have you studied the omnibus law?
Our lawyers have analyzed it as a bill till it was passed by the parliament. We believe there is very little protection of workers against exploitation. And we simply cannot understand why a government would walk away from protecting its own people.
The government has always argued that the law will help create employment for millions of unemployed annually. Do you think it is a logical reason?
If the government's ambition is to create jobs at any cost, then they don't care about exploitation and low wages their people will get. So, President Joko Widodo has to decide what kind of government he wants his administration to be. Will they risk breaking the international rule of law and human rights law, and of course their commitment to achieve sustainable development goals (SDGs) for the sake of creating jobs and employment growth? If exploitation is the only way to create jobs and run businesses, and if that is what your government wants for its people, then the answer is no and your government has failed.
You don't think that this Job Creation Law will create a lot of jobs as the government has been saying?
I don't understand why any government would think that exploitative jobs where people earn insufficient money to feed their families after working incredibly long hours without job security are beneficial to the people or domestic economy. That is neoliberal thinking and this kind of economic model has failed around the world. For decades, it has been a mantra of companies who are only interested in making profits. Even some companies are rallying against it. Throughout Europe and the US, you see movements urging businesses to move away from shareholder capitalism that only seeks profit at any cost and to move towards stakeholder capitalism and shared prosperity models. In that context, instead of protecting the people and being part of an international discourse, your president chose to go back to the worst of neoliberal thinking.
Are there any parts of the law that can jeopardize labor unions?
They can pose dangers for workers. Workers will have no secure employment contracts, only unwritten contracts with working conditions set simply by employers and that is already a kind of exploitation. This is the practice that contributes to modern slavery. The minimum wage levels will become lower now that they will be set by the regions. Working hours will become longer as the limits are slashed in many areas and that will pose risks on workers' health and their families. Sanctions for breaching employment law and standards have also been weakened. So, the rule of law has been undermined as workers have been stripped of protection in the face of power by their employers. You see that even some of the regional governments and businesses are opposed to this law. It is not a universally popular even outside the trade unions.
The ITUC also urged President Joko Widodo to renegotiate with trade unions although they had participated in the omnibus bill discussion at the House.
Yes, but their aspirations were not accommodated. I understand the trade unions generally in Indonesia opposed the bill for very good reasons. The law is simply designed to allow employers to exploit working people and the only motivation of the government is to attract foreign investments. So, your government is not acting in the interest of the people. We are already concerned about the law in Indonesia and the weakening social dialog. It clearly does not advance the interest of Indonesia.
Have you seen something like this happen in other countries?
We've seen dilution of the law in many places. There are two areas in Asia that we're particularly worried about, the Philippines and India. Under growing authoritarianism in these countries where workers are victims, the pandemic has worsened the conditions as the governments simply took away guarantees of decent work for the people. We are also extremely worried about a number of countries in Latin America, particularly Brazil. In Africa, conflicts are emerging as people are in despair. But we were shocked to see Indonesia going down this path. Jokowi, when he was governor and then president, pledged to act in the interest of the people. You still remember his campaign slogans in both elections.
Do you think the regulations have gotten worse under the Jokowi government?
Absolutely. Show me one positive thing this president has championed for working people. One thing.
In July, 2013, you and the ITUC delegation met with President Susilo Bambang Yudhoyono. What did you discuss?
President Yudhoyono had a very clear commitment to building the basis of shared prosperity for workers. It did take him some years, but he came to understand in his own words that the era of low wages had to end if Indonesia wanted to find a stable and prosperous future. He also was committed to environment protection because he understood that the world must act together to stabilize the planet to face climate change. I come from Australia, and like Indonesia, China and India, my country is very vulnerable to climate change.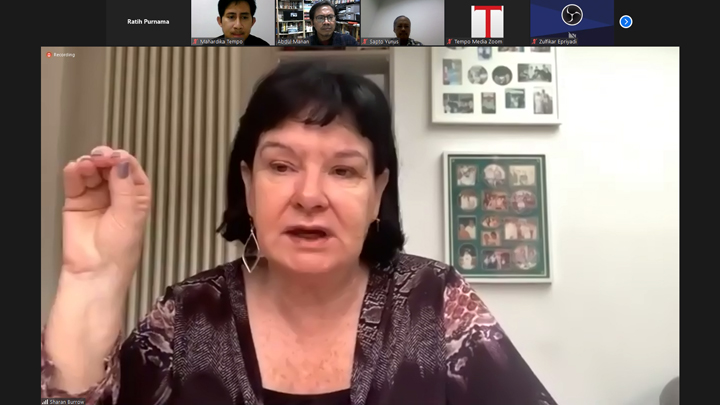 Tempo's online interview with ITUC Secretary-General Sharon Burrow, October 23. TEMPO Doc.
Does President Jokowi not exhibit the same vision?
President Jokowi has just taken Indonesia right back into an era where exploitation of workers is normalized for the sake of business profits. And that is just not acceptable.
Have you or the ITUC delegation met with him?
I've met with many ministers and deputies but I haven't actually met with the president.
The ITUC is affiliated with two largest trade unions in Indonesia, Indonesian Labor Union Confederation (KSPI) and All-Indonesia Workers' Union Confederation (KSBSI). What was your communication with them like during the omnibus bill formulation last year?
I've been working closely with our affiliates. So, the minute the omnibus law was taking place as a bill, our lawyers here and local lawyers in Indonesia analyzed it. And we watched the discussion all the way through until it became a legislation on October 5.
What was your reaction when you learned that the bill was finally passed into the law?
The law is exactly what it is now. It's not about the interest of working people. And we made that clear in our letter to the president. We got in touch with the ILO and the ILO tried to influence the government but failed. Our attempt to influence the government also failed.
Has the president or the presidential palace respond to your letter?
Not to this date. Whether or not he answered the letter, the omnibus law is a proof that he is not the president of the people. He is the president for the capital interests that make money out of the Indonesian people's expectations. The people, especially workers, have such expectation of this president but he let them down.
University students, civil society groups, trade unions and workers are still staging strikes and protests to challenge the omnibus law. Do you think it is an effective way?
People will respond. I'm sure national strikes and demonstrations are just the beginning.
But the government insists that it will not repeal it.
Last time I look you still live in a democracy. When democracy acts against the interest of the people, then the people is the only thing that can undo that.
Do you think the government still has a chance to change its decision?
It's never too late for a government to change its mind and negotiate with its people. But if they don't make that choice, the people will make the choice in a democracy. It's the one good thing that you still have in Indonesia. You still are a democracy.
What options do you think still left for workers in Indonesia who still want to continue with their fight against this law?
The government has to abandon this law. Otherwise it will become a contest for this government through the coming years, into the next election. When people lose trust in the government, you'll have civil unrests, discords, and people will descend into despair because they can't live a decent life. If you choose to tear up protection for decent work, then you're really saying you don't care about the future of your people.
What do you think the Indonesian government should do to attract as many foreign investors as possible?
If Indonesia has decent work opportunities, best and highly skilled workers, and is investing in environmental protection, foreign companies and investors will be interested. The low wage model has to end. If you can only do business on labor exploitation, then that's a dehumanizing construct for global economy.
---
SHARAN LESLIE BURROW | Place and date of birth: Warren, New South Wales, Australia, December 12, 1954 | Education: Bachelor of Education, University of New South Wales (1976) | Career: High School Teacher, New South Wales (since 1980) | Organization: Senior Vice President, New South Wales Teachers' Federation (1980s), President, Bathurst Trades and Labor Council (1980s), President, Australian Education Union (1992), Vice-President, Education International (1995-2000), President, Australian Council of Trade Unions (2000-2010), President, International Trade Union Confederation for Asia-Pacific (2000), President, International Trade Union Confederation (2006-2010), Secretary-General, International Union Confederation (since 2010), Secretary, Council of Global Trade Unions