Rupiah's Journey through the Ages
The rupiah is turning 74 on October 30. Born as the marker of a newly independent country, this currency has recorded the Republic's political journey. Now the advancement of technology is forcing it to adjust.
Edition : Tuesday, November 3, 2020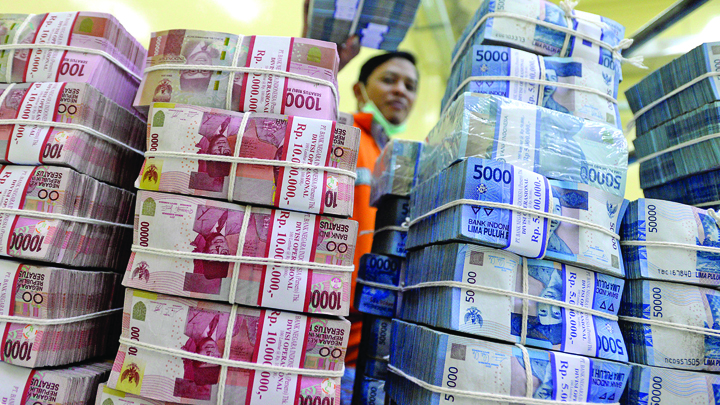 A maestro in realism, Mujirun was surprised when he got acquainted with the printing technique of state money minter Peruri. Carving on a piece of metal was vastly different from the graphic design he studied at Yogyakarta's Indonesian Arts Institute. Thus, in his first six orientation years as a young engraver at Peruri, Mujirun once broke a 12 carving knives in one day.
The young Mujirun was sent off to Italy and Switzerland to learn carving anatomy and drawing details. Led by Peruri's seasoned engravers, Mujirun learned to organize money panels with minute engraving details. He became the only one from his generation who stayed on as Peruri engraver till his retirement.
Engravers are now few and far between. They have been replaced by digital laser machinery, which works faster and more precise than human hands like Mujirun's. "The lever generation is gone. It has become digitalized since the new millennium," said Saiful Bahri, Peruri's operational director, on Thursday, October 29.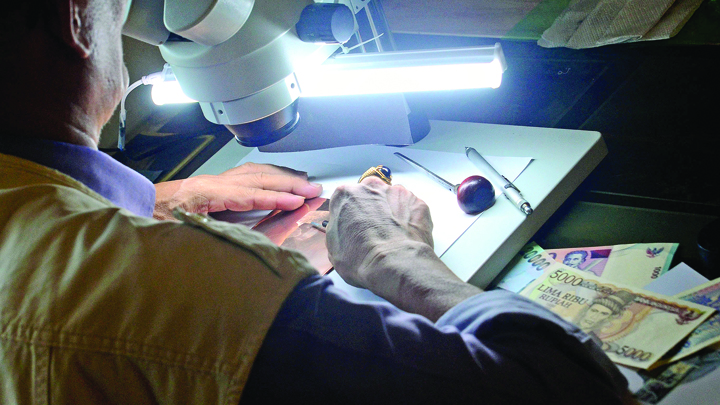 Mujirun demonstrates how to carve a metal plate used to print money./ Tempo/Nurdiansah
Seven decades ago, the rupiah was born from a young republic which strived for a symbol for its independence and unity. Since then, the rupiah has continued to change with the times, as did Mujirun and Peruri.
W251bGwsIjIwMjEtMDYtMjUgMDc6MjE6NTYiXQ
Technological advancement has made tangible money no longer compulsory. People in urban areas, supported by Internet, are familiar with the digital ecosystem. Their wallets are no longer made out of leather. Their money is no longer in the form of paper and coins. All has been replaced by mobile phones, e-money in cards, and other innovations that still lie ahead of us.
The change in money and payment forms are expected to spread in tandem with the increasing number of people on smart phones connected to the Internet. Data from creative agency We Are Social, used by the central bank, Bank Indonesia, to set up the 2025 Blueprint of Indonesian Payment System, shows the ratio of mobile phone usage to Indonesia's population already reaching 133 percent. There are 355.5 million mobile phones for a population of 268.2 million people. Some people may indeed have two or more devices. Also, Internet users are expected to be high: some 150 million people, or 56 percent of the population.
This rise of Internet penetration sparks the growth of non-cash transactions. Electronic money transactions—based on customer identification program (cip) like e-money or server-based like quick response (QR) code—has reached Rp145 trillion in 2019, from a mere Rp7.1 trillion in 2014. Transactions with debit cards, which are usually used with an electronic data capture (EDC) machine, have gone on the same path: they jumped from Rp5,623 trillion in 2016 to Rp7,474 trillion in 2019.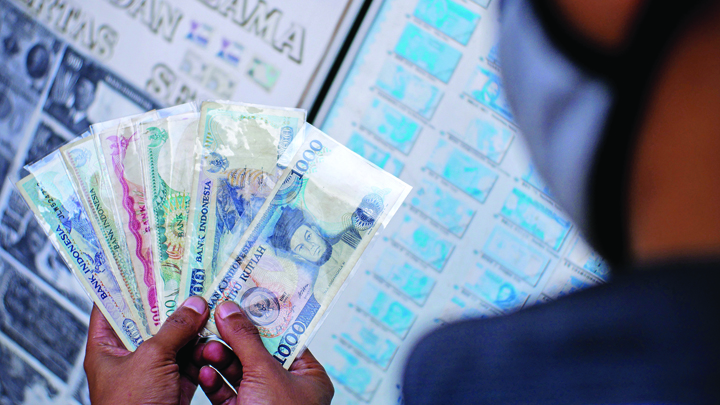 A trader displays old rupiah bills in Pasar Baru, Jakarta, October 30./ANTARA/Rivan Awal Lingga
Non-cash transactions have soared further since the central bank issued the Quick Response Code Indonesian Standard (QRIS). With this standard, one code can be used on all scan-based applications. Until June, 3.64 million merchants and service providers use QRIS. The reach of the QR-coded payment, which previously used a closed system—meaning different methods for each merchant—is now increasing in popularity.
Even so, this rapid growth of non-cash payments has not yet—or maybe would never—replaced the role of cash. Paper and coin money are still expected to be the main payment currency, particularly outside the big cities and in informal trading activities. "Digital money is not a replacement for cash, but rather a complement for it," said Marlison Hakim, Bank Indonesia's executive director for money management.
This belief is supported by the central bank's data regarding cash circulation. In the past five years, until December 2019, the average growth of cash money circulating in Indonesia has been 8.25 percent. This growth is similar to those in other countries. However, some Scandinavian countries like Norway and Sweden have experienced the reverse, where their non-cash ecosystem has soared.
•••
AMIDST the spread of Covid-19 pandemic, the central bank continues to send cash to the cross-border posts so that the rupiah is present in every corner of the country. As we know, the islands Sipadan and Ligitan near Northern Kalimantan have been detached from Indonesia due to the rupiah's absence. The International Court deemed the two islands as part of Malaysia since trading there used the ringgit, Malaysia's currency. The rupiah's absence is the reason why these islands—a diving tourism destination—are no longer part of Indonesia.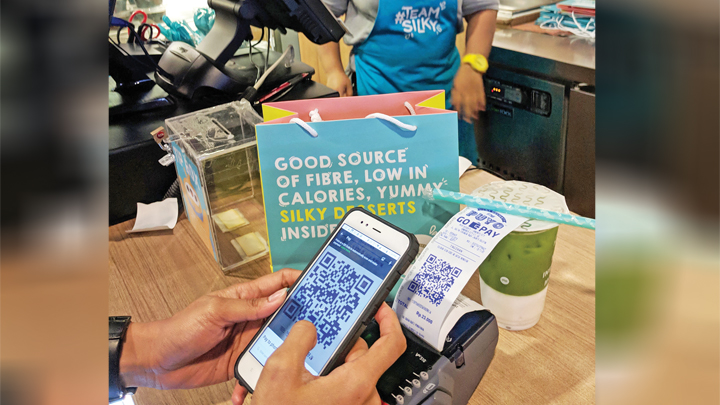 Digital payment at a shop in an mall in South Jakarta./ Tempo/Ratih Purnam
In the beginning, this report was meant to give a brief portrait of the rupiah's journey. It turns out that the journey is not a completed story. It is an ongoing process, with opportunities and challenges waiting ahead. Thus, this also includes the rupiah's fate in the midst of the information technology disruption.
Barter trading transactions still exist in a number of regions, like in the Wulondani market, Lembata Regency, East Nusa Tenggara. Virtual payment GoPay, OVO, LinkAja, Dana, ShopeePay, or EDC machines for credit and debit cards are not valid in Wulondani. Instead, there are shouts and bargaining of residents and their wares. A dozen of banana bunches for a mackerel. An instant noodle package for a squash or a piece of dried fish. A medium-sized earthenware is bargained for three slabs of shark meat fished by Lembata shore residents. Money will only be used if barter objects are finished.
There are other interesting aspects on the story of money. Money as a work of art was part of the rupiah's early history. Images full of symbolism was printed on all rupiah series and are worthy of scrutiny, including its intricate creation process. Mujirun was only one out of many plate engravers that experienced the complex production of money before Peruri used the laser technology.
Images on money also mirror the politics in that particular era. During the Sukarno and Suharto regimes, faces of both leaders repeatedly adorned rupiah paper notes and coins during their reign. Only since 2011, when the Currency Law was issued, the rupiah could no longer have images of people who are still alive.
A 50 gulden bill with a picture of J.P. Coen which was issued in 1927, a collection of Eka Iswan in Cibinong, Bogor, West Java, October 25./Tempo/Ratih Purnama
Rupiah series with its plethora of designs have sparked collectors' interest. B. Untoro is one of them. He was willing to ask the help of an old friend in Austria to go after a 2.5 Dutch guilder coin. This coin was issued by the Nederlandsche Handel-Maatschappij (Dutch Trading Company NHM) in 1861 and was up for auction in Vienna, Austria. Untoro clinched the 2.5-guilder coin for Rp36 million. Scarcity leads to high prices.
The story of money's design, the meaning behind it, and the collectors that pursue it would not be complete without describing the money-making process. Bank Indonesia, as the sole issuer of the rupiah, already has a special formula, from how many notes are to be printed annually, who will provide the raw material, until when the rupiah series have to be removed from the market and replaced with a new ones. "Each emission usually has a lifespan of six years," said Marlison Hakim. This cycle can be pushed forward if its security features have expired and would thus be in danger of counterfeiting.
The final part of the money story is the present and future transformation of money and the rupiah. The revolution of money and the rupiah is marked by the rise in digital transactions in the economy, through card-based instruments such as debit and credit cards, and also through cip-based electronic devices such as e-money, or server-based ones such as the QR code.
Digital technology has revolutionized the way people store and spend money. Currently we also anticipates the emergence of virtual currency or cryptocurrency, which is starting to get used online, albeit illegally. This part also shows that the history of money is far from completion, and who knows what still lies ahead.
---
TRANSFORMATION OF RUPIAH SPECIAL REPORT TEAM
TEAM LEADERS: Agoeng Wijaya, Nurdin Kalim | PROJECT HEADS: Isma Savitri, Khairul Anam | WRITERs: Aisha Shaidra, Isma Savitri, Khairul Anam, Mahardika Satria Hadi, Moyang Kasih Dewimerdeka, Retno Sulistyowati, Wayan Agus Purnomo | EDITORS: Agoeng Wijaya, Nurdin Kalim, Stefanus Teguh Edi Pramono, Wahyu Dhyatmika, Anton Septian | ENGLISH EDITOR: Luke Edward | PHOTO RESEARCH: Ratih Purnama Ningsih (Coordinator), Gunawan Wicaksono, Jati Mahatmaji | DESIGNERS: Rudy Asrori, Aji Yuliarto, Ahmad Fatoni, Kuswoyo, Munzir Fadli, Arief Mudi Handoko