Arka Kinari's Spicy Journey
Departing from Rotterdam in the Netherlands on August 23, 2019, the crew of the Arka Kinari ship finally anchored in Indonesia on September 1 this year. On the ship were the artist couple Nova Ruth Setyaningtyas and Grey Filastine, and six international crew members. On this low-carbon journey, they visited a number of countries and gave mini concerts on board. Their expedition faced numerous challenges, from storms, the coronavirus pandemic, to permit processing that left them in limbo on the open sea. In addition to campaigning for the environment, the Arka Kinari crew was involved in the Spice Route movement proclaimed by the education and culture ministry's directorate-general for culture. This made them change their sailing route onto a number of spice locations: Sorong (West Papua), Banda Neira (Maluku), Selayar and Makassar (South Sulawesi), Benoa (Bali), and Surabaya (East Java).
Edition : Tuesday, November 10, 2020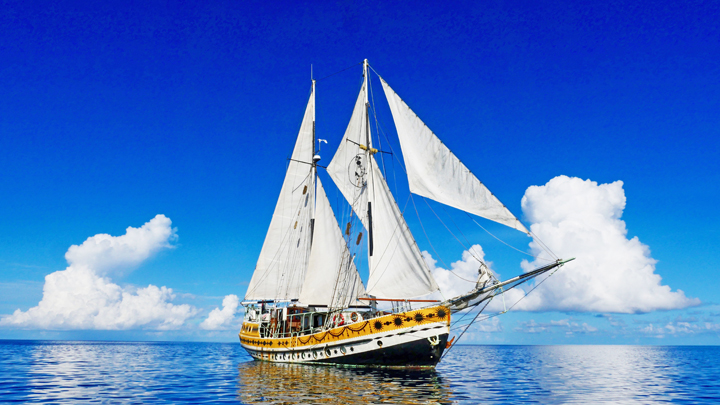 ALL my fingers are marked for rapid tests, even though I've only entered Indonesia for a month," Nova Ruth Setyangingtyas said through the telephone on October 1. This musician from Malang, East Java, chuckled.
Not only because she has gone through numerous Covid-19 tests, but also because she has been at sea for the past few months. Her home has been an 18-meter-ship called the Arka Kinari, which means surviving on a ship. The vessel, 73 years old, brought her home to Indonesia, after sailing across oceans for more than a year. "I still had to do the rapid tests, although at sea I actually only come across fish."
Nova was not on a vacation. Arka Kinari brought her across the oceans, starting at the Rotterdam Harbor in the Netherlands on August 23 last year. On board the Arka Kinari, this hip-hop musician lived her dream: spreading the message to preserve the environment, manage waste, and love the ocean. She embarked on this mission with her husband, an American musician and composer Grey Filastine. They were supported by a voluntary team who accompanied them on the ship: Benjamin Blankenship, Claire Fausat, Sarah Payne, Titi Permata, I Made Bradley, and Tommy Panjang.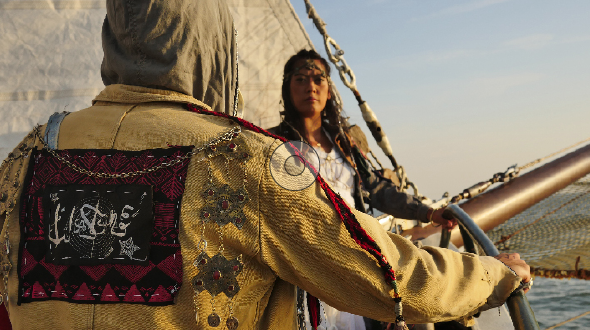 Nova Ruth dan Grey Filastine on board of Arka Kinari. Grey Filastine
Blankenship, in addition to being Arka Kinari's skipper, was a supporting member in Filastine and Nova's music performances. However, he was not the only one wearing multiple hats: Fausat was a sailor and a stage manager. Most of the other crew members also played a role in the stage productions. Sometimes they would perform music, but on other occasions they would do theater. Titi, a former environmental activist, was Arka Kinari's project manager. "We really did everything together. While on the ship, I also took turns cooking and tidying up," Nova said.
W251bGwsIjIwMjEtMDUtMDggMTU6MTU6MDkiXQ
The Arka Kinari team entered the Indonesian waters through Sorong, West Papua, on September 1. They anchored and stayed there for over a week. While in Sorong, Nova and her friends performed a mini concert. After that, they carried on to Banda Neira (September 16-23), Selayar (September 27–October 3), Makassar (October 5-10), and Benoa (October 20-31). Their journey was set to conclude in Surabaya on November 7.
During their trip, there were times that the Arka Kinari team would stop in one region, such as Gili Gede in West Nusa Tenggara, which they visited after Makassar. That departure left a deep impression on Nova, since the ship was blessed by monks led by Puan Mattoa Bissu when they were in Makassar. Meeting, and interacting, with local residents was one goal of Nova and Filastine. "These kinds of experiences really touch you. Because we are sailing, we can really feel the cultural differences between places," Nova noted.
Arka Kinari's team is greeted by a kora-kora boat in Banda Neira, Maluku. Twan Im
In Indonesia, Arka Kinari's crew started adapting to the 'new normal'. They try to minimize contact by not taking public transport like buses or taxis. Indeed, the pandemic did rain on their parade. Their original plan had been to do music performances at every port they docked, while at the same time spread their message about the environment. However, the pandemic forced them to reshape their plans. The plan to perform at the Makassar harbor, for example, was changed into a small gig at Fort Rotterdam.
Amidst their concerts, Nova and the Arka Kinari crew also tell the history of the Nusantara's (archipelago) spice route. This initiative, started by Indonesia's directorate-general for culture, became an integral part of Nova and Filastine's journey in Indonesia, from Sorong until Surabaya. "This spice route is important for us, because of its transaction between knowledge and culture, something we have been studying and putting a lot of effort in," Nova said.
***
NOVA and Filastine are artists whose works have focused on nature and culture. For over a decade, the pair has traveled the globe on tours, mostly by air. That, Filastine said, has unsettled him, and made him think about a touring method which is in line with their message of preserving the environment. They had a simple goal: they want to travel in an eco-friendly way. Filastine and Nova even thought of wind energy, and a performance powered by solar energy.
Filastine said their plans kept changing in the past 15 years. They thought about going on a cargo ship, or buying a pinisi, a traditional Bugis ship in South Sulawesi. Finally, their choice fell on an old sailing vessel weighing 45 tons. This idea was sealed with the release of the album An Emergency Exit from the Anthropocene, which represents their mission and a nautical adventure, Filastine said. The ship became the stage as well as the platform of their message. He gave the analogy of slow food: a movement that urges people to take time to enjoy food, and at the same time promote local culinary delicacies. "So, we're doing a slow tour," Filastine said on October 13, while docking at Gili Gede.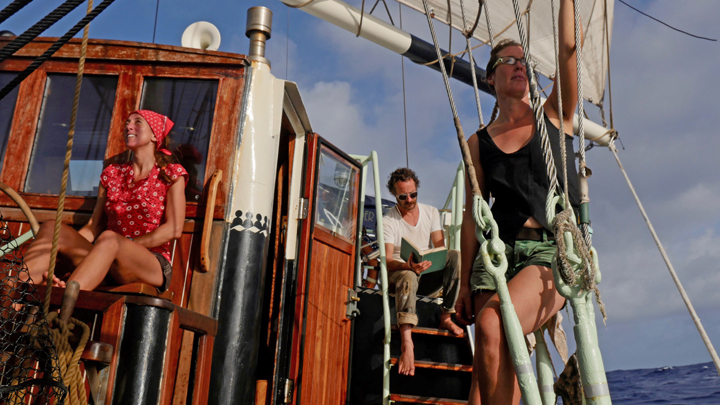 Arka Kinari crew, (L-R) Sarah Payne, Benjamin Blankenship, and Claire Fauset, sailing across the Pacific Ocean, in June. Grey Filastine
Thus, rushing is a no-go during this journey. Filastine pointed out that moving slowly actually makes them dive deeper into this tour, gives them the opportunity to reach remote locations, and allows them time to study, both individually and together with the local residents they meet on their journey. However, he emphasized that they are not celebrating maritime history, but attempt to revive it through new elements. One of them is using renewable energy on their old ship.
Filastine hoped that their way of traveling could become an alternative solution for the future. "A future of low carbon footprint will put Indonesia at the center of connecting Asia and the Middle East with Africa, and also Europe. I believe that this will help us to stop damaging the earth, by not extracting oil and coal, and at the same time strengthening precious produce: spices, which Indonesia has in abundance," he said.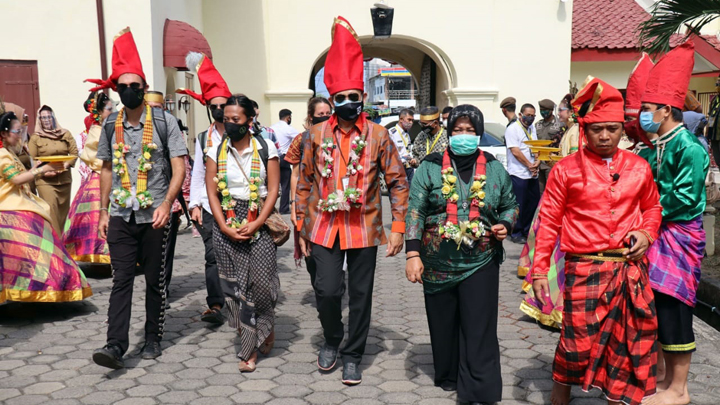 Arka Kinari's team in Makassar, South Sulawesi. Isman Alwi
In order to finance this expensive dream, Filastine even sold his house in the US city of Seattle. They received added funding from campaigning, and crowd funding on Kickstarter and Patreon. Nevertheless, it was not all smooth sailing for Arka Kinari. Filastine explained that the shortest route from Europe to Indonesia is through Egypt's Suez Canal. Unfortunately, this route is dangerous due to the presence of Somalian pirates and the civil war in Yemen. A second choice was the route used by the Dutch colonial sailors through South Africa. However, this option also fell through because of possible storms, as the Arka Kinari had not been tested for durability, and its crew had little experience in sailing on the open sea.
Thus, the team under the leadership of skipper Blankenship finally chose the safest—albeit the longest—route. Since departing from Rotterdam in August 2019, they have made stopovers in France, Portugal, Morocco, the Canary Islands, Cape Verde, Tobago, Grenada, Aruba, Venezuela, Colombia, Panama, Costa Rica, Mexico, Hawaii, some uninhabited Pacific islands, and Guam. The ship only docked in Indonesia on September 1, after being at sea for over a year. "We transformed the Arka Kinari into a resilient machine in order to survive," Filastine said.
One of the joys of their journey was visiting remote islands and getting to know the local residents. Some of the people they got to know even joined them as crew members. A sailor from France, a cook from Portugal, two English women with multiple skills, and a young Indonesian from Guam who was an expert electrician. They take advantage of their time ashore to go on the Internet and manage the ship's navigation and other technical issues.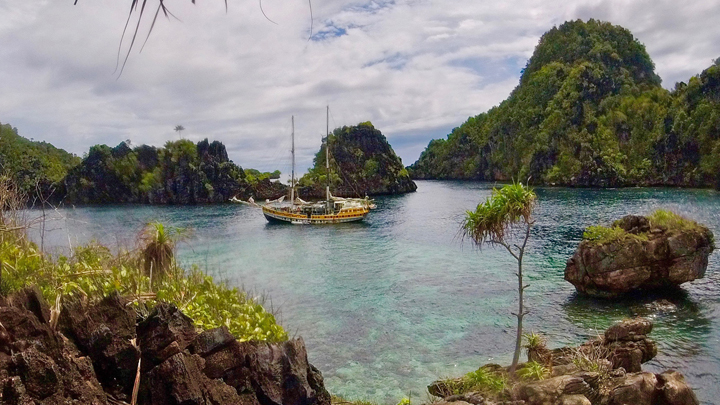 Arka Kinari docking in Raja Ampat, Papua, in September. Grey Filastine
Of course, the coronavirus was a serious stumbling block for the Arka Kinari team's plans, which they had prepared for years. When they left Mexico on February 21, the crew was already aware of the pandemic. However, they only felt its impact six weeks after that, when they were entering the Hawaiian waters. From information they obtained by radio, the crew had heard that a number of countries in the Pacific had gone into quarantine. Indonesia also had restrictions for ships entering from abroad. In the midst of all these uncertainties, another problem arose: the US visas of some of the crew members were almost expired.
Filastine further said that they were unsettled for months. The ship passed through the Johnston Atoll, a US territory which had been used as testing location and storage for chemical and biological weapons. At the time, the ship had already requested for a docking permit, but received no response. Arka Kinari then approached Marshall Island, which unfortunately was closed. They finally docked for a while at an uninhabited island. At that time, Filastine continued, they tried hard to enter Indonesia before the beginning of July, as there were predictions of heavy storms, which meant that they needed to be at a harbor for safety reasons.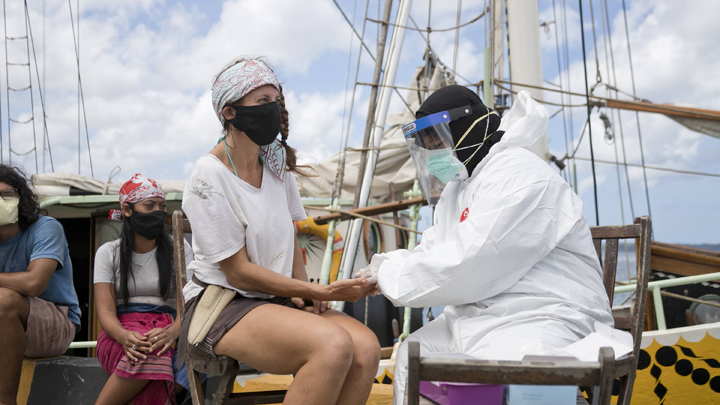 Covid-19 rapid test for Arka Kinari's team in Selayar Island, South Sulawesi, October 1. Grey Filastine
However, that plan failed. Arka Kinari was not able to enter Indonesia, and had to take a detour to Guam. They stayed there for 40 days while waiting for the crew's Indonesian visas to be processed. Their hope was that the ship would be allowed to enter the country, which was not that far away from where they were.
In the midst of those entanglements, Nova continued her efforts to negotiate with the government to find ways for her team to enter Indonesia. She then contacted Titi Permata, a friend who worked as local environment activists for the Protestant Synod Church in North Maluku. Titi then became Arka Kinari's project manager. She was the one who bridged the crew's permits, until the ship was finally able to sail towards West Papua, after being in limbo for over a month.
Barely leaving behind their permit woes, the ship faced the almighty sea. Storms had started raging, and the skipper had to strategize in order for the vessel to continue going in the right direction. To make matters worse, the ship had technical problems, and was even out of fuel. Luckily, Filastine said, a big Chinese tanker saved them by dropping solar and food by ropes. However, that only secured them for a few days. The crisis continued as the storm destroyed one of their sails. "In hindsight it sounds amusing. At that time, however, conditions were truly frightening," Filastine recalled.
Processing documents was a big headache throughout Arka Kinari's journey. Even though Filastine said that harbormasters and local officials were competent, administrative issues were stumbling blocks for them. In Papua's Raja Ampat, for example, because of lacking one signature, they were declined entry for a while. That not only interfered with their concert schedule, but also obstructed their route towards the open sea through Raja Ampat's coral reefs. Due to its late departure, the Arka Kinari had to weather heavy storms that night that almost caused the ship to topple over.
Titi Permata realized that joining the Arka Kinari team was no easy task. She was immediately immersed in difficult homework to make sure the ship was able to sail into Indonesian waters, and was able to perform concerts. In the midst of the pandemic, music concerts were scrapped. When she was contacted by Nova in March, Titi was still living at her home in Salatiga, Central Java, while Filastine and the Arka Kinari were still in the open sea.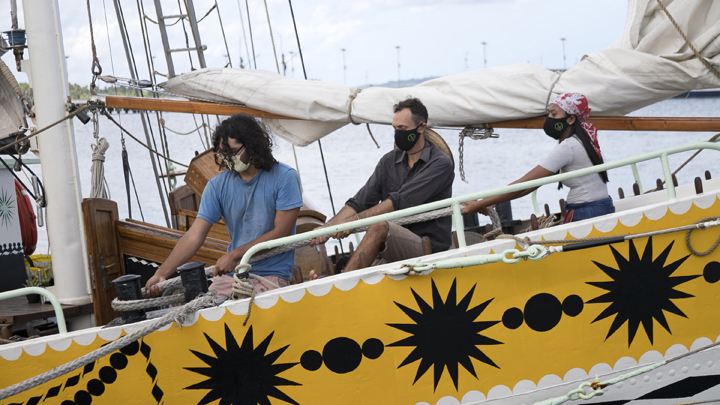 Arka Kinari arrives in Selayar Island, October 1. Raditya M Fadilla
Titi started approaching the government, in this case the education and culture ministry's directorate-general for culture, citing humanity compassion for the ships' crew. Titi's efforts started bearing fruit when the ministry offered Arka Kinari to become involved with the Spice Route movement. Supported by the Yayasan Lintas Batas (Cross Border Foundation), Filastine and Nova were finally able to stage a performance, albeit not as big as they had proposed. "We did it with limited funding, since some sponsors cancelled due to the pandemic. However, since the whole crew worked on a voluntary basis, we were able to adapt," Titi said.
For Nova, challenges already arose even before the team embarked on its travels. She admitted that she was scared to sail for such a long period of time because of the ocean's unpredictability. And then there was the myth that women should not be at sea. "But finally, I was convinced that I was able to do it. My grandmother was Bugis. I should be as strong as she was, right?" Nova said.
Filastine also said that the project has exceeded his expectations, both good and bad. "Arka Kinari is like life, which is dynamic. The lowest point is worse than anything I have ever experienced. But its highest point was better than anything I could have imagined," he said.
ISMA SAVITRI