Amir
When the poet Amir Hamzah left his native village and sailed for Batavia on the Plancus, he wrote a rather mediocre poem:
Edition : Tuesday, November 10, 2020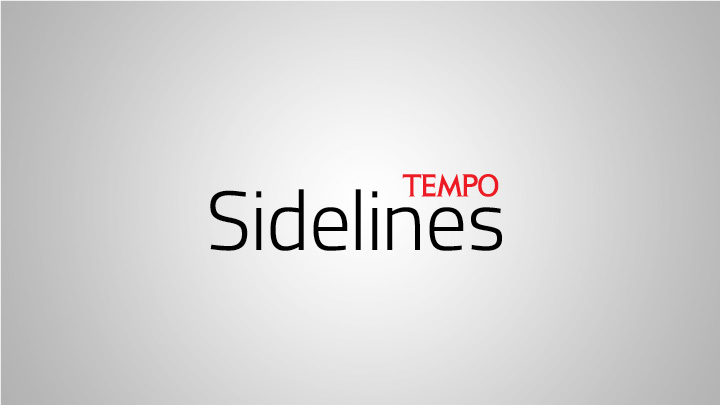 Tinggallah tuan, tinggallah bunda
Tanah airku Sumatera raya
Anakda berangkat ke pulau Jawa
Memungut bunga suntingan kepala
Leave, leave your mother's lap
My native land Sumatra
Your son is leaving for Java
To pick a flower for his ear
This poem was probably written in 1927. We can feel the traditional old Malay poetic form: each verse made up of four lines; the rhythm moving in every line always made up of pairs of words forming five or six syllables: Ting-gal-lah tu-an, ta-nah-air-ku, Su-ma-tra ra-ya…and each line ending with the sound 'a'.
Orderly. No surprises. Nothing there to jolt us with the unpredictable, the new. The phrase 'bunga suntingan kepala', 'flower behind the ear', as a metaphor for knowledge had perhaps not been used in this particular way before, but the metaphor itself was common in old Malay poetry. In other words, this poem is stale.
But just a few years later, Amir produced poems that were fresher, more intense, and more rousing, making a break with the orderly and established. Gone was the repetition of syllables, gone the soft, predetermined sound: now each syllable resounded its own expression:
Habis kikis
Segala cintaku hilang terbang
Pulang kembali aku padamu
Seperti dulu
Soured scoured
All my love has flown
I come back home to you
As before
In this poem, as in others of his, we find something unusual in traditional Malay poetry; the power of the words is built by alliteration of consonants: it is not the series of vowels, but the consonants, 'r', 'g' and 'k'. And they are not just decorative. They play an important part in the description of mood, as in this poem that describes storms, fires, and a situation of panic:
Teriak riuh redam terbelam
dalam gagap gempita guruh
kilau kilat membelah gelap
Lidah api menjulang tinggi
Shrieks and noise muffled
in spasms of thunder
flashes of lightning slicing the dark
Tongues of fire soaring high
W251bGwsIjIwMjEtMDYtMjUgMDg6MjI6NDQiXQ
Yes, something had changed in Amir Hamzah's poetry. No longer was there the conformity of traditional Malay poetry, no longer the harmony from one part to the next. Poems like this one—along with some others that astound us even today—were born when 'native land' was no longer 'Sumatra'. Amir presented his first compilation of poems for a wider world, 'Mother Indonesia'.
This was the 1930s—the years following the Sumpah Pemuda or Youth Pledge, when history tore up all kinds of existing discourse, when different expressions were built.
In the time around the Youth Pledge, Amir Hamzah's poems still employed the rhythm of Malay poetry, with a regular number of syllables per line similar to the pantun. There was virtually no rhyme with odd sounds as in Indonesian poetry post-1945, as in Chairil Anwar's poems. The metaphors were still from the ecology of country life, from flora and fauna of nature not yet altered by modernity: Amir's poems mention gardenia, pandanus, and jasmine; magpies and owls; and the sounds of shawms and flutes.
But at the same time, Amir's poetry projects itself as the notes of a 'wanderer', someone who roams beyond his zone of origin. There is another element that enters, too, from Javanese literature. Humans and their mortality are compared to 'shadow puppets' or 'puppets' who follow the will of the dalang or puppet master. When their role is over, they are 'exchanged' and they rest in the puppet chest.
The same influence can be seen in his use of Javanese-derived words like suwara suwarni (golden voices), or swarga (heaven) rather than the Malay sorga, alit (small), japamantera (magical incantation) and gendewa (bow). Amir even mentions maskumambang, the name of a melancholic form of Javanese poetry, to depict a sad mood.
Amir Hamzah's era was one of disturbance of origins. The poet continued to call himself 'son of Langkat' and 'Malay man', but 'Sumatra' was no longer the 'native land'. This was also true of the youth who proclaimed their resolve with the Youth Pledge on October 28, 1928. That native land, 'Indonesia' was actually still unsure in history.
Even the dominant faith, Islam, was a rocky foundation. In a lyrical piece of prose Amir said, 'you, my heart, possess your own holy book'. When he yelled at God with the words 'you are jealous', we see traces of the Old Testament there. Amir depicts Islam not as the one and only, but rather as just one of 'two lights', 'jewels' in the Abrahamic tradition; the other being Christianity. And when the two 'quarrel', he does not want to take sides. To him, 'that is all pointless'. He chooses to remain close to God, his 'love', like 'Moses on Mount Sinai'.
Maybe that is why I have never found the name of the Prophet Muhammad in any of Amir Hamzah's poems. Not because Amir was apostate, but because his poetry and his time no longer lived with roots (faith, tradition, origins) that were straight, single, or penetrating. The poem Buah Rindu (Longing) is a 'rhizomic' expression, to use Deleuze and Guatarri's term; "[the rhizome] presents history and culture as a map or wide array of attractions and influences, with no specific origin or genesis, for a rhizome has no beginning or end…"
But in this way, literature—and the creative process in general—is rich, reaching out in all directions, continuously. When Amir Hamzah left the village of his birth and sailed on the ship Plancus, he was actually leaving like those youths of 1928: no longer to be shackled by history. And independence started right there.
GOENAWAN MOHAMAD