General Napoleon's Plastic Bag
A share of money for a high-ranking police officer was mentioned during the trial of the case of Joko Soegiarto Tjandra's red notice status. That officer's identity remains unknown.
Edition : Tuesday, November 10, 2020
A FIGHT over money between two police generals in the case of bribery for removing Joko Soegiarto Tjandra's red notice could be clearly seen in the first court hearing of Insp. Gen. Napoleon Bonaparte, a former chief of the international relations division of the National Police. The public prosecutor detailed the bribery plot when reading out the charges in the Jakarta Corruption Court on Monday, November 2.
It all began around last April when Joko planned to file a request for a review of the Bank Bali cessie collection rights case in which he had already been convicted. Joker—as Joko is also known—obtained information that his red notice status was first given in 2015 by Interpol headquarters in Lyon, France. "The defendant Joko was prepared to give Rp10 billion through Tommy Sumardi to be given to the parties who would help him enter Indonesia," the prosecutor said.
Tommy, who is a businessman, then contacted police Brig. Gen. Prasetijo Utomo, who at that time was chief of the civil servant criminal investigators coordination and supervision bureau in the National Police's criminal investigation unit. Prasetijo then introduced Tommy to Napoleon. They met in Napoleon's office on April 17, and Tommy delivered Joko's message about his travel ban status at Interpol.
As the prosecutor revealed in court, Napoleon said that Joko's red notice could be taken care of as long as there was compensation involved. "Three will do it, Ji," said the prosecutor, imitating Napoleon's words to Tommy, who he calls by the nickname Pak Haji (Ji). The 'three' meant Rp3 billion. Once he received the information about that price, Joko asked his secretary to give US$100,000—about Rp1.42 billion—to Tommy to be given to Napoleon.
Ten days later, Tommy was planning to hand over those dollars from Joko to Napoleon. As a passenger in a car with Tommy, Prasetijo, saw the money in question. It was mentioned in the charges that Prasetijo then split the money in half, because he felt Napoleon's share was too large. Carrying a bag containing the remaining US$50,000, Tommy then gave the money to Napoleon.
W251bGwsIjIwMjEtMDYtMjUgMDc6NTA6NTkiXQ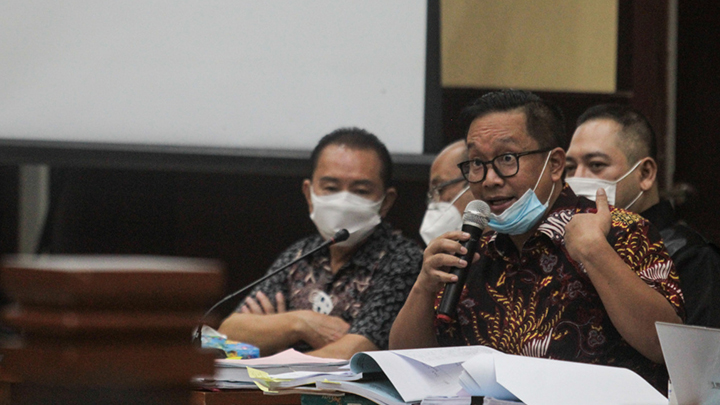 Brig. Gen. Prasetijo Utomo at the East Jakarta District Court, November 6./TEMPO/Hilman Fathurrahman W
Rather than accepted it, Napoleon turned down the money. He said that it was not enough. The prosecutor said that Napoleon then asked that the payoff be raised to Rp7 billion. "The defendant said, 'This is for the one above me as well, not just myself. They are the ones who placed me in this position,' and said, 'This is our superior,'" said the prosecutor when reading the particulars of the charges.
A police officer familiar with the investigation into the Napoleon case said that the request for a share of money for a high-ranking police officer was obtained from Tommy's testimony when he was questioned by criminal investigators. According to this officer, Napoleon never talked about a flow of funds for a high-ranking police officer. That officer claimed that the cluster of police personnel in the bribery case for removing Joko's travel ban is no longer exists.
Chief of the National Police's Public Information Bureau Brig. Gen. Awi Setiyono said that the testimony regarding a payoff for a police officer was not obtained from questioning Napoleon. Awi said that such testimony came from another suspect. Deputy Attorney General for Special Crimes Ali Mukartono said that the request for Rp7 billion is mentioned in the case file and the prosecutor did not add anything in the indictment letter.
Tommy's lawyer, Dion Pongkor, verified that the testimony regarding a payoff for a high-ranking police officer was stated by his client when speaking to investigators. Speaking to Dion, Tommy revealed that this was the reason why Napoleon had raised the amount of the requested payoff from Rp3 billion to Rp7 billion. "That accusation came 100 percent from Tommy's testimony," said Dion. According to him, his client went to meet Prasetijo and Napoleon after Joko asked for his assistance to take care of the red notice.
The prosecutor also said that after the price for getting rid of that red notice was raised, Napoleon received S$200,000 and US$270,000 or about Rp5.9 billion in all, in several installments. On April 27, Tommy received about US$100,000 from Joko through a courier at Meradelima Restaurant—next to National Police Headquarters. Wrapped in a white plastic bag, Tommy took the money to Napoleon's office on the 11th floor of the Transnational Crime Building at National Police Headquarters.
Napoleon then ordered his subordinate to send a letter to the directorate-general of immigration. This letter informed them that the international relations division of National Police Headquarters was updating its wanted list. The letter clarified that some fugitives no longer needed to be on the list. "The Police's international relations division informs you that it is updating its database system on the wanted list which is registered on Interpol's red notice through the I-24/7 network," said the prosecutor.
Six days later, on May 4, Tommy gave more money to Napoleon. This time it was US$150,000 or about Rp2.1 billion. Once again, Napoleon immediately asked a member of his staff to send a letter to the immigration office. In this letter, Napoleon informed them of the elimination of an Interpol red notice.
The following day, they met again in Napoleon's office. Prasetijo Utomo was present at this meeting. Tommy gave US$20,000 to Napoleon. After receiving these funds, Napoleon wrote to the immigration office for the third time. He informed them that the red notice in the name of Joko had been removed from Interpol's system in France. This letter from Napoleon dated May 5, was used by the ministry of justice and human rights to remove Joker from the list of internationally-sought fugitives. Joko then used this data to enter Indonesia.
Although his name was no longer on the immigration office's travel ban data, Joko did not use an official route when entering Indonesia on June 6. This boss of the Mulia Group passed through an oil palm plantation road in Kuching, Malaysia, until he reached Pontianak in West Kalimantan. He did not pass any immigration checkpoints. In Pontianak, Prasetijo and Anita Kolopaking—Joko's former lawyer who is presently a suspect for issuing a forged document—were waiting. Using a letter declaring him free from Covid-19 and a travel document prepared by Prasetijo, Joko flew to Jakarta to file the paperwork for a case review at the South Jakarta District Court.
Joko did not stop giving bribes to police generals after his name was removed from the list of fugitives. Prasetijo telephoned Tommy to ask for a share of funds because he felt he had helped Joko. During the court hearing for reading the charges, the prosecutor imitated Prasetijo's words to Tommy. "Ji, it has been taken care of! Where's my share?" Tommy promised to go to Prasetijo's office and asked to not talk about that matter over the phone. The next day, Tommy went to Prasetijo's office and gave him US$50,000.
On July 27, Prasetijo became a suspect in a case of issuing a forged travel document. Together with Napoleon Bonaparte, he has become a suspect in receiving a bribe from Joko. In the court hearing for the reading of the charges at the Jakarta Corruption Court held on Monday, November 2, it was said that he received US$150,000 from Joko. Meanwhile, Joko was charged with bribing law enforcement officers with US$920,000 and S$200,000.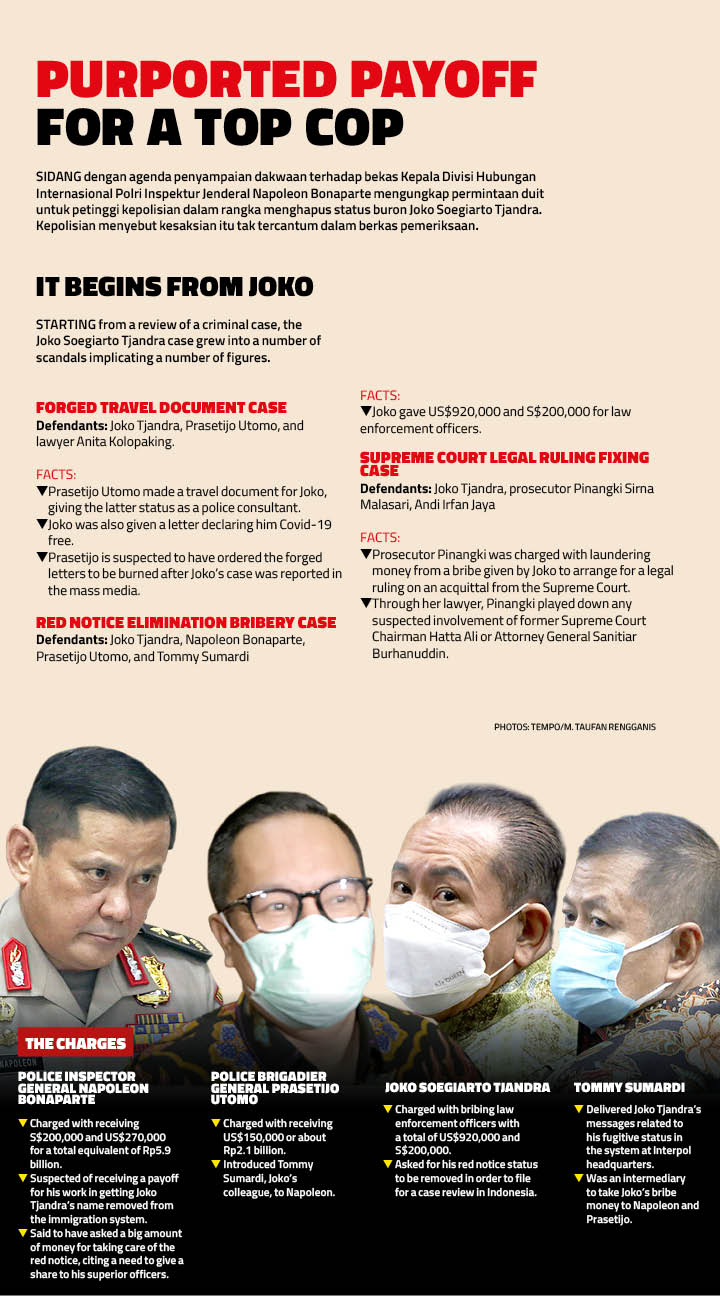 Napoleon's lawyer, Haposan Batubara, denied the accusation that his client received funds related to taking care of Joko's red notice. He said that no funds were confiscated from Napoleon as evidence of bribery. Haposan said that criminal investigators only confiscated Napoleon's cellular phone. "Let's not have this case being engineered against him," kata Haposan.
Poengky Indarti, a commissioner on the National Police Commission, urged that the facts which were discovered in the court hearing be thoroughly examined. She hopes that the prosecutor in the case will be able to prove his charges, including the matter of a suspected payoff for high-ranking police officers. "The panel of judges will surely examine the evidence and witnesses to see if they corroborate," said Poengky.
Chief of National Police's Criminal Investigation Unit Comr. Gen. Listyo Sigit Prabowo said that his team has followed all the developments in the trial. "If anything new is revealed in court, we are open to doing further investigation," he said to Tempo on Friday, November 6.
RAYMUNDUS RIKANG, LINDA TRIANITA,
ANDITA RAHMA