Food and Beverage Industry's Worries
The food and beverage industry is pushing the government to issue import permits on refined sugar due to uncertain supplies for early 2021.
Edition : 16 November 2020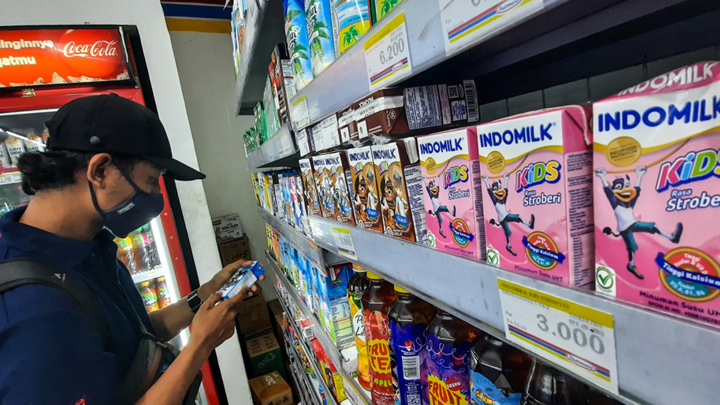 THE Secretary of the Coordinating Ministry for the Economy, Susiwijono received multiple letters during the first week of November. "We've received letters from Wings Food, Indofood, and others," said Susiwijono on Tuesday, November 10.
Through different letters, the food and beverage industry representatives expressed their concern over the thinning supplies of refined sugar during the end of the year. They asked the government to swiftly grant import permits of raw sugar for refined sugar suppliers.
Indofood subsidiary, Indolakto, for instance, requested that permits be given to Kebun Tebu Mas (KTM), a sugar factory in Lamongan, East Java. KTM is a supplier of raw sugar for Indolakto factory in Pasuruan, East Java. Every month, KTM supplies approximately 12,500 tons of refined sugar to the producers of Indomilk.
Director of Technical and Operations of Indolakto, Sonny Effendhi said that the late issuance of these import permits might have a significant domino effect. "Late sugar supplies to the industry might lead to food productions being halted," said Sonny on November 4.
Sonny said he is unaware of what might be slowing down these import permits for the second semester of 2020 even though his company has made it clear about the industry's needs for sugar imports. They have also sent invites to industry ministry officials to see the dwindling supplies in their factory. But the company's efforts have been in vain.
Sonny said that while reserve stocks of sugar are still available at their suppliers to last until December that does not change the fact that raw sugar import permits need to be issued immediately to keep supplies up for coming next year.
Similar concerns were also expressed in a letter from Karunia Alam Segar, a subsidiary of Wings Food. Three Wings Food factories in East Java since 2016 have also been counting on 7,000 tons of refined sugar supplies per month from Kebun Tebu Mas. The letter from Wings Food stated that KTM is struggling to meet demands during these last few months due to the shortage of raw materials.
Senior Public Relations Specialist for Wings Group Indonesia, Christie Rachel Lumban Tobing said the company's management could not answer Tempo's enquiries regarding the letter sent by Karunia Alam Segar. "Please understand, because Wings is a private company," said Christie via text message on November 14.
•••

THE call for help from various food and beverage companies started when a letter of notification was sent by Kebun Tebu Mas to its business partner on Monday, November 2. In the letter, KTM informed that raw sugar supplies are still going through permit processing. Thus, refined sugar productions would most likely be delayed.
KTM ensured that sales and delivery of refined sugars to their partners are still safe for the next month, but setbacks from late import permits must be anticipated for the month after. "Provision of raw materials will affect sales or deliveries in the following months because it will be highly dependent on the speed with which the import permits are issued by the relevant ministries," the letter said.
An Advisor for Kebun Tebu Mas, Adi Prasongko, was reluctant to comment on the raw material shortages that his company is currently facing. He stated that the government has fulfilled requests for import permits to replace the 'borrowed' quota of 15,000 tons for the consumption sugar price stabilization program last June.
KTM was assigned by the government to process raw sugar into granulated sugar for household usage, instead of processing it into refined sugar for the industry. This designation was decided by the government in between February-March, when the scarcity of household sugar was about to trigger a raise in prices.
The Indonesian Food and Beverage Entrepreneurs Association (Gapmmi) also sent a letter to Industry Minister Agus Gumiwang Kartasasmita on November 10.
Gapmmi stated that they had received information about the shortage of raw sugar from refined sugar suppliers. The association estimated that suppliers would only be able to supply refined sugar to the industry until early January 2021.
The association and company representatives are pushing for the government to issue import permits in November. Due to crop failures in Thailand, it is currently unfeasible to expect raw sugar imports from that country. Therefore, raw materials must be imported from Brazil, which can take up to two months from order to production to delivery.
Gapmmi Chairman Adhi S. Lukman said that refined sugar supplies will last until December. However, he emphasized that raw materials for production in January next year must also be ready by the end of the year. "Transactions and shipping take two months. So the permit must be issued immediately," he said on November 13.
Chairman of the Indonesian Refined Sugar Association (AGRI) Bernardi Dharmawan said the association members had actually obtained the import permit for raw materials for the second semester of 2020 in July. Now the import quota has also been realized. "The stock is safe until the end of the year," said Bernardi when contacted on November 13.
What has these companies worried is the raw material supplies for next year. Last September AGRI sent a notification estimating a need for a 5 percent increase in raw materials for 2021. However, the import plans are still awaiting a limited coordination meeting.
According to Bernardi, the import permit for 2021 should ideally be issued in November. He is worried that the delay in import permits for next year could halt production at factories. "A number of factories will run out of raw materials in early December and undergo maintenance," he said.
Secretary of the Coordinating Ministry for the Economy, Susiwijono said that the cries from the food and beverage industry are being heard and discussed. "We are also discussing the revision of several ministerial regulations, related to complaints about difficulties in importing raw materials, as well as complaints about export constraints."
AISHA SHAIDRA, RETNO SULISTYOWATI