Bittersweet Regulations
The government will restructure regulations of refined sugar imports. However, the ministry of industry's draft regulation is deemed not in line with the cabinet meeting, which had aimed to give direct import licenses to industry users. There are regulations which can potentially make this sector increasingly oligopolistic.
Edition : 16 November 2020
ALL through last week, the draft regulation for refined sugar became the talk of the town among actors in the food industry. However, the discussions on this regulation, which will have significant impact on the industry, are still limited to just that: talking. "The government has not involved us in the draft discussions," said Dwiatmoko Setiono, chairman of the Refined Sugar Industry Users Forums, on Wednesday, November 11.
Dwiatmoko heard that discussions about the industry ministry's draft regulation have already reached the synchronization stage at the justice and human rights ministry. However, the technical inter-ministerial discussions have yet to be finalized. "Apparently, the ministries are still in disagreement about some points," he said.
The industry ministry's draft regulation is a follow up of a limited cabinet meeting which discussed sugar and salt imports for industrial use. After the meeting, led by President Joko Widodo on Monday, October 5, Coordinating Minister for Maritime Affairs and Investment Luhut Binsar Pandjaitan said that there were two important, fundamental decisions made regarding the two commodities.
The President, Luhut said, agreed that sugar and salt imports should be done directly by the user industries. For example, the glass industry can directly import salt if it needs salt with specific specifications. "Sugar will only be imported by the food industry that needs it. It should not be done by other parties, so that there is no funny business," Luhut said.
Of course, he added, import permits must be accompanied by a recommendation from the industry ministry that has the knowledge of the industry's details and the volume of raw material it needs annually. "If they should leak that raw material into traditional markets and cause people's salt prices to drop, then the permit will be revoked," Luhut warned.
The industry ministry, Luhut continued, will list the companies in need of those two commodities, and also prepare the technical regulations. "They (the regulations) will be made public, so that people can also monitor if volumes are right or not."
Abdul Rochim, ministry of industry's director-general for agro-industry, said the draft ministerial regulation, which will clarify the technical side and mechanism of sugar specifically imported for industries, is still being developed. "We hope to issue it as soon as possible," he said on November 4.
•••

MINISTER Luhut Pandjaitan underlined that the limited cabinet meeting on October 5 also decided on sugar import for industrial use. This is because Industry Minister Agus Gumiwang Kartasasmita, in the virtual press conference on that day, only spoke about salt for industrial use. "I want to add that it is not just about salt, but also about sugar," Luhut said. "So, Pak Agus, sugar will also be imported by the industries using it. No longer by sugar importers. The food industry will import sugar."
He further explained that this decision was made in order to simplify the process. This way, "There will no longer be crazy sugar prices. The food industry will be able to import sugar," he said.
According to Jodi Mahardi, a special staffer to the coordinating ministry for maritime affairs and investment's institution and media division, this new policy is aimed at avoiding those imported staples to be distributed to markets by third parties. If this happens, the imported sugar meant for industrial use could drop the commodities' prices for farmers of sugar and salt. "There will be tight verification mechanisms for disbursing permits for industries," he said on November 4.
The decisions made at the limited cabinet meeting have caused upheaval within the food and beverage industry. Until now, these industries have received their sugar supply from refined sugar factories which process imported raw material of unprocessed sugar.
Dwiatmoko was among the people happy about the decision. Dwiatmoko, who owns a chocolate processing factory, is confident that his mid-size business will not have problems in directly procuring refined sugar. He believes direct importing by the industry will be more efficient and less expensive, because the procedure will be simpler. "The food and beverage industry will become more competitive in the domestic and international markets," he said.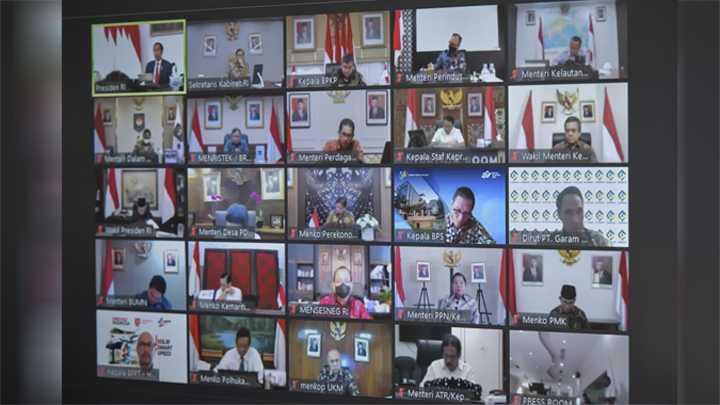 President Joko Widodo (top left) leads the virtual cabinet meeting on sugar and salt supplies for the industry at the Merdeka Palace, Jakarta, October 5./ setkab.go.id
Indolakto, producer of the Indomilk brand under the Indofood Group, chooses to wait until the technical regulations are concrete. "Will it be a quota system with permits issued by several ministries?" Sonny Effendhi, Indolakto's technical and operational director, questioned. If the mechanism would still be the same as the previous regulations, then there would be no positive developments. "The old mechanism has many obstacles, the process is lengthy, and it is expensive."
Indonesia's Business Competition Supervisory Commission (KPPU) is positive about the cabinet meeting's decision. KPPU Commissioner Guntur Syahputra Saragih said that this opportunity for industries to import salt and sugar will give them the choice to buy those commodities directly or not. "The industry will become more competitive," he said.
Ombudsman member Ahmad Alamsyah Saragih assessed that this plan will lead to increased efficiency in the short term. Until now, he noted, the refined sugar industry has not developed, and has merely became part of the economic rent in the sugar industry's chain.
Bustanul Arifin, agricultural economics professor at Lampung University, calculated that refined sugar's economic rent is very tempting. For example, he pointed out that global prices of raw sugar stood at US$0.14 per pound free on board, or around US$309 per ton. If the cost insurance and freight (CIF) of imported sugar is about US$200 per ton, then the price of refined sugar in factories would be around US$509 per ton. At an exchange rate of Rp14,800 to the US dollar, refined sugar prices at factories would only be Rp7,530 per kilogram.
In Indonesia, the highest retail price for sugar reaches Rp12,500 per kilogram: imagine the margins enjoyed by importers. Therefore, Bustanul said the future of the domestic sugar industry based on sugarcane is really on the line because of refined sugar's economic rent.
Bayu Krisnamurthi, former deputy trade minister, admitted that giving direct sugar import permits to industry users would be more efficient, as products would exactly match specifications needed by each user. Prices can also become cheaper. This way is also more effective in preventing refined sugar, with raw materials coming from abroad, to seep into the local market.
However, this model will hit the refined sugar industry. "This is also a national industry with big investments," Bayu said. It will also wipe out the added value from processing unprocessed sugar in Indonesia.
•••

EVEN before they are ratified, the draft regulation from the industry ministry titled Assuring Availability of Sugar as Industrial Raw Material in the Scope of Meeting the National Need for Sugar has already hit the food and beverage industry. The new import regulation for refined sugar turned out to be not as sweet as Minister Luhut had delivered after the October 5 cabinet meeting.
Supriadi, the industry ministry's director for food, seafood, and fisheries, said that the mechanism of sugar procurement will not change. The industry ministry will still include sugar refineries to import unprocessed sugar and refine it for industrial use. "What's imported is unprocessed sugar, which is processed in sugar refineries so that there is domestic added value," he said on November 3.
The difference, he continued, will be that the government is to accelerate permit issuance so that the industry will not be in need of basic materials. The ministry is convinced that this mechanism will not run counter to the cabinet meeting, which had decided that importing should be done directly by the food and beverage industry.
He further said that currently, the import of unprocessed sugar and refined sugar specifically for basic and supporting material for industries are only given to producer or industrial importers. "We won't give permits to general importers."
Several Tempo's sources familiar with the draft regulation said that the industry ministry is not in line with the trade ministry, which strives for a more efficient market. The trade ministry, the sources said, wants to push for direct imports for refined sugar by users, so as to minimize the potential of leaking this imported product into the consumer market.
The sources further said that the trade ministry has yet to agree on a number of chapters in the industry ministry's draft regulation considered to be controversial. Chapter 5, for example, stipulates that the import of unprocessed sugar to produce refined sugar can only be done by sugar refineries which have business permits issued prior to May 25, 2010. That date coincides with the issuance of Presidential Decree No. 36/2010 regarding open and closed businesses with regards to investment requirements, or more known as the negative investment list.
The problem is that the article matches with the concept supported by the Indonesian Refined Sugar Association (AGRI). In the document obtained by Tempo, this association which mill unprocessed sugar into refined sugar suggested regulations regarding recommendations agreements on unprocessed sugar imports. In its suggestion, AGRI said it hoped the government would give clear boundaries between producers of refined crystal sugar and those of white crystal sugar.
AGRI defined producers of crystal refined sugar as processing factories designed only to treat unprocessed sugar to refined sugar. This category of companies basically had the permits prior to the presidential decree, meaning that these are the old players of sugar importers who are currently grouped into AGRI.
Meanwhile, producers of white crystal sugar (consumption sugar) are companies which produce white crystal sugar from sugarcane, and are integrated with sugarcane plantations. Until now, even though they are not AGRI members, these sugar factories also import unprocessed sugar to be made into refined sugar.
AGRI Chairman Bernardi Dharmawan denied any lobbying towards the industry ministry. He also denied rumors that he had submitted those suggestions. In fact, he said, AGRI has been complaining to the industry ministry for the past two years, saying that the commodity is divided in two: sugar for industrial use, and sugar for household consumption.
The problem here, Bernardi continued, is that the government has so far also given sugar import permits to refinement factories outside of AGRI. "We only monitor our members. What about non-AGRI companies? How can we make sure that the sugar they produce goes into the industry?" he said on November 13.

He further reasoned that production capacity of the 11 AGRI members is already more than sufficient, totaling some 5.5 million tons per year. Meanwhile, the industry only needs some three million tons. He pointed out, meaning that there is unused capacity. On the other hand, he warned, sugar for consumers is still in deficit. "What should happen if new sugar industries appear is that they should fill the consumption gap. Industrial sugar needs are already covered by AGRI."
Dwiatmoko Setiono is worried that if the new draft regulation would approve that article, industrial sugar procurement would only be limited to AGRI members. This worry intensifies as refinement factories are mostly affiliated to business groups. "Basically, there are only four or five groups," Dwiatmoko said, adding that this condition has a huge potential to form an oligopolistic market.
Dwiatmoko hopes that the government uses this momentum as a turning point to create a new map for food resilience. "Unless it wants to perpetuate oligopolistic practices," he said.
The KPPU has already detected oligopolistic behavior in the sugar industry for a while. This anti-monopoly agency looked into the sugar business chain when consumption sugar prices went past Rp18,000 per kilogram in early 2020. The KPPU then discovered oligopolistic market behavior, because sugar procurement and distribution are in the hands of only a few players.
Several industry ministry officials declined to give details about the new draft regulation. Didi Sumedi, the ministry's director-general for international trade, only gave this short response: "The trade ministry already has a spokesperson. Please, just go to Pak Wisnu," Didi said on November 10.
Wisnu Wardhana, an expert staffer on the trade ministry and former director-general of international trade, did not respond to Tempo's questions, and neither did Import Director I Gusti Ketut Astawa.
Deputy Trade Minister Jerry Sambuaga also declined to give details. The sugar import domain, he said, is outside of his jurisdiction as deputy minister. "I have been given special authority to accelerate international trade agreements and export improvements," he said on Thursday, November 12.
RETNO SULISTYOWATI, AISHA SHAIDRA