Illegal Animals Trade in Aceh
Aceh becomes a red zone for wildlife trading. Hong Kong and China are its biggest markets.
Edition : 16 November 2020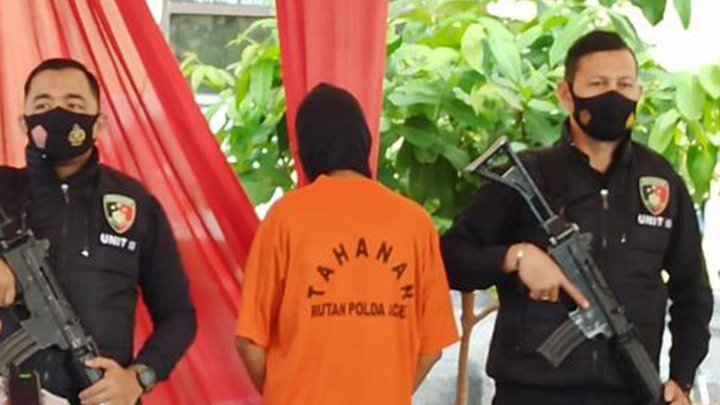 A BLACK sedan with the license plate number BL-1837-LAB stopped in the middle of the Bireun-Takengon crossing in Aceh on Tuesday, November 3, as dozens of officers from the Covid-19 guard post blocked its pace. At first, the two people inside the sedan showed no reactions. But traces of fear began to appear on their faces once the officers, who were in charge of helping medical workers with health protocol checks, opened the car trunk.
As it turned out, the officers did not stop the car as part of Aceh's Covid-19 control operation. It was actually a planned bust. The police immediately pinned down a man in a yellow shirt after finding 71 ivory hornbills' (Rhinoplax vigil) beaks, 28 kilograms of pangolin (Manis javanica) scales, and the skin and bones of a Sumatran tiger (Panthera tigris sumatrae) in the car's trunk. "The items were worth Rp6.5 billion," said Sr. Comr. Margiyanta, director of special crimes investigation at the Aceh Regional Police, on Friday, November 13.
In an amateur video documenting the event, the man in the yellow shirt laid faced-down on the ground before he was handcuffed. The arrest, which had caused traffic jam, lasted less than five minutes. The two men in the black sedan and the confiscated items were quickly taken to the police station.
The man in the yellow shirt is Deni Azan, 47 years old. He is a resident of Timang Gajah village, Bener Meriah, Aceh. Arrested along with him was his driver, Lukman Hakim (27). The two were arrested after dealing with a buyer from Jakarta at a hotel near Bener Meriah. The body parts of the protected animals they traded came from the Leuser conservation forest area.
According to Margiyanta, the police had been monitoring the transaction several weeks before the arrest. Police officers and officials from the forestry and environment ministry had been observing Deni, and when the man left his house to meet potential buyers, they followed him. Police intelligence also saw Deni putting a number of items into several sacks. "We caught them when they drove through the Covid-19 monitoring post after the transaction," said Margiyanta.
W251bGwsIjIwMjEtMDItMjcgMTM6NTI6MzIiXQ
According to Margiyanta, Deni is one of the top players in the wildlife business. In addition to supplying local markets, he also received orders from foreign customers, especially from China and Hong Kong, by supplying the forbidden goods as handicrafts materials. The sales value for each transaction reaches billions of rupiah. Deni once made tens of billions of rupiah in a single transaction with a buyer from Jakarta.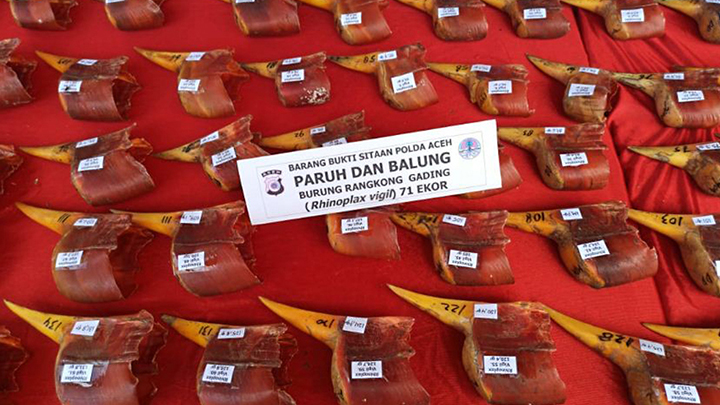 Beaks of ivory hornbills during a public expose of the wildlife trading case in Banda Aceh, November 10./Special Photo
Deni relies on a network of poachers to supply goods. The members of this network are estimated to be over 100 people. The hunters are mostly farmers looking for additional income, who live in villages around Leuser. For every item delivered by the hunters, Deni applies a buy-out scheme. "Every item that came in, he paid for in cash right away," said Margiyanta.
The illegal business, Margiyanta said, is quite lucrative. For one gram of hornbill's beak, for example, he only had to pay Rp28,000 to the hunter. He will then sell it to buyers for up to Rp60,000. Meanwhile, the purchase price of pangolin scales from hunters is around Rp1.5 million per kilogram. In the international market, the price is two to three times that.
A source with knowledge of these illegal dealings said that Deni is a supplier to a number of large collectors in Jakarta. Some of them often came to Deni's house. They come to Bener Meriah to ensure the quantity and quality of the goods before making a transaction. Once purchased, the items are brought to Jakarta by road. "They are taken via Medan (North Sumatra) and Padang (West Sumatra)," the source said.
On a daily basis, Deni does not have the appearance or lifestyle of wildlife supplier. He runs a grocery store and retail petrol in front of his house. His house has a building with the size of around 200 square meters. Behind the building is a field on which several durian trees grow. His other source of income is coffee. He owns a plantation in Bener Meriah.
Tempo has not been able to meet Deni Azan and Lukman for statements. Both men are being detained at the detention facility of the Aceh Regional Police. The police plan to charge them with articles on wildlife hunting, as regulated in Law No. 5/1990 concerning conservation of biological natural resources and their ecosystems. "The sentence is five years in prison and a maximum fine of Rp100 million," said Margiyanta.
Aceh is one of the red areas for illegal wildlife trade—in whole or as body parts. Prior to Deni's arrest, five months ago, three suspects (A, MD and MR) were arrested while transacting in front of the Lhok Nibong gas station in Pante Bidari, East Aceh. The police confiscated a tiger skin, four fangs of a tiger and a sun bear (Helarctos malayanus), as well as the bones and claws of the two animals.
Today, popular trades are for ivory hornbills and pangolins. The beaks and feathers of ivory hornbills or rangkong gading, or commonly referred to as enggang gading, have long been used as religious ornaments for the traditions of certain communities abroad. This, according to Margiyanta, has kept the demand quite high.
Meanwhile, pangolin meat has been consumed for health reasons for years. The average consumption volume is 100,000 kilograms per year; the biggest market is China. Lately, pangolin scales are being hunt gown by drugmakers, as it contains tramadol hydrochloride, which is used to make methamphetamine or sabu-sabu.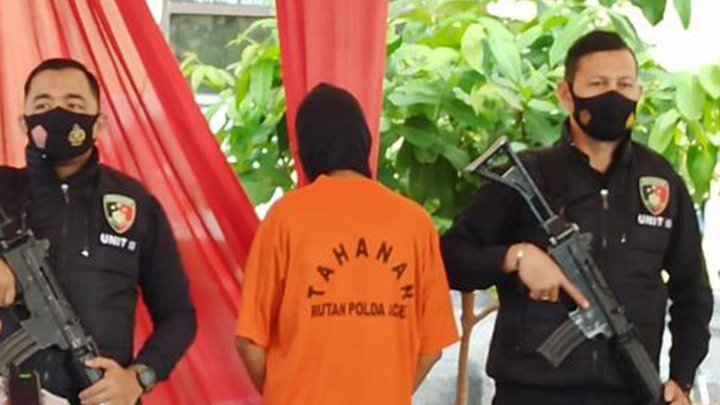 The suspect in the protected wildlife trading case./Special Photo
Sustyo Irianto, director of forest prevention and protection at the environment and forestry ministry, said that the international consensus bans the hunt and trade of ivory hornbills, pangolins and tigers. The Convention on International Trade in Endangered Species of Wild Flora and Fauna (CITES) includes the three animals in Appendix 1, meaning they are not for hunting and trading.
Over the past five years, said Sustyo, a joint team from the environment ministry and the police has uncovered around 1,400 cases of animal trafficking. The perpetrators do not always operate underground. There are times when criminals peddle their prey openly on the Internet and social media. "Therefore, we also need to strengthen the cyber patrol team," he said.
Flight Protecting Birds' Director of Education and Communication, Nabila Fatma Gaid, said that the hornbill population needs to be maintained in order to keep the balance of the ecosystem. Its existence is a marker of the quality of tropical rainforests such as in Indonesia. The species, which can grow up to one meter long, build nests in trees about 20 meters high and eat fruits and insects in the surrounding trees.
Nabila said that exposure of wildlife hunts and trade recently is pretty much an impact of the new coronavirus pandemic. As Covid-19 mitigation efforts restrict the movements of poachers and traders, they have ceased selling to overseas collectors and focus on the domestic markets.
RIKY FERDIANTO