Taruna Ikrar, Chairman, Medical Council: No Need to be Afraid of Foreign Doctors
It is only a matter of time for foreign doctors to start work in Indonesia. According to Chairman of the Medical Council of the Indonesian Medical Council (KKI), Taruna Ikrar, sooner or later, Indonesian doctors across the archipelago must prepare themselves for tough competition.
Edition : 16 November 2020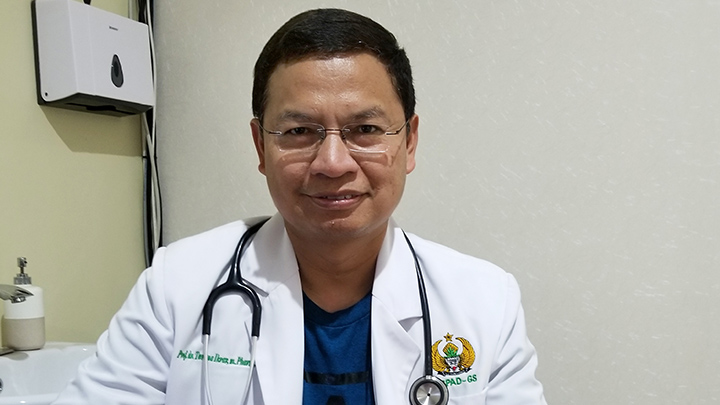 AS the country faces an imminent shortage of medical doctors, the country needs to open its door to foreign doctors to fill the gap. "We will be short of around 160,000 doctors by 2030," said Taruna, 51, in a special interview with Tempo in his office on November 11.
The idea to 'import' foreign doctors has been floated several times by Coordinating Minister for Maritime Affairs and Investment Luhut Binsar Pandjaitan. Besides filling the domestic shortage, foreign doctors are expected to turn Indonesians back from seeking medical treatment overseas. The Indonesian Medical Association (IDI) has strongly opposed to the idea saying that Indonesia has sufficient supply of doctor. It is just that they have not been evenly distributed.
Taruna, quoting the World Health Organization's (WHO) data, said that the ideal ratio of doctors to population is 0.4 percent or four doctors for 1,000 population. "The total number of our doctors are only around 250,000 (1:1000 according to the health ministry's data)," he said. According to Taruna the Covid-19 pandemic which has already claimed at least 132 doctors and keeps on raging with no end in sight has made the need to bring in doctors from outside even more relevant.
Since returning after years of working as a doctor and a scientist in Japan and the United States, Taruna has occupied several key posts. At the request of Terawan Agus Putranto, former head of Gatot Soebroto Central Army Hospital (RSPAD) and now health minister, he was appointed as an expert staffer and then as one of the 17 members of the KKI representing the health ministry.
Taruna explained to Tempo journalists Mahardika Satria Hadi and Nur Alfiyah, that his expertise in neuroscience research matched the needs of Minister Terawan who was developing Cell Cure Center at the RSPAD. "I have been his expert staff member since 2017." He also responded to questions regarding the need to improve the competency test for doctors, and also the lawsuit filed by IDI and several other medical associations against KKI members.
W251bGwsIjIwMjEtMDItMjcgMTQ6MTg6NTkiXQ
The government plans to simplify work permit process for foreign doctors to work in Indonesia. What is KKI's response?
The KKI has not made any specific decision, regulation, or discussion regarding foreign doctors. According the health ministry's report, we are facing a shortage of around 160,000 doctors by 2030. We are short on doctors as a whole.
What is the ideal number of doctors for Indonesia?
According to the WHO standard, 0.4 percent of the population, meaning four doctors per 1,000 people. We only have about 250,000 doctors at this time.
How far has this topic been discussed internally within the council?
We discussed that we would follow the ASEAN Economic Community (AEC) which would come in effect in 2025. We also work together with countries in the Pacific as well as the world trade organization (WTO). If we allow them (foreign doctors) in, there will be competition and we really want our doctors to be competitive. That's why the plan was put forward to push our doctors to prepare themselves.
Is it true that the council is putting together regulations and awaiting a derivative regulation from the Job Creation Law on work permit for foreign doctors?
We have to follow all the regulations but there will be explanations for sure. Discussions will be made in phases and involve all the stakeholders such as professional collegiums and organizations, for example IDI, the Indonesian Dental Association, etc. Before that, the KKI will issue a regulation. Until now, we've referred to the Medical Practice Law and the Medical Education Law. The Medical Practice Law was made in 2004 and things have changed since then.
Whatever will be governed in the council's new regulation?
Among others, adaptation of Indonesian specialist doctors. A lot of Indonesian doctors, like myself, who acquired specialized studies abroad want to return and serve the country. But they have to first go through adaptation program in university hospitals and they are not paid during this adaptation period. In the new regulation later, adaptation will be allowed to take place in community health centers or in the regions so it doesn't necessarily have to be in the capital or major cities. This is for the interests of the people, even more so in a pandemic like this. The health ministry will provide standard specialist wages during the period .
How many Indonesian doctors abroad wish to return?
Hundreds of them. Actually they, like myself, are happier abroad where they are appreciated more. They've studied hard and long, acquired experience and medical licenses but they want to come back to serve, perhaps out of the spirit of nationalism. They also want to be legalized.
How important is the plan to streamline the work permit process for foreign doctors?
It is a prerequisite. We've signed the AEC and we have to follow it. Otherwise, we will be penalized. But there's still time to prepare ourselves.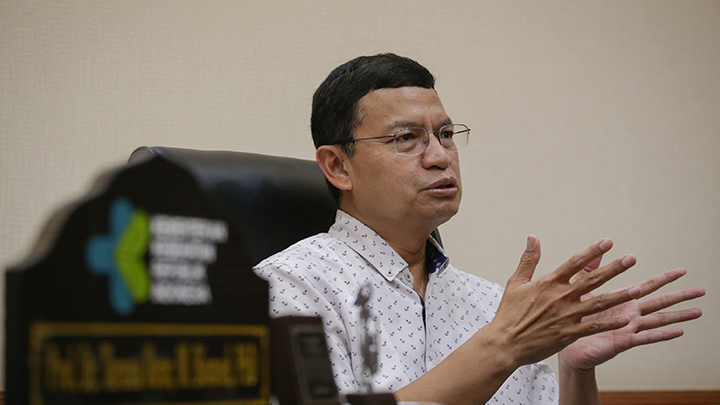 Taruna Ikrar/TEMPO/M. Taufan Rengganis
According to the health ministry, Indonesia loses potential revenue of up to Rp100 trillion annually as many Indonesians go abroad for medical treatment. Is this the rationale behind the plan to facilitate work permit for foreign doctors?
I think in the future economy will not be our only benchmark. But most important is our ambition to make our doctors and dentists alike masters in their own country. In principle, Indonesian doctors are highly qualified, possess outstanding skills and empathy, and understanding socio-cultural aspects in treating patients. I myself as an Indonesian doctor clearly don't want my colleagues to experience problems when this (ASEAN) free trade for goods and services becomes a reality. We also consider protection of our doctors as well as the public because doctors are part of the public.
You've worked as a medical doctor in the United States for many years. What prompts so many Indonesians to seek medical treatment overseas?
I think it's due to subjective factors from patients' points of view. It's their rights to go to any doctors they want. For sure, those who go abroad for treatments are usually affluent citizens. It must cost a lot to go to Singapore, Malaysia, Japan or the US for treatment. So, the primary factor is the financial capacity of a given patient. Then there also is a psychological factor. These patients are perhaps more comfortable to be treated by doctors overseas and that is a very subjective factor and is hard to measure.
Do those Indonesian patients consider doctors in those countries to be better?
I strongly believe our doctors are of good quality. They want to learn. In the old model, it took seven years to become a doctor: four years of preclinical education followed by two to three years of pre-internship education, and then a year of intensive education. So, it's quite long. If you judge quality in that context, they clearly have acquired knowledge, skills and also the art of interacting with patients. Not to mention if there are additional skills, specialized expertise, etc. There is no doubt about the quality of our doctors. There are in fact many Indonesian doctors working in foreign counties such as Singapore and Malaysia, or in California (US) like myself.
What do you think about the quality of their services?
Doctors in America, for example, are paid for their time, that is they are paid per hour, not per patient. In this context, their time spent to interact with patients is counted for remuneration. In Indonesia, doctors are paid based on the number of patients they see. Our doctors perhaps have many patients and they might rush a bit in handling each patient. That could also be a factor (why patients go overseas). We are looking into all aspects to find out where the problems lie.
Can the quality of our doctors be improved before 2025 to be able to compete with foreign doctors?
I'm confident that our doctors have outstanding capabilities in terms of knowledge and adaptability. What's important is that our colleagues are at least aware of that challenge. Hopefully medical organizations, collegiums, universities and education institutions will prepare them ahead of the free competition which is now imminent as we have entered into agreement with other countries.
Are there still many doctors in Indonesia who oppose government's plan to welcome foreign doctors?
This is still a plan, right? It's normal to feel anxious before we face something, for example, an exam. This is also like an exam. Some will pass, some won't. So, I don't think they are being resistant. They're just anxious and we're all anxious.
In the draft revision of the Medical Practice Law, some factions at the House of Representatives want to ease competency tests for doctors and dentists. Is it feasible?
I don't think it aims to make it easier. For example, there are around 2,000 doctors who have not passed the competency test with some of them failing repeatedly. Why? Is it because they did not study or the test was too difficult, or are there other reasons? The test is still needed to maintain doctors' competency. Now we just need to find the cause and improve the system.
To compete with foreign doctors, shouldn't the competency test in fact be tightened to be on par with the international standards?
The written test of the competency test is to assess knowledge. But there are other factors that we also need to assess such as skill, attitude, ethics, empathy, so we can put ourselves in patients' shoes. In terms of empathy, not to mention culture, our doctors will most likely beat foreign doctors. That's the edge our doctors have from having experience with local patients. I think we don't have to be afraid of foreign doctors. We just need to make sure that the competency test can enhance our doctors' skills. The reality now is that we are still short on doctors, not to mention specialists.
You have medical practice experience in California, US. How is the competency test over there?
Any doctor from any country can open practice in the United States. America opened its door to foreign doctors decades ago. That's why it doesn't experience doctor shortages. But all the doctors must undergo the United States Medical Licensing Examination (US MLE). That's their equivalent of the competency test. They also have continuing medical education or continued education for physicians.
What are tested in US MLE?
It consists of three levels. First, the basic knowledge about biomolecules and so on. Then there is a specific test about doctors' knowledge and skills in healthcare settings. The third is about patient management. Only after passing the test, can doctors work in hospitals. Once they pass, they will get medical residency and can work immediately in pediatric, internal medicine, or cardiology department.
Who determines which hospital a given doctor should have residency?
The doctor himself. And he is paid, you know, and quite a handsome amount-around US$7,000 per month. It's not bad if you convert it to rupiah. Even though they are only residents but treated as full-fledged doctors and given license to practice. They can be from anywhere including Indonesia. There are many Indonesian doctors in America.
IDI and several medical associations have sued President Joko Widodo and Minister Terawan at the Jakarta Administrative Court and demanded that the appointment of KKI members be nullified. What is your response?
In essence, we as individuals elected, sworn in, legalized and given duties will work in all sincerity. We are ready to undertake our duties but we are also ready to accept whatever happens afterward in accordance with the state's ruling. In principle, we honor the solemn oath we took in front of the president and we will work to the best of our ability. We've been working hard in the past two months. I've signed 22,000 registration cards for medical licenses.
Since KKI members were elected on August 11, IDI and medical associations have expressed their rejection. Did you build any communication with them?
We've tried. We invite them at every opportunity. We've communicated with them.
How was their reaction?
They said that they didn't feel represented in the KKI. So that's their demand. Me, I represent the health ministry.
Don't KKI members already include representatives from all the medical associations?
Perhaps there are also political aspects. As such, we, the 17 KKI members, agreed that the KKI Chairman Putu Moda Arsana should respond to this case.
You are appointed at the recommendation of Minister Terawan. Please tell us how you get recommended?
Functionally, I am a consultant to the health minister for research, health technology and globalization. At the RSPAD, I hold a functional post as his expert staffer.
---
TARUNA IKRAR
Place and Date of Birth: Makassar, South Sulawesi, April 15, 1969 • Education: Bachelor of Medicine, Hasanuddin University, Makassar (1994); M.D, Hasanuddin University , Makassar (1997); Master in Pharmacology, University of Indonesia (2003); PhD in Biomedical Sciences, Niigata University, Japan (2008); Post-doctoral Studies in Neuroscience, University of California, US (2010) • Career: Adjunct Professor, Department of Neurology, Hasanuddin University (since 2016); Doctor and Expert Staffer, Gatot Soebroto Army Hospital and Cell Cure Center (since 2017); Dean and Professor, National School of Biomedical Sciences, Pacific Health Sciences University (since 2017); Researcher, Clinical Vaccine Research, Aivita Biomedical Inc (since 2017); Founder and Chief Scientific Officer, Human Immortality LLC (since 2018); Chairman, Medical Council of the Indonesian Medical Council (2020-2025) • Organization: Deputy Chairman of Executive Board, Indonesian Medical Association (2000-2003), Member, Board of Experts of Central Executive Board, Indonesian Medical Association (2016-2022)
---
Since when did you become a consultant to Minister Terawan?
Since his appointment (as the minister). The minister asked me to assist him so it's normal if I represent him.
What about your position as an expert staff member at the RSPAD?
He directly contacted me and asked me to assist the health ministry. It turned out my assistance is prioritized for helping the ministry at the KKI. That's why I represent the health ministry at the KKI.
How long have you known Minister Terawan?
Since when I became his expert staff member in 2017. One of the reasons why he took me in was perhaps because I'm a neuroscience expert. I studied and immersed myself in that field for decades. He was that time developing the Cell Cure Center in the RSPAD and I have scientific qualifications that suit his project well.