Reckless Opening of Schools
THE education and culture ministry is permitting face-to-face classes in schools to resume beginning January 2021.
Edition : Monday, November 23, 2020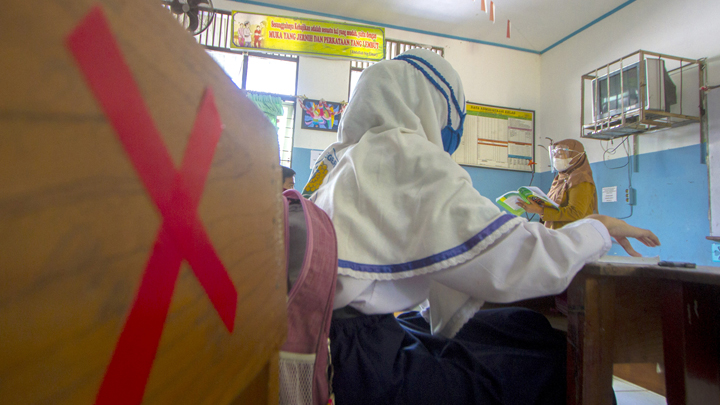 Education Minister Nadiem Anwar Makariem stated the decision was made after the evaluation of long-distance learning in application since March. "Long-distance learning has a negative impact on children," he said in a press conference on Friday, November 20.
Nadiem stated such negative impacts included discrepancies in learning advancements because not all regions enjoyed the same facilities, looming threats of school drop outs, and a risk for losing out on learning in the long-term. According to Nadiem, many regions were green zones, alias deemed safe from the Covid-19 contagion, but were unable to apply online learning because of weak Internet connections and non-availability of gadgets, including laptops and smartphones. The exact date to let schools open is left to the regional government and the local ministry of religion office in charge of religion-based schools. Resuming study at school will also need permission from parents and guardians.
Many parties are criticizing the decision. Coordinator of the Association of Education and Teachers Satriwan Salim assessed leaving the onus to regional governments contained the risk of further spreading the coronavirus. He said, there are regional governments in orange and red zones who will recklessly let schools open. Meanwhile, the schools which may open can only be in green and yellow zones. Satriwan said, the central government needs to still supervise regional governments.
Chief of the Covid-19 Task Force Doni Monardo requested that regional governments conduct training and simulation sessions before allowing schools to open considering the potential threat of coronavirus contagion and the rise of new clusters in schools. "It would be more appropriate if opening of schools were done in phases rather than all at once," he said.
W251bGwsIjIwMjEtMDUtMTIgMDk6NDM6NDAiXQ
---
Police Apprehend MRP Members
MEMBERS and staff of the Papua Peoples Council (MRP) were apprehended by the Merauke police on Tuesday, November 17. The arrests were allegedly made in connection with a plan to hold a public hearing to evaluate the special autonomy fund which will end next year.
MRP staff member, Wensislaus Fatubun, said he and other MRP members and meeting participants were dragged to the Merauke police station in handcuffs. At the station, police interrogated them about the meeting, its aims, and their funding sources. "I explained, the right to self-determination did not necessarily mean a referendum, but should be seen as a basic human right," he said. The police raided the venue and seized laptops and bags.
Chief of the Merauke Police Adj. Sr. Comr. Untung Surianata claimed he obtained information of a suspected meeting to plot against the government. As an indicator, he said, police found a notebook containing the basic guidelines for the federal republic of West Papua.
---
Jakarta Air Pollution Court Case Resumes
The trial on the pollution of Jakarta air resumed at the Central Jakarta District Court on Wednesday, November 18. Greenpeace Indonesia Weather and Energy Campaign Manager, Hindun Mulaika, claimed she had stated in court that the government was covert in their provision of data regarding air quality. "The data is crucial as an indicator of good or bad air quality at a given moment," said Hindun in a written statement.
The lawsuit was served by the Capital City Coalition on July 4, 2019. It named seven defendants, including President Joko Widodo, the minister of environment and forestry, and Jakarta Governor Anies Baswedan.
United Nations Special Rapporteur, David R. Boyd, on Sunday, November 15, dispatched a letter stating his view in the air pollution lawsuit. To his view, the Indonesian government has failed its duty to improve air quality.