Japanese Port Project in West Java
The consortium under Chairul Tanjung is one step away from being the operator of the Patimban Port. Pelindo II's ambitions were crashed long before the bidding began.
Edition : Monday, November 23, 2020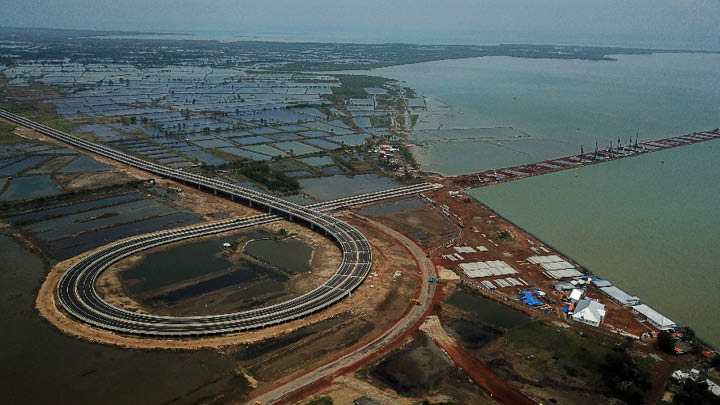 AFTER five years, Jusuf Kalla almost comes in contact again with the Patimban Port—this time as a businessman.
In his spacious house at Jalan Brawijaya in South Jakarta, Kalla recalled a crucial moment for that mega project worth Rp43.22 trillion. Plans to build that new port were in limbo for a while when it had been located in Cilamaya, Karawang, West Java.
In April 2015, then Vice President Kalla together with several ministers and officials went to Cilamaya. Flying over there on an Air Force helicopter, Kalla used binoculars to scrutinize Cilamaya's beach and ocean. It was true what Kalla had heard: the location for the planned mega harbor crossed ways with the pipelines and oil rigs of Offshore North West Java, an oil block managed by state oil-and-gas company Pertamina.
Disembarking from the helicopter, Kalla asked to be taken to the nearest government building. "There was an office at the Cilamaya village. It was crowded," Kalla said on Tuesday, November 17. "We decided to move the project from Cilamaya, so that it's secure."
The new location was Patimban, Subang, West Java, some 50 kilometers east of Cilamaya. Construction started then, funded by credits from the Japan International Cooperation Agency (JICA).
W251bGwsIjIwMjEtMDYtMjIgMTQ6MzQ6NDAiXQ
After five years, a number of Patimban Port's phase I construction—part of the port's three-phase development plan until 2036—is almost completed. Transportation Minister Budi Karya Sumadi, in a webinar organized by Liputan6.com, said he was optimistic that Patimban can start partially operating in December.
This plan complemented information coming from the transportation ministry on October 20. The ministry said that the bidding to select an operator for Patimban only resulted in one candidate coming through the pre-qualification stage. The lucky contender was a consortium consisting of CT Corp Infrastruktur Indonesia, Indika Logistic and Support Services, U Connectivity Services, and Terminal Petikemas Surabaya, a subsidiary of state-owned Pelabuhan Indonesia (Pelindo) IV.
It turned out that Kalla's family business had plans to enter the consortium. Kalla said that CT Corp boss Chairul Tanjung offered Solihin Kalla, Jusuf's oldest son and chief executive officer (CEO) of the Kalla Group, to join the consortium. The Kalla Group indeed has a business in shipping called Kalla Lines. "However, I said 'no'," Jusuf Kalla said. "The switch to Patimban was during the time I was vice president. I forbade it."
According to the rules, if only one candidate gets through the pre-qualification stage, there will be a direct appointment. If all goes well, the consortium under leadership of CT Corp will be the operator of the jumbo port, which its phase I construction costs Rp14.3 trillion. The majority of the project's funding came from soft loans provided by the Japanese government. Operators, like the CT consortium, only have to spend money on port equipment and maintenance.
However, this pre-qualification process which only resulted in one candidate has started to become a point of discussion among players in the shipping business. Many were already suspicious when the transportation ministry released the list of companies which submitted auction documents by the deadline of October 14. Pelindo II, the container and vehicle export terminal operator of Tanjung Priok in North Jakarta, was absent from the competition.
• • •
THE government's plan to prioritize the private sector as operators of the Patimban Port has already been put forward since June last year. In a limited cabinet meeting at the Presidential Palace on June 24, 2019, President Joko Widodo decided that the operator of what will potentially become Indonesia's biggest port will be a domestic private company, not a state-owned company. "This is so that Tanjung Priok and Patimban can compete with one another. That way, inefficiencies will become apparent," said Luhut Binsar Pandjaitan, who was then the coordinating minister for maritime affairs. This appears similar to South Korea's policy to expand their chaeobol, or conglomerates, in order to stimulate the country's economy.
These policies are in line with Patimban's funding in the form of soft loans from the Japanese government. In the first phase, Japan has given ¥118.809 billion, or Rp14.3 trillion, in credits.
This loan was used to construct an 8.3-kilometer road to connect the northern coast route of Java to the port, a container terminal with a capacity of 250,000 containers of twenty-foot equivalent units (TEUs) a year, a vehicle terminal with a capacity of 217,319 units a year, and a supporting location measuring 356 hectares. This soft loan has an annual interest rate of 0.1 percent for 40 years, with a grace period of 12 years. This means that the government will only have to start repaying the loan in the 13th year.
Using JICA's special regulations for economic cooperation (STEP), the project and port management must use Japanese technology, and involve Japanese companies. "If the operator has Japanese representation, it can invite and promote other Japanese investors to invest in Indonesia," said Jusuf Kalla, who was involved in mapping out Patimban's management concept. "So that the port comes alive."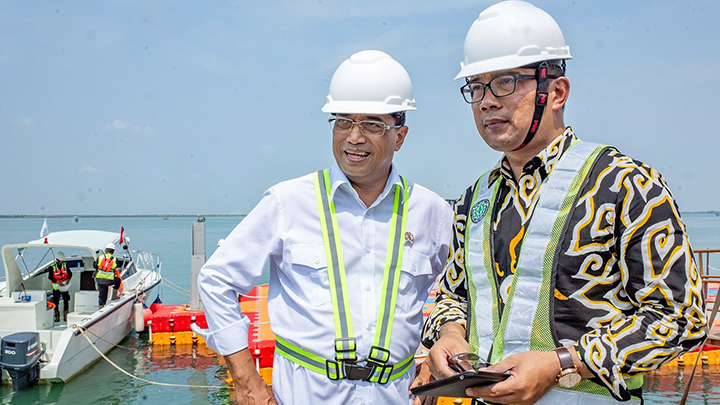 Transportation Minister Budi Karya Sumadi (left) and West Java Governor Ridwan Kamil at the Patimban Port development site in Subang, January 2019./ANTARA/M Ibnu Chazar
There is an additional prerequisite: Japan asked that the Indonesian side of the port operator be from the private sector. These same terms were put forward by the Japanese before they planned to fund the Cilamaya project. "The government's policy is that the operators are wholly from the private sector in a consortium with Japanese companies," Kalla said.
Because ports are still on the negative investment list, foreign corporations can only have a maximum management stake of 49 percent. From that time on, Kalla said, the government already started searching for national private companies that may be able to manage Patimban and to cooperate with the Japanese. Samudera Indonesia Tangguh, Kalla said, was temporarily a candidate. "But that fell through."
Plans for such appointment also clashed with regulations. The decision made on the limited cabinet meeting in June 2019 could not override Presidential Decree No. 38/2015 regarding government cooperation with state-owned companies in infrastructure provision. This means that operators must go through an auction, which is open for both private and state-owned companies.
In July 2018, long before the limited cabinet decision of June 2019, former Pelindo II CEO Elvyn G. Masassya actually already sent a letter indicating the company's interest in becoming Patimban's operator. Only after the decision of the limited cabinet meeting, two of Elvyn's close associates familiar with Pelindo II's plans for Patimban said, Transportation Minister Budi Karya Sumadi forbade state companies to take part in Patimban operator's auction.
However, Elvyn did not stop: he made preparations and put forward Pelindo II subsidiary, Indonesia Kendaraan Terminal (IPC Car Terminal) as candidate to become the port's operator.
Elvyn's persistence was not baseless. According to the two Tempo sources, Pelindo II already had global bonds of some Rp20.8 trillion when Elvyn came at its helm in 2016. The plan was to use that capital debt to fund a number of business expansions such as the New Priok Container Terminal or the Kalibaru Port.
The first phase of the Kalibaru Port is already completed, but the second phase got stuck. The port's reclamation, the material for which came from dredging mud from the Tanjung Priok port, was problematic. The reclamation surface kept sinking.
Until now, Pelindo II's funds come from two Tanjung Priok terminals: the Koja Container Terminal for domestic services, and the Jakarta International Container Terminal for international cargo. Meanwhile, the majority of goods flowing through those terminals come from the Bekasi-Karawang corridor, two regencies home to at least 18 main industrial zones.
That same market will be targeted by Patimban. Undoubtedly, in a short time there will be sharp competition between Priok and Patimban for the same customers, at least until new industries spring up due to the presence of the new dock in Subang.
The two sources close to Elvyn separately told the same story: Minister Budi Karya repeatedly warned Pelindo II not to come forward as an operator candidate. This, they said, was a topic of discussion among some officials at the state-owned enterprises (SOEs) ministry. Some say that Elvyn's removal from his Pelindo II position in March was related to the position this former banker had taken.
Elvyn did not reply to Tempo's inquiries in the past two weeks. While Budi Karya also declined to answer questions, but he gave a written statement relayed by Transportation Ministry Spokesperson Adita Irawati. In it, Budi denied accusations that he had prohibited Pelindo II to participate in the Patimban operator auction. "There are no prohibitions for SOEs to participate in the procurement process of the Patimban Port," Adita said in a written answer received by Tempo on Friday, November 20.
Adita said that out of the five pre-qualification candidates, neither Pelindo II nor any of its subsidiaries were candidates. She also denied rumors that her boss, Budi Karya, had asked the SOEs ministry to remove Elvyn. "There was no such request," she said. Elvyn was removed from his post in March. Meanwhile, his successor, Arif Suhartono, did not put forward Pelindo II or any of its subsidiaries as candidates in the Patimban operator bidding, which was closed on October 14.
• • •
TEN companies were on the list to take part in the auction to become Patimban Port's operator. When the transportation ministry opened up the pre-qualification stage, the only requirements were that candidates had a minimum of 30 percent equity from the project's approximate value, which was around Rp16.005 trillion. Another requirement was that the candidates would be able to get funding.
However, after participants obtained the pre-qualification documents, the real requirements became clear. Candidate operators, for example, must have total assets equaling the project's value. Their net assets must be at least 30 percent of total investment. Also, they must have permit as port companies and have experience in managing container ports with an annual capacity of 250,000 TEUs.
Those requirements quickly caused a number of candidates to step back, such as Wahyusamudra Indah and Waskita Karya Infrastruktur. Meanwhile, Kaltim Kariangau Terminal, a subsidiary of Pelindo IV, stood its ground although it knew its main company only had assets of Rp10 trillion.
The Temas Group also quickly formed a port subsidiary: Pelabuhan Temas Nusantara. Alas, this also did not make the grade as it lacked assets and experience.
Meanwhile, Samudera Indonesia Tangguh cooperated with Jababeka. The combined assets of these two came to Rp18 trillion. Samudera also has a subsidiary, Samudera Palaran, with a permit as port company operating the Palaran Container Terminal.
CT Corp Infrastruktur Indonesia formed a consortium with Indika Logistic and Support Services, U Connectivity Services, and Terminal Petikemas Surabaya, which has a port business permit (BUP).
On October 20, the transportation ministry stated that the only candidate that passed the pre-qualification phase was the CT Corp consortium. The Samudera-Jababeka consortium did not make it. The auction committee said that the BUP used by this consortium is owned by Samudera Palaran, while the one taking part in the auction was its parent company Samudera Indonesia Tangguh. "The BUP permit submitted was not owned by a member of the Samudera-Jababeka consortium," Adita Irawati said.
After protesting the decision of the tender committee, Samudera Indonesia CEO Bani Basli said he accepted the government's decision. "We accept this after receiving a written answer," Bani said in his office on November 10.
Two entrepreneurs who followed the auction process said the CT Corp consortium is actually well prepared. The consortium's business consultant is Richard Joost Lino, former Pelindo II CEO, who since 2015 has become a corruption suspect at the Corruption Eradication Commission (KPK) in a case of procurement of three large port cranes.
Samudera Indonesia had even been in this consortium in the beginning. Samudera was needed because it possessed one qualification required for the auction: a BUP permit.
The problem was, the two entrepreneurs said, Chairal Tanjung—Chairul Tanjung's brother—who represented the group at the negotiation process kept wanting to have the largest portion. These preliminary talks already gave a signal to auction participants, such as Samudera, that their chances for winning the auction were slim. To every potential partner, according to an entrepreneur who was in that category, CT Corp always said that it was the one who would clinch the Patimban operator project.
Samudera Indonesia, which has port experience and a BUP, asked for a portion equal to that of CT Corp. The talks hit a dead end, and Samudera Indonesia finally stepped out of the consortium.
It is not yet clear what portion each company gets in the CT Corp consortium. The Indika Group, a familiar player in the investment and energy sectors, does not have experience in port and general logistics businesses. Another consortium member is U Connectivity Services (UCS), a subsidiary of TRG Investama, set up by Deputy Defense Minister Sakti Wahyu Trenggono. At UCS, Trenggono's business partner and TRG co-founder Abdul Satar is a commissioner.
Until November 20, Trenggono did not answer inquiries made in the past week regarding his company which took part in the Patimban operator consortium. Satar also did not respond to Tempo's requests for clarification.
CT Corp's wish to have the majority stake in the consortium, the two sources continued, also caused Kalla's business group to step back from the consortium. Jusuf Kalla admitted that he was asked to join the consortium. However, he denied that this fell through only because he would have a minority stake in the cooperation.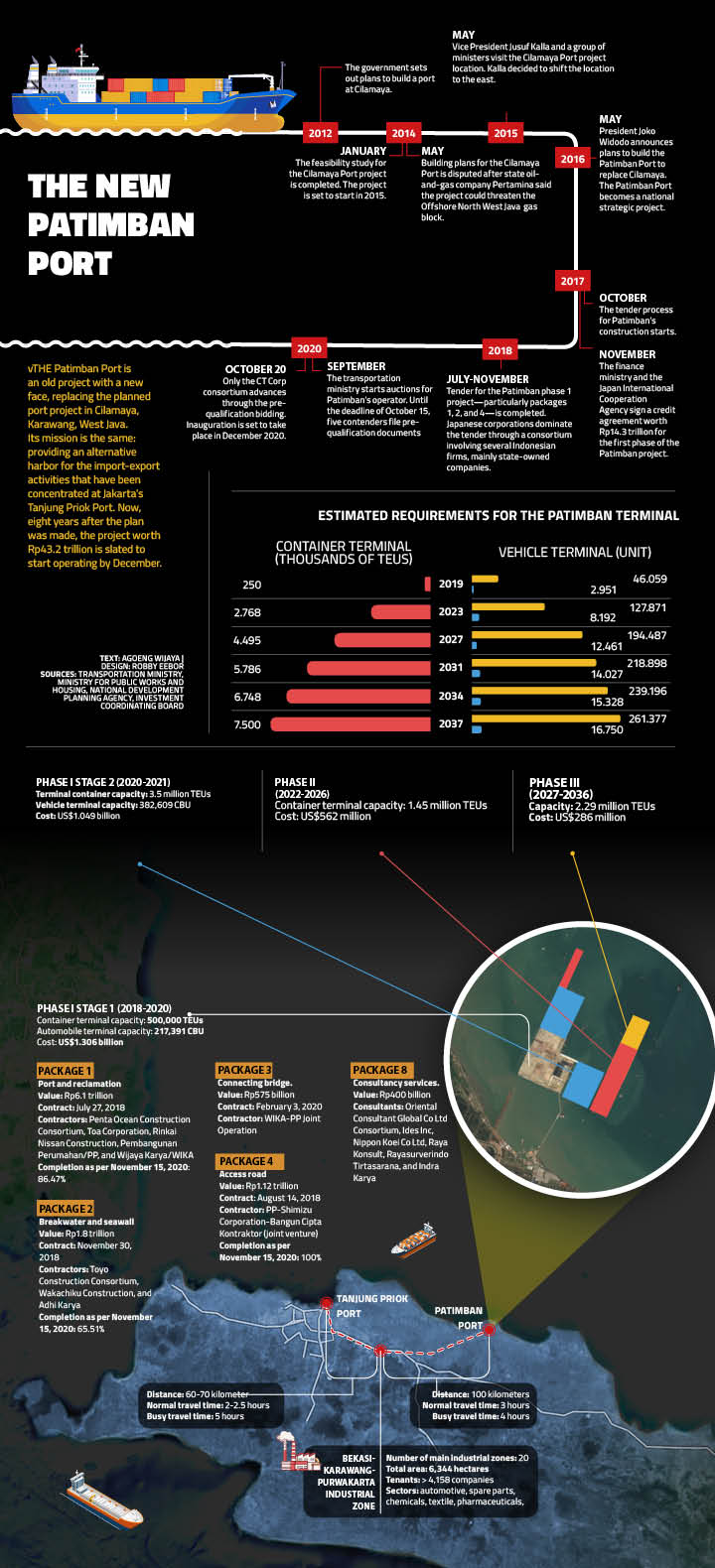 The New Patimban Port/Tempo
Kalla said that the plans were changed in order to avoid bad insinuations. "I said, you (Solihin Kalla) shouldn't take risks, otherwise people will have bad thoughts. Only so many percentages, oh this must be because he's JK's son. No, no," Jusuf Kalla said.
He further said that CT Corp's share in the consortium is only 30 percent from the 51 percent stake of the Indonesian operator's side. The other 49 percent will be given to a Japanese company, in accordance with the clause in Patimban's soft loan agreement.
Chairul Tanjung has not responded to requests for comments since last week. Tempo submitted an interview request to Chairul Tanjung through his brother, who is the director of CT Corpora. It was said that Chairul was in Singapore the whole week.
Although he did not succeed in joining the consortium, Kalla still wished the best for the project. "Hopefully they are serious. At least they will learn how to operate ports from the Japanese." If indeed CT Corp becomes Patimban's operator, CT Corp consortium's members which do not yet have experience in port management will have 40 years of learning time, in line with the concession's duration.
KHAIRUL ANAM