Tanoto's Factories Under the spotlight
Indonesia's tax and customs team is following up reports on alleged profit shifting of a pulp company affiliated to tycoon Sukanto Tanoto. There are opportunities to re-check tax amnesty documents.
Edition : Tuesday, Desember 1, 2020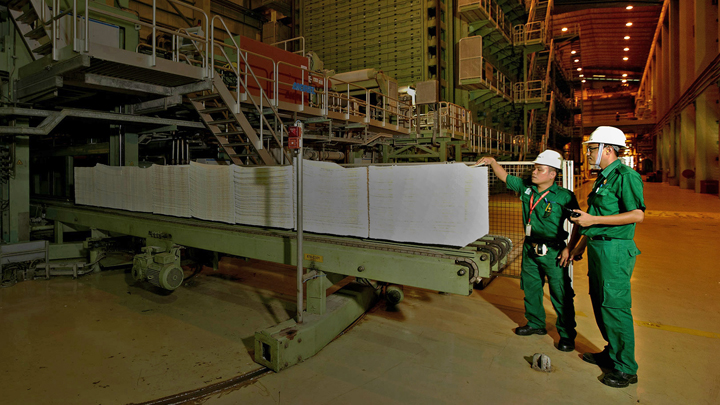 THE meeting on Thursday, November 12, went on for three hours. That afternoon, on the fifth floor of the Mar'ie Muhammad building—headquarters of the Tax Directorate General—the Tax Justice Forum (FPB) group met face-to-face with the host, headed by Yustinus Prastowo, expert staffer of the finance ministry, and Poltak John Liberty Hutagaol, director for international taxation. "The minister (Sri Mulyani Indrawati) asked that their report should be scrutinized," Yustinus said on November 24.
The report he referred to was titled Macau's Money Machine. The FPB is a coalition formed by dozens of non-governmental organizations to monitor financial management in the natural resources sector. The assessment it released on November 3, revealed suspicions of profit shifting practices by Toba Pulp Lestari (TPL) and Riau Andalan Pulp and Paper (RAPP), both subsidiaries of Asia Pacific Resources International Holdings Limited (APRIL Group).
The two paper pulp factories affiliated to noted businessman Sukanto Tanoto are suspected of deliberately selling dissolving wood pulp products to China by using the trade code of bleached hardwood craft pulp, or BHKP. In fact, the harmonization code system (HS) of the two products are different.
These practices are believed to have the goal to reduce the producers' domestic income and profits, as BHKP prices are cheaper compared to dissolving pulp. By doing this, their tax requirements are lower than they actually should be.
Suspicions of these profit shifting practices in order to avoid taxes became stronger as the chain of trade flow is done through affiliated companies in Macau. From this special Chinese Administrative Region, which has low tax rates, the products are sold back to affiliated companies in China with invoices coded HS for BKHP products. The FPB calculated that these deceitful practices allegedly done by TPL between 2007 and 2016, and RAPP between 2016 and 2018, amounted to tax evasions worth Rp1.9 trillion.
W251bGwsIjIwMjEtMDUtMDggMTk6MjA6NDYiXQ
Mouna Wasef, researcher of Auriga Nusantara—which is part of the FPB—confirmed that a meeting occurred on November 12. The meeting, Mouna said, was also attended by several officials of customs directorate-general. "We gave an explanation, and received responses from each directorate," said Mouna on November 25. "We hope that all these kinds of companies will be handled, not just the TPL and ARPIL groups."
•••
TOBA Pulp Lestari's actions came to light in February through an investigative report of IndonesiaLeaks, an independent platform for whistle blowers supported by a number of national media organization, including Tempo. The investigation scrutinized allegations of trade transaction manipulation among TPL, DP Marketing International Limited (DP Makao), and Sateri between 2007 and 2016.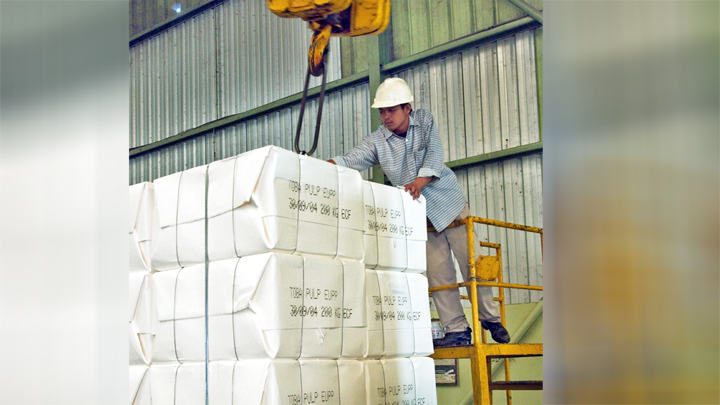 Packing pulp at Toba Pulp Lestari, Porsea, Toba Samosir, North Sumatra, September 2004./ TEMPO/Agung Chandra
The profit shifting scheme started by TPL exporting through DP Makao with products coded HS 4703.29.00.00, which refers to BHKP. But DP Macao, which was only a sales agent, sold the product to Sateri with a code of HS 4702.00.00.00, which stands for dissolving wood pulp. These practices are said to have ended in 2016, after TPL entered the tax amnesty program.
DP Makao and Sateri are believed to be the 'stepsiblings' of TPL. The three entities are connected to Sukanto Tanoto through a number of companies in Singapore and the Cayman Islands. DP Makao not only reaped profits by selling products coded HS for a higher price, but it was also believed to have been the place to which TPL—which had to pay sales costs—shifted its income.
The FPB followed up on these findings. In its latest report, it estimated that TPL's profit shifting scheme between 2007 and 2016 resulted in the company understating its income by US$426 million, or Rp4.23 trillion.
The FPB also signaled that TPL's behavior was continued by RAPP, a subsidiary of the APRIL Group owned by Sukanto Tanoto, between 2016 and 2018. Similar to the TPL era, suspected manipulation done with the HS code by the APRIL Group was supported by a statistical gap between exports from Indonesia and imports from China. The FPB calculated that this profit shifting caused income from APRIL's subsidiary in Indonesia to be underreported by US$242 million, or Rp3.35 trillion.
•••
THE tax directorate-general (DJP) and customs directorate-general (DJBC) actually have started investigating this case since the publication in IndonesiaLeaks in February. A DJBC official said that both authorities have exchanged data, such as exports numbers and other documents. "That data is processed and calculated at the DJP to find if there are any gaps," the source told Tempo.
DJBC Director Heru Pambudi declined to go into details about what his team had been preparing. "Currently the DJP and DJBC are conducting analyses to scrutinize the information we have received," he said on November 27. He only explained that such data-exchange and investigative cooperation is commonly done by the two authorities.
From a fiscal point of view, Heru said, there are no customs charges for pulp exports. Thus, as long as products are stamped V-Legal—part of wood legal certification that list information such as the product, volume, and invoices—these export activities can be done without physical inspection. Export permits can also be issued electronically.
Even so, suspicions of profit shifting can be proven if there are differences in tax calculations, such as when a company does not report its sales data according to regulations. This combined team plans to re-analyze the tax amnesty data in order to investigate TPL's assets declarations.
If the declarations are in discord, Yustinus Prastowo said, the government can demand payments. This is regulated in Law No. 11/2016, chapter 18, regarding tax amnesty, which stipulates that sanctions for underpaying taxes, and administrative sanctions, amount to 200 percent of the unpaid amount. "If new information comes out, the tax amnesty data can be opened. We are now waiting for analysis results," said Yustinus. He added that there is no time limit for the tax and customs offices to explore this problem.
Agung Laksamana, APRIL Group's corporate affairs director, did not reply to Tempo's questions about steps taken by the tax and customs offices to follow up on this case. In a written answer, Agung only said that RAPP cooperated with Sateri between 2016 and 2018 to test and develop the Acacia crassicarpa pulp. Raw material for the pulp would be modified using new technology to produce the basic fiber for staple viscose. Testing for the development of Acacia crassicarpa was done by Sateri by mixing the product with other material.
Agung claimed that the tests were the first of its kind in the world. Thus, he continued, it needed testing on an industrial scale for two years to develop this new product in order to correspond with specifications in the Indonesian National Standard (SNI) and Sateri's demands.
He equivocated that exports still used the HS kraft pulp code because products from Acacia crassicarpa modifications were still in the trial stage, and had not yet fulfilled SNI requirements. He pointed out that the development process succeeded in the end of 2018. "Thus, the product has fulfilled SNI requirements, and is exported with the HS code, which is HS code dissolving pulp," said Agung November 28.
Corporate Communications Manager at Toba Pulp Lestari, Norma Patty Nandini Hutajulu, also said that all of her company's export products have been reported according to the appropriate rules and regulations. "The company sternly denies all accusations that it has underreported its returns," said Norma said on November 27.
Even so, the ball is now in the court of the tax and customs authorities. Herawati, an economist at Prakarsa, part of the FPB, assured that her team will monitor this case. "We have already shown indications to the government," she said. "They (the government) have the most valid data sources, the regulations, and the authority. Don't just limit the investigation to merely statements."
AISHA SHAIDRA