Giant Solar Panels and Carbon Colors
The manufacturing industry is sporadically moving towards environmentally-friendly factories. Support comes from giant investments from multinational business networks.
Edition : Monday, Desember 7, 2020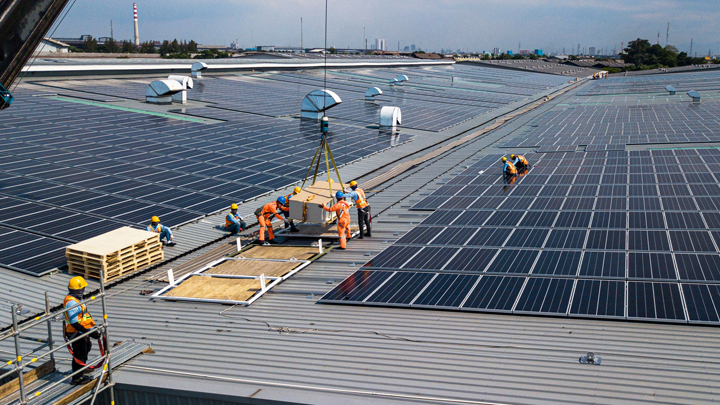 THOUSANDS of solar panels, neatly in rows, almost fully cover the roofs of six large buildings in the factory complex of Coca-Cola Amatil Indonesia in West Cikarang, Bekasi, West Java. Some workers were busy setting up a pile of new modules which just arrived using a mobile crane on Wednesday, December 2. Placing the panels, with 20 percent of the work remaining, will conclude a project Coca-Cola boasts to be the biggest solar panel in Southeast Asia. "This is the first step in our renewable energy project," said Coca-Cola Amatil Indonesia & Papua New Guinea Chief Executive Officer (CEO) Kadir Gunduz to Tempo.
This solar energy project with a capacity of 7.13 megawatt in an area of 72,000 square meters—bigger than the Bung Karno's sport stadium in Jakarta—was started in the middle of last year. Coca-Cola rolled out Rp87 billion to replace some 60 percent of its factories' energy needs with solar power. Coca-Cola calculated that this will annually cut up to 8.9 million kilograms of carbon emission.
While the Covid-19 pandemic has hit numerous business sectors, including the beverages industry, Kadir stressed the company's plans to develop similar projects in its factories in other locations next year. Factories in Pasuruan, East Java, and in Semarang, Central Java will be the two next targets for 2021. Currently, a construction audit on rooftops which will become the basis module is being done. "This is part of Amatil's commitment to support government's target in cutting emission," he said.
The pandemic is wreaking havoc in the processing industry, which include producers of soft drinks. The Association of Soft Drink Industry noted that sales for non-alcoholic, ready to drink beverages nosedived between 40 percent and 70 percent in the early periods of Covid-19. This sector almost collapsed then.
Data from the Indonesian Food and Beverages Association (Gapmmi) showed that the sector's growth in the second trimester was a mere 0.22 percent, a sharp decline from the 3.9 percent growth in the first trimester. Third trimester growth of 0.66 percent is also still far below expectations. This slowing trend, followed by slight growth, in the food industry is in tandem with national economic growth in the same period, which first contracted by 5.32 percent, and then a bit less by 3.49 percent.
W251bGwsIjIwMjEtMDUtMTMgMTg6Mjc6NDYiXQ
Gapmmi Chairman Adhi S. Lukman explained that the food and beverage sector was hit due to people's lower purchasing power because of the pandemic. This downturn is particularly seen in the middle and lower classes. Meanwhile, the upper middle class seems to hold back the shopping. The large-scale social restrictions policy contributed to the industry's slowdown.
He estimates that the industry could grow between 2 to 3 percent in the fourth trimester of this year, along with government incentives such as capital and cash support, and salary subsidies. "Normally we grow between 7 to 9 percent. Last year our growth was 7.9 percent," said Adhi. "These are not normal times."
Purchasing power is indeed the specter haunting the manufacturing industry during the pandemic. Social distancing and lower sales will force factories to reduce utilization of their production facilities, which in turn will also reduce people's buying power.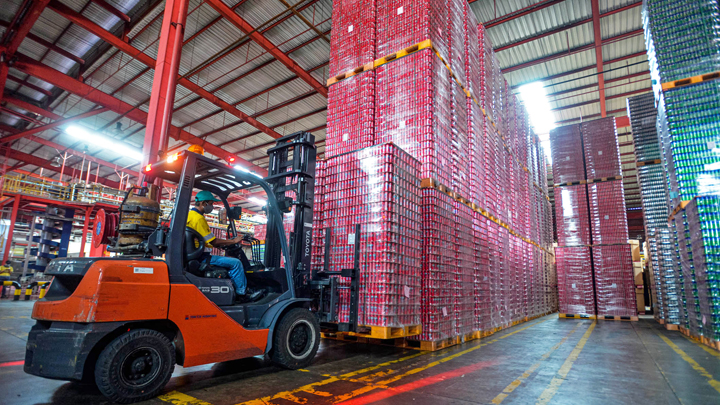 A worker move stacks of canned soft drink using gas-fuelled heavy equipment at the factory of Coca-Cola Amatil Indonesia in Cibitung, December 2./Tempo/Tony Hartawan
The ministry of national development planning noted that working hours in the manufacturing sector went down by 11.1 billion hours due to factory utilization which were cut in half. "Consequently, the total loss of income reached Rp1,158 trillion for 30 weeks," said National Development Planning Minister Suharso Monoarfa.
However, long before the pandemic, the manufacturing industry has already been seen as a threat for the environment. The 2017-2018 Greenhouse Gas Inventory, Monitoring, Reporting, and Verification report, drawn up by the environment and forestry ministry's directorate-general for climate control, pointed to the manufacturing sector as the second-highest contributor to greenhouse gas emission from the energy use factor. Other contributors, in addition to manufacturing, are the energy—power plants, oil refineries, and coal processing plant—and transportation industries.
When inaugurating Coca-Cola's solar panel operation on October 1, Coordinating Minister for the Economy Airlangga Hartarto expressed hope that industries would continue steps toward using renewable energy. The government, he said, is increasing the portion of renewable energy in the national energy mixture to 23 percent in 2025 and 31 percent by 2050.
Airlangga calculated that solar panels could reduce greenhouse gas emissions by 300 million tons by 2050. "This equals savings from 7,000 vehicles in a year," he said during the inauguration.
•••
OTHER factories, such as Unilever Indonesia, are also intensifying campaigns for using clean energy. For example, the Powder Non-soap Detergent factory, which produces Rinso and Molto, uses biomass to replace natural gas in the process of drying the powdered detergent. The biomass is developed from oil palms' core shells, which are abundantly available, relatively climate resistant in storage, and have low ash levels.
In September, in the midst of the pandemic, Unilever rolled out its global Clean Future program. This project focuses on five points: usage of renewable and circular raw materials, low carbon footprint products, water efficiency and bio-degradable products, renewable and reusable packaging, and product design which builds consumers' trust.
Unilever Indonesia Corporate Affairs & Sustainability Head Nurdiana Darus explained that this breakthrough was designed by the company's Home Care division to fundamentally change production and packaging of cleaners and detergents. The program also aims to fulfill the firm's commitment of net zero emission by 2039.
Unilever is prepared to invest €1 billion, or around Rp17 trillion, to fund global research, development, and innovation for circular chemical cleaners. The company, Nurdiana pointed out, will use the so-called 'carbon color' scheme as a transition towards renewable carbon sources.
Non-renewable fossil sources, for example, are identified as black carbon. This can be replaced by other carbons, such as captured carbon dioxide (purple carbon); oceanic sources, like algae (green carbon); and carbon derived from waste (gray carbon). All those carbon sources are organized and explained based on environmental analyses.
Currently, Nurdiana continued, chemicals in the majority of cleaning products in the market have considerable carbon footprint: around 46 percent along the products' cycle. "By discarding chemicals derived from fossil fuels in product formulation, the company is targeting to reduce carbon footprint by up to 20 percent," she said.
Besides product innovation, the pandemic has nudged Unilever to strengthen its digital sales front. These steps are done because consumers' behavior patterns have shifted towards online buying. This year only, an estimated 60 percent of Indonesian buyers have tried online shopping.
As part of this project, Unilever is assisting micro, small, and mid-sized businesses, including small stall owners. The company launched Sahabat Warung (stall-owner buddy), an Android-based App, that helps traders obtain Unilever products without leaving their homes. "We increase product availability in various e-commerce routes, and in digital innovation for consumers and clients," said Nurdiana.