Embarking on Green vehicles
Sale of electric cars in Indonesia is still at the bare minimum level. The government is trying to create a conducive industrial ecosystem, from upstream to downstream.
Edition : Monday, Desember 7, 2020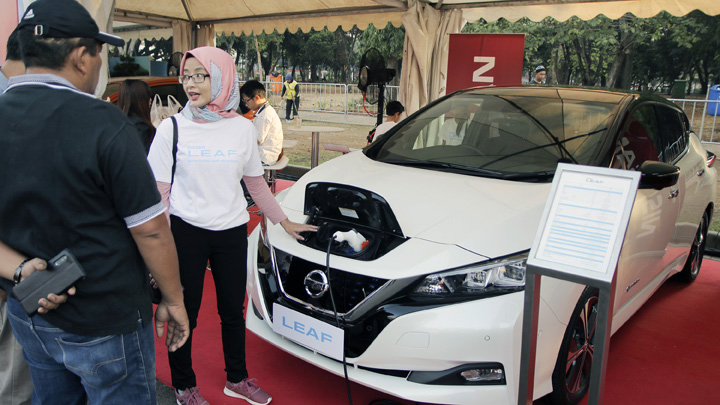 HENRY Tanoto, in the 15th MnM's Week Webinar and Talk Show organized online by University of Indonesia's Engineering Department on Thursday, December 3, spoke about environmentally-friendly cars in his company. The vice president of Toyota-Astra Motor said sales have gone up significantly in the past 11 years.
When Toyota first started marketing its green vehicles in Indonesia in 2009, it only sold two cars on average in a month. Currently, this multinational company sells up to 79 units per month. Henry further said that his company has already sold a total of 3,300 cars until October this year. Although the numbers are going up, environmentally-friendly vehicle sales still fall far below that of fossil-fueled cars. "It's less than one percent of our total sales," he said.
Toyota is a pioneer in marketing green cars in Indonesia. It started with the hybrid Toyota Prius which has two engines: one fueled by gasoline, and the other with electricity. Both engines work in turns, thus saving on fuel. Toyota now has two other environmentally-friendly cars. One is a plug-in hybrid with two engines, but more sophisticated as the battery can be recharged with electricity from other sources, such as a plug from home. Their latest model is a car running solely on battery power: the Lexus UX 300e, which came out in November.
Prior to Toyota, other brands such as Tesla, BMW, Nissan, and Hyundai have launched electric cars on full battery power in Indonesia. On average, these cars still have price tags above Rp400 million. In fact, Henry said, in addition to considering how a car would match their needs, consumers are also very sensitive to prices. Between 75 to 85 percent of consumers buy cars with the price below Rp300 million, while the rest buys more expensive vehicles. "I guess this has to do with people's buying power," he said.
One component that makes a green car more expensive compared to the fossil-fueled ones is its battery, which makes up 35 percent of production costs. Taxes for electric cars are also high. Rudy Salim, chief executive officer (CEO) of Prestige Corp—which imports Tesla—said that his company has to increase prices due to 50 percent import declaration tax, 10 percent value added tax, and 10 percent income tax. Thus, the car's selling price in Indonesia is up to double the price abroad. "This limits the market for electric cars here," Rudy said in a WhatsApp message on Thursday, December 3.
W251bGwsIjIwMjEtMDUtMTMgMTg6NTY6MjIiXQ
And it is not just the price. Rudy said consumers also take infrastructure into consideration. Until now, there are no battery-charging facilities, so this has to be done at home. "Meanwhile, in other countries it is common to have charging locations in public places," he said.
The government attempts to overcome these problems by issuing Presidential Regulation No. 55/2019 in August regarding the program acceleration of battery-powered vehicles. Its focus includes the potential of developing a battery industry in Indonesia.
Senior Supervisor Mining and Minerals Industry Institute Mining Industry Indonesia (Mind ID), Ratih Amri, said that state-owned enterprises (SOEs) ministry has formed a team with members across the ministry, chaired by Mind ID. This holding overlooks a number of mining companies: Aneka Tambang (Antam), Bukit Asam, Freeport Indonesia, Indonesia Asahan Aluminium, and Timah. "If we already have a hold on the upstream part, then we can control competition from the cost side," she said.
Ratih further explained that Indonesia has 21 million metric tons of nickel in reserves—bigger than any other country in the world—that are ready to be optimized as raw material for electric batteries. Nickel is the main material for making batteries. Ratih said this must be utilized, as in the years ahead fuel technology for vehicles will already switch to other materials. "Our ambition is that we will be a global battery producer by 2025."
The government, she continued, also tries to create a conducive industrial ecosystem, from upstream to downstream—and would like to engage firms like Tesla to set up their industries in Indonesia.
Chinese electric-vehicle battery producer Contemporary Amperex Technology Co Ltd is also to invest US$5.1 billion, or Rp71.9 trillion, in Indonesia. This cooperation was already signed last month. Septian Hario Seto, coordinating ministry for maritime affairs and investment's coordinating deputy for investment and mining, said that Korea's LG Chem is currently negotiating with Antam to produce batteries in Indonesia.
Taufiek Bawazier, industry ministry's director-general for minerals, machinery, transportation and electronics, said that in addition to producing batteries, the government also provides facilities for users of green cars. After the presidential regulation was issued, the government created a supporting regulation, Government Regulation No. 73/2019, regarding luxury taxes on motor vehicles. Luxury sales tax will no longer be based on the shape of the vehicle, as it had been before, but rather on their gas emissions. The more emissions it emits, the higher its tax. This regulation will be effective starting in 2021.
Taufiek added that the government will also make the Making Indonesia 4.0 roadmap for the automotive industry. The plan is that between five and 10 years from now, the government hopes to have initial production for electric motorcycles. By that time, there should already be clear planning on eliminating fossil-fueled motorbikes, and at the same time building needed infrastructure and pushing the realization of electric motorcycles.
The government, he continued, is also setting up a research and development center to develop electronic components like batteries, and creating prototypes to accelerate product development. Between 2030 and 2035, the government will focus on initiating local production of electric cars with the same process. "We want to build domestic production abilities for electric motorcycles and cars along the whole value chain," said Taufiek.