Moving Forward Amid Doubts
Indonesia's banking industry shows an increased commitment to sustainable business principles. But the road to green banking still lies for many miles ahead.
Edition : Monday, Desember 7, 2020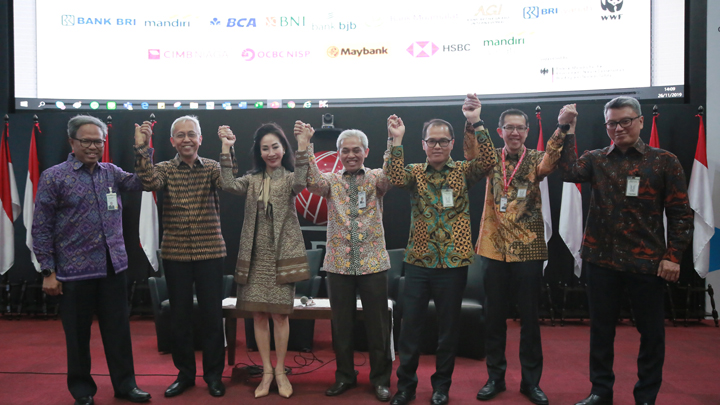 THE Financial Services Authority (OJK) received good news on Tuesday, December 1. That day, the world's largest independent conservation organization, the World Wide Fund for Nature (WWF), released its Sustainable Banking Assessment 2020, a report on Southeast Asian, Japanese, and South Korean banks' implementation of environmental, social and governance (ESG) standards.
The report, which highlights eight Indonesian banks—out of a total 48 assessed—mentions that the region's banking industry has reached significant developments in implementing ESG standards. But what pleased the OJK is that Indonesia is seen as superior in integrating ESG in its business strategy as a whole. "What we have done so far is recognized, even by the international world. This is the time to continue (our work) and not be content with the achievement," said OJK International Division Chief, Rendra Zairuddin Idris, on Saturday, December 5.
The appreciation, said Rendra, encourages the OJK as a regulator to prepare a better ecosystem for financial services institutions. He ensured that the OJK will continue to make repairs and fulfill all ESG indicators in order to enter the global competition.
The eight Indonesian banks assessed are Bank Rakyat Indonesia (BRI), Bank Mandiri, Bank Negara Indonesia (BNI), Bank Central Asia (BCA), Bank Muamalat, Bank Panin, and Bank Pembangunan Daerah Jawa Barat dan Banten. Two of these banks, BRI and BCA, scored in the top 10 at the ASEAN level.
WWF Indonesia's Sustainable Finance Program Supervisor, Rizkiasari Yudawinata, said that in general, the achievements of the eight Indonesian banks are somewhat equal in terms of commitment and initiative to implement sustainable finance practices. "Indonesia is not only the best at the ASEAN level, it is even leading in terms of progress in sustainable finance," said Rizkiasari on December 4.
W251bGwsIjIwMjEtMDUtMTMgMTk6NTg6MzAiXQ
This recent report was a source of relief for the OJK after the institution came under fire. The first-stage sustainable finance roadmap that they issued at the end of 2014 was seen as ineffective in forcing banks to stop financing sectors that pose high risks to the environment. "A reform is needed to force banks to implement stricter loan criteria," Edi Sutrisno, Transformation for Justice (TUK) Indonesia Executive Director, told Tempo on September 4.
Amid doubts among environmental activists, banks are actually in agreement that meeting ESG standards is in line with prudential banking principles, which were developed by banks to prevent economic crises.
Bank Central Asia Secretariat and Corporate Communications Executive Vice President, Hera F. Haryn, said BCA's market is beginning to respond well to the company's steps in committing to the development of green economy.
This is why, Haryn added, BCA has ran several activities to fulfill these expectations. For example, BCA reviewed its loan policy by adding a new one to prohibit issuing loans to businesses that pose risks to the ESG factors. "From the environmental aspect, in issuing loans (we) pay more attention to potential negative impacts," Hera said on December 4.
According to Hera, BCA has also renewed the requirement to centralize its partners' data management. The new requirements include not employing children and forced labor, implementing work safety and health management, as well as issuing an integrity pact and an anti-fraud declaration. "We're also performing several initiatives to protect the environment, such as developing technologies that contribute to saving energy and reducing emissions, as well as reducing the use of paper," she said.
BNI Chief Executive Officer (CEO) Royke Tumillar is certain that the sustainable finance approach can be a solution for the future. This strategy, he said, will not only increase investment value for investors, but will also create the best working conditions for employees as well as having positive environmental and social impacts.
This is why he ensured that BNI will continue to be committed to sustainable finance practices by supporting expansion into the sustainable business sector. "Besides having positive environmental and social impacts, support for the sustainable business sector will benefit the economy in the long-term," said Royke December 5.
According to Royke, during the Covid-19 pandemic, BNI has increased its financing for sustainable businesses. Loans for the renewable energy sector as of September, for example, spiked by 34.4 percent compared to the same period last year, which was only at Rp3.46 trillion. Cumulative financing for businesses that fit sustainable business criteria as of September had reached Rp139.15 trillion, or an increase of 5.0 percent compared to last year.
Bank Mandiri has experienced similar growth. "Financing for the green sector positively contributes to Bank Mandiri's performance," said Bank Mandiri Corporate Secretary Rudi As Asturridha, without mentioning details.
•••
THE OJK initiated the sustainable finance program so that financial services can provide financing while keeping the environment protected. The sustainable finance roadmap issued in December 2014 was, in fact, a follow-up to a similar initiative while the banking sector was under Bank Indonesia's monitoring.
At this time, the second-stage roadmap for the 2020-2024 period is yet to be signed by OJK's board of commissioners. The roadmap's preparation is part of OJK and the financial services industry's roles to support Indonesia's commitment to reduce greenhouse gas emissions and encourage sustainable development.
The agenda is included in the 2020-2024 National Mid-Term Development Plan (RPJM), which sets a target for developing renewable energy. The government also issued a national energy policy in 2014, to reach around 23 renewable energy in 2025. Besides the sustainable finance roadmap as well as OJK Regulation No. 51/2017, the issuing of green bonds and its requirements are regulated under OJK Regulation No. 60/2017.
---
"Indonesia is not only the best at the ASEAN level, it is even leading in terms of progress in sustainable finance."
---
Since 2018, Indonesia has issued sovereign global green bonds at a total value of US$2.75 billion each year. The following year, the government issued the world's first retail green bonds with a total investment of US$100 million. The amount is allocated for sustainable transportation, disaster mitigation, and for opening access to renewable energy.
Last April, the Global Sustainable Investment Alliance (GSIA) released its 2018 study on sustainable investment. The report found that sustainable investment assets in Europe, United States, Japan, Canada, Australia, and New Zealand had increased by 34 percent from 2016 to 2018 at a total value of US$30.7 trillion. Sustainable investment is becoming easier to access with the option available on various investment channels.
A number of regulations and green restoration policies are being prepared by the government to encourage economic transformation and honor the commitment to reduce carbon emissions. The pandemic, which has hit the world since the start of this year, is seen by various groups as a momentum to enact restoration to overcome the challenges of Covid-19 and climate change.
It is possible, said environmental economist and Think Policy Society founder, Andhyta F. Utami, that the pandemic is being used as a justification by various countries to invest in non-sustainable sectors as part of the effort to recover the economy. "In general, some see the sustainable type as slow," said Andhyta on November 30.
In Indonesia, the conventional view of development is still more trusted by policy-makers as can be seen by a number of regulations that run counter to the plan to reduce carbon emission. The public also perceive some government regulations as weakening environmental protection.
Rendra Zainuddin Idris agreed that the pandemic was a wake-up call, indicating that development work all over the world has not yet supported the environment as well as more a more responsible approach. "The pandemic urges development in the future to not work the way it does now," said Rendra on November 30.
But in practice, he believes that green financing cannot necessarily be implemented completely, especially in the near future, while the government is still focusing on mitigating the pandemic. A number of finance sectors, said Rendra, still need to adjust and calculate risks. Even so, he believes that green financing can continue during the pandemic. "They can work simultaneously, without having to conflict," he explained. "At this stage, now the OJK is preparing the ecosystem."
Rizkiasari Yudawinata sees 2021 as an important year for financial services institutions in learning the most important lesson from the sudden pandemic. Likewise, in taking a stance against climate change and environmental degradation, which had already been predicted. "If this risk is understood, the financial services sector is given an opportunity to adapt well," said Rizkiasari.