A Post-Pandemic Return to Earth
Economic restoration in 2021 is still reliant on numerous scenarios. But Covid-19 managed to compel businesses to move toward green economy. This shift may be tangled with the government's need for a quick restoration.
Edition : Monday, Desember 7, 2020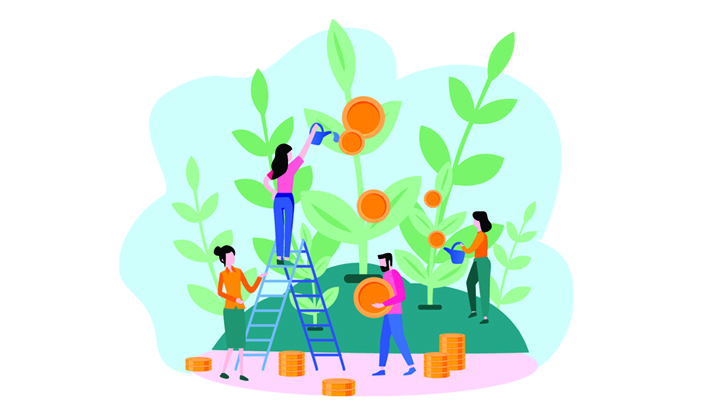 ALL elements had no trouble agreeing when it comes to the Covid-19 vaccine. Economists, businesses, the government, and the central bank believe that the vaccine will be a game-changer in 2021.
A vaccine will increase public trust that the virus has become manageable. The middle-upper income group will begin to spend their money. Greater demands will move businesses to produce more, which means a need for more capital. Banks will issue loans. In the end, the economy will return to normal.
Among these links in the chain, apparently Indonesia's middle-upper citizens are key. "The trust of Indonesia's middle-upper consumers is an important component for businesses to survive and continue restoration," said Finance Minister Sri Mulyani Indrawati at the Bloomberg Economy Forum, November 18.
Data on economic growth components supports Sri Mulyani's argument. Domestic consumption dominates the national gross domestic product (GDP) composition, with a contribution of 58 percent. Consumption tops investment, which offers a 32-percent contribution, and trade, with an 18-percent contribution to the GDP.
Of consumption's contribution to the GDP, the majority of consumers come from the middle-upper group. As many as 40 percent of Indonesia's poorest citizens only contribute 17.7 percent to spending. It is this domestic consumption ratio that is behind the pandemic's powerful hit on our economy.
W251bGwsIjIwMjEtMDUtMTIgMDk6MTg6MDQiXQ
The incomes of the lower-middle group declined, causing their purchasing power to drop—despite the cash and non-cash social assistance. Meanwhile, the middle-upper group is refraining from spending their money. According to Mohammad Faisal, Center of Reform on Economics Indonesia executive director, this phenomenon can be seen in the increase in bank savings. "This is indicative of refrained spending," said Faisal in mid-November.
The Financial Services Authority (OJK) notes that third-party funds in banks had reached great amounts in September, reaching Rp6,651 trillion, or an increase of 12.88 percent compared to the same period last year. But, on the other hand, banks are not able to issue loans. Loan to savings ratio in that month also declined to 83.16 percent from a prior 85.11 percent in August.
The OJK and bankers, who were initially still convinced that loans will experience a 5-percent growth in 2020, in the end revised their optimism to 0 to 1 percent. "Weakening loans happened because of selective demand and supply," said Andry Asmoro, Bank Mandiri chief economist, in mid-November. "On the positive side, banks are very prudent compared to prior crises."
Recession was unavoidable. At the end of November, Sri Mulyani projected that 2020's economic growth will be in the negative at between -1.7 percent and -0.6 percent. Prior, the government had estimated growth to be at -1.1 percent to 0.2 percent and -0.4 percent to 2.3 percent.
Based on these new developments, the government decided to continue the national economic recovery (PEN) program in 2021, with a budget of Rp372.3 trillion, lower than 2020's recovery budget of Rp695.2 trillion.
PEN 2021's largest budget allocation of Rp136.7 trillion will go to sectoral programs at ministries, institutions, and regional governments. Next, social protection will receive Rp110.2 trillion. A support program for micro, small and medium enterprises will be given a budget of Rp48.8 trillion. Health programs will be given Rp25.4 trillion. Meanwhile, support for businesses, in the form of tax incentives and corporate financing will be given Rp20.4 trillion and Rp14.9 trillion, respectively.
Outside of PEN, the 2021 state budget will allocate massive funds for social protection, in the amount of Rp421.7 trillion. Almost an equal amount of Rp413.8 trillion will be prepared for infrastructure development, while tourism will be given Rp15.7 trillion. The government claims that all of these spending needs will support 2021's economic growth target of 5 percent.
But the government seems to forget that the whole world is contemplating. The World Economic Forum (WEF) calls the Covid-19 pandemic a wake-up call for humanity to stop exploiting the Earth. Deforestation, loss of biodiversity and climate change are believed to have made it easier for the pandemic to emerge.
Deforestation increases the chance of human interaction with wild animals, making it possible for zoonotic viruses, such as SARS-CoV-2 to jump between species. The Intergovernmental Panel on Climate Change (IPCC) has also warned that global warming would accelerate the emergence of new viruses.
Director of the Center for Climate, Health and the Global Environment at Harvard University, United States, Aaron Bernstein, admits that there is not yet direct evidence that climate change influenced the spread of Covid-19. But Bernstein and other experts are well aware that climate change has transformed the way humans interact with other species.
As the planet warms, animals travel and have contact with other species, which they did not normally do. This creates new opportunities for pathogens to enter new hosts. "We have numerous reasons for saving the climate, to improve our health. Decreasing the risk of new infectious diseases is one of them," said Bernstein.
But besides the pandemic giving us food for thought, all countries in the world are encouraged to see Covid-19 as an opportunity. The pandemic has restricted domestic and international flights, decreased trade volume, and reduced human mobility. These conditions have caused the largest historical decline in greenhouse gas emissions. At the end of this year, greenhouse gas emissions are predicted to have decreased by 8 percent.
The United Nations Environment Programme (UNEP) calculates that global greenhouse gas emissions must decline by 7.6 percent annually from 2020 to 2030, in order to maintain the rise in global temperatures at under 1.5 degrees Celsius at the end of this century.
Many economists and environmental activists are urging all countries to again pay attention to these targets. Indonesia has ratified the Paris Agreement, which includes the commitment to decrease greenhouse gas emissions by 29 percent in 2030. This promise to lower emissions can increase to 41 percent with international assistance.
No more excuses. International assistance has been pouring in, both in the form of aid as well as green loans.
•••
TEMPO prepared this special report on 2021 Economic Projections when the Covid-19 pandemic was still lurking—and even when conditions took turn for the worse. Indonesia only recently made record on December 3, when the daily number of infected reached 8,369. The ratio of positive cases on Indonesians tested in November reached 13.55 percent, above the World Health Organization (WHO) standard of only 5 percent.
If the situation continues, it appears that the scenario of recovered public trust for leaving the house and spending money will only be delayed. Businesses will also reconsider their plans to expand. To survive or shift their focus to goods and services that are still in demand during the pandemic may become a solution.
Smokes billowing from a burned land in North Indralaya, Ogan Ilir, South Sumatra, September 2019./ ANTARA/Nathan
But amid the uncertainties stalking the world in 2021, a number of businesses in various sectors have initiated or deepened their penetration into sustainable economy. This move is supported by chance and demanded by conditions.
To Adi Satria, the shift in consumer behavior also urged Accor Group, an international hotel network, to accelerate their steps to implement the principles of sustainable economy. The Accor Malaysia, Indonesia, and Singapore vice president of sales marketing distribution and loyalty gave the example of how Accor is reducing the use of paper in stages and digitizing services. In fact, this move was already taken a long time ago, but steps are being carried forward faster in line with consumers' tendency to pay more attention to cleanliness, health, safety and the environment (CHSE).
Efforts to implement sustainable economy indeed demands bigger investments. But, according to Adi, these steps are needed to maintain consumer trust at a time when it is difficult to make short-term business predictions. "This is also our commitment to not make the business solely a matter of profit," said Adi on Tuesday, December 1.
Like the hotel industry, the tourism industry is extremely reliant on the trust of tourists. Although tourism is in the category of sectors that are the last to revive, it is ahead in the race, in terms of implementing the CSHE principles.
The great attention to green economy has also opened the potential for financing for businesses in this sector. The most recent news came from Star Energy, a geothermal power plant operator owned by the Barito Group, which had just published global green bonds at the value of US$1.11 billion. The demand is three and a half times larger.
Star Energy proves that green financing has become friendlier for the country's businesses. This is supported by the commitment of financing institutions and global investors, which are beginning to move away from fossil energy.
But things are looking different for local investors. Sarana Multi Infrastruktur, for example, did not obtain an attractive interest when they published green bonds at the value of Rp500 billion in 2018 for domestic investors. The interest reached 7.55 to 7.80 percent. "There is not yet an incentive for bond issuers and investors," said Darwin Trisna Djajawinata, Sarana Multi Infrastruktur operations and finance director, on December 2.
To support green financing, the OJK is preparing a second sustainable finance roadmap, to replace the less appealing first one. "The classifications will become clearer, which ones can be financed by banks," said OJK International Division Chief, Rendra Zairuddin Idris, on November 30.
Green financing and investment climate will also improve next year. On December 14 the Indonesia Stock Exchange (BEI) plans to launch a green index, or a list of issuers that pay most attention to environmental, social, and governance (ESG) aspects. "Twenty-five first constituents will be entered. Hopefully the number will continue to go up," said BEI Business Development Division Chief, Denny Wicaksono, on December 2. Interestingly, an issuer can be taken off the list if it is found to have violated ESG principles at any time.
In the manufacturing sector—a sector that has been the largest emissions contributor in terms of energy use—the green economy movement has also emerged. A number of global companies operating in Indonesia, such as Coca-Cola Amatil and Unilever, have reduced the use of non-environmentally-friendly energy in their factories.
In early October, Coca-Cola Amatil Indonesia inaugurated the use of solar panels that supports 60 percent of their electricity needs. Unilever Indonesia is also using biomass to replace gas for drying products.
In the automotive sector, the manufacturing of electric cars is believed to be developing further in line with the growing investment commitment of battery producers. An electric car battery manufacturer from China, Contemporary Amperex Technology Co Ltd, for example, will be investing in Indonesia at the value of US$5.1 billion, or around Rp71.9 trillion.
Coordinating Ministry for Maritime Affairs and Investment's Deputy of Investment and Mining Coordination, Septian Hario Seto, said a South Korean company, LG Chem, is also in the midst of negotiations with Aneka Tambang to manufacture batteries in Indonesia. These developments have prompted a number of factories to go full throttle in producing electric vehicles. Hyundai, for instance, has released two fully electric cars, Ioniq and Kona.
Startup businesses are also looking to join the green economy ecosystem. A number of startup companies have emerged, among others, Sylendra Power, in the clean energy sector. The energy sector will still be the most tangible market for green technology providers in Indonesia.
•••
Indonesian Chamber of Industry and Commerce (KADIN) General Chairman, Rosan Perkasa Roeslani, added another game changer for 2021: the Job Creation Law. "There are only two game changers in 2021: the (Covid-19) vaccine and the Job Creation Law," said Rosan in mid-November.
He is optimistic that the omnibus law will serve as the backbone to investment growth and job creation. So far, investments have only contributed 32 percent—33.17 percent in 2019—to the national GDP. Export-import has only contributed 18 percent. Indonesia is far behind Vietnam, whose trade contribution to the GDP in 2019 reached 210.4 percent.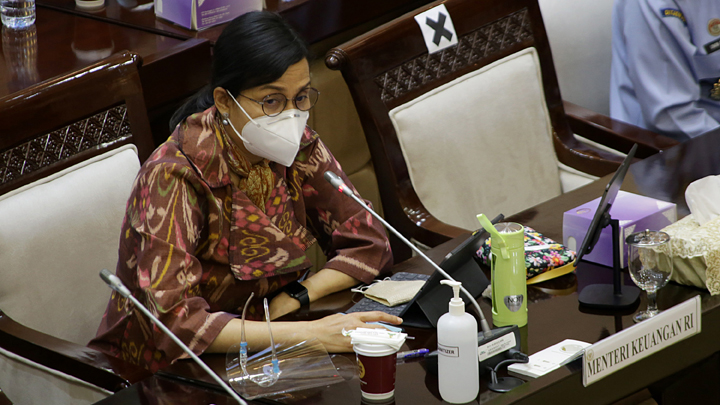 Finance Minister Sri Mulyani in a meeting with the Finance and Banking Commission at the House of Representatives, Jakarta, October 5./ TEMPO/M Taufan Rengganis
But environmental economists, Andhyta Firselly Utami and Poppy Ismalina, see inconsistencies between the Job Creation Law and Indonesia's commitment to the Paris Agreement. According to Andhyta, several countries are using post-Covid-19 economic restoration as a justification to invest in non-sustainable sectors and methods. "The public perception is that the Job Creation Law weakens environmental protection," said Andhyta, an environmental economist from the Think Policy Society, on November 30.
Poppy is of a similar view. She sees the Job Creation Law as a threat to the environment and forest conservation in Indonesia. The law's paradigm, she said, is economic growth. "The economy as a commander is obsolete, it contradicts sustainable development," said the Gadjah Mada University Economics and Business School environmental economist.
Septian Hario Seto denied that the Job Creation Law pays no attention to the environment. He cited changes in environmental permits for businesses in the law. According to him, the government changed the permit scheme using risk analysis. The smaller the environmental risk, the less need for an environmental permit, he said. Conversely, if the environmental risk is high, a company is still required to obtain an environmental permit. "The environmental permit is even attached to the business permit."
Meanwhile, on the topic of green investment, Seto admitted that the government cannot yet follow in the footsteps of developed countries in Europe, which are encouraging businesses to move toward sustainable development. "Developed countries have already gone through economies that produced great amounts of carbon emissions since 30-40 years ago," he said. "We are very capable of following the Paris Agreement, but don't force us to follow their methods."
One of the ways being prepared by the government is to prepare natural resources that can produce carbon credits, such as tropical rainforests, peatlands, mangrove, and coral reefs. "If we can maintain them, that's already significant in reducing carbon emissions," said Seto.
Various overseas investors that will be pouring in are already environmentally aware, he added. Among others, investment in steel processing from Fortescue Metals Group (FMG), Australia. "Andrew Forrest (FMG CEO) wants to use a hydroelectric power plant," said Seto.
The economic growth versus environmental protection debate has lasted some time. Covid-19 should be able to end the debate with evidence that neglecting the environment for the sake of development may well bring far greater devastation to the economy.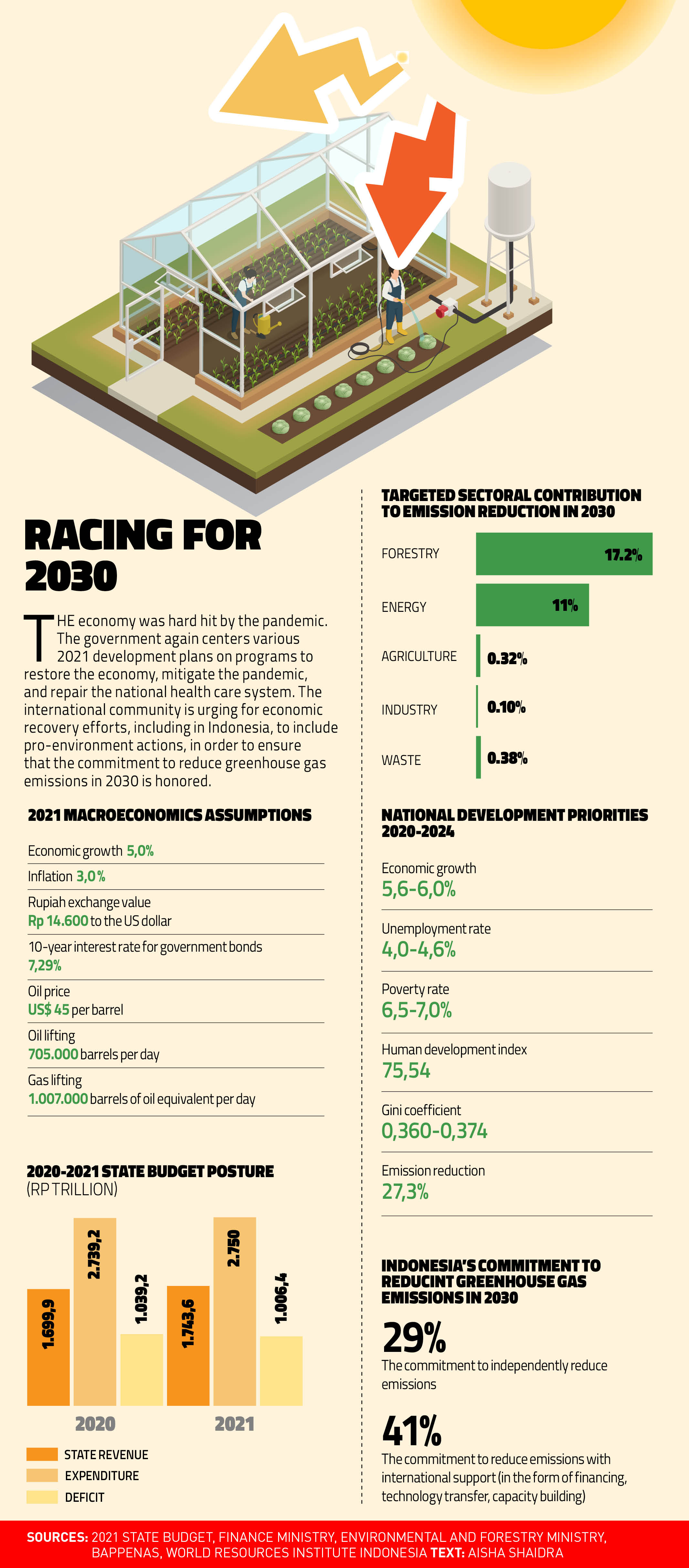 ---
Team Leader: Agoeng Wijaya Project Head: Aisha Shaidra Writers: Aisha Shaidra, Dini Pramita, Khairul Anam, Nur Alfiyah, Raymundus Rikang, Retno Sulistyowati Editors: Agoeng Wijaya, Anton Septian, Bagia Hidayat, Sapto Yunus, Stefanus Teguh Pramono Contributors: Made Argawa (Bali), Murthadho (Bogor), Servio Maranda (Bangka Belitung) Photo Researchers: Gunawan Wicaksono, Jati Mahatmaji, Ratih Purnama Ningsih English Editor: Luke Edward Designers: Rudy Asrori, Ahmad Fatoni, Junianto Prasongko Digital: Imam Riyadi