The Fall Out
The police are investigating suspected corruption of the 2017 budget for the Indonesian Gold Program for badminton athletes. World champion Taufik Hidayat had played a role.
Edition : Monday, Desember 7, 2020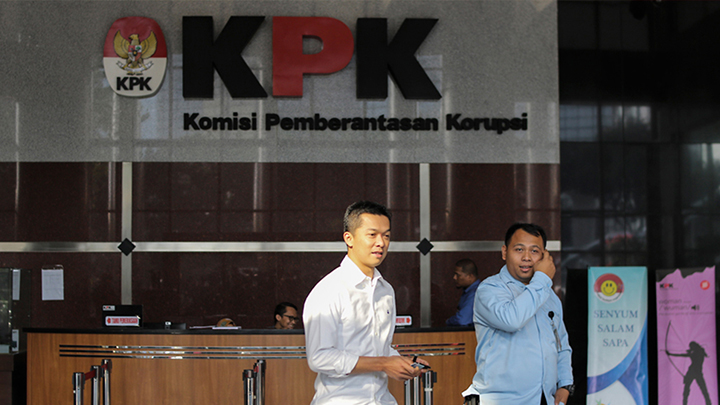 SUSPECTED misuse of 2014-2019 budget funds at the Ministry of Youth Affairs and Sports has attracted the attention of the National Police's criminal investigation unit (Bareskrim). Since the middle of last year, investigators have been looking into the suspected loss of about Rp1.075 billion in food and accommodation funds for badminton athletes from the sports ministry.
Police Brig. Gen. Djoko Purwanto, Bareskrim's director of corruption crimes said that this case differs from the suspected corruption case currently being handled by the Corruption Eradication Commission (KPK) and the Attorney General's Office (AGO). "I am still checking the details of the case. But we could probably handle (the case)," said Djoko on Friday, December 4.
At present, the AGO is fast-tracking work on the investigation into the case of suspected corruption of Rp25 billion of grant funds from the sports ministry to the Indonesian National Sports Committee (KONI) for 2017. The investigation began in mid-2019. Over a hundred witnesses have been questioned in this case.
However, it was the KPK which moved first to detain Imam Nahrawi, minister of Youth Affairs and Sports in 2014-2019, at the end of September 2019. The Central Jakarta Corruption Court sentenced Imam to seven years imprisonment and a fine of Rp400 million last June 29. He was found guilty of receiving bribes and gratuities for arranging about Rp20 billion in grant funds for KONI.
The police have been looking into various budget allocations. They discovered suspected budget losses from the Indonesian Gold Program Administrative Unit (Satlak Prima) allocated for badminton. An official is suspected of embezzling food and accommodation funds intended for young athletes in early 2017.
W251bGwsIjIwMjEtMDUtMTEgMDQ6MTU6NTkiXQ
Bareskrim preliminary investigators visited the office of the All-Indonesia Badminton Association (PBSI) in Cipayung, East Jakarta, in mid-2019. They were gathering information from PBSI's central officials and finance department. The police also asked the association's finance officials about the allocation of funds for food and accommodations.
Bareskrim officers also asked for proof of budget expenditures. However, a year later, they have not announced any developments in the investigation.
Rumors of suspected the Satlak Prima budget misuse appeared three years ago. News of misuse of funds spread when PBSI officials wanted to disburse food and accommodation funds for the athletes enrolled in the Prima program. The then Deputy Chairman of Satlak Prima, Taufik Hidayat, has been mentioned in a number of discussions in connection with this matter.
The Indonesian Gold program aims to produce national athletes able to win awards at the international level. Achmad Budiarjo, PBSI secretary-general for 2016-2020, said that the budget from the Satlak Prima is usually disbursed every two months.
In early 2017, two PBSI officials went to the sports ministry to receive Rp1.075 billion in food and accommodation funds for November and December of 2016. However, those two officials left empty-handed.
They later discovered that Taufik Hidayat had accepted the funds a few days earlier. "This created a stir because we never issued a written mandate or assignment to the person in question to take those (funds)," said Achmad Budiarjo.
Taufik, the badminton gold-medal winner at the 2004 Olympics, is suspected of attempting to cover his tracks in the disbursement of those funds. He is suspected of not signing the receipt for taking those funds. Taufik's assistant purportedly signed the document indicating receipt of that budget disbursement.
This story was later revealed during the trial of Imam Nahrawi. Tommy Suhartanto, director of planning and budgeting of the Satlak Prima program testified that he once turned over Rp800 million to Taufik. It is suspected that those funds came from the Rp1.075 billion allocation meant for badminton athletes.
However, Taufik has denied this. He said that his duty at the Satlak Prima was as a program designer, not to manage finances. "He (Tommy) is in that area. He asked me to sign but I didn't sign, because that was not my area and not my right to do so," said Taufik.
That trial also revealed that Taufik once gave Rp1 billion to Miftahul Ulum, Imam Nahrawi's personal assistant. Those funds also came from Satlak Prima's budget, but from a different allocation item. "I was asked to help out like that over the phone, and as a friend I did help out. However, I did not confirm with Imam if the funds had been given by Ulum," said Taufik.
Gatot S. Dewabroto, secretary of the Ministry of Youth Affairs and Sports, said that Imam's personal assistant had been assigned with collecting funds to be given by each deputy office. It is suspected that Taufik was assigned the duty to collect such funds from the sports budgets of the deputy III and deputy IV offices at the sport ministry. "Yes, that is the case," said Gatot.
He testified to this when he became a witness in the trial of Miftahul Ulum, Imam's personal assistant who was a defendant, last February. Ulum was sentenced to four years imprisonment last June.
Imam and Taufik were once close friends. According to two sources familiar with Taufik, his closeness with Imam Nahrawi led this former world badminton champion to get involved in a number of projects at the sports ministry. For the program to prepare for the 2018 Asian Games, for instance, the PBSI received assistance of eight badminton court carpets.
The procurement of those famous brand-name carpets ignited controversy because it was done so quickly. It was said that back-and-forth dealings took place among vendors, PBSI officials, and sports ministry staff during the tender process. It later came out that Taufik was connected to one of the vendors of badminton carpet.
The two have since had a falling out. In court, Imam said that Taufik received Rp7 billion and Rp800 million on separate occasions. He said that those funds were to be used to arrange the outcome of a legal case at the AGO. "Who knows where it went and why it just disappeared without explanation. It was like it just vanished," said Imam when testifying in court on June 19.
Tempo attempted to ask Taufik Hidayat for confirmation about some of these accusations, including the suspected loss of funds for badminton athletes enrolled in the Indonesian Gold program. However, he did not respond to telephone calls or messages containing questions and an interview request as of Saturday, December 5.
Imam Nahrawi's lawyer, Wa Ode Nur Zainab, said that his client hopes that law enforcement looks into those flows of funds. "Imam is asking that the funds suspected of going to AGO officials and TH be investigated," said Wa Ode.
The AGO and Bareskrim have not named any corruption suspects involving the ministry of youth affairs and sports budget funds. Brigadier Gen. Djoko Purwanto said that his team is still investigating the case of missing Satlak Prima budget funds allocated for badminton athletes.
AGO deputy General for Special Crimes Ali Mukartono said that they have not yet investigated any flow of funds into their office. He assured that the investigation into the 2017 grant funds case is still underway. "The budget allocation was for minor expenses such as paying for hotel accommodations and other things, so many items need to be examined," said Ali.
LINDA TRIANITA