Suharso Monoarfa, Minister of National Development Planning/Head of the National Development Planning Agency: We Pay Attention to Green Economy
National economy crippled by the Covid-19 has left very little room for the government to maneuver as the country slowly sank into recession. Like in many other countries, the hegovernment will focus the next year's development agenda on the economic recovery.
Edition : Monday, Desember 7, 2020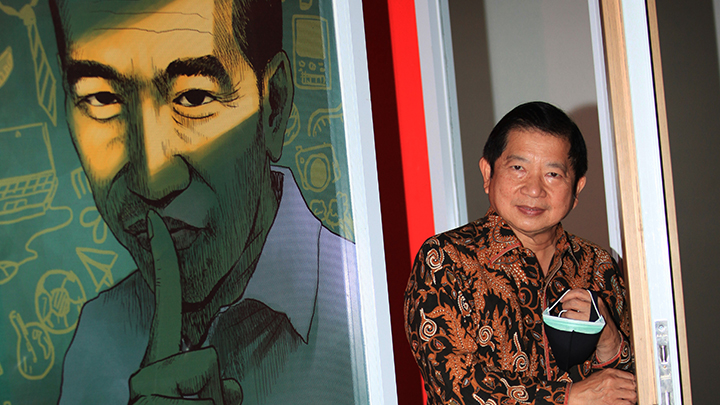 THE "We're currently focusing on managing the pandemic and providing social buffers for the poor," said Suharso Monoarfa, the national development planning minister as well as chief of the National Planning Agency (Bappenas), during a special interview with Tempo on December 2 and 3.
Suharso, 65, said the pandemic had not only claimed lives but also cost 2.67 million people their jobs. As the public's income plunged, the household consumption became the worst hit sector. To maintain public's buying power, the government has poured out huge social assistance funds leaving the state budget in the red. Suharso predicted the state budget deficit to swell to 6.6 to 6.7 percent by the end of the year.
Although its focus has been turned to revive the economy, Suharso assures that the government is committed to realizing sustainable development and environmental-friendly programs. In the national medium-term development program for 2020-2024, for example, the government has targeted to reduce 29 percent of the country's greenhouse gas emissions by 2030 in line with the Paris Agreement. Bappenas has also included the green economic concept in the 17 Sustainable Development Goals to be achieved by 2030. "We've incorporated and mainstreamed environmentally friendly energy in all the major projects," he said.
Speaking to Tempo journalists: Sapto Yunus, Mahardika Satria Hadi, Aisha Shaidra, Khairul Anam, Retno Sulistyowati and Nur Alfiyah via video conferences, Suharso, who is also the acting chair of the United Development Party (PPP), explained about the stalled national economy because of pandemic, economic projections for the coming year as well as the government's commitment to green economy and its endeavors to reduce carbon emissions.
The Covid-19 pandemic has entered ninth month. How has it affected the national economy according to Bappenas's records?
Unlike the previous economic crises that hit the middle to upper class population the hardest, this time it is the middle to lower class population that bears the worst brunt. The middle to upper class is cautious and refrains from purchases because they are not sure if the situation is really under control. They shop only as they need and save the rest. As a result, the third-party funds (in banks) have increased tremendously but at the same time cannot be channeled. This is the reason why the state's role in providing social buffers is important. Almost all the countries are spending unprecedented amount of funds to maintain their people's purchasing power and household consumption leaving many in huge budget deficits.
Are the response measures taken by the government already correct?
I think they are. It is evident from the fact that the economy that shrank by a little over 5 percent in the second quarter improved in the third quarter albeit remaining negative. That is a positive trend but household consumption has not picked up yet. The government spending is what helps buffer the impact. It is now the backbone of our economy. The President has repeatedly reminded to spend the state budget. So, the government has adapted accordingly to the situation and responded quite flexibly giving appropriate social assistance and encouraging all jobs that boost buying power.
Are current employment opportunities not getting better yet?
There are less job opportunities. There is a total of 128.45 million working people in Indonesia. Based on the Central Statistics Agency's (BPS) data of August, only 82.02 million people are working full-time, 9.46 million down from last year. It means 9.46 million now either work part-time or are underemployed. Meanwhile, 310,000 people lost their jobs completely. So, the total number of part-time workers rose to 33.34 million and the underemployed to 13.09 million. That is what caused the 2.67 million increase in unemployed population compared to last year.
Which sectors are hit the worst?
The household consumption growth is worrying. From the BPS data, the worst areas where household spending plunged are transportation, restaurant and hotel. This is because of the fall in people's income. Meanwhile, there are still surplus (spending) in education and health care.
What is the estimated budget deficit at the end of this year?
The actual deficit as of October 31 was only 4.67 percent against the 6.34 percent projected when the Government Regulation in lieu of the law No. 1/2020, which has been legalized to be Law No. 2/2020, was issued. But it is predicted to jump to 6.6 or 6.7 percent at the end of the year.
In a condition like that, what is the economic outlook for the next year?
We are really hoping to flatten the Covid-19 curve; to better control of the disease. As we will have the vaccines next year, we will have better immunity against the coronavirus. That's when the economy can make a rebound. If we have a balance, like in the goose philosophy, our economy can take off again.
Minister of National Development Planning/Head of the National Development Planning Agency Suharso Monoarfa at the launching of Coral Reef Rehabilitation and Management Program-Coral Triangle Initiative in Sorong, West Papua, November 13./ANTARA/Olha Mulalinda
By focusing on the economic recovery, will the government still be able to realize sustainable development and eco-friendly programs?
It must. The Covid-19 has brought down greenhouse gases around the whole world through decreased human mobility. If we look at Google's mobility data, the drastic fall in greenhouse gases is clearly visible during major social restrictions in all countries, almost 1 percent in several towns. Some even saw 1.8 percent.
How will the government implement sustainable development?
Indonesia must be prepared to enter economic transformation where digitalization, blue sky energy, green economy and environmental friendliness all must go hand in hand, not singly. For example, if we want to reduce greenhouse gases, the automotive industry must slowly shift to, for instance, technologies that use natural gas instead of gasoline, or even batteries in the future. When we talked about renewable energy in the past, it was only for electricity. But now it also applies to automotive and power generation sectors so the scope is getting wider.
What does the implementation look like?
We have this great idea to build a 20-gigawatt solar farm in Sumba Island, East Nusa Tenggara (NTT) which enjoys strong sunlight. But at the same time there should be batteries so (the electricity) can be supplied to other regions. Java currently has 26-27 gigawatt, of which just 12 percent is derived from new and renewable energy. A smart grid between Java, Bali and NTT will increase our electricity consumption. Our current consumption is small at 1,014 kilowatt hour (kWh) per capita. Java has the highest with around 1,400 kWh. It would be great if we can build a solar farm at least in NTT where electricity is currently powered by diesel.
Will it be feasible?
The most critical issue here is the price. The power produced and purchased by PLN (State Electricity Company) in the remote areas is so expensive, around US$18-20 per kWh. Meanwhile, the new and renewable energy costs only 12 cents and it can even go lower to 8 cents if we assist with infrastructures. We must not let this green energy be defeated by coal energy which is cheaper to produce but costly when it comes to the environment. Even more so, starting 2030 and at the peak in 2050, almost all European and several other countries will adopt green economy and blue sky energy. They will only import goods produced via new and renewable energy instead of fossil energy.
How will it impact Indonesia?
If we don't use low-carbon, environmentally friendly power in our production of goods, our economy will not be defined as green economy and we will be fined. We have to prepare ourselves from now so as to reap a lot of benefits later. This approach will also create new and significant employment opportunities in the new green economy.
How does Indonesia fare in the use of new and renewable energy?
We are way behind on the agenda of new and renewable energy. We are falling far behind other countries. Shame on us!
How far is Indonesia lagging behind the neighboring countries?
Far behind. Our electricity consumption is only around 1,000 kWh per capita per annum compared to Malaysia with 1,400 kWh, not to mention Singapore which is far above us. Where does their power come from? Eco-friendly natural gas from Indonesia. Isn't it ironic? Our consumption is already low and we get the power through environmentally destructive means and then export the eco-friendly energy. That's bizarre and ludicrous. That must stop.
How will Bappenas ensure that the green economy programs are realized next year?
We've included and mainstreamed the eco-friendly energy for all major projects including in the Sustainable Development Goals (SDGs). Implementations of our development programs in all the sectors will refer to the SDGs. Among them is the new and renewable energy. For example, the 10 tourist destinations that we are pushing forward will create extraordinary services and we hope to reap US$20 billion in revenues again from this sector. Many hotels are already using smart energy. An eco camping site in Belitung (Bangka Belitung Islands), for instance, does not use diesel-fueled lighting. Bali has banned environmentally unfriendly single use plastics.
Indonesia is committed to reduce carbon emissions but polices implemented by the government are not in sync with this commitment, for example, clearing lands for the new capital, food estate and the high use of fossil fuels. How will Indonesia fulfill that commitment?
We intentionally chose the precise location where the forests have been destroyed by encroachers and industries alike. The presence of the capital city is in fact aimed to reinvigorate the forests. That's why it is dubbed Nusa Rimba. The electricity will not come from coal or water. We will build a reservoir only for clean water. The electricity will be derived from solar, wind and gas powers. If it is finally built, it will be an eco-friendly capital city.
Will eco-friendly transportation also be prioritized?
Gradually. We are reminding automotive companies to start with battery-powered motorcycles. As you know, motorcycles are one of the biggest polluters. But we also need to think about ways to dispose (used) batteries which pollute the environment. Afterwards public transports such as buses will use batteries or a mixture of gas and hydrogen. They all can start in 2021.
Is Bappenas still optimistic that Indonesia can meet the global carbon emission reduction targets for 2030 and 2050?
We can say that we are optimistic because Bappenas is a clearinghouse which coordinates the planning. I promise that in 2022 I will be personally involved in the government work plan to prepare the state budget. I've asked the President's permission to personally lead in terms of SDGs, green economy, economic transformation to make sure that the budget is allocated accordingly.
It means the next year budget formulation has not started?
We're still focusing on the pandemic management and social safety network programs. We've given attention to green economy but to be honest, not yet in a large framework.
Then what are the focuses of the government for the next year's work plan?
First, we want to improve the national health care program to increase our resilience. Second is the economic recovery, for example, in the industrial and the tourism sectors. We've also proposed to the President to focus on micro, small and medium enterprises (MSMEs) in the future. Around the world, MSMEs are driven by the state. The state must stand by them.
The government is committed to reduce 41 percent—no longer 29 percent—of emissions by 2030 after it received international assistance. How will it be achieved?
We will replant the forests. I think it will contribute highly in reducing greenhouse gases. Around 53 percent of the world's coral reef is in Indonesia and around 85 percent of it is situated in Raja Ampat, around 15 percent in the Savu Sea, NTT. For the same area unit, corals have the 20 times the carbon absorbing power of the forest. We have to take care of them. We must also replant mangrove in all of our shores. We are working with the World Bank to this effect. I think all these efforts will manage to reduce the greenhouse effect fast by 1 to 1.8 percent.
(Based on the Bappenas's data, the stalled economy has helped reduce greenhouse gas emissions by 29.5 percent in 2020. However, once economy activities resume, it is predicted to rise again by 25.8 percent in 2022. The government has targeted to reduce emissions by 27.3 percent in 2024.)
---
SUHARSO MONOARFA
• Place and Date of Birth: Mataram, West Nusa Tenggara, October 31, 1954 • Education: Bachelor degree in Urban Planning, Bandung Institute of Technology (1974-1978); Executive Development Program, Michigan University, USA (1994); Executive Program, Stanford University, US (1995); Visiting Professor, Guangdong University of Finance, China, and Business School, University of Nottingham, UK (2016-2018) • Career: Executive in various companies, among others, Bukaka Sembawang Engineering (1984-2002); Special Staffer to Vice President Hamzah Haz (2002-2004); Member, House of Representatives (2004-2009); Minister of Public Housing (2009-2012); Member, Presidential Advisory Council (2015-2019); Acting Chairman, United Development Party (since 2019); Minister of National Development Planning/Head, Bappenas (since 2019) • Awards: Doctor Honoris Causa in Business from Central Queensland University, Australia (2019)
---
Indonesia's funding need for 2030 Nationally Determined Contributions (NDCs) targets is estimated to be Rp3,461 trillion or an average of Rp266.2 trillion per year. Meanwhile, the government earmarked only Rp89.6 trillion per annum for climate change mitigation for the period 2016-2020. Can you describe the government's funding policy for the next decade?
As I said, I would personally take charge in 2022. I will also inform the President that Availability Payment (AP) must be integrated with Viability Gap Fund (VGF) and the government shares to achieve affordable prices for energy. For example, the government can build power transmission lines but the most important investment is for the smart grid. The electricity is bought for, let's say, 12 cents, but priced eight cents. So, four cents is covered by the VGF, AP and all sorts of funding instruments that we can utilize. This needs a special budget allocation and we are looking into it.
If the state funding is insufficient, will the government involve the private sector?
The private sector has been doing a lot too. One major company has rehabilitated a mangrove area in Bali. Another one is developing handicraft from corn husks while another teaches the communities in Klungkung about garbage recycling. They are local private companies working together with foreign institutions. There are many initiatives like these the private sector has been undertaking in terms of SDGs. So, entrepreneurs' participation has been huge. We also receive international assistance in the form of grants.
What does the stimulus scheme for the private sector involved in eco-friendly projects look like?
Usually in tax benefits. Many private companies receive tax incentives.
W251bGwsIjIwMjEtMDQtMjEgMTQ6NDg6MzUiXQ