Jokowi's Dynasty
PRESIDENT Joko Widodo's son Gibran Rakabuming Raka and son-in-law Muhammad Bobby Afif Nasution are almost certain of becoming regional heads.
Edition : Monday, Desember 14, 2020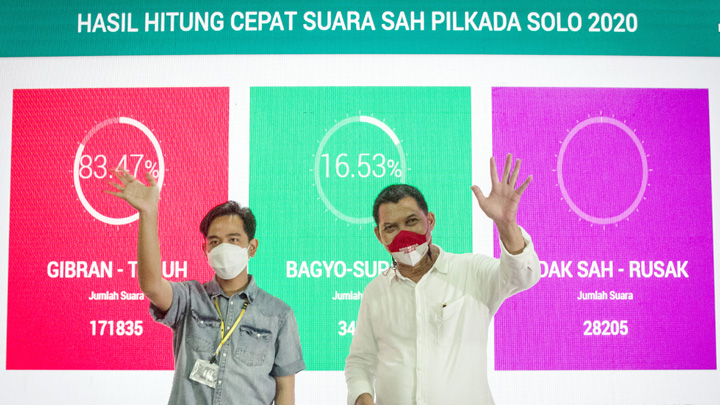 According to several pollsters' quick count, Gibran won the election for mayor of Solo in Central Java, and Bobby won in the election for the mayor of Medan in North Sumatra.
The quick count conducted by Charta Politika, for instance, showed that Gibran, who ran with Teguh Prakosa, received 87.15 percent of the votes, far ahead of their opponents, running mates Bagyo Wahyono and F.X. Supardjo. "That vote tally was below the initial target of 92 percent of the vote," said Putut Gunawan, chairman of Gibran's campaign team, on Wednesday, December 9.
Arya Fernandes, a political observer from the Centre for Strategic and International Studies, said that before the election it was predicted that Gibran would win easily. According to him, being the son of President Jokowi—who himself was mayor of Solo for two terms—helped Gibran win. Arya also feels Gibran's victory was helped by the weakness of their political opponents, who ran as independent candidates.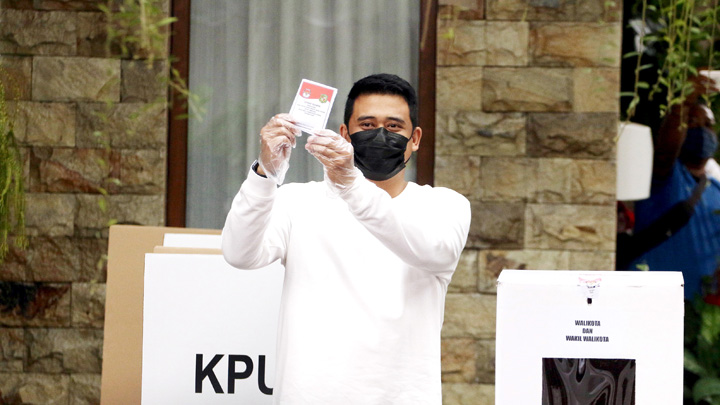 Medan mayor candidate, Bobby Nasution, at the Polling Station No. 22 in Asam Kumbang village, Medan, North Sumatra December 9. ANTARA/Irsan Mulyadi
In Medan, Bobby, who ran for office with Aulia Rachman, beat out their competition, running mates Akhyar Nasution and Salman Al Farisi. According to the quick count conducted by Poltracking, Bobby received 55.19 percent of the vote. Bobby is waiting for the official resulted to be announced by the General Elections Commission (KPU). "Hopefully this reflects what the actual results will be," he said.
W251bGwsIjIwMjEtMDUtMTEgMDQ6NTQ6NDMiXQ
Arifin Siregar, Dean of the Social and Political Sciences Faculty at Muhammadiyah University in North Sumatra, considers that being Jokowi's son-in-law was a factor in Bobby's election win.
Once the KPU makes the victories of Gibran and Bobby official, Jokowi will be the first Indonesian President to have both a child and a son-in-law become regional heads.
Rp 17 Billion for Minister Juliari
The Corruption Eradication Commission (KPK) suspects that Social Affairs Minister Juliari Peter Batubara received Rp17 billion of funds intended for Covid-19-related social assistance. He is suspected of taking a fee of Rp10,000 from each package of staple necessities distributed in Jakarta, Bogor, Depok, Tangerang, and Bekasi.
"It is suspected that there was an arrangement whereby contracted parties had to pay a fee to the Social Affairs Ministry for each work package," said KPK Chairman Firli Bahuri on Sunday, December 7. It is suspected that some of those funds were used to rent private jets for Juliari's trips to the provinces.
President Joko Widodo said that he will not protect his two ministers who are involved in corruption cases. In addition to Juliari, Minister of Maritime Affairs and Fisheries Edhy Prabowo was also arrested by the KPK for the alleged corruption on the export of lobster larvae.