A Car for a Prospective Queen
Edhy Prabowo is suspected of ordering his men to purchase luxury watches using bribe funds given in connection with the export of lobster larvae. There are also indications that he purchased at least two automobiles, one of them purportedly given to a beauty pageant finalist.
Edition : Monday, Desember 14, 2020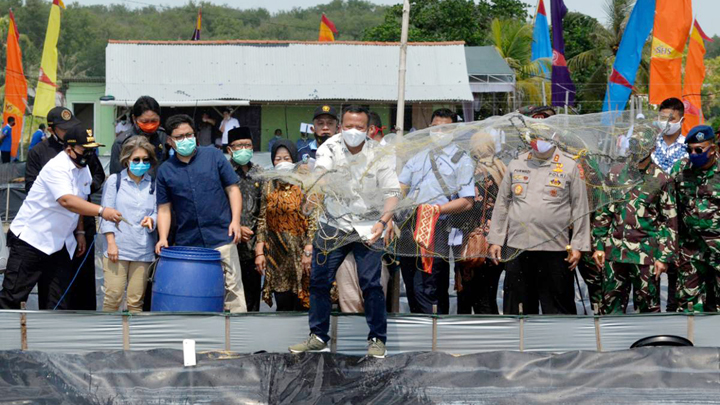 DEDEN Deni Purnama, together with Amiril Mukminin, who is personal secretary to Minister of Maritime Affairs and Fisheries Edhy Prabowo, rushed to some shopping malls in Jakarta in early November. Deden, who is also a director of Perishable Logistics Indonesia, had been asked to accompany Amiril to look for some limited edition wristwatches that Edhy asked to be bought. They were a Rolex Yacht-Master II and a Jacob & Co Epic X Chrono Luis Figo Limited Edition Titanium.
Deden's lawyer, Petrus Bala Pattyona, said that his client never found those watches. "Pak Edhy wanted to get them quickly," said Petrus, imitating the words of his client on Wednesday, December 2. The search continued through online at some shops in Singapore, but turned up nothing.
According to Petrus, Deden then contacted an agent of Perishable in Hong Kong and finally found the particular Jacob & Co watch which worth more than Rp250 million. This watch with a black-and-gray finish was sent to Jakarta through a pilot of one government-owned airline who knew Deden, on November 12. Amiril ordered a silver Rolex Yacht-Master II from Dubai, United Arab Emirates. The 18-carat gold-plated watch which cost US$55,350 or about Rp783.5 million arrived in mid-November.
Amiril, said Petrus, also conveyed a message from Edhy to Deden and the man in control of Aero Citra Kargo, Siswadi Pranoto, to buy a Harley-Davidson Fat Bob motorcycle for Rp700 million. "The payment used the dividend funds which came from the shipment of lobster larvae," said Petrus. Deden and Siswadi did what Minister Edhy asked because their companies had been appointed as the only service providers for shipping lobster larvae.
On November 25, the Corruption Eradication Commission (KPK) named Edhy, Amiril, and Siswadi suspects in receiving bribes over the export of lobster larvae. Special staff members of the Ministry of Maritime Affairs Andreau Misanta Pribadi and Safri Muis, as well as Ainul Faqih, a staff member of Edhy Prabowo's wife, Iis Rosita Dewi, were also named suspects for receiving bribes. The party suspected of giving those bribes is Dua Putra Perkasa Director Suharjito, whose company exports lobster larvae. Deden has not been named a suspect.
W251bGwsIjIwMjEtMDUtMTEgMTc6MjA6MDgiXQ
Aero Citra Kargo and Perishable Logistics Indonesia were chosen to ship lobster larvae after Minister Edhy opened the door for its export on May 5. It was Andreau Misanta and Safri Muis, two of Edhy's special staff members, who selected those two companies. However, the shipping was only done by Aero Citra. Edhy placed two of his friends in that company, fellow cadets who joined the Military Academy in 1991, namely Amri and Nursan. Last July, Nursan passed away and was replaced by Achmad Bahtiar.
Amri and Bachtiar each control 41.65 percent of the stock in Aero Citra. Deden and Siswadi positioned their man, Yudi, as a nomine controlling 16.7 percent of the stock. This company made money by providing shipping services at Rp1,800 per lobster larvae. This price was set by two members of Edhy's staff, Andreau Misanta and Safri Muis, who also led the comprehensive licensing testing team for lobster cultivation fishery businesses.
Two people familiar with this export process said that from June to October Aero Citra Kargo took in net profits of Rp30.22 billion. Those funds were immediately distributed to the stockholders, Amri, Bahtiar, and Yudi. Amri and Bahtiar each received a dividend of Rp12.587 billion, while Yudi received Rp5.047 billion. From that dividend for Yudi, Edhy, through his private secretary, Amiril Mukminin, asked for a share of Rp25 per lobster larvae. It was these funds which Edhy asked to be used to purchase two watches and a motorcycle. "Despite not yet having the money, many things were being asked for. How was that not a loss for us?" said Petrus.
Edhy also used money from the dividends for Amri and Bahtiar to buy some high-end merchandise. Before being named a suspect, Edhy, who was on a working trip in Hawaii, United States, purchased an 18-carat gold-plated Rolex Yacht-Master II that cost US$43,500 or about Rp616 million. Edhy's wife, Iis Rosita Dewi, bought an 18-carat gold-plated Rolex Oyster Perpetual Datejust for US$10,000. They paid US$25,000 for those watches with a debit card, and the rest was paid in cash.
Edhy then accompanied his wife to shop for Tumi bags and luggage. The price for a waist bag and suitcase was US$5,700 or about Rp80 million. Iis also purchased a Louis Vuitton bag for US$5,600 or Rp79.8 million. While their flight was in transit in Japan, Iis and Edhy bought Chanel perfumes for 98,000 Yen or about Rp13 million.
A week before traveling to the United States, it was suspected that Edhy asked Amiril to purchase a silver Toyota Fortuner for about Rp550 million. This vehicle was kept at Amri's residence in Jalan Leuwinanggung, Depok, West Java. When Tempo visited this house on Friday night, November 27, the Toyota Fortuner was parked in front of the house' front door. In front of it was a white Suzuki Ertiga car usually driven by Amri. Amri's wife, Yerry Muliani Muyoto, was reluctant to comment about a flow of bribery funds for the export of lobster larvae or Edhy's new vehicle. "We do not wish to make a statement," said Yerri.
About Rp5 billion in dividends for lobster shipping services also flowed to Gardatama Nusantara, a security firm owned by Prabowo Subianto, General Chairman of the Grand Indonesia Movement (Gerindra) Party. Funds taken from Bachtiar's dividend were given through Gardatama Financial Manager Mulyanto. Gardatama Chief Executive Officer (CEO) Syammy Dhusman verified the news that their company received Rp5.2 billion from Edhy Prabowo. However, he claimed that those funds were a loan to pay employee salaries. "This was purely a personal loan from Pak Edhy, because we are old friends from the Military Academy," Syammy told Tempo on Monday, November 30.
Syammy showed a WhatsApp chat with Edhy about that loan. Last April, he borrowed Rp2.5 billion from Edhy in order to pay the salaries of Gardatama employees. He said that collecting on invoices sent to companies using Gardatama's security services had slowed down due to the Covid-19 pandemic. He promised he would repay the loan on May 15. When Edhy asked him about any return on that loan, Syammy said that he could give 2 percent. Last May, Gardatama returned Rp2.55 billion. That additional Rp50 million was for interest on the loan.
Last October, Syammy again contacted Edhy to borrow money, but there was no reply to his message. Because Gardatama's financial situation was still strapped, Syammy again contacted Edhy, seeking to borrow money on November 3. "Maybe this is what was meant by that flow of Rp5 billion. However, this was purely a loan, like in April," he said. Syammy said he is close to Edhy because they both went to the Military Academy in 1991 and two years later both were discharged along with 13 others for being involved in the death of one of their junior classmates.
Edhy's lawyer, Soesilo Aribowo, could not make any statement regarding news about the flow and use of funds suspected of coming from bribes used to arrange for the export of lobster larvae. He said that he had not yet met with his client. "Those purchases have not yet been confirmed," said Soesilo.
***
BEFORE becoming a cabinet minister, Edhy Prabowo's hobby was playing badminton. Nusron Wahid, Edhy's colleague when he was still a member of the House of Representatives (DPR), said that he played badminton with Edhy a couple of times. "I played twice with him at the DPR badminton court," said the Golkar Party politician. According to this former Head of the Indonesian National Agency for the Placement and Protection of Indonesian Workers (BNP2TKI), Edhy often invited some female national badminton players to play. However, Nusron said that he did not remember who they were.
After becoming minister, Edhy still played a lot of badminton. His habit of inviting female athletes continued. According to one source who is familiar with this practice, Edhy paid those athletes. For one of them, he paid about Rp50 million for the annual rent on an apartment. There are indications that he used bribery funds related to the export of lobster larvae to pay that rent.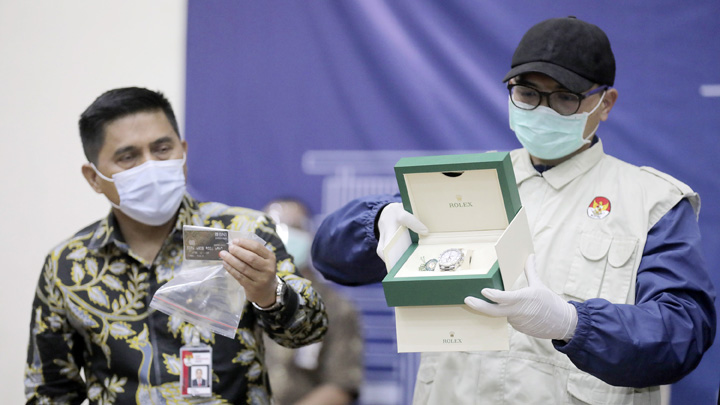 The evidence of a Rolex Yacht-Master II watch and an ATM card, at the KPK building, Jakarta, November 25. TEMPO/Muhammad Hidayat
In addition to paying apartment rent, Edhy is suspected of using bribery funds to purchase a Honda HR-V car for over Rp300 million, said to have been given to a finalist in a beauty pageant in Indonesia. The vehicle was purchased about three months ago.
Ali Fikri, acting KPK spokesman, said that a team of investigators is still gathering evidence about that flow of funds to Edhy. "When that is complete, witnesses will be questioned in the context of confirming the evidence, information and data in the possession of the KPK," said Ali.
Soesilo Aribowo, said that the payment of apartment rent for a national athlete was done before his client became minister. "That was because Pak Edhy's hobby is playing badminton," he said. He however denied that a car was bought for another person.
LINDA TRIANITA, ROSSENO AJI