The Last Perkenier of Banda Naira
NUTMEG, the main commodity of the Banda Naira islands, had its heyday in the 16th century. The Dutch, through the Dutch East-Indies Company (VOC), even sent 37 perkeniers (plantation owners) from the Netherlands to Banda to manage the plantations, in order to cover the nutmeg monopoly supply for Europe's market. Only one descendant remains of the 16th-century perkeniers: Pongky Erwandi van den Broeke, who manages 12.5 hectares of land. He was the victim of unrest in 1999.
Edition : Monday, Desember 14, 2020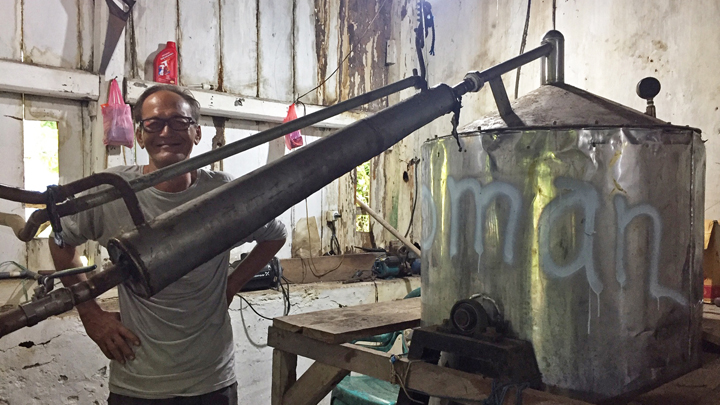 SOOT covered the walls of the second floor of old rickety buildings. There were holes in the floors, made out of wood and bamboo. The wood cracked when tread upon. Under the floor, two furnaces were burning. During the day, the furnaces are used for cooking. When evening falls, they are used to smoke nutmeg seeds. "This is for nutmeg drying, built in 1729," said Pongky Erwandi van den Broeke said in mid November.
This drying facility is part of the groot waling complex: a large plantation inherited from Pongky's ancestors, who were part of the Vereegnide Oostindische Compagnie (VOC) in the Banda Besar Island, Banda Naira, Maluku. An old fence guards the plantation from ocean waves on this crescent-shaped island.
Pongky is the last perkenier left, a 13th generation Van den Broeke. His mother is from Madiun, East Java. His father is Benny William van den Broeke, the 12th descendant of Paulus van den Broeke, the younger brother of the Dutch admiral who first arrived in Banda Naira in 1621, Pieter Jan van den Broeke. "He received orders to check out the spices in Banda," said Pongky, 62. Afterwards, Jan returned to the Netherlands and came back with Paulus, his brother who was an expert in agriculture, to start a nutmeg plantation business. Paulus became the first Van den Broeke perkenier in Banda Naira.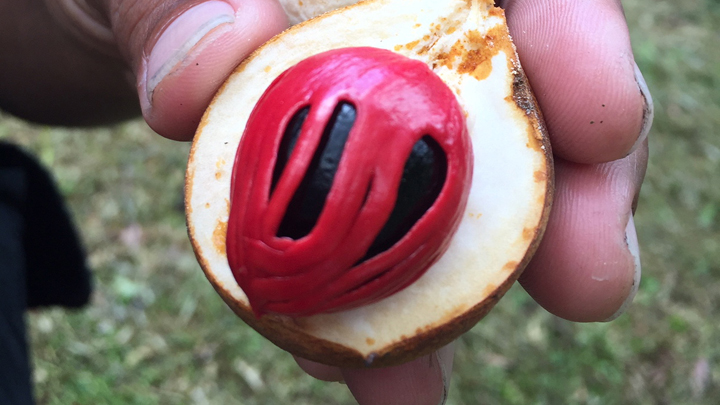 A nutmeg fruit ready to be harvested at Pongky van den Broeke's plantation in Banda Besar Island. TEMPO Doc./Iqbal Lubis
Paulus developed the first perk (plantation) at Ay Island, some 9.9 kilometers from Banda Besar. The Van den Broeke family set up a groot waling and named it Welvaren, measuring 20 hectares. That first piece of land immediately bore fruit. They then expanded and set up a new plantation called Weltevreden in Ay Island, and Weltevreden Lonthoir in Banda Besar Island. In Banda Besar and other places, such as Rhun Island, the family also owned several small plantations, or klein waling. "The Van den Broeke plantations at the time totaled 140 hectares," Pongky noted.
W251bGwsIjIwMjEtMDUtMTEgMTg6NDk6MzAiXQ
Paulus van den Broeke became the biggest perkenier in the Banda Isles from the 1660s until the 1670s. According to Dutch daily Trouw, one of Van den Broeke's plantations produced almost 24,000 pounds, or 10 tons, of nutmeg, and 6,000 pounds, or 2.7 tons of mace (the skin covering nutmeg seeds) around 1690. Van den Broeke perkenier employed 160 workers and 55 slaves. The Heeren XVII, VOC's board of directors, traded nutmeg with sky-high prices. In 1750, one pound of nutmeg was bought for 45 cents, and then sold for 6.40 guilders in European markets.
Banda figure Des Alwi, in his book titled The History of Maluku: Banda Naira, Ternate, Tidore, and Ambon (2005), said that prior to VOC's arrival, the people there already traded nutmeg since the Roman times through Samudera Pasai. Thus, Banda Naira was known as the island of perfume and spices. This is what encouraged the king of Portugal to order Christopher Columbus to find those islands towards the west. This order was only realized in 1511, when Admiral Alfonso de Albuquerque succeeded in conquering Malaka, the trading center of eastern Asia.
Towards the 16th century, nutmeg, the main crop of Banda Naira, became the most sought-after commodity in European markets. "Banda Naira was the only island producing that commodity," Des Alwi wrote. Nutmeg trees grow in the humid tropics, on volcanic and chalky soil.
The Portuguese brought back nutmeg and other spices to European markets with profits of almost 1,000 percent. They settled in Tidore and Ternate islands, north of the Banda Naira isles. In 1599, Dutch sailors docked in Banda Naira, followed by the English in 1601. The Dutch under Admiral Jacob van Neck, who carried out a second expedition to the East Indies funded by the Compagnie van Verre (a predecessor of the VOC), had presented themselves as enemies of the Portuguese since the very beginning.
Carrying specifications aimed at orang kaya (rich people)—a term for the high figure in the local community—the Dutch were welcomed at the Banda Naira isles. They then took spices to be sold in European markets. The Dutch attempted to block British trade there by forcing an agreement between the Netherlands and the people of Banda Naira. The Portuguese were gradually pushed aside by the Dutch.
A nutmeg fruit ready to be harvested at Pongky van den Broeke's plantation in Banda Besar Island. KITLV
Dutch expeditions came and went, laden with spices. "Their way of trading was unsympathetic and elicited growing hate from the Banda people towards these newcomers," Des Alwi wrote. Many agreements were violated. Admiral Pieterszoon Verhoeven arrived from the Netherlands in 1608, and tried to negotiate with Banda's orang kaya, but did not succeed. Verhoeven and 40 of his soldiers ended up being killed by the Bandanese. Jan Pieterszoon Coen, the new VOC governor general, then conquered the Banda Naira isles in 1621. Coen and his troops massacred part of the Bandanese, and those who escaped the brutal killings took refuge in other islands that were difficult to reach.
Banda villages were destroyed by these 1,600 Dutch soldiers, but the nutmeg trees were left intact. After getting rid of the orang kaya and some of the natives of Banda, the Dutch started bringing in perkeniers from their country to manage the nutmeg plantations.
Some 37 perkeniers, including the Van den Broeke family, were kept under the wings of the Dutch to control nutmeg plantations in Banda Naira. These first perkeniers were VOC employees and former soldiers of the Kingdom of the Netherlands. They were given generous privileges: perkeniers' homes had imported marble floors and chandeliers brought from the Netherlands.
Every evening, the perkeniers were entertained by music and dances during dinner time. Perkeniers managed the plantations as renters from the Kingdom, under the condition that they supply nutmeg exclusively to the VOC with set prices. Junus Satrio Atmodjo, senior archeologist of the National Cultural Heritage expert team, said the nutmeg business was wildly successful. "During those times of monopoly, nutmeg prices were even higher than gold prices," said Junus. Dutch monopoly on nutmeg trade ended when prices took a downturn in Europe in the 19th century. Slavery was banned, and all workers had to be paid wages. VOC's exclusive rights for nutmeg trade were overturned.
Perkeniers then turned towards the free market. Trade bloomed again after nutmeg disappeared from markets following an epidemic in British production areas around 1870. In 1880, nutmeg prices fell sharply. English colonies such as India and parts of Africa started growing nutmeg. "The Dutch monopoly collapsed due to overproduction," Junus said.
When the Japanese occupied the Dutch East Indies in World War II, they cut down many walnut and nutmeg trees, replacing them with yams and cassavas. Junus said that the Japanese at the time were not interested in spices. "The Japanese were focused on controlling oil and some rubber plantations which were previously under Dutch control," he said.
During the Japanese occupation, Van den Broeke's nutmeg plantation was also mostly turned into yam and cassava plantations. "My grandfather William Frederick Steiner van den Broeke was exiled to Makassar (South Sulawesi)," said Pongky. Pongky's father, Benny, was jailed in Banda. After Indonesia became independent from the Netherlands and Japan, Benny was stripped of his possessions.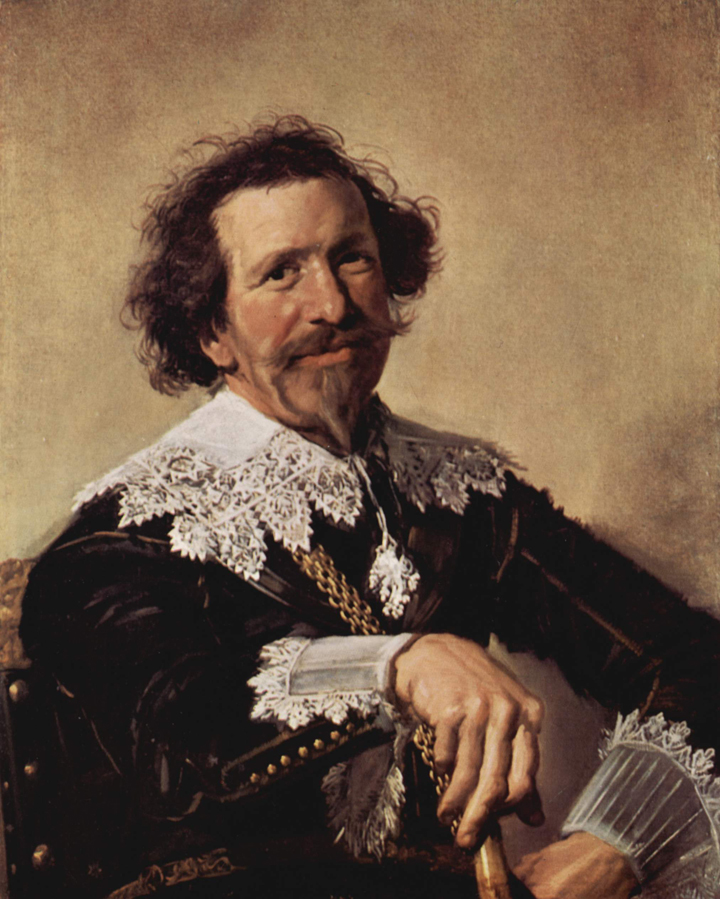 Pieter van den Broeke, painted by Frans Hals, 1633. Wikipedia
The plantations, previously owned by the Dutch and Japanese, were seized by the state. Pongky and his four siblings lived in Surabaya in East Java, and then moved to Jakarta. In 1976, Benny tried to get the plantations back from the Suharto regime. The nutmeg plantations in Banda Naira, Banda Besar, Ay, Hatta, and Rhun islands were managed by provincial and regents' administrations, including the Van den Broeke's plantations.
Pongky's grandfather and father resided in Banda Naira. William frequently visited his groot walin in Banda Besar Island. Nutmeg processing buildings in the plantation complex were used as housing for regional company workers. When the government approved the land return to Benny van den Broeke in 1978, he started planting nutmeg again. However, only 12.5 hectares—out of the original 140 hectares the family had controlled—was returned to Benny. "It was a very lengthy process," Pongky said.
Benny cut down the yams and cassavas planted by the Japanese on his land. There were some nutmeg plants left over, but they were in dire condition. "Those people only knew how to harvest and pick the products, so they (the plants) were destroyed," Pongky pointed out.
Pongky's father started to redevelop the land. He used traditional cultivation techniques, relying on nutmeg seeds left from bird feed.
In 1985, Indonesian nutmeg production stagnated due to corruption practices. Pongky's father kept taking care of his land.
Then, Banda Api Volcano erupted in 1988. Pongky, who was working in Jakarta as a mechanic, visited his parents. "After that visit, they kept sending me telegrams. Papi (father) asked me to continue the plantation," he said.
Pongky then gathered his siblings to discuss who would be going back to Banda Naira. Pongky's three siblings declined, and thus within two years Pongky was obliged to move his family back to his birth place. "Since being back here, I have mostly stayed at the plantation, learning about cultivation and managing the land," he said. During harvest time, Pongky is able to produce between six and seven tons of dried nutmeg seeds. In a year, prior to 2005, Pongky was able to harvest twice a year. Pongky showed some trees that were more than two centuries old. "The trees are darker and bigger, and still producing lots of fruit," he said. Yellowish nutmeg fruits were seen hanging from the leafy trees.
***
MOBS surrounded Pongky Erwandi van den Broeke's home in Banda Besar Island, Banda Naira Isles, in 1999. They threw rocks and shouted that Pongky should leave his home. Through a side door, Pongky took his wife, two children, mother, and aunt to an empty building a kilometer from his house. He returned to his home, jumping through a window, to obtain important documents.
The mob then forced its way into Pongky's home. He was only able to take half of all his documents, and escaped through the same window. "Someone managed to slash me while I escaped through the window," he recalled. Pongky escaped towards the hills, but was unable to join his family in the house they were hiding in.
This mob attack was part of the horizontal conflict in Ambon in 1999. Some of the people from Ambon fled to Banda, which can be reached through a journey of between eight and 12 hours by boat. Mochtar Talib, a Banda community figure, said that the Banda Naira people had tried to prevent clashes from spreading onto their area. However, that afternoon, unrest erupted amidst a social celebration on Hatta Island, 20.4 kilometers from Banda Besar Island. A Muslim man was killed in the Hatta Island unrest. "It was during a party, maybe influenced by alcohol," he said.
The news spread all the way to Banda Besar. "People were provoked," said Thalib, 65. A group of people then attacked the home of Pongky, who is seen as a non-Muslim, and a descendant of the VOC, which massacred Bandanese people.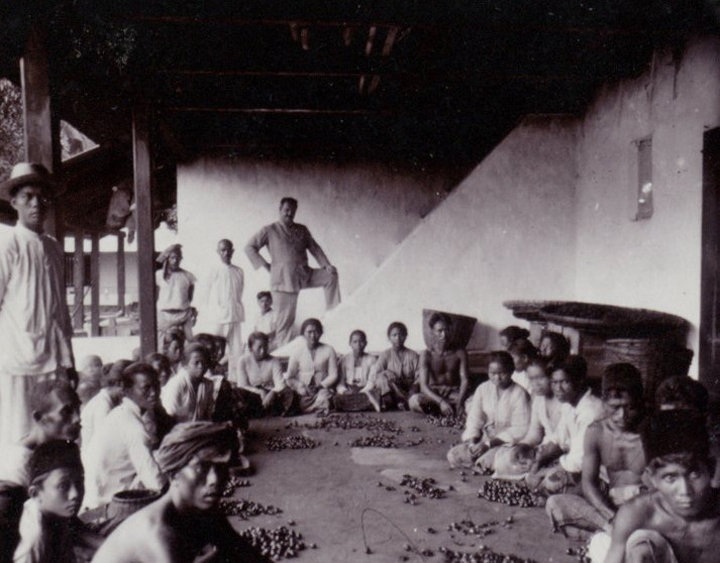 Pongky van den Broeke's grandfather at the nutmeg smoking facility. Special Photo
The mob raged on and found the home where Pongky's family was hiding. His wife, two daughters, mother, and aunt were killed on that fateful night. Meanwhile Pongky, who was holed up in his plantation complex in the highlands, was very restless. He had not been aware that five of his family members were murdered. "The following day, at around 5pm, I smelled the scent of flowers," Pongky said, pointing to a premonition of his family's death.
Gripped by fear, Pongky went to a relative's house. He entered through the kitchen door. Pongky's relative immediately told him that his wife, daughters, mother, and aunt could not be saved. Pongky's knees buckled. He was unable to stand. Nevertheless, he had to remain vigilant. "When I entered my relative's house, I felt like many eyes were watching," he recalled.
He hurried out of his relative's house and back to his hiding place. The mob continued to search for him, night and day. While he hid, Pongky faintly heard the mob raging. "'Kill him. He's not Indonesian. How come a Dutch person owns a plantation here'," he said, quoting what he heard his hunters saying.
After nine days, Pongky decided to go out into the open, and was ready to die. "What's the use of playing cat-and-mouse. I'd rather die, my family is already dead anyway," he said. As soon as he descended from the highlands, many people holding flashlights and machetes surrounded him. "Who are pane (you) looking for? This is beta (me), Pongky. I already know that you killed my family. Just kill me as well," Pongky said to those who came after him.
As the mob closed in on him, some soldiers arrived. They cocked their firearms and demanded the mob to halt. "From there, the soldiers took me to Des Alwi's house, The Maulana Hotel," he said. Des Alwi, a student of national hero Sutan Sjahrir, passed away in November 2010.
At Des Alwi's home, Pongky was reunited with his son Edo van den Broeke, who was unconscious. Edo, who was in the first year of secondary school, had a gash on his head. Edo's younger sister, Putri, was also unconscious: the elementary-school girl's face was black-and-blue. "Putri was rescued and taken to Ay Island by the police," Pongky said.
After staying for nine days at The Maulana, Pongky, Edo, and Putri went to Jakarta for medical treatment. They were treated at Jakarta's Pertamina Hospital for a month. "Until now, there is a tube in Edo's head to prevent leakage from his brains to his stomach, and vice versa," Pongky explained. Putri refuses to return to Banda Naira, and chooses to reside with her mother's relatives in Yogyakarta.
Meanwhile, Pongky and Edo returned to their ancestral land. Pongky gradually took up harvesting again, and remarried. In addition to Edo and Putri, he now has two more daughters from his latest wife, and two sons from his second wife.
Step by step, he recovered and started innovating. He cultivated nutmeg seeds and obtained a certificate from the agriculture authorities and the seed and plantation plant protection office in 2013. He only has 12 employees. In a year, he is able to sell 350,000 nutmeg buds, measuring between three and five centimeters, all over Indonesia. "These special seed trees have barcodes," he said.
Pongky van den Broeke's employees at work. TEMPO/Linda Trianita
His other innovation is producing nutmeg oil, which he has done for 15 years. Due to global warming, a lot of unripe nutmeg fruits fall prematurely to the ground. Deeming that a waste, Pongky discussed this with his friend at the Agency for the Assessment and Application of Technology (BPPT). It was then suggested that he made oil. In the beginning, this effort did not run smoothly. "The result was unsatisfactory, with water content which was too high," Pongky explained.
This elementary-school graduate then read various literatures, and tried to find better distilling equipment. After some trials, unripe picked nutmeg seeds were able to produce 11 percent of oil. However, that number goes down to nine percent if the raw material derives from nutmeg which fell by itself to the ground due to dew or wind. The nutmeg oil is sold for Rp1.3 million a liter.
Nutmeg sprouts measuring between three and five centimeters are sold for Rp1,300 per sprout. Meanwhile, dried nutmeg fruit is priced at Rp90,000 a kilogram, and nutmeg mace goes for Rp270,000. The membrane can be used to make nutmeg sweets or syrup. "All parts of the nutmeg are usable. No wonder it was coveted by other countries," Pongky said. Even though nutmeg is no longer as expensive as gold, he hopes that one day this commodity will reach another peak, just like during the time of Pongky's ancestors four centuries ago.
LINDA TRIANITA (BANDA NAIRA ISLAND)