Trapped in An Old Paradigm
Yopie Hidayat (Contributor)
Edition : Monday, Desember 14, 2020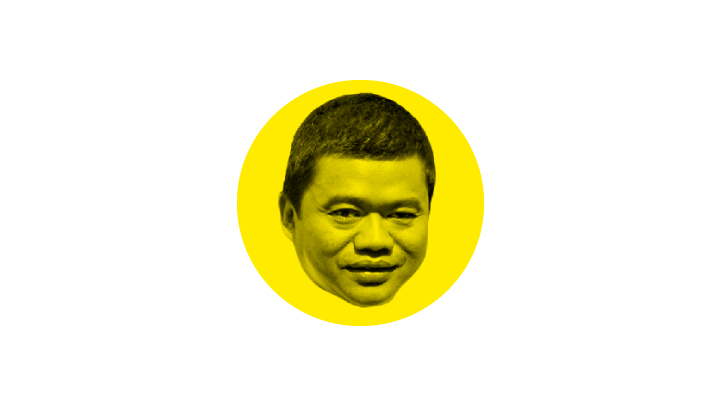 A FESTIVE mood continues to overwhelm the emerging markets, especially in Asia. Stock prices in the region keep climbing. The MSCI Asia Pacific Index, for one, set a new record at 194.23 on December 11. Many currencies of Asian developing economies also reached their highest points since 2018.
The much higher yield for investing in Asia compared to America or Europe is indeed tantalizing. The appearance of a Covid-19 vaccine has convinced investors that the global economy will bounce back and grow again. Also there is a consensus among investors, Asian economies will recover faster than that of other regions.
Signs of economic recovery are apparent in the improved demand and price for commodities. The Indonesian economy, for instance, will enjoy a boost from the recovering coal and palm oil markets, which are two main export commodities of the country.
The market benchmark for coal prices (Newcastle 6,000 kcal/kg) on December 7 reached US$76.6 per ton, far above two months ago at US$48.5 per ton. Indonesia's coal export to China also increased sharply, went up by 67.6 percent throughout October compared to September. Meanwhile, the benchmark for palm oil prices reached its highest record in the last six year, at one point going for US$912 per ton.
Even though Indonesia enjoys a good tailwind, investors need to be wary. The speed of Asian economic recovery will not be equal in every country. Some will recover quicker, and others will still be limping behind. According to projections by the Asian Development Bank, as of December Indonesia's growth will not be as speedy as its neighbors. In 2021, the economies of Malaysia, Philippines, Singapore, and Vietnam will grow faster than Indonesia's. Only Thailand is projected to grow slower than Indonesia.
W251bGwsIjIwMjEtMDUtMTIgMDk6Mzk6NDAiXQ
Other than economic recovery projections, there is one issue in our economy structure that makes investors reconsider their decision. Indonesia is still very dependent on natural resources. Meanwhile, an important principle has taken the forefront in investing: ESG (environmental, social, and governance). The financial markets can no longer ignore the governance of nations and corporations as well as environmental sustainability. Capitalism is starting to change, and it is no longer the unfettered pursuit of profit.
However, the Indonesian government is still running with the old paradigms. One example is the Job Creation Law, which is not in line with the ESG principle. It is no surprise that 35 global investment managers questioned the new law when it was passed in October. They saw that the Job Creation Law has the risk contravening international best practice standards intended to prevent unintended harmful consequences from business activities that could deter investors from Indonesian markets.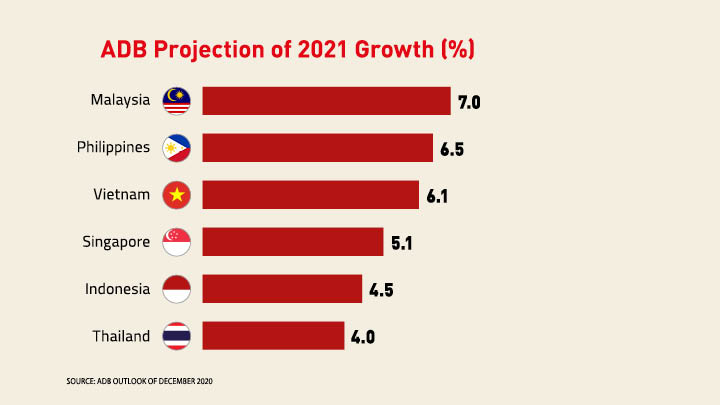 ADB Projection of 2021 Growth (%)
The change of foreign investor's strategy is apparent in the shift of their investment allocation in Indonesia. They have been leaving the stock market. Since the start of 2020 until December 11, foreign capital net exit from the stock market amounting to Rp51.59 trillion. From the Rp2,015.9 trillion in total transactions during the period, foreign parties are only involved in 32.54 percent of them, either as the buyer or the seller.
The vast amount of foreign capital exiting the stock market and Indonesian growth projections that are overshadowed by its neighbors should serve as a reminder. The government might be heading towards the wrong direction in its attempts to chase after economic recovery.
Fortunately, there is still one thing that can attract foreign investors: high coupons from the government bonds. When foreign capital flooded out of the stock market, from October 1 to December 10, there is Rp35.8 trillion in foreign capital that went back to government bonds, amounting to around US$2.5 billion.
But this is a costly debt. In financial markets, Indonesian government bonds fall under high yield category, giving extra high interest to investors. And lest we forget, the money to pay that interest comes from our taxes as well.