Free Coronavirus Vaccines
The government has decided to make vaccines against Coronavirus Disease 2019 or Covid-19 free for the people.
Edition : Tuesday, Desember 22, 2020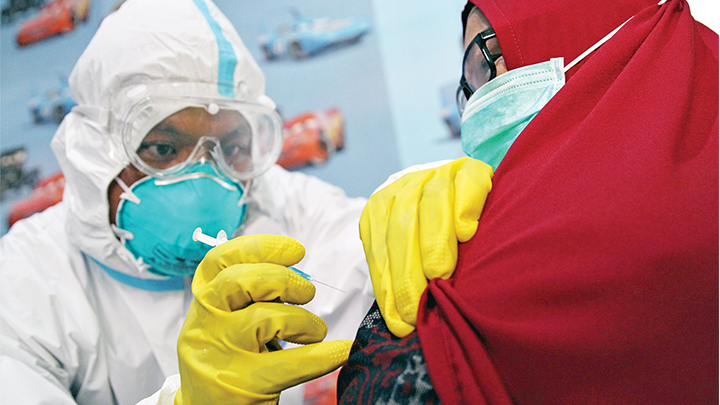 PRESIDENT Joko Widodo ordered his ministers, particularly the finance minister, to relocate budgets from other programs so that free vaccination could be realized. "So, there's no reason for the public not to get the vaccine," said Jokowi in a broadcast on the YouTube channel of the Presidential Secretariat on Wednesday, December 16.
Jokowi said the target population for vaccination increased from 107 million to 182 million. He also stated that he would be the first person to be vaccinated.
The government originally would apply two schemes of vaccination: free and paid. The free vaccine program was only prepared for 32 million people and was prioritized for health care workers, vulnerable and disadvantaged groups as well as public service officers. Meanwhile, well-off people were required to pay.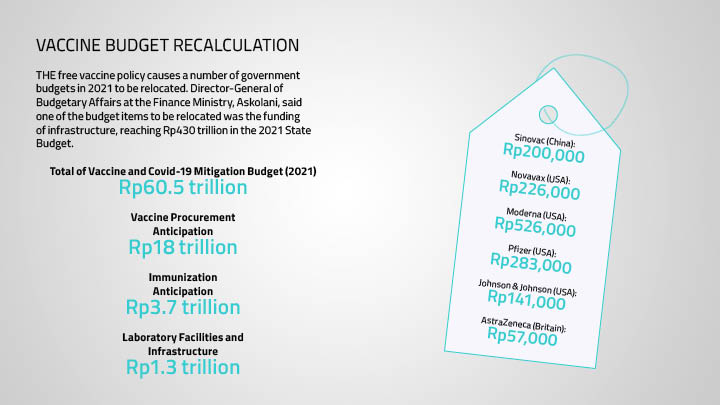 Vaccine Budget Recalculation/Tempo
The policy was opposed by some circles, such as University of Indonesia's epidemiologist Pandu Riono and Sulfikar Amir from Nanyang Technological University, Singapore. In their view, the government was commercializing the vaccination program. "Sales seem to be more important," said Pandu.
W251bGwsIjIwMjEtMDQtMjEgMTQ6NDY6MjIiXQ
An epidemiologist from Griffith University, Australia, Dicky Budiman, requested the government to ensure the safety and efficacy of six vaccines used in Indonesia. Of the six, only Sinovac, a vaccine from China, has arrived in Indonesia. Dicky described Chinese authorities as having not yet provided transparent information about the vaccine.
Covid-19 Task Force spokesman Wiku Adisasmito said the decision to provide free vaccines aimed at bringing Indonesia into the phase of herd immunity. In order to achieve the condition, at least 70 percent of the population has to be immune.
---
Bali Bombing I Fugitive captured
THE National Police Anti-terrorist Special Detachment 88 (Densus 88) captured an alleged terrorist, Zulkarnaen, in Toto Harjo, Purbolinggo, East Lampung Regency, Lampung, on Thursday, December 10. Zulkarnaen has been a fugitive for 18 years due to involvement in the case of Bali Bombing I that occurred in 2002. "Zulkarnaen is the commander of Askari Jamaah Islamiyah," said Chief Spokesman for the National Police Insp. Gen. Argo Yuwono on Saturday, December 12.
Argo continued that Zulkarnaen had also formed a Khos unit or a special troop. Besides being deployed for the Bali Bombing I action, Argo added, the special troop of Zulkarnaen was involved in the Poso and Ambon conflicts.
Zulkarnaen, according to Argo, had also hidden another terrorist fugitive, Upik Lawangan aka Taufik Bulaga. Argo said Upik was the successor of Jamaah Islamiyah exponent Doctor Azahari. Upik was arrested by Densus 88 on Wednesday, November 25.