The Village Frenzy
In recent years, cinema awards events have rarely taken the comedy genre seriously. A well-made comedy film that conveys a message is now a thing of the past. But in Mekah I'm Coming, we rediscover it. This is why the movie is elected as Tempo's best film of 2020.
Edition : Tuesday, Desember 22, 2020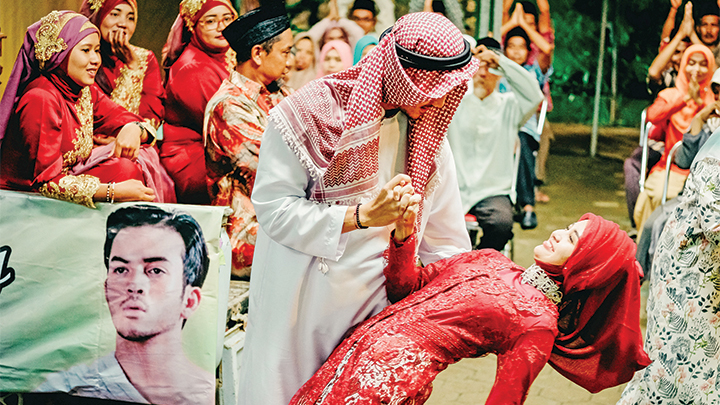 COMEDY often falls victim to stereotyping, such as the horror genre during an awards ceremony. The fact is, it is not without precedent. Si Doel Anak Sok Modern (Sjuman Djaja, 1976), Kejarlah Daku Kau Kutangkap (Chaerul Umam and Asrul Sani, 1986), atau Cintaku di Rumah Susun (Nja' Abbas Acup, 1987) are among Indonesia's best comedy films to have ever been made.
In general, comedies—or horrors—rarely have that holy trinity of cinematic achievements, social relevance, and strong personal voices. We can find all three of those elements in Mekah I'm Coming, Jeihan Angga's feature-length film debut.
The film Mekah I'm Coming was selected as Tempo's best film by the jury comprising Hikmat Darmawan, movie critic and head of the Jakarta Arts Council Program Division; Adrian Jonathan Pasaribu, founder of film studies site Cinema Poetica; and Andina Dwifatma, academic at the Atma Jaya Catholic University of Indonesia, Jakarta—who is also a novelist. They found the movie coherent from a comedic side, with a good point of view, and able to reveal many to our society through the topic of Haj fraud. Jeihan Angga was also elected as best director.
Mekah I'm Coming is not Jeihan Angga's first film. He had directed a number of shorts before. On The Way (2013), for example, is an effective horror film. Most of Jeihan's works are comedy shorts. In his previous works such as Ambyar (2015), Neng Kene Tak Entheni Koe (Here, I'm Waiting for You) (2015), and Masih Calon Menantu (2018), we could see how he played with physical comedy and "editing comedy"—approaches he used in Mekah I'm Coming.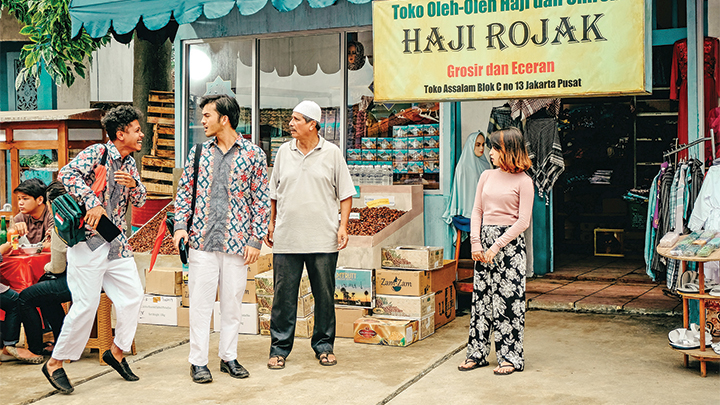 A scene in Mekah I'm Coming after Eddy is duped and failed to go to Mecca.
W251bGwsIjIwMjEtMDQtMjEgMTU6MDU6MDAiXQ
Jeihan's works stand out because of their stories that have a village background, with the roles of village people, and 'people on the outskirts' or people on the edge (poor). In his shorts, and clearly in Mekah I'm Coming, Jeihan shows that people on the sidelines are not pushed aside. They are the center of the stories.
Before deciding what is on the "edge," we must first decide where and what the "central" is. In Mekah, I'm Coming, the storyline has two backgrounds: Cempluk hampletand the City of Jakarta. In a world outside of films, Jakarta is the center for economy, politics, social and culture. A village like Cempluk in the middle of Java is an "edge." It is a reality that, to people in villages and cities outside the Capital—especially outside Java—Jakarta is a distant background. Jakarta, to them, is an imaginary object that may define many things, but it is not the center of their story.
In Mekah, I'm Coming, life in kampong is a world of stories that are wholesome and boisterous. We can see how Jeihan designed the movie by creating a kampong life as an organic world—a living earth. It is a place filled with fully-developed characters—including its additional and small roles.
The story is centered in the relationships between Pak Soleh (Totos Rasiti) and his only daughter Eni (Michelle Ziudith), and Eni's boyfriend Eddy (Rizky Nazar), whom Pak Soleh despises. Pak Soleh is very close to Eni, the movie even depicts them as having to ability to communicate telepathically. In each scene, they can be seen 'talking' using elaborate facial expressions, with dramatic voice-overs—complete with wind blowing at Eni's face. It is clear that Jeihan does this to take jabs at the aesthetics of Indonesian sinetron, Indian films, and Mexican soap operas.
Eddy is depicted as a handsome man who keeps missing his life targets. This is confirmed by his mother, Bu Ramah, played by the late actress Ria Irawan. Bu Ramah—meaning friendly, but Pak Soleh says she is not—is always worried about Eddy's lack of aiming.
Pak Soleh considers and even calls Eddy a "sontoloyo," a fool, because of his patheticness. The movie recalls an incident when Eddy screwed up Pak Soleh's welcoming party from Mecca, after his workshop damaged the break of a pickup truck used to pick up Pak Soleh. The whole village knows that Eddy brings bad luck—laughing at his misfortunes too.
Instead of Eddy, Pak Soleh wants Eni to marry Pietoyo (Dwi Sasono), a boss of very little words who only stand around smoking his vipe. Acting as matchmaker to Pietoyo and Eni is Pardijon, who keeps reminding that a canceled wedding would result in financial misfortune.
Unlike most of religious films made after the 1998 reformasi that tells people's dreams of migrating to Mecca, Cairo, or Europe, Japan and the United States, Mekah I'm Coming is a story of less privileged people who cannot go to Mecca and cannot go back to their villages.
To be able to compete with Pietoyo, Eddy sold his unlucky workshop and, as per his mom's advice, goes on a Haj pilgrimage. What does Haj pilgrimage have anything to do with his romance? That is a question with deep social commentaries about Indonesian Muslims' culture. The 'Haj dream' creates a window of opportunities for scammers, which is depicted in this movie. Seeking to become a Haj, Eddy travels to Jakarta only to discover that he—and a fellow from Papua, Fahrul—has been scammed.
Not only them, many people become victims of Haj travel services. There is a diner owner (Cici Tegal), a Tanah Abang textile trader (Rasyid Karim)—whose son is a famous vlogger played by Jennifer Coppen— and photo-studio owner Pak Somad (Fanny Fadillah).
The movie goes on to tell how Eddy and Fajrul stay in Tanah Abang, pretending they are on the pilgrimage. But their ruse was unveiled in social media, and they end up being called "haj hoax."
Unlike most of religious films made after the 1998 reformasi that tells people's dreams of migrating to Mecca, Cairo, or Europe, Japan and the United States, Mekah I'm Coming is a story of less privileged people who cannot go to Mecca and cannot go back to their villages. This is where Jeihan reverses views on the relationship between the city (Jakarta) and the village: Jakarta is built by village people who migrated there for various reasons, perhaps also because of bad luck.
After discovering Eddy is in Jakarta, Eni goes after him, give him a good 'beating', and returns to the village. She cries melodramatically, serenated by the song Cidro by Didi Kempot. Bu Ramah suffers a stroke, which prompts Eddy to come home from Jakarta.
This comedy is presented with a mastery of cinematic language. Everything is there, everything works: from physical comedy, situation comedy, and editing comedy, which Jeihan did himself.
One of the risks of making comedy about villages is that it may lead to audiences laughing at the villagers. This film does not fall into that trap. The villagers are frenzied by problems, and then they are able to solve their own problems.
This film is also a technical successful. The scenario, designed to be completely over the top, has a strong internal logic: the actions of the characters and the sequences of events have a logical basis. The dialogues are pithy. Visually, it provides a landscape of the village's rich textures without excessive use of drone cameras. Almost every scene and image has a clear motive. The movie even starts out funny, with nothing but voices during the credit title.
HIKMAT DARMAWAN
---
Tempo's Film Selection
For most of this year, we live in the shadow of a pandemic. But filmmakers continue to produce their best work. These are the winners of Tempo's Film Selection 2020.
Movie of The Year: Mekah I'm Coming
In recent years, cinema awards events have rarely taken the comedy genre seriously. A well-made comedy film that conveys a message is now a thing of the past. But in Mekah I'm Coming, we rediscover it.
Director of The Year: Jeihan Angga (Mekah I'm Coming)
Jeihan Angga delivers a film about religion that is not a religious one. He is able to establish a directorial framework that is comedic, cinematic, and full of meaningful criticism. The film is the antithesis of the trend of religious capitalization in Indonesian cinema.
Best Scenario: Mekah I'm Coming
Many comedies' failures happen because the humor is groundless and the plotlines ignored for the sake of laughter. Mekah I'm Coming manages to avoid that through a scenario that is intact, logical, and has clear cause and effect.
Best Actress in Leading Role: Syifa Hadju (Sejuta Sayang Untuknya)
The 20-year old manages to keep up with veteran actor Deddy Mizwar in Sejuta Sayang Untuknya. Acting as a motherless teen with complex problems, Syifa plays the role of Gina perfectly.
Best Actor in Leading Role: Deddy Mizwar (Sejuta Sayang Untuknya)
In Sejuta Sayang Untuknya, Deddy Mizwar (60) plays the role of a movie extra who struggles to make ends meet for his daughter's happiness. The veteran actor is able to evoke intense emotions throughout the movie.
Best Supporting Actress: Dea Panendra (Jakarta, City of Dreamers)
The 29-year-old actress shows versatility acting as Khansa in Jakarta, City of Dreamers. She stepped out of her comfort zone to challenge and conquer her role as a left-handed mortuary make-up artist who is a drug abuser.
Best Supporting Actor: Nano Riantiarno (Bidadari Mencari Sayap)
Nano Riantiarno (71) was natural in his role as an old man of Chinese descent. As Babah, Nano excellently provides space for other roles' character changes. His experiences as a stage actor with working on classic Chinese literature allows him to delve into Babah's family's characteristics.