Tobacco's Winding Road Map
The battle between health advocates and tobacco supporters is intensifying as the deadline for setting excise duties is approaching. Tobacco products' industrial road map is still stuck at the ministerial level. The ministry of national development planning went ahead with conducting studies.
Edition : Tuesday, Desember 22, 2020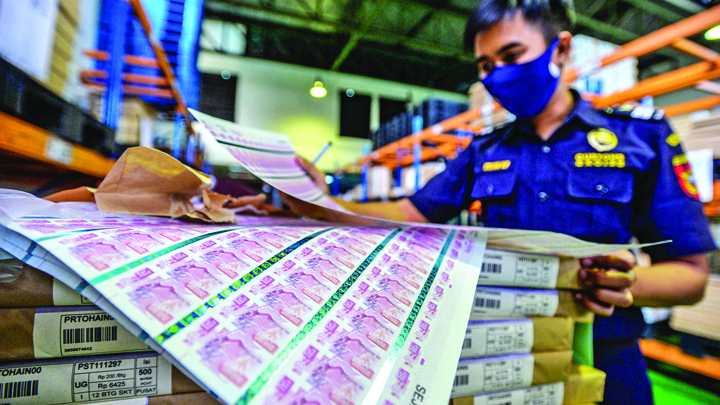 WHAT Nirwala Dwi Heryanto can recall from the tobacco products industrial road map is commotion. During meetings, which always involved multi ministerial officials, every participant always defended his or her own sector's interests. "The meeting has barely begun, and someone would already ask: 'Wait a second, whose road map is this?'" said Nirwala, finance ministry's technical and facilities director of customs, on Wednesday, December 16, in Jakarta.
The government has started intense discussions on tobacco products' industrial road map since the start of 2020. Talks have continued throughout the year, despite the Covid-19 outbreak. The only difference is that it has gone from physical to virtual meetings. "We must indeed sit together and talk," Nirwala said.
While Nirwala admits to discussion fatigue, he understands each ministry's resolute stance. These different positions relate to stakeholders in each sector represented by the ministry.
The agriculture ministry, for example, has the duty to make sure that tobacco production does not fall, while at the same time securing farmers' livelihood. The industry ministry must safeguard the cigarette industry, while the labor ministry looks out for employment. These three ministries contend against the health ministry, which aspires to curb the number of smokers to safeguard public health and reduce the state's burden of financing smoking-related illness.
The finance ministry, Nirwala said, sits in the middle of the discussions and has a double role. This ministry sets customs rates for tobacco products—which go up every year—in order to curb smoking. However, the finance ministry also uses that customs money to fill the state's coffers.
W251bGwsIjIwMjEtMDUtMTIgMDk6NDU6MzUiXQ
The finance ministry bears the brunt of this double role every year: it is targeted by farmers and the tobacco industry protesting against increased customs. At the same time, it is also under pressure by anti-tobacco groups who are pushing for sky-high customs. "This year has been the worst. Four years in a row, the process of increasing excise duties have ended on the president's desk, while in fact it should have been solved at the ministerial level," Nirwala said.
After Finance Minister Sri Mulyani Indrawati published the 2021 customs regulations for tobacco products on December 10, Nirwala said he could breathe more freely. However, this will not last long, as similar debates will repeat themselves next year—and the years after—if the tobacco industry road map is not dealt with.
Finance Ministry Expert Staff Yustinus Prastowo claimed that the 2021 tobacco customs' policy area is wide reaching. It includes excise duty increase—an average of 12.5 percent annually—and changing the Revenue Sharing Funds of Tobacco Products Excise (DBHCHT) scheme. Yustinus said that the new scheme would strengthen the interest of tobacco farmers and employees.
The DBHCHT budget to strengthen the position of farmers and employees, for example, is now explicitly stated. At least 50 percent of DBHCHT returns received by regional administrations must be spent on the welfare of tobacco farmers, farm workers, and cigarette employees. "This might be the first time the policies are so transparent," Yustinus said.
•••
TENSION between the cigarette industry and public health observers have risen since a number of countries agreed on the Protocol to Eliminate Illicit Trade in Tobacco Products (FCTC). In effect since 2003, this international agreement under the auspices of the World Health Organization (WHO) has been ratified by 188 countries as of 2016. FCTC signatories are bound by a number of obligations, including banning all cigarette advertisements; banning misleading labels on cigarette packaging such as 'light', 'mild', or 'low tar'; include warnings of the dangers of smoking on 30 percent of product packaging; create non-smoking areas; gradually increase tobacco taxes and excise duties; and bar the entrance of tax-free tobacco.
Indonesia is the only Asian country that has not ratified the FCTC. However, the government has adopted a number of FCTC policies, stipulated in Government Regulation No. 109/2012 regarding safety measures on material containing addictive substances for health in tobacco products.
Based on the 2018 Basic Health Research, Indonesia has some 60 million smokers, or 22.7 percent out of the total population of 264 million. The number of under-aged smokers is up to 9.1 percent. The 2020-2024 Middle-Term Development Planning targets a reduction of child smokers (aged between 10 and 18) to 8.7 percent by 2024.
The problem is that the instruments needed to reach that target are far from perfect. What had so far been seen as the most effective tool—an increase in duties on tobacco products—has not guaranteed a decrease in the number of smokers. The Fiscal Policy Agency noted that while tobacco products' excise duties have continued to rise in 2013 to 2018—except for 2014—the number of children and teen smokers have risen from 7.3 percent in 2013 to 9.1 percent in 2018.
While less effective in controlling the number of young smokers, an increase in tobacco customs has had a direct impact on the tobacco industry's development. In 2019, when there was no increase in excise duties, cigarette production rose by 7.3 percent from 332.4 billion cigarettes in 2018 to 365.5 billion in 2019.
Thus, industry players and farmers are the most fervent opponents of excise duties increases, which have occurred almost every year. Nevertheless, the consistent increase in duties has made these parties realize that the measures cannot be stopped.
Instead of fighting this every year, the industry has started to open up and push for a tobacco products' industry road map that involves all parties. "At least we will have assurances to continue," Henry Najoan, the Indonesian Cigarette Factory Association chairman, said in October. "Not all this uproar every time."
•••
ABDILLAH Ahsan met with Pungkas Bahjuri Ali, National Development Planning Agency's (Bappenas) director for public nutrition, at a public health conference in Bangkok, Thailand, in mid 2018. Prior to the meeting Pungkas already received orders from his boss, then National Development Planning Minister Bambang Brodjonegoro, to set up cross-sector assessments to control tobacco.
Abdillah, lecturer and researcher at the University of Indonesia's Demographics Institute, has studied the relationship between the economy and tobacco control for years. He has published and campaigned on smoking's long-term danger for health and the economy.
After the meeting in 2018, Pungkas asked Abdillah to join the study into tobacco control at the Bappenas. This study is a continuation of President Joko Widodo's orders at a limited meeting discussing the FCTC in June 2016. Jokowi wanted an extensive study on the pros and cons of the FCTC. This research was necessary as seven million people's livelihoods are dependent on the tobacco products industry.
According to reports by the ministry of trade, the tobacco products industry involves some 5.98 million people consists of 1.7 million farmers and 4.28 million cigarette factory workers including workers in the cigarette industry and distribution sectors. "I assist in a study to provide solutions for parties impacted by tobacco control," Abdillah said in an online interview on Friday, December 18.
Abdillah and his team traveled to tobacco-yielding and cigarette industry areas. Based on those field studies, Abdillah arrived at two solutions for those impacted by tobacco control. One is the option for farmers and workers to remain in the tobacco sector. This should be done by technical ministries to upgrade skills in both tobacco production and market strength. Controlling tobacco imports is one suggested solution.
Abdillah's latest research published in the Globalization and Health journal concluded that the national cigarette industry growth from 2005 until 2016 had not trickled down to farmers' welfare. In his study titled Comparison of tobacco import and tobacco control in five countries: lessons learned for Indonesia, Abdillah presented an interesting fact. While cigarette production had risen 54 percent, from 222 billion cigarettes in 2005 to 342 billion in 2016, tobacco production actually went down by 17 percent from 153,000 tons in 2005 to 127,000 tons in 2016.
In other words: the rise came from imported tobacco, from 48,000 tons in 2005 to 82,000 tons in 2016. Virginia was the tobacco type imported in the largest quantity: 42,000 tons in 2016. In fact, this tobacco variety is farmed in abundance locally. This import increase has caused a reduction for local tobacco producers to 99,000 tons, from 127,000 tons, bought by the industry.
Farmers concurred with Abdillah's findings. "When excise duties rise, the government should have immediately controlled imports," said Agus Parmuji, Indonesian Tobacco Farmers Association chairman, via telephone on Friday, December 18.
Hendratmojo Bagus Hudoro, agriculture ministry's director for seasonal plants and spices, said the government actually already has a tobacco-import-control instrument through the Agricultural Ministry Regulation No. 23/2019. This regulation requires the industry to absorb local tobacco products, twice the amount of its import needs. However, the industry rose in protest. "They saw this as a protectionist regulation," said Bagus on December 16. "Businesses said this was not allowed."
The agriculture ministry is in the midst of changing this regulation. The term "absorption requirement" will be replaced by "partnership." The industry is required to forge partnerships with tobacco farmers. When importing, the industry must report the absorption of local tobacco from their partners. "This is not to put pressure on the industry, but to urge that local materials be absorbed first."
The second solution offered by Abdillah in the Bappenas study is an exit strategy for the tobacco industry. Abdillah suggests that the government prepare mitigating actions for farmers planning to switch commodities or profession. Examples are provision of seeds, fertilizers, or training. Similar mitigating efforts are meant to prepare workers and the industry to leave tobacco behind. "We would like to provide a comprehensive solution package. Not just telling people to refrain from tobacco production," Abdillah said.
The Bappenas study has now been completed. Pungkas has already invited ministry representatives to look into its results. "Now we wait for a decision: into what kind of policy this is going to be translated," said Pungkas on December 15.
Edy Sutopo, industry ministry's director for the beverages, tobacco, and energy inducing industries, admitted that he has not been frequently involved in meetings discussing studies and industry road maps for tobacco products. However, Edy brings the same aspirations from the industry sector to the table. Edy points out that no other economic activity is yet able to replace the tobacco products industry, both in employment and state excise duty receipts.
In 2020, estimated targets for excise duty receipts from tobacco is Rp172.2 trillion, and Rp178.5 trillion in 2021, making up around 10 percent of total state receipts. Tobacco's contribution is second only to tax receipts from non-oil-and-gas agencies, and added value taxes. "I still hope that the tobacco products industry will be allowed to grow," said Edy on December 18. "Those anti-tobacconists need to think long and hard, and must look for alternatives if this industry is diminished or crushed."
The burden to find a solution is borne by the coordinating ministry for the economy. It must coordinate the interest of many ministries, and consider public health at the same time. The problem is that health issues are under another coordinating ministry: one that overlooks human and cultural development.
Coordinating Ministry for the Economy Secretary Susiwijono Moegiarso acknowledged that he knew of the Bappenas study. "The Bappenas research is part of the discussion in setting up a comprehensive tobacco products industry road map," Susiwijono explained in a written answer on Friday, December 18.
Whether it would be in the form of a government regulation or presidential decree, Susiwijono continued, the road map will have mid and long-term programs. He further said that the road map will also include clear policies and programs. "So, it could be used as a manual and main reference point for business practitioners, and also for the government," he said. Unfortunately, Susiwijono did not give the targeted deadline for those policies, which is exactly what everyone is waiting for.
KHAIRUL ANAM