Papuan Shepherds' Moral Appeals
Priests in Papua called for the retreat of soldiers and police. They criticize their bishops' attitude.
Edition : Sunday, Desember 27, 2020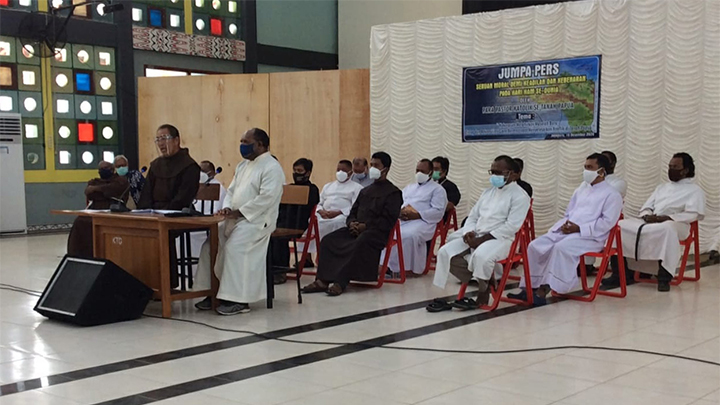 THE WhatsApp group Pastores se-Papua (Priests of Papua) was suddenly busier than usual in late November. The group, with hundreds of priests in Papua as members, question the ongoing violence in their regions. One member is Alberto John Bunay, a priest overseeing Jayapura Archdiocese's Catholic youth. He said that priests have agreed to issue a moral call. "After a long discussion, we felt compelled to speak up so that the violence ends," he said when contacted by Tempo on Wednesday, December 23.
For a few days, they drafted the appeal that were to be put into the public statement. Alberto said that the draft was revised numerous times as they did not want the statement to be political. The priests then agreed to push dialogue to resolve numerous human rights violations.
Not all priests agreed with that call. Anselmus Arno, the director of Merauke Archdiocese's Secretariat for Justice and Peace, declined to join his colleagues. "There are other ways (to do this) without making statements," he said.
Ultimately, 147 priests from five archdiocese—Jayapura, Timika, Merauke, Agats, and Sorong-Manokwari—and six congregations put their names on the statement. Papua Province noted 545,000 Roman Catholics—or 17.67 percent of the population—in 2010, while the West Papua Province has 53,000 people, or 7.03 percent of the total population. Throughout Papua, the majority of the population are Christians.
On December 10, coinciding with International Human Rights Day, the statement was read out. First it addressed the National Police and Indonesian Military (TNI), and the West Papua Liberation Army to end armed violence. "Please realize that the safety of human lives do not lie at the barrels of your guns," the statement said. They also urged President Joko Widodo to evaluate the impact of adding troops to Papua, and withdraw all non-organic soldiers and police from there.
W251bGwsIjIwMjEtMDQtMjEgMTU6MjE6MjEiXQ
Father Alberto said that the statement came as violence was already spreading into churches. On October 26, Rafinus Tigau, a Catholic missionary, was shot dead by soldiers in front of his home in the Sugapa District, Intan Jaya Regency. Rafinus was accused of being part of a criminal, armed separatist group. In fact, Alberto pointed out, Rafinus is a catechist from the Jalae Parish in Sugapa, Intan Jaya. On September 19, Preacher Yeremia Zanambani of Intan Jaya was also shot dead. The suspected killers were soldiers on patrol.
The priests also criticized the Indonesian Bishops Conference (KWI) that tends to keep mum about the violence in Papua. They question KWI's swift position on the killing of a family in Lembantongoa village, Sigi Regency, Central Sulawesi, on November 27. Five days after the incident, Cardinal Ignatius Suharyo, KWI's chairman and also the Archbishop of Jakarta, condemned the terror and house burning of the Christian house of service. "The Indonesian bishops should not stay silent or ignore conditions in Papua," Father Alberto said.
However, the bishops do not support these priests. Merauke Archbishop Petrus Canisius Mandagi told Tempo that those hundreds of priests do not represent the Papua Archdiocese. Mandagi said the priests voiced their concern on their own. "They should have listened to the bishop, because priests are under the bishops," he said. Even so, Mandagi said he was not angry about the statement, and views it as input.
A week prior to the statement's release, Mandagi and four other bishops were invited to the home of Coordinating Minister for Political, Legal and Security Affairs Mahfud Md. However, only Mandagi; Bishops Agats, Aloysius Murwito, and Jakarta's Archbishop were present. The meeting, which included dinner, went on for over an hour and discussed violence in Papua.
Mandagi admitted that he relayed to Mahfud that the violence must stop. He said it was unfair that Papuans are treated badly by soldiers. Even so, Mandagi did not ask Mahfud to withdraw military forces from Papua. He said military presence there is still needed to guarantee security. "The military is there for security. A country without military is nonsense, don't you think?" Mandagi said.
Prior to meeting with Mahfud, Mandagi met with TNI Commander Hadi Tjahjanto. This meeting also discussed violence in Papua. To Hadi, Mandagi asked that soldiers stationed there have high standards of humanity, and do not look down on Papuans. He also suggested that the soldiers entering Papua should be people who are psychologically stable, so that they do not abuse their weapons.
KWI Chairman Ignatius Suharyo admitted that there are difference viewpoints between the bishops and the priests. "Honestly, most likely there is a difference of opinion between the bishops and friends on the ground," he said. Suharyo further said that the priests do not represent the Catholic Church' viewpoint. "The church' concrete position should be voiced through the bishops," he said.
Asked about the Catholic Church' viewpoint on the repeated violence occurring in Papua, Suharyo only said that his institution respects human life and dignity. The Catholic Church, he said, has its own way of addressing the violence there. One way is to ask about this topic to the bishops in Papua at the annual KWI meeting. Suharyo further said that the bishops in Papua have a better understanding of conditions there. "The Papuan bishops are more aware of the conditions there than I am." Based on Bishop Mandagi's advice, Suharyo chose not to respond to the priests' statement.
P. Yustinus Rahagiar, a priest from the St. Misael Bilogai Parish, emphasized that the Catholic Church need to speak out loudly against the violence in Papua. Yustinus frequently accompanies Papuans in a number of cases, such as human rights violations in Wamena, Jayawijaya Regency, and surrounding areas. He said that he has felt, and directly witnessed, violence in a number of regions. He also said that the violence in Papua is continuous.
Meanwhile Alberto John Bunay of the Jayapura Archdiocese's Catholic youths, said the movement of the shepherds—a term for priests—to reject violence in Papua is needed in order to push for dialog. Alberto said the movement is not political, but rather a purely moral call. "That's why we do not mention independent Papua or not."
DEVY ERNIS, MAHARDIKA SATRIA HADI