Jokowi's New Ministers
Some new cabinet ministers were selected in line with the wishes of President Joko Widodo. Candidates for the cabinet reshuffle suggested by political parties were pushed aside.
Edition : Sunday, Desember 27, 2020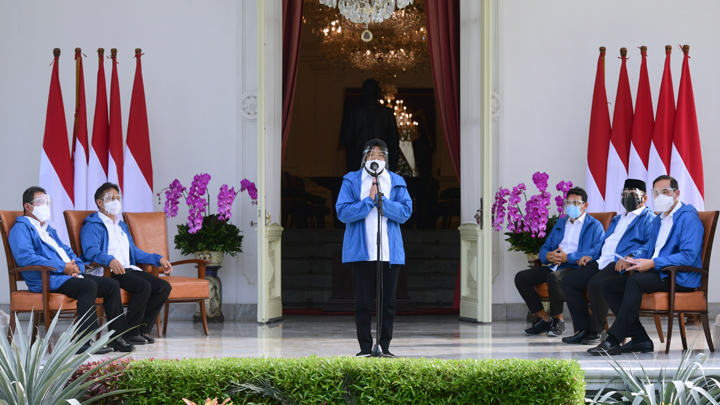 SOMEWHERE in Jakarta in mid-December, a meeting took place between Muhaimin Iskandar and Muhammad Lutfi. The former, the general chairman of the National Awakening Party (PKB), and the latter, the Indonesian Ambassador to the United States, talked about a new government position for Lutfi.
PKB Chairman Faisol Reza, who attended this meeting, said that Muhaimin told Lutfi that he was a candidate for minister of trade. The position had previously been filled by Agus Suparmanto, as a part of PKB's 'share' of cabinet positions as a coalition partner. "Lutfi was among the six candidates submitted by the PKB," said Faisol, telling Tempo about the meeting, on Wednesday, December 23.
According to Faisol, Lutfi thanked Muhaimin. The two of them had been cabinet ministers during the second term of President Susilo Bambang Yudhoyono. At that time, Muhaimin was minister of labor and transmigration, and Lutfi was minister of trade for the last eight months of the Yudhoyono administration. Lutfi had not commented on his meeting with Muhaimin. He did not respond to questions sent by Tempo.
Lutfi was appointed as minister of trade by President Joko Widodo on Wednesday, December 23. At that time he said that he was in Indonesia and met with Jokowi on Thursday, December 17. However, he said, the meeting did not include any discussion about the trade minister position. "It was not until Friday (December 18) that I was informed that the President was entrusting me to lead the trade ministry," he said.
W251bGwsIjIwMjEtMDQtMjEgMTQ6MDM6MTQiXQ
Lutfi had been suggested by Coordinating Minister for Maritime Affairs and Investment Luhut Binsar Pandjaitan. Lutfi had helped Luhut during the latter's visit to America when he met with United States President Donald Trump in mid-November.
Two PKB politicians and one former government official close to Lutfi who are knowledgeable about this cabinet appointment said that this former Indonesian ambassador to Japan had already been chosen by President Jokowi. Lutfi had been suggested by Coordinating Minister for Maritime Affairs and Investment Luhut Binsar Pandjaitan. Lutfi had helped Luhut during the latter's visit to America when he met with United States President Donald Trump in mid-November.
According to the same sources, Lutfi became a 'naturalized' cabinet minister for the PKB. Luhut could not yet be reached for comment about his role in Lutfi's appointment. He did not respond to questions submitted by Tempo. Jodi Mahardi, a spokesman for the coordinating ministry of maritime affairs, said that he knew nothing about the matter.
The same PKB politicians said that, in return, the PKB were to be given the position of minister of religious affairs, which had previously been held by Fachrul Razi. However, Jokowi had already made his choice for that position, namely Yahya Cholil Staquf, a former member of the Presidential Advisory Board and son of Nahdlatul Ulama figure and PKB founder Muhammad Cholil Bisri. Later, Yahya was replaced by his younger brother, Yaqut Cholil Qoumas, Chairman of the Ansor Youth Movement and a member of the House of Representatives (DPR) from the PKB.
Those three sources said that Yaqut had not been approved of by Muhaimin Iskandar. The DPR deputy speaker had submitted other names, namely People's Consultative Assembly (MPR) Deputy Speaker from the PKB, Jazilul Fawaid, and his older brother, Abdul Halim Iskandar, who is minister of villages, development of disadvantaged regions, and transmigration. However, these nominations were not approved by the President, who wanted Yaqut, because it is believed that he is capable of drive back radical groups. Yaqut is also considered to be a representative of the Nahdlatul Ulama organization.
Faisol Reza denied the news that Yaqut was not recommended by their party. He said that Yaqut and Jazilul had been recommended by the PKB. The PKB, he said, had prepared a list of names for the cabinet reshuffle. "Because there were complaints from several parties about the ministers we had," he said. In addition to being given the position of minister of trade and minister of village affairs, the PKB placed Ida Fauziyah as minister of labor.
Yaqut could not be reached for comment. There was no response to messages and phone calls from Tempo. However, on the inauguration day, Yaqut said that he first learned that he would become the religious affairs minister when he was contacted by Minister/State Secretary Pratikno. "I was contacted on Thursday, December 17," he said.
***
IN addition to appointing Muhammad Lutfi and Yaqut Cholil Qoumas, President Joko Widodo inaugurated four other new cabinet ministers on Wednesday, December 23. They are: Minister of Maritime Affairs and Fisheries Wahyu Sakti Trenggono, Minister of Social Affairs Tri Rismaharini, Minister of Health Budi Gunadi Sadikin, and Minister of Tourism and Creative Economy Sandiaga Salahuddin Uno. A day earlier, Jokowi briefly mentioned the names of his six new ministers. "Me and the Vice President wish to announce the new minister who will sit in the Indonesia Maju (Onward Indonesia) Cabinet," the President said.
The following day, the President appointed five deputy ministers. They are: Muhammad Herindra as deputy minister of defense, Edward Omar Syarif Hiariej as deputy minister of justice and human rights, Dante Saksono Harbuwono as deputy minister of health, Harfiq Hasnul Qolbi as deputy minister of agriculture, and Pahala Nugraha Mansury as deputy minister of state-owned enterprises.
Regarding the appointment of Sandiaga Uno, Jokowi's rival in the 2019 presidential election, two high-ranking officials from the Grand Indonesia Movement (Gerindra) Party said that Jokowi had long been interested in this former deputy governor of Jakarta. Sandiaga's spokesman, Kawendra Lukistian, said that Sandiaga has met Jokowi six times since the presidential election. In those meetings, said Kawendra, Jokowi always asked Sandiaga to help him in his administration. However, Sandiaga preferred to focus on developing the creative economy sector and micro, small and medium-sized businesses.
When the position of minister of maritime affairs and fisheries became available once it was left empty by Edhy Prabowo, who had been arrested by the Corruption Eradication Commission (KPK) after being caught up in a bribery case over the export of lobster larvae, it was offered to Sandiaga. However, according to Kawendra, Sandiaga felt that the position was not in line with his business background. "It was outside of his competency," said Kawendra on December 23.
According to two high-ranking Gerindra officials, General Chairman Prabowo Subianto submitted additional candidates to the President, namely Gerindra Executive Chairman Sufmi Dasco Ahmad, Secretary-General Ahmad Muzani, and Deputy General Chairman Sugiono as well as Rahmat Pambudy, a lecturer at the Bogor Agricultural Institute (IPB) who is also close to that minister of defense. Dasco refuted being a candidate in line to replace Edhy. He claimed that his party never submitted ministerial candidates. "It was left up to the President," he said.
Later on, Prabowo chose his deputy at the ministry of defense, Wahyu Sakti Trenggono. Three people who were aware of this recommendation said that Trenggono was promoted to minister on account of his performance, which was viewed positively by Prabowo and President Jokowi. Trenggono said the he found out that he had been appointed minister of maritime affairs when he was informed by Minister/State Secretary Pratikno. "It is rather surprising. I have to study maritime affairs," said this former treasurer of the Joko Widodo-Ma'ruf Amin National Election Campaign Team.
Sandiaga Uno was eventually offered the position of minister of tourism, replacing Wishnutama Kusubandio. Sandiaga first learned of this planned appointment on Monday, December 21. At that time, Pratikno said that Sandiaga would become minister of tourism. Aside from this information from Pratikno, Sandiaga received messages to the same effect from other government officials, such as State Intelligence Agency Chief Budi Gunawan and Minister of State-Owned Enterprises Erick Thohir. Sandiaga accepted the offer.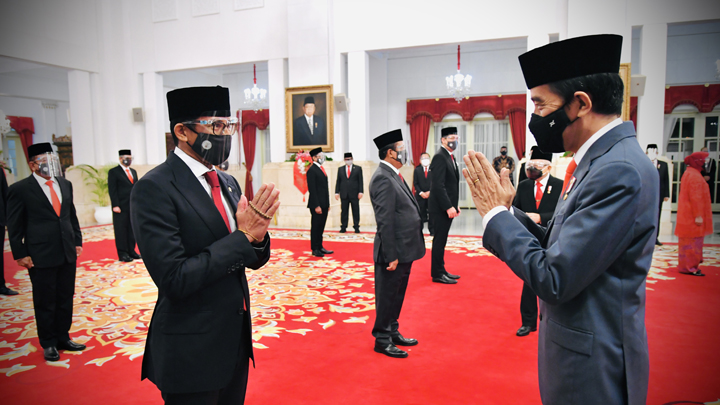 President Joko Widodo congratulates Minister of Tourism and Creative Economy Sandiaga Uno at the inauguration of the new ministers in the State Palace, Jakarta. HO BPMI President secretariate/Laily Rachev
Meanwhile Tri Rismaharini's nomination to become minister of social affairs did not go smoothly. This is because the deliberations over who would replace Juliari Peter Batubara, the Indonesian Democratic Party of Struggle (PDI-P) politician who had become a suspect in a bribery case involving social assistance for those affected by Covid-19, were rather difficult. Some other people were being considered. PDI-P Chairman Ahmad Basarah said that four other potential replacements were Djarot Saiful Hidayat, Eriko Sotarduga, Sukur Nababan, and Komarudin Watubun.
Djarot refuted being a candidate for the position of social affairs minister. He said that he has many party duties to attend to, as a DPR member, chairman of the MPR Assessment Body, and chairman of North Sumatra PDI-P. "So it is not true that it was suggested that I become social affairs minister," he said. In the end, Risma was chosen to become minister of social affairs, as she had the blessing of PDI-P General Chairperson Megawati Sukarnoputri and was approved of by President Jokowi. Risma was contacted by Pratikno. "He said to go to the (Presidential) Palace on Tuesday," said the former Mayor of Surabaya.
Budi Gunadi Sadikin was appointed minister of health because Jokowi wants the response to Covid-19 to be handled more smoothly, especially in regard to the purchase and distribution of vaccines to the public. After his appointment, replacing Terawan Agus Putranto, Budi quickly convened his first meeting and conveyed the first job given by Jokowi, namely to prepare a public vaccination program. "The short-term plan is to quickly carry out vaccination," he said.
HUSSEIN ABRI DONGORAN, DEWI NURITA, ROBBY IRFANY, MAYA AYU PUSPITASARI