Back to School?
A number of schools are ready to resume in-class learning this month, but they still need regional government authorization.
Edition : Monday, January 4, 2021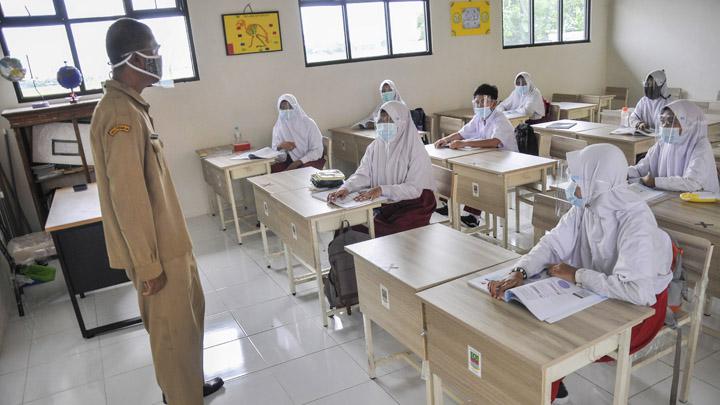 PLASTIC cubicles surround each desk in 24 classrooms at the No. 3 State Junior High School (SMPN 3) in the City of Semarang, Central Java, on Friday, December 30, 2020. These dividers, consisting of panels 70 centimeters high and nearly a meter wide, cover three sides. Agusalim, the acting Principal of SMPN 3, said that those plastic dividers were set up in case in-class learning resumes. The school also has distributed masks to the students. "Face shields are also ready to be distributed," Agusalim said on December 30.
Since March, SMPN 3 no longer held in-class studying. Agusalim said that the school decided to resume in-class learning after discussing the matter with the parents. At least five Zoom meetings were held with student guardians. As it turned out, 65 percent of parents agreed that the school be reopened.
No. 3 State High School (SMAN 3) in Semarang is also ready to resume classroom learning. Sinks have been set up around the school and in front of classrooms. Hand sanitizer has been provided in many locations. "God willing, we are ready for in-class learning," said SMAN 3 Principal Wiharto. According to him, the school has conducted simulations in anticipation of the resumption of classroom learning. He added that a majority of the parents agree with this planned opening.
The government decided that classroom education could resume in January 2021. Minister of Education and Culture Nadiem Anwar Makarim said that the authority to do so rests with the regional governments, school administrators, and parents of students, while taking into consideration the number of coronavirus cases in each region. Schools which reopen must comply with a checklist which includes the availability of hand-washing facilities, temperature-taking equipment, and the wearing of facemasks.
W251bGwsIjIwMjEtMDQtMjEgMTQ6MzM6MjUiXQ
However, it appears that the plan to reopen schools in Central Java will be postponed. On Wednesday, December 30, the Central Java education and culture office issued a circular banning the reopening of schools. Hari Wuljanto, acting Chief of the Central Java Education Office, said that this delay comes from an instruction of Governor Ganjar Pranowo. Gunawan Saptogiri, Chief of Semarang's Education Office, said in-class learning will resume once they have the blessing of the city's mayor, Hendrar Prihadi.
Ganjar does not want to quickly reopen schools due to the high number of people in the area testing positive for coronavirus. As of Wednesday, December 30, there were 80,700 cases in Central Java, which is the fourth highest in Indonesia. The Central Java Covid-19 mitigation website noted 10,165 active cases. "If conditions improve, in-class learning can resume. But it seems that it won't yet happen in January," said the politician from the Indonesian Democratic Party of Struggle (PDI-P).
Unlike Ganjar, West Java Governor Ridwan Kamil said that some of the schools in his province are ready to hold classroom learning starting for the second school semester this January. At least 785 of the 830 public schools there intend to bring back students and teachers to the classrooms. "They are ready to conduct a limited amount of face-to-face learning," he said on Monday, December 28.
Dedi Supendi, Chief of the West Java Education Office, said that reopening school has faced both progress and setbacks. Some simulations have been carried out. However, the fluctuation in the number of cases meant that the implementation of classroom learning has not been maximal. Based on data from the Covid-19 committee, as of Wednesday, December 30, there have been 82,500 cases in West Java, the third highest in Indonesia. The West Java Covid-19 Information and Coordination Center website states that nearly 12,000 people are still in isolation or being treated.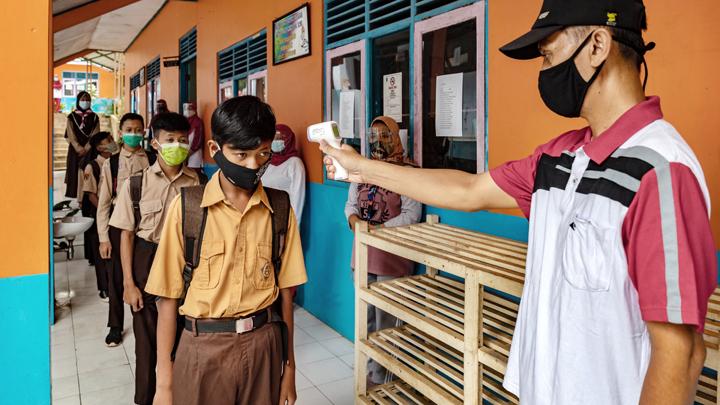 Checking student temperatures before going to class at the Lerep Integrated State Junior High School in West Ungaran, Semarang, Central Java, in November. Photo: Antara/Aji Styawan/nz.
According to Dedi, the school reopening process was planned to take place in stages, starting from gaining authorization and culminating in implementation. The provincial government has asked the regency and city governments to assess the situation in their respective areas, including the risk of the spread of the coronavirus. School supervisors would inspect the schools that are to be reopened. The results would be submitted to the Covid-19 task force. If a school is given the green light, limited in-class learning will commence. "Some have classes with a limited number of students, some are doing it online," said Dedi.
The No. 4 Public High School (SMA 4) in Bandung, West Java, is one school which has been preparing for classroom learning to resume since November 2020. Tiktik Mustika Budhi, secretary for the SMA 4 Covid-19 task force, said that their school has installed additional toilets, renovated the restrooms, and added new sinks. The benches and desks, previously shared by two students, have been replaced by individual desks and chairs. The school also has an isolation room stocked with personal protection equipment, over 2,000 masks, and several gallons of hand sanitizer.
According to Tiktik, a survey showed that 63 percent of parents agreed that the students return to school. "Some were still concerned, especially since there is a new variant of the coronavirus." Despite having the blessing of many parents, Tiktik said that teachers are still facing some problems. For instance, there are only three teachers below the age of 45 available to teach. The school will continue to hold online instruction to handle this issue.
Asep Uan Sutarwan, Vice Principal and Chairman of the SMA 4 Covid-19 Task Force, said that another issue that his school is facing is the absent of recommendation from the Andir subdistrict of the City of Bandung. This recommendation is a condition for reopening schools. Enjang Mulyana, the Andir Subdistrict Head, verified that news that some schools have asked for recommendations. He will not yet issue such letters because he has not yet received any instructions to do so from the City of Bandung's Education Office. Moreover, said Enjang, reopening schools in their area is still risky. "Last week this was still a red zone. If it is forced to happen it will be dangerous, especially for the children."
In Surabaya, East Java, some schools are also ready to reopen. Mamik Pujowati, Principal of SMAN 6 in Surabaya, said that their school has held a simulation for applying health protocols. She considers the online learning process has been less than optimal, noting that it is difficult to keep up student enthusiasm.
However, not all parents agree with the plan. Yuli Purnomo, a parent of one student, feels that the survey where more than 60 percent of parents agreed, cannot be used to justify reopening school. She feels that parents are only thinking in practical terms, as they see their children as not focusing on studying from home. "Parents who are aware of the conditions would not allow their children to go to school," said this City of Surabaya's Board of Education member.
PRAMONO, AHMAD FIKRI (BANDUNG), JAMAL A. NASHR (SEMARANG), NUR HADI (SURABAYA)