Holiday Testing Blues
Minister Luhut Pandjaitan is encouraging the use of antigen tests, which is seen as being more affordable and faster compared to the PCR tests. The antigen tests price is much higher than the base cost of the test kits.
Edition : Monday, January 4, 2021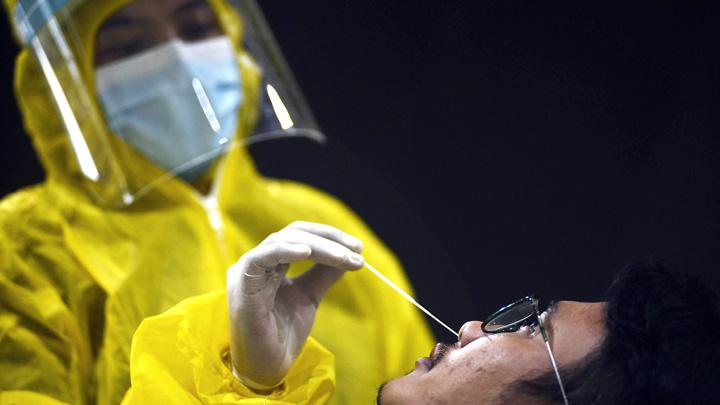 SASMITA'S plan to return to Jakarta on Wednesday night, December 30, 2020, fell apart. After reserving a flight at 8:15pm Central Indonesian Time, Sasmita and her child could not take antigen tests at I Gusti Ngurah Rai Airport in Denpasar, Bali, because the daily supply had already been used up. She had to reschedule her flight. "I was supposed to go home tonight because my child has some work to attend to tomorrow," she said when met by Tempo.
This also happened to Tam, 30. The antigen tests quota had also run out when this man from Denpasar arrived at the Wisti Sabha Building at Ngurah Rai Airport. His plan to fly to Kalimantan was postponed. Tam was reluctant to take a test outside of the airport because it is more expensive. At Ngurah Rai, an antigent test costs Rp170,000. Elsewhere it can cost up to Rp250,000. He was not flying alone, but traveling with his wife and child.
Taufan Yudhistira, Stakeholder Relation Manager for Angkasa Pura I at I Gusti Ngurah Rai International Airport, said that passengers who cannot make their flights because they do not have antigen swab test results can reschedule with the airlines. "According to the regulations in effect at the airlines," he said.
According to Taufan, antigen swab testing at the airport is limited to 1,100 tests in order to avoid crowds. This number is far below the average daily number of passengers flying out of Bali. On Tuesday, December 22, 5,640 passengers departed from Bali. Five days later, the number jumped to 8,461 passengers.
W251bGwsIjIwMjEtMDQtMjEgMTY6MDI6NDkiXQ
Antigen testing is in effect for those traveling during the Christmas and New Year's holidays, starting from Sunday, December 20, 2020 to Friday, January 8, 2021. This provision is found in a circular from Covid-19 Task Force Chairman Doni Monardo dated December 19, 2020. For train and airline passengers going to and from the Island of Java, the letter of testing negative for coronavirus based on antigen rapid tests, is effective for three days. This regulation has been adopted by a number of regions, including Kalimantan. All passengers headed to Bali must have polymerase chain reaction (PCR) test results, which is good for seven days.
After that regulation on antigen and PCR tests went into effect, cases of falsifying test results occurred in several regions. In Surabaya, East Java, for instance, the police arrested three people who produced fraudulent antigen test results. They were a worker from a community health center, an owner of a travel agency, and a ticket scalper. They targeted passengers planning to travel by sea to other islands who needed non-reactive results from a rapid test. Passengers had to pay Rp100,000 for one of those forged document.
On Wednesday, December 30, Tirta Mandira Hudi, a volunteer concerned with preventing the spread of Covid-19, who is better known as Doctor Tirta, uploaded a screenshot of an Instagram account offering to make falsified PCR swab test results. Wiku Adisasmito, spokesperson for the Covid-19 task force, said that such forgery was a major crime because it endangers people's safety. It is possible that people with those fraudulent test results could be infected with the coronavirus. "It is a major crime because it could lead to deaths, especially for those with comorbidities," he said.

***
FIVE days before that regulation was made, Coordinating Minister for Maritime Affairs and Investment Luhut Binsar Pandjaitan held a virtual meeting to anticipate a spike in the number of Covid-19 cases in the wake of the Christmas and New Year's holidays. He recalled the five-day holiday at the end of October to commemorate the Birth of Prophet Muhammad, which saw a rise in positive test results. In Jakarta, for instance, 410 family clusters were found, totaling 4,052 positive cases.
During that meeting, Luhut—who is also deputy chairman of the Covid-19 response policy committee—said that the spike in the number of cases needs to be anticipated by requiring antigen tests. The results of antigen tests have a rather high level of accuracy. "Antigen rapid tests have a better sensitivity compared to antibody rapid tests," said Luhut. Even so, the accuracy of antigen tests is lower than the PCR tests. Early on, antibody test had been used for train passengers.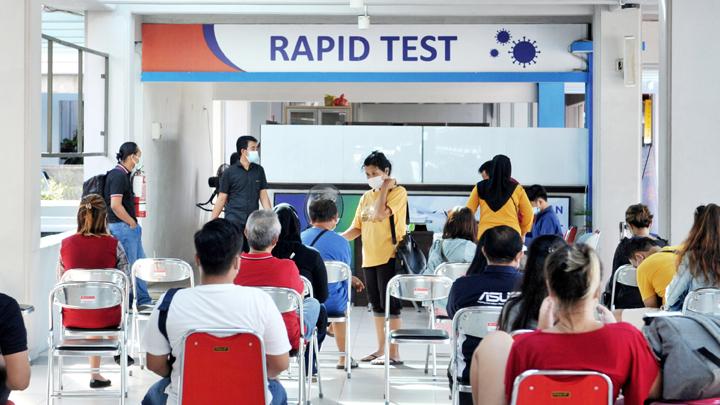 Passengers waiting at the Covid-19 test area at I Gusti Ngurah Rai International Airport in Badung, Bali, December 23. Photo: Antara/Fikri Yusuf
That meeting was attended by Doni Monardo, the then Health Minister Terawan Agus Putranto, Transportation Minister Budi Karya Sumadi, and some regional heads, such as West Java Governor Ridwan Kamil, East Java Governor Khofifah Indar Parawansa, and Bali Governor I Wayan Koster. One meeting participant said that during this meeting Terawan expressed his concern about requiring antigen tests, as it had the potential to raise the number of positive test results. This could lead to a spike in the number of hospital patients.
When asked for comment, Terawan did not respond to WhatsApp messages and calls from Tempo. However, one meeting participant, Wiku Adisasmito, did not refute this when asked about that news. Wiku said that Terawan was worried that hospitals would be unable to handle a large number of patients. "If they test positive they have to get treated. Hospitals would end up full and the government would have to deal with it, which was why he disagreed with the measure," said Wiku.
Despite the difference of opinion, Luhut asked the health ministry to determine the price of antigen testing. The ministry then worked on the price issue with the Finance and Development Supervisory Agency (BPKP). As a result, the highest price for an antigen test was set at Rp250,000 for Java and Rp275,000 elsewhere. "It was asked that this process be expedited, and we prepared our respective analyses and agreed on those prices," said Iwan Taufiq Purwanto, Deputy for Supervision at Government Institutions of Political, Legal, Security, Human Development and Cultural Affairs at the BPKP, to Tempo on Tuesday, December 29.
The prices proposed by the health ministry were Rp275,000 for the Island of Java and Rp300,000 elsewhere. Abdul Kadir, Director-General of Health Services at the Ministry of Health, verified the calculation made by his institution. "Yes, we had indeed come up with the Rp275,000 figure. Just a bit different," Abdul Kadir told Tempo on December 31. The price submitted by the BPKP was lower compared to the health ministry.
The average base price for an antigen swab test kit is actually less than Rp200,000. Based on a document bearing the logo of the coordinating ministry of maritime affairs and investment obtained by Tempo, the price of an antigen rapid test kit produced by SD Biosensor from Korea is only about Rp80,000-90,000. Indec sells it for Rp98,000 while Abbot from the United States sells it for Rp120,000-160,000.
According to Iwan Taufiq, that base price does not include other cost components. He cited that the providers of antigen test services must account for the cost of personal protective equipment, the services of the doctors who collect the specimens and issue the test results, waste management costs, and the profit margin for the supplier of the goods. "With the addition of those cost components, we agreed on the price of Rp250,000," he said. Abdul Kadir said that this figure included a 15 percent profit margin for the business owners. "So we agreed on Rp250,000 because we did not want this test to become a burden on the public," he said.
As it turns out, the cost antigen tests in some places managed by state-owned enterprises is much lower compared to that price ceiling. Kereta Api Indonesia, for instance, provides antigen rapid tests for passengers for Rp105,000. Angkasa Pura I provides antigen testing services at several airports, such as I Gusti Ngurah Rai Airport in Bali; Ahmad Yani Airport in Semarang, Central Java; Yogyakarta International Airport, and Hasanuddin Airport in Makassar, South Sulawesi. Antigen tests at those airports are priced at Rp170,000. This service began on December 18, a day before the Covid-19 task force issued a circular regarding the antigen test requirement.

***
THE policy to use antigen tests came a week after Doni Monardo, Chairman of the Covid-19 Task Force, asked the regions to conserve their budgets for the handling of Covid-19. One thing Doni mentioned had to do with PCR testing. He asked that it be adjusted to the standard level set by the World Health Organization (WHO), namely one out of every 1,000 people per week. He cited Jakarta, where 90,000 people are being tested weekly, far above the WHO standard.
In West Java, Governor Ridwan Kamil has prepared mass antigen testing. The West Java government has received donations of rapid test kits from some groups and institutions, such as from the Bandung Institute of Technology (ITB) Alumni Association and state electricity company PLN's main unit for electricity service to West Java. Daud Achmad, Administrative Chairman of the West Java Covid-19 Task Force, said that West Java has been conducting random antigen tests at eight rest areas on the Cipularang and Cipali toll roads. From December 24-25, 133 travelers were tested. Two of them tested positive for Covid-19.
In Bali, Ketut Suarjaya, Chief of the Health Office, said that he received a supply of about 150,000 units of antigen test kits from the National Disaster Mitigation Agency (BNPB), the agency led by Doni Monardo. That amount, said Ketut, is enough to conduct testing during the New Year's holidays up to January 8, 2021. Some of those tests were sent to Gilimanuk Port. Bali is requiring all people arriving by land and sea to have antigen swab test results, which are good for three days. The Bali Government is providing free swab tests for logistics truck drivers—an average of 300 to 400 vehicles per day—who do not have antigen test results.
According to Ketut, this antigen testing policy is important in order to anticipate the spread of the coronavirus in Bali. In early December, Bali was among the top 10 provinces, with the highest rise in the number of Covid-19 cases. The number of positive cases there on Friday, December 11, increased by 110 to 15,292 patients.
Ketut could not yet confirm whether or not antigen testing will continue after the holidays end. "We will wait and look for any trends after two weeks," he said. Wiku Adisasmito, spokesman for the Covid-19 Task Force, said that the government will evaluate the results of this policy. It is possible that it will be continued. "If this policy is able to reduce the spread of the virus, it might be continued. However, we have to evaluate it first."
DEVY ERNIS (JAKARTA), AHMAD FIKRI, ANWAR SISWADI (WEST JAVA), MADE ARGAWA (BALI)