Foreigners Banned from Entering Indonesia
Edition : Monday, January 4, 2021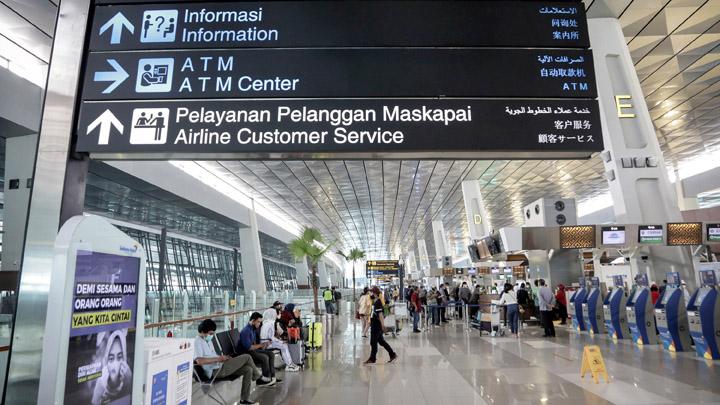 THE Indonesian government bans the arrival of foreign citizens after a new variant of the coronavirus broke out in a number of countries, especially in Europe. The policy is contained within the Covid-19 Mitigation Task Force Circular No. 4/2020 on the health protocol for travel during the Covid-19 pandemic.
"(We are) temporarily restricting the entry of foreign nationals from all countries from January 1 to 14, 2021," said Foreign Minister Retno Marsudi in Jakarta on Monday, December 28. Retno said that the restrictions exempt official state visits for ministerial level officials. Arriving parties of officials must also follow strict health protocols.
The government also imposed health requirements for Indonesian citizens arriving from abroad. According to Retno, arrivals must show negative results from the polymerase chain reaction test in their departing country. The test results are valid for 2 x 24 hours and arrivals are required to undergo another test when they arrive in Indonesia. If the result is negative, they must undergo five days of quarantine at government provided accommodations.
Health Minister Budi Gunadi Sadikin explained that the new variant of the coronavirus has a higher rate of infection. However, that strain has not proven to be more fatal than the previous one. "We do not yet know whether or not this new variant is already in Indonesia," he said.
W251bGwsIjIwMjEtMDQtMjEgMTQ6NDU6MzciXQ
New Strain from England
A NEW type of coronavirus was first discovered in England. This new strain is identified as the B117 virus. Minister of Research and Technology Bambang Brodjonegoro explained that this mutated virus is more contagious.
Coronavirus Variants
- 19A and 19B: Variants that developed at the start of the pandemic in Wuhan, China.
- 20A: Mutation from virus type 19A, dominating Europe at the start of the pandemic and spreading globally until now.
- 20B and 20C: Derivatives of the 20A line. They widespread in Europe and a number of countries in the Americas.
New Virus Timeline
- September 2020: The UK reports a coronavirus mutation.
- December 14, 2020: Thousands of British citizens contracted new variant of Covid-19.
- December 21, 2020: The World Health Organization (WHO) suspects that the new variant will not be more virulent, but more contagious.
- December 23, 2020: Singapore detects one case of Covid-19 from a variant that broke out in the UK.
- December 25, 2020: The health ministry forms a special team to study the new variant of the virus.
SOURCES: NEXSTRAIN.ORG, VARIOUS SOURCES
---

Raids on Jamaah Islamiyah Training Camps
POLICE's Special Detachment 88 counterterrorism squad raided the training centers of the Jamaah Islamiyah terrorist network in a number of locations in Central Java. One of them is a villa in Gintungan village, Bandungan, Semarang. "Young people are trained in military style to form troops," said Insp. Gen. Argo Yuwono, Chief of the Public Relations Division of the National Police, Sunday, December 27, 2020.
According to Argo, there were several types of training such as self-defense, ambushing, and bomb assembly. A total of 96 young individuals from a number of Islamic boarding schools participated in the training. After training, they would be sent to Syria.
Director of Law Enforcement of the National Counterterrorism Agency, Brig. Gen. Edi Hartono, stated that the Jamaah Islamiyah terrorist cells remain active despite having their leaders arrested. "During the pandemic they intensified their propaganda and continued to massively spread their ideology," said Edi.
---

Pastor Candidate in Papua Killed
A frater or prospective pastor, Silvester Hisage, was found dead in a ditch near a student dormitory of Cenderawasih University in Waena, Papua, Wednesday night, December 23, 2020. The frater from the Sorong Diocese, West Papua, who was undergoing postgraduate study at the Fajar Timur College of Theological Philosophy was found dead with abrasions on the elbows.
"The victim was found by two of his colleagues," said Chief of Public Relations of the Jayapura City Police, Adj. Comr. Jahja Rumra, December 28. According to Rumra, Silvester was pushed by someone, but the witness did not recognize the perpetrator.
Member of the National Commission on Human Rights, Beka Ulung Hapsara, asked the Police to reveal the cause of Silvester's death. Moreover, after recently several religious leaders in Papua were found dead. "We asked the police to investigate and find the killer," he said.