Bujang Raba's Carbon Blessing
The live of people living around the Bujang Raba protected forest, Bungo Regency, Jambi, changed after the forest is included in the carbon trade. Hoping for the related regulation to be issued soon.
Edition : Monday, January 4, 2021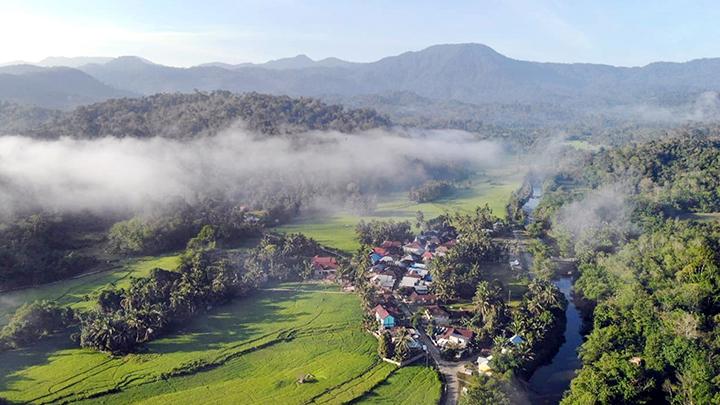 THERE are many changes to the activities of the people living around protected forest of Bukit Panjang Rantau Bayur (Bujang Raja) in Bungo Regency, Jambi. This year, for example, for wudu (ablution before praying in Islam), Lama Panjang Hamlet's residents do not need to walk down to Batang Mengkuang, whose distance is a stone's throw away from At-Taqwa Mosque. "Now the mosque has bathroom, toilet, and place for wudu," said Ibrahim, the secretary of Forest Management Institute of Batang Kelukup village, Taman Panjang hamlet, Monday December 28.
The additional facilities at At-Taqwa Mosque in Taman Panjang Hamlet could only be completed this year. The money came from the 2019 carbon trade that was cashed in 2020 to be dispersed to five villages around the Bujang Raba protected forest landscape. Two other mosques located in Laman Panjang received the same favors. Baiturrahman Mosque and Assuhada Mosque received aid for terrace development, podium, and water tank purchase.
Bujang Raba is one of the people-managed forests included within the carbon trade scheme with the assistance of an environmental group, the Indonesian Conservation Community (KKI) Warsi. According to the Director of KKI Warsi Rudi Syam, there had been revenue from the 2019 carbon trade. In 2019, the revenue was Rp400 million. As for 2020 was Rp1 billion. "Now there is revenue from carbon trade worth of Rp1 billion and will be dispersed in January," said Rudi on December 28.
There are two scales of valid carbon trade: community and industry. Bujang Raba is included in the first category. The purchase scheme is voluntary, that said individual or company buy carbon credit voluntarily as compensation for activities that produce emission. All of the purchases are conducted overseas. The amount is still diminutive and there is no domestic purchaser. Rudi explained that one of the challenges was there was not a final regulation on the carbon trade.
W251bGwsIjIwMjEtMDQtMjEgMTU6MzM6NTgiXQ
Coordinating Minister of Maritime Affairs and Investment Luhut Binsar Pandjaitan in a virtual event called The 9th Indonesian EBTKE ConEx 2020 held on November 25, 2020, said that the government was currently preparing a regulation on carbon credit. He hoped the mechanism could assist the greenhouse gas emission target of 29 percent or 41 percent with international support in 2030.
The government held public consultancy on the regulation draft on December 4. Executive Director of the Indonesian Renewable Society Community Paul Butarbutar, who participated in the event, said that the draft regulated carbon trade as an effort to achieve emission reduction target. One of the efforts was to set an emission limit on several industries and their obligations to buy carbon credit when their activities exceeded the threshold.
• • •
BUJANG Raba protected forest, with a total area of 13,529 hectares, is a forest that is still preserved. Dense trees were seen in the area. It is estimated there are 971 tree species, such as tebalun tree (Parashorea aptera), kalip meranti (Shorea parvifolia), bungo meranti (Shorea leprosula Miq), jelutung (Dyera costulata), kulim (Hydnocarpus woodii), antoi putih (Polyalthia sumatrana), antoi siamang (Diospyros macrophylla), antoi siluang (Dacryoides rugosa), and balam punai (Ganua spp). The area located 900 to 1,136 meters above sea level is also a corridor or crossing for wild animals, such as tigers, honey bears, siamangs (Symphalangus syndactylus), and a variety of birds.
According to Rudi Syam, at first KKI Warsi accompanied the people around the Bujang Raba forest for protection against deforestation. In 2009, Lubuk Beringin received village forest management rights in Bujang Raba area. "That was the first village forest in Indonesia," he said. Other villages followed. In 2013, five villages around the forest had gained the rights.
In 2015, KKI Warsi evaluated the forest. They found that from 1990 until 2013, there had been deforestation of 1.6 percent per year in 7,000 hectares of forest area. However, the deforestation stopped since the villages were given the forest management rights, and they felt the advantages, like good water flow that supported their paddy fields. Before the existence of the forest management permit, illegal forest encroachment and land clearing were rampant. "That was the time when we see the community opportunity for carbon trade," Rudi explained.
The idea was conveyed to the residents, but not everyone agreed. Ibrahim was one of them. "As a hamlet resident, I do not know what is carbon to sell or how to sell it," he said. Jamris Loup, Rio or Laman Panjang Head Hamlet said some people thought negatively. "They said the program to sell the carbon is a way to sell villagers," he uttered. Despite pessimistic residents, the idea materialized.
KKI Warsi started to register Bujang Raba to Plan Vivo, an institution that verified carbon scheme for community, in 2015. In the beginning, Warsi conveyed the preliminary program concept of Bujang Raba's carbon credit. Plan Vivo followed it up by sending a representative to conduct verification to the location. According to Rudi, the estimation calculation is simple: tree counting, specific gravity, and tree volume. From the calculation, it was estimated there were 470,000 tons of carbon credit for the next 10 years worth of US$6 per ton.
The first Bujang Raba carbon buyer was TUI Airways, a charter airline in the United Kingdom. It bought the carbon on the company's anniversary to offset its emission. After that, many individuals from overseas purchased the carbon. According to Rudi, KKI Warsi did not take revenue from the carbon purchase. Nevertheless, all costs to Plan Vivo was paid by the revenue. Plan Vivo also received a small amount, which was below one percent from revenue.
The advantages of revenue were all left to the residents' agreement. Rudi explained that the 2019 revenue was used for mass circumcision. "Truth is, most of the people could not afford it," he said. The rest was used for forest patrol team and school uniforms, stationery, and other schooling needs. Meanwhile, the 2020 revenue was mostly used for procuring the basic needs of five villages with total of 1,259 households.
Jamris added that now almost no one cut trees in the forest. Besides enjoying the benefits, people were afraid of legal consequences. There is a rule obliging people who cut a tree to replace it by replanting a tree under the condition that the cut trees were only used for public facilities and personal needs. "If not, there will be money penalty in accordance to the village consensus. As for the social penalty, the perpetrator will be broadcasted in the mosque's loud speaker," he explained.
While Bujang Raba participated in community scale carbon trade, Rimba Maker Utama participated in industrial scale. The company owns a restoration area of 157,000 hectares in Katingan Mentaya, Central Kalimantan. According to Executive Director of Rimba, Dharsono Harsono, his company registered the Katingan Project in 2017. Rimba's scheme to enter the carbon market was similar to Bujang Raba. Nevertheless, due to the industrial scale, verification was conducted through the Verified Carbon Standard, which was more complicated. "The examination is tighter than community scale," said Dharsono.
To take part in the carbon trading scheme, Rimba needs to convince people to take care of the forest and not burn it. In conservation area, there are 34 villages and 40,000 residents. "For that, we have save-loan program, education to farming without chemical substances, helping to market the produced goods, financial aids, building schools and others," he explained on December, 29.
The carbon produced by Katingan Project, said Dharsono, approximately 7 million tons per year. The forecasted price is US$2-6 per ton. Companies that buy Katingan carbon credit are oil producer Shell, automobile producer Volkswagen, gas company Tokyo, and Bank of America. The purchasing scheme is voluntary. However, he did not mention how much carbon sold by now.
Dharsono hoped that regulation on carbon trade would be issued soon. He considered that currently the industry had the need to reduce emission because it had become consumers' concern. The incentive for those taking care of the carbon is also expected to reduce forest fires. "The market has been manifested. Indonesia has a big potential in this," he added.
ABDUL MANAN, RAMOND EPU (JAMBI)