A Lifeboat for Local Filmmakers
The business of video-on-demand service provider is becoming a new opportunity for the local production houses to create different contents.
Edition : Monday, January 4, 2021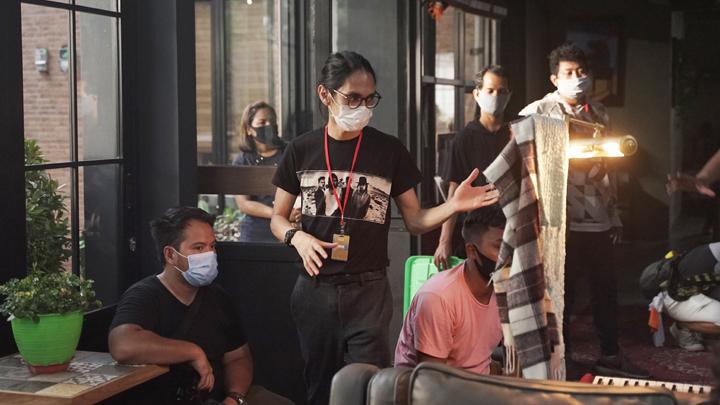 SHANTY Harmayn should have been working on her new film Akhirat: A Love Story which was supposed to begin filming in early April of 2020 but the Jakarta administration's large-scale social restrictions derailed her plan.
However, in the midst of the gloom came an innovative idea: to create movies that could be screened amid the pandemic. With her team, Shanty, also a producer with BASE Entertainment, set out to conceptualize the idea. "We finally decided to make small films and tie them together in an omnibus," Shanty recalled last Tuesday, December 29.
Subsequently, the shooting of five short movies began. BASE Entertainment partnering with Visinema Pictures, a production house headed by director Angga Dwimas Sasongko presented them in an anthology film titled Quarantine Tales.
On December, the short movies directed by five directors— Ifa Isfansyah, Jason Iskandar, Aco Tanri, Sidharta Tata, and Dian Sastrowardoyo—were first shown exclusively on Bioskop Online, a transactional video-on-demand (VoD) service provider under Bioskop Digital Indonesia—a business unit of Visinema Group—which offers special content for the Indonesian films.
W251bGwsIjIwMjEtMDUtMTIgMDg6MzI6NDQiXQ
Viewers only have to spend Rp10,000, exclusive of taxes, to watch Quarantine Tales for 48 hours without having to subscribe to the channel. The rates at the Bioskop Online are adjusted to suit the content chosen by consumers.
Previously, the online cinema screened Story of Kale, a segment of the movie Nanti Kita Cerita tentang Hari Ini (We Will Talk about Today Later), produced by Visinema Pictures. Like Quarantine Tales, the 70-minute-movie was filmed in the middle of the pandemic. The scale of the project is smaller than other big screen movies. "I designed it in such a way that it can be produced with ease and fun and low mobility," said the movie's director and script writer, Irfan Ramli.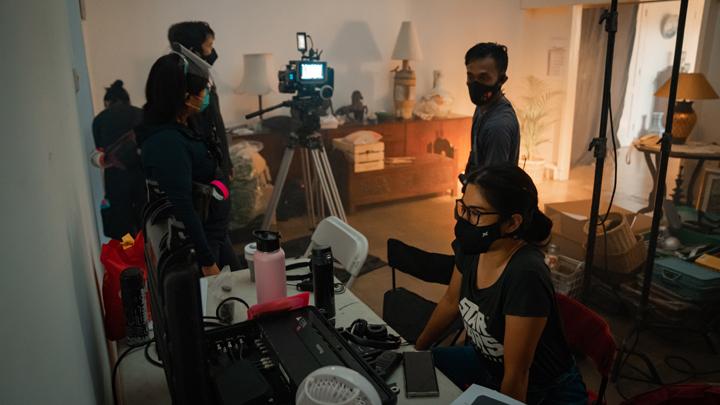 Quarantine Tales production process. Photo: Base Entertainment Doc.
Story of Kale exemplifies the type of movie that fulfills the need for new content when Bioskop Online started to operate on July 2020. In the first 10 days of screening alone, it drew 200,000 viewers, an achievement that brought relief to Ajeng Prameswari, President of Digital Business Visinema Group.
Ajeng said the digital platforms had offered a broader medium for both creators and viewers. Their presence also helps boost demands for distribution channels which in turn benefits augment producers' income. "Producers can make more films and hopefully the industry will grow," Ajeng said last Wednesday.
Seeing the huge opportunity, Visinema now adopted two production models for big and online screens. Besides movies, digital platforms also broadcast TV serials.
Service providers also vie to present original series to generate viewers' interest. Take GoPlay for instance. Since its entry to the market last September, the over the top (OTT) VoD screening platform from the tech company Gojek routinely screens new local series. One of them is Jadi Ngaji, the first movie by Arseri Creative House, which debuted in October.
Muthia Zahra, the director and script writer of Jadi Ngaji, said the VoD channel offered creators opportunities to convey lengthy messages longer. The challenge is for creators to come up with new and different content.
GoPlay's Chief Executive Officer Edy Sulistyo said that the platform they developed indeed had a mission to support and accelerate the national film industry's growth. It has a myriad of programs to help develop the movie ecosystem, among others, the script doctor program which facilitated the making of Jadi Ngaji. "To encourage filmmakers to keep producing movies with superb storytelling," Edy said.
Collaborating with local filmmakers, GoPlay has also produced several original series such as Saiyo Sakato, Tunnel Indonesia, Gossip Girl Indonesia, Filosofi Kopi the Series, Kata Bocah The Show, and Bukan Keluarga Biasa.
•••
LIKE the entertainment and tourism sectors, the film industry was hit earliest at the start of the pandemic. All the conventional cinema networks—the largest revenue contributor in film production—were shut down and film production came to a grinding halt in the first semester of 2020. So, producers began eyeing the over-the-top video on demand (OTT VoD) service which had become all the rage among Indonesian viewers in recent years.
Traditionally, OTT VoD platforms stream movies which are already shown in conventional cinemas although some filmmakers do make movies specially for both local and global OTT VoD channels. "But the number is not huge. Market penetration is crazy and it also needs huge capital," Irfan Ramli explained.
The pandemic is pushing the digital cinema ecosystem to move faster. Shanty Harmayn noted that production houses have begun to explore new channels since mid-2020.
Last year, before working on Quarantine Tales, BASE Entertainment made an Indonesian version of the Tunnel series for GoPlay audience. BASE is now making an animated series titled Trase to be streamed on Netflix in 2021.
Shanty also explained content screening processes in OTT VoD platform are varied. Usually both the creator and the platform provider search for and present content ideas (to each other). Payments vary depending on the type of streaming service and products. "Everything depends. We can't say it's too big or too small but there is a huge range of variants," she said.
Nonetheless, content is the main merchandise of OTT VoD providers. They must prepare huge funds to provide a rich array of quality movies to attract larger audience. Local players such as Mola TV earmarked an annual budget of US$70 million, equivalent to almost Rp1 trillion. Meanwhile, Netflix, a global streamer that has taken the Southeast Asian market by storm, spent US$14.6 billion or over Rp200 trillion in 2019 for contents.
In the past five years, Netflix has doubled its content for Southeast Asia including 500 titles added this year. In Indonesia, the United States-based streaming giant collaborated with several local filmmakers for both distribution and production funding. They have also bought licenses for a number of films by local production houses namely Starvision, Falcon Pictures, Visinema Pictures, Lifelike Pictures, Miles Films and BASE Entertainment.
The first local original movie made for Netflix by an Indonesian filmmaker was The Night Comes for Us of 2018. Most recently, it has two original movies directed by Nia Dinata and Hadrah Daeng Ratu. They are scheduled to hit the screen in 2021. "We are aware that we need hyperlocal content that is relevant to Indonesian viewers," said Netflix's spokesperson via Charista Aprilia of Keystone Advisory Indonesia, a public relations agency, last Thursday. "Therefore, we collaborate with local creators to determine what kind of movies and series we can produce and buy here."
AISHA SHAIDRA, KHAIRUL ANAM