Playing Against the World
The ongoing pandemic is a blessing in disguise for subscription-based video platforms. Local service providers are going after niche market to compete and survive amid the dominance of global players.
Edition : Monday, January 4, 2021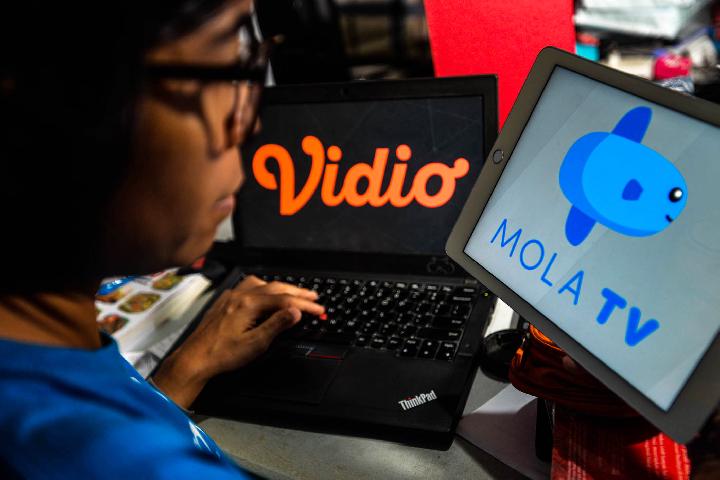 GUSTIDHA Budiartie, Ardyan Erlangga, Wisnu Prasetyo, and Putri Werdiningsih are four customers of subscription-based video services who each have their own distinct behavior. The way they consume on-demand video from over-the-top (OTT) companies, and their motivation for doing so, seem to represent the emerging consumers of future television and cinema that are now beginning to grow exponentially.
Gustidha, an employee in a state-owned corporation, is a huge fan of drama and pop music from South Korea. She usually spends at least two hours every day to watch Korean movies and TV shows. When she is binge watching, she could add hours more to the total duration. "I could spend up to three days to watch all episodes from a drama series," she said on Thursday, December 31.
She knows well that the hobby requires her to spend more. When Viu and Netflix first became available in Indonesia, she immediately subscribed to the two video-on-demand (VoD) services. But that is not enough. "What is not there, I will watch through Telegram group ilegally," she said, bursting into laughter. "Better than having my money drained."
Gustidha had also planned to subscribe to WeTV when the OTT VoD, owned by Chinese giant Tencent, entered the Indonesian market in 2019. Aside from Chinese TV shows, WeTV's library also includes Korean drama.
However, the former journalist knew better than letting herself subscribe to too many VoD services. Aside from Netflix and Viu, she owns a Disney+ Hotstar account. She is specifically using Walt Disney's OTT platform to watch Avengers and Star Wars movies, and also animation by Pixar production house. She occasionally rents movies from Apple TV as well. In addition to all that, Gustidha often buys herself a slot in the payment-based K-pop online concert through V Life and Weverse platforms.
Meanwhile, Ardyan is an ardent fan of movies. This private-sector worker subscribes to three OTT platforms: Netflix, HBO Max, and Criterion Channel. Netflix and HBO Max are his choice of platform for contemporary international movies and TV shows. In Criterion, he watches classic movies curated by the United States-based DVD distribution company. "Ideally, it should be a balance between older and newer movies. But that is not available through any single platform, other than piracy or illegal streaming," said the 33-year-old man. "So, subscribing to these three services is the best middle ground."
HBO Max and Criterion are not yet officially available in Indonesia. To gain access, Ardyan uses virtual private network (VPN) service on his mobile gadgets and smart TV. He spends Rp476,000 a month to subscribe to the three OTTs. "For Criterion, I paid for a whole year at once," said Ardyan.
Putri is going back and forth between being an occasional VoD subscriber and bundled internet data plan bargain hunter. She would only subscribe to a service when it provides a particular content she is currently after, for the right price. Once a subscriber of Netflix, she quit after feeling that the cost was getting too expensive. Putri switched to Disney+ Hotstar in early September 2020, paying the special monthly subscription price of Rp20.000 for Telkomsel customers.
She then stopped the service for two months, before going back subscribing to Disney+ Hotstar when the OTT platform released the movie Mulan in early December. "Also to provide more varied contents for children through Disney," said this employee of a private company in South Jakarta, on December 31.
Putri also bought WeTV subscription when the Chinese OTT platform released the My Lecture My Husband TV show starring Reza Rahadian and Prilly Latuconsina. The service's monthly fee of Rp15,000 is deemed sufficiently friendly for her wallet. "My WeTV subscription only started two weeks ago."
Meanwhile, Wisnu is a kind of customer who watches bits of everything, especially during the Covid-19 pandemic. He subscribes to four different OTT platforms at once. Wisnu, a lecturer at Gadjah Mada University in Yogyakarta pulls hundreds of thousand of rupiah out of his wallet every month to watch contents from Netflix, Mola TV, Viu, and Vidio.
Netflix is Wisnu's preferred source of contemporary international movies and TV shows. Viu is for Korean drama. He turns to Mola to watch the English Premier League soccer matches, while Italian and Spanish leagues, and also the Champions League, are available through Vidio. "I have been subscribing to the OTTs since the pandemic, except for Mola," said Wisnu. "It is difficult to go out of the house, so I have to find my own source of entertainment."
For Gustidha, Ardyan, Putri, and Wisnu, Netflix is almost always their first choice of subscription-based video on-demand service. This is in line with a market research by Media Partner Asia. Released in September 2020, it shows that Netflix leads the subscription-based video on-demand service (SVoD) in four Southeast Asian countries, namely Indonesia, Singapore, Thailand, and the Philippines, with a market share of 39 percent. Viu is in second place with 17 percent market share.
As of the second quarter of 2020, there were 10 million SVoD subscribers in the four countries, growing by 3 million compared to the previous quarter. There has been significant growth in Indonesia, Thailand, and the Philippines. Netflix, whose library includes United States and international movies and TV shows, Korean drama, and local contents, has 3.3 million paid subscribers. Meanwhile, Viu's complete collection of Korean drama helps it obtain 2.2 million paid customers.
Finding itself surrounded by international SVoD players, Vidio, an OTT platform owned by Elang Mahkota Teknologi (Emtek), managed to secure the fourth spot in the four Southeast Asian countries. Although only dominant among Indonesian viewers, Media Partner Asia noted that Vidio has amassed 804,000 paid subscribers by mid-September 2020.
Vidiocom Vice President Brand Marketing, Rezky Yanuar, is reluctant to confirm the company's number of paid subscriber as reported by Media Partner Asia. However, he said that Vidio has reached 60 million monthly viewers. "That is the total amount from the website and application," said Rezky through video call on Wednesday, December 30.
How do other, local SVoD players such as Mola, GoPlay, and Telkomsel's Maxstream compete in the VoD market in domestic and regional levels? "We do not usually share data," said Mirwan Suwarso, an official representative of Mola TV, on Wednesday, December 30.
Mirwan, who spent years developing MySuperSoccer—another digital venture by Djarum Group—is now tasked by Victor Hartono, the eldest son of Djarum Group owner Robert Budi Hartono, with handling Mola TV under Polytron's (Hartono Istana Teknologi) banner. "We do not need to be the largest or most famous. It is more important to be useful and healthy," said Mirwan, who once lived in Italy for a long time.
•••
BEFORE it turned into a blessing in disguise, the Coronavirus Disease 2019 (Covid-19) initially hit Vidio hard. The service faltered when the government began imposing large-scale social restrictions in March 2020, and international soccer matches—and also local leagues—were halted. At the time, sport matches were Video's killer content.
Looking for a wayout of trouble, Vidio was ultimately saved by two things. First is the management's decision to give away all content for free. Paid subscription was not required in the month of April. Secondly, Vidio began show casing prime contents from categories other than sports.
Their choice of new content to show to consumers is a collection of Warkop DKI movies starring the original trio of Dono, Kasino, and Indro. Emtek Group and Surya Citra Media (SCTV and Indosiar) happen to own the rights to the movies. "We promote them as content hero. The result was remarkable," said Rezky Yanuar, Vidiocom Vice President Brand Marketing. "We have also been acquiring Korean drama since April. One of those that garner quite an enthusiastic response is The World of the Married TV show."
Like Vidio, Mola TV had to find an alternative to the English soccer league, which was suspended for months. "The pandemic forced us to open our eyes all of a sudden," said Mirwan Suwarso.
Mola began purchasing contents aimed toward children and housewives in large quantities. Mola Kids is skyrocketing amid the pandemic. "Turns out there is a huge market for children's content," said Mirwan. Once known for its sports contents, Mola now also owns three additional main categories: movies, life, and kids.
For Alexander Rusli, content is the decisive factor in the on-demand video business. Alex, who once led Iflix Indonesia—an OTT platform from Malaysia before it was acquired by Tencent—said that he had difficulties in trying to find local content to serve to Indonesian audience. "It was hard to find sustainable content. Iflix finally entered into sponsorship of movies and TV shows," said Alex on December 29.
The strategy carries its own risks for smaller OTT service providers with less-than-deep pockets. Even global players like Netflix, said Alex, are still facing the possibility of having their movies or original productions performing below expectations. According to Alex, this situation puts Vidio at an advantage. Owned by Emtek, the OTT is supported with vast a library of contents from the inventory of SCTV, Indosiar, and other businesses belonging to Emtek.
Rezky Yanuar agrees with that assertion. "We have incredible support from the TV stations. Vidio gets help from its older siblings," he said.
Despite lacking a massive content library like Vidio, Mola remains confident to compete in the capital intensive business. Mirwan said that his company allocates a content acquisition budget of US$70 million annually in order to grow the business. For Mirwan, the sum is quite large, although still much smaller than Netflix's content budget of up to US$14.6 billion in 2019. "Netflix plans its budget on a global scale," said Mirwan. "If narrowed down to just Indonesia, perhaps we are comparable."
Aided by Polytron smart television products and multi-channel distribution, Mola is confident that it will be able to achieve a target of 1 million paid subscriber. "That is the break-even point, because we are also reaching into international markets," said Mirwan. "We have been producing global content. We already set foot in Italy. We will soon expand to Southeast Asia."
Meanwhile, GoPlay, an SVoD platform owned by Gojek, entered the fray by offering local movies and TV shows. Instead of one-time purchase of distribution rights, GoPlay pursues a strategy of revenue sharing for GoPlay Original, popular contents, and GoPlay Indie. "Revenue sharing could provide stimulus for filmmakers to continue increasing the quality of their work," said GoPlay Chief Executive Officer Edy Sulistyo in a written statement sent on December 31.
Acknowledging the popularity of Korean drama among Indonesian audience, GoPlay established partnership with CJ ENM, the entertainment company under Cheil Jedang Group. From the partnership, GoPlay obtains a license to distribute CJ ENM's TVN contents starting from October 2020. "Dozens of contents from TVN complement our local content catalogue and Asia Premium contents," said Edy.
Maxstream's business strategy seems to be a stand-out among local SVoD players. Instead of providing exclusive SVoD service, Maxstream is acting as a marketplace for other on-demand video OTT platforms. Maxstream, for example, bundles its Internet data plan with subscription access to VoD service partners, such as the Maxstream Rp69,000 plan that includes a 7 gigabyte (GB) data quota for watching content from HBO Go, Vidio, and Viu. Of course, this service is only available through Telkomsel's cellular network. "The collaboration between VoD providers will become a core strength in the development of Maxstream service platform," said Telkomsel Video General Manager, Luthfi Cahya Wibisono, in a written statement on December 30.
In other words, Telkomsel is not using Maxstream to sell content, but rather Internet data. Thanks to Maxstream and other digital services, Telkomsel's digital business recorded a 10.6 percent year-over-year growth in the third quarter of 2020. Digital business contribution to the company's total revenue reaches as high as 73.2 percent. "Years of continuous growth and investment have enabled Telkomsel to accelerate the development of its digital businesses," said Luthfi.
Rezky Yanuar admitted that video on-demand has become a very attractive business, much like the earlier days of e-commerce and ride-hailing growth. "But do not forget that Hooq closed down and Iflix was acquired by WeTV (Tencent)," said Rezky.
Amid the tight competition and looming shadows of global players, Edy Sulistyo and GoPlay believe that, eventually, the VoD industry in Indonesia will not end in a winner-takes-all situation. "We can learn about many things from global companies, including how they successfully built their business and consumer base," said Edy.
That spirit is beneficial for consumers like Gustidha Budiartie, Ardyan Erlangga, Wisnu Prasetyo, and Putri Werdiningsih. There will be plenty of choices of video on-demand to suit every kind of taste and budget.
KHAIRUL ANAM, AISHA SAIDRA
W251bGwsIjIwMjEtMDUtMTEgMDU6NTc6MDYiXQ