The Nickel King Ambition
The government is making plenty of efforts to attract investment in battery manufacturing, chasing the ambition to become a major player in the global electric car industry. State-owned energy companies are consolidated to serve as partner of global investors with interests in Indonesia's nickel reserves.
Edition : Monday, January 11, 2021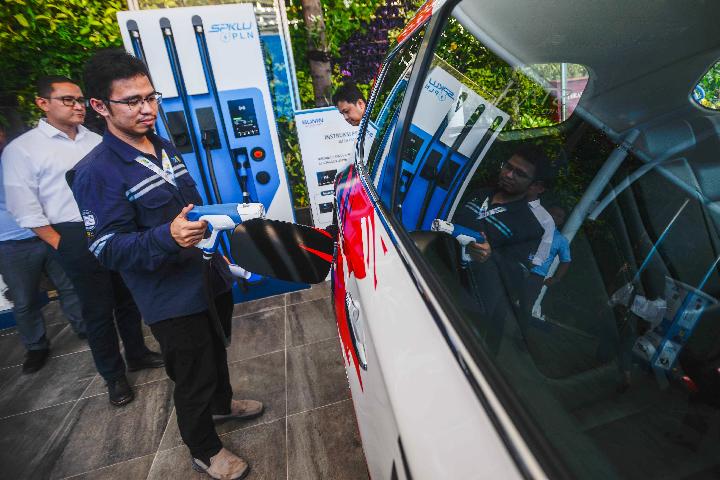 MUHAMMAD Ikhsan Asaad is always excited whenever he talks about battery-based electric vehicles. To Ikhsan, Director of Mega Project at state electricity company PLN, electric vehicles are a game changer. "The future of our nation lies there," he said when met at PLN headquarters in Jakarta, Wednesday, January 6.
Electric vehicles are also PLN's future. The company will become the new king in the battery electric vehicle or BEV ecosystem. PLN will be the provider of electricity for all electric vehicles. Its role will push aside oil and gas companies, both nationally and globally, which have been the supplier of fossil fuel for conventional vehicles. This new line of business will also solve PLN's electricity surplus problem that has been going on for years.
Later, PLN will also join the Indonesia Battery Holding (IBH), a consortium consisting of four state-owned enterprises (SOEs) that will collaborate with world battery manufacturers to build an electric vehicle battery industry under an end-to-end business scheme. "At the end of 2019 we were actually involved. But the letter of assignment from the SOEs Minister Erick Thohir was only issued in February 2020," Ikhsan said.
PLN was initially outside the circle when Mining Industry Indonesia (MIND ID)—the new brand of Indonesia Asahan Aluminum (Inalum) as the holding company for mining SOEs—started approaching several global battery players. Since 2019, MIND ID has been working with Aneka Tambang (Antam)—a holding member with concessions over a number of nickel mines to supply raw material for electric vehicle batteries—and Pertamina, which will look for potential business partners.
W251bGwsIjIwMjEtMDUtMTEgMDQ6NTc6MTEiXQ
During President Joko Widodo's second term, the SOEs minister was replaced. And so the policies changed. Erick Thohir included PLN in the trio. The entry of PLN marks the start of direct state involvement in preparing for electric vehicle industrialization, including finding investors.
On December 18, 2020, for instance, the Investment Coordinating Board (BKPM) signed the investment memorandum of understanding (MoU) with LG Energy Solution Ltd—a battery company under LG Chem, a subsidiary of the LG Group—a South Korean electronics giant. LG will build a battery factory in partnership with IBH.
BKPM Chief Bahlil Lahadalia said that the total investment required from upstream to downstream is US$9.8 billion or around Rp142 trillion. "We want it to happen in Indonesia, from upstream to downstream. From the start until the battery is made and then recycled," Bahlil said by phone on Friday, January 8.
***by
THE government's ambition to accelerate the preparation for BEV ecosystem, a.k.a. pure electric vehicles, first surfaced around the time of the issuance of Presidential Regulation No. 55/2019. The acceleration agenda is carried out by providing incentives, battery-charging infrastructure, as well as regulations on electricity rates for BEV, the technical provisions for battery electric vehicles, and environment protection. Through this regulation, the government is aiming for BEV production to account for 20 percent of the projected 2 million units of car production by 2025.
A number of incentives to lower the sales price of BEV have been implemented. BEV is exempted from import duty for the first three years, as well as luxury goods tax. The Jakarta Provincial Government has also exempted BEV from cost of transfer taxes, which is up to 12.5 percent of the vehicle's selling price. A number of local governments are also planning to follow Jakarta's policy.
In the infrastructure sector, the Energy and Mineral Resources Minister Regulation No. 13/2020 was issued. It governs the provision of electricity charging infrastructure for battery-run electric vehicles. The goal is to ensure the availability of charging stations for vehicle owners. "Infrastructure development can be carried out by PLN or other business entities in collaboration with PLN, or to run it independently. There are many schemes," said Hendra Iswahyudi, the Energy Ministry's Director of Electricity Business Development, in a video call, Friday, January 8.
Energy Minister Regulation No. 13/2020 also regulates electricity rates for charging stations. Ikhsan Asaad admitted that before the ministerial regulation was issued, PLN was initially building charging stations everywhere. After the regulation was issued, PLN opened opportunities for all parties—both individuals and companies—to build their own public electric vehicle charging stations (SPKLU) on their lands. "In the future, there will be more SPKLUs. Pertamina, other private companies, are welcomed," he said.
According to Ikhsan's records, there are 35 SPKLUs built by PLN partners. "Bluebird built 15 units. We only help with supervising."
Before, many were concerned that the limited availability for charging infrastructure would hamper the BEV industry's development. Slowly, charging car batteries has become simpler. Hyundai, for example, included a fast-charging adaptor in the electric cars they sell. Buyers can easily charge their cars at home, or anywhere they need to. "No need for queuing," Makmur, Chief Operating Officer at Hyundai Motors Indonesia, wrote to Tempo, Friday, January 8.
For a household to be able to charge their electric cars, PLN calculated that it should have at least 5,500 volt amperes. PLN collaborates with Hyundai to obtain information about Hyundai electric cars buyers. "We will know when people buy the car, and our marketing staff will ask them whether they want to increase their power or not," Ikhsan said.
Prior to the issuance of Presidential Regulation No. 55/2019, a number of factories were already selling pure electric cars in Indonesia—battery-run electric cars, or BEVs, did not include hybrid cars. BMW released the BMW i3 in mid-2019. Tesla was also being distributed by importers. However, the price of both cars exceeded Rp1 billion. The price of a Lexus UX 300e, launched by Toyota Astra Motor in November last year after the presidential regulation was issued, is also still above Rp1 billion.
Practically, there are only two products with prices below that: Hyundai's Ionic and Kona. When launching the products in November 2020, the South Korean factory immediately became the talk of industry actors in Indonesia. Moreover, the cars are used as the official cars of Transportation Minister Budi Karya Sumadi and West Java Governor Ridwan Kamil.
Toyota, ruler of the conventional car market in Indonesia with a 32.2 percent share in 2019, tried to relax over Hyundai's popularity. Henry Tanoto, Vice President Director of Toyota Astra Motor (TAM), said that the existence of competitors in the electric car market only help popularize the technology. Henry said that Toyota will still focus on the hybrid car market, which they launched in Indonesia 10 years ago. "Customers can choose which technology suits them better," he said through a chat app on Wednesday, January 6. According to TAM's records, 2,500 units of hybrid cars have been sold as of December 2019.
Toyota is lagging behind in the pure electric car market competitive. Since 1997, Toyota has opted focusing on hybrid technology. As a result, of the 2.264 million pure electric cars sold worldwide in 2019, none was made by Toyota. The Prius Prime, which is Toyota's plug-in hybrid vehicle, is not considered a pure electric vehicle.
Toyota only started selling its first pure electric car on the Chinese market in April 2020 through its joint venture company, GAC Toyota. According to Nikkei's report, from January to October 2020 Toyota only managed to sell less than 2,000 units of the BEV version of the C-HR in China, the world's largest electric car market. The latest news from Toyota is that it would bring the product to the European market this year.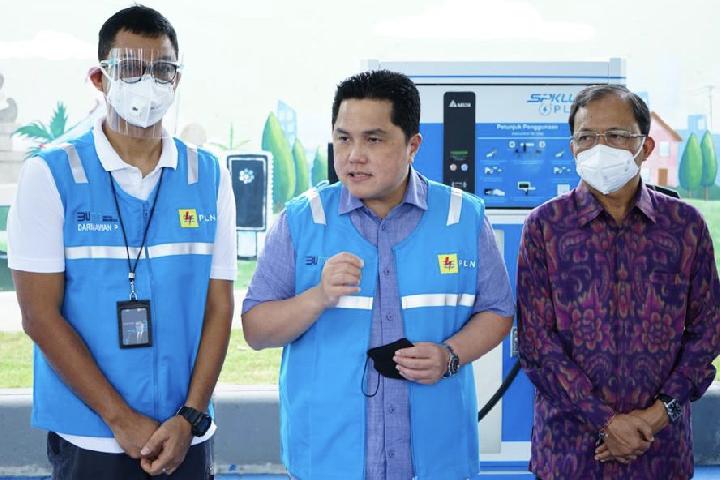 SOEs Minister Erick Thohir (center) with Deputy Director of PLN Darmawan Prasodjo (left) inspecting the South Bali Public Electric Vehicle Charging Station (SPKLU), January 2. bumn.go.id
What about the Indonesian market? TAM will start its work by introducing the ultra-mini electric car. The car is not widely available for public just yet, and will be used as transportation in the Nusa Dua enclave managed by the Indonesia Tourism Development Center starting this year. "The goal is to familiarize people with BEV," Henry said.
Sharing Henry's statement, Toyota Motor Manufacturing Indonesia's (TMMIN) Director of Administration, Corporate and External Relations Bob Azam said the company always listen to what customers want when producing vehicles. "We can't just push a product. The customer decides," Bob said in a video call on Thursday, January 7.
Previously, Toyota Motor Corporation—the parent company of TMMIN—was committed to increase its investment in Indonesia by Rp28 trillion until 2023. One of the goals is to produce electric cars.
According to Bob, until then, Toyota had only been developing hybrids. Toyota does not have a projection about when it would start developing pure electric cars in Indonesia. "We have to build cars that can be used in Indonesia and the export market. Not the other way around, importing cars to Indonesia," Bob said.
•••
NEARLY a month since the Investment Coordinating Board and LG Energy Solutions signed the MoU on electric vehicle investment, Indonesia Battery Holding was still working on its derivative cooperation clauses with LG. In this consortium, four SOEs will have equal amount of shares. The clause is quite complicated, because in each supply chain there will be a number of joint ventures.
In the upstream, Antam will be the majority shareholder as owner of the mining concession and nickel ore processing facility. It will process nickel ore into nickel sulfate.
The midstream process starts from processing nickel sulfate into precursors and cathodes. In this phase, Ikhsan Asaad said, LG as the technology owner will play an important role. The production chain in the middle stage will continue downstream. There will be another company to work on this—again, a joint venture between LG and a consortium—to produce prepackaged and ready-to-sell lithium batteries.
"PLN's part begins in the midstream," said Ikhsan, who is also head of the consortium's project management work team. "Pertamina will enter in stage of producing precursors and cathodes, together with LG."
According to Bahlil Lahadalia, the cooperation scheme between LG and the SOEs consortium is the most complete, from upstream to downstream. "The QMB investment in Morowali is not like this LG concept," said Bahlil, comparing the two lithium battery investment models. QMB New Energy Materials, which is composed of several companies from China and Japan, is building a precursor and cathode production facility in Morowali, Central Sulawesi.
Bahlil admitted that LG's investment structure is rather special as it was initiated through a bilateral agreement between President Joko Widodo and South Korean President Moon Jae-in in November 2019. According to Bahlil, Jokowi asked him to oversee LG investment personally, all the way to the cooperation structure and incentives. However, in terms of agreements with Indonesian companies, he leaves all negotiations entirely to SOEs. "LG wants to be paired with SOEs. CATL (Contemporary Amperex Technology) does, too," Bahlil said. "Investment is an art."
Ikhsan said that before being matched with LG, the consortium had discussed with six world battery companies. One of them is Toyota-Panasonic, which the Inalum-Pertamina duo first approached in 2019. There were also Samsung, Farasis Energy, and CATL. At the last minute, Ikhsan added, only two were deemed suitable: LG and CATL.
While LG has signed an agreement with the BKPM and only has to settle the principal agreement (HOA) with the consortium, CATL is still conducting a due diligence on Antam's nickel mine, which will supply the raw materials needed for making lithium batteries. "Hopefully, in the first quarter, all of the HOAs would be signed," Ikhsan said.
The consortium, Ikhsan added, is also still waiting for the results of discussions between the Coordinating Ministry for Maritime Affairs and Investment and Tesla, the world's electric car giant interested to invest in Indonesia. Ikhsan and Bahlil believe that as owner of 23.7 percent of the world's nickel reserves, Indonesia can attract global battery and electric car manufacturers to invest in Indonesia.
KHAIRUL ANAM, RETNO SULISTYOWATI