Local Batteries Waiting for Investors
Researchers from the Sebelas Maret University in Surakarta and the Indonesian Institute of Sciences created a lithium battery for electric vehicles. They are hoping to partner with domestic investors.
Edition : Monday, January 11, 2021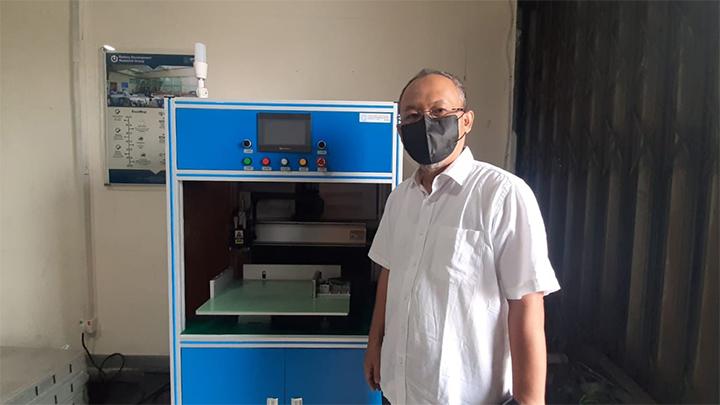 THE 1,000-square-meter factory belonging to the Science and Technology Center of Excellence for the Electricity Storage Technology College on the campus of Sebelas Maret University, better known as UNS, in Surakarta, Central Java, can produce 3,000 battery cells per day. However, the production capacity of their lithium battery, called Smart UNS, is intentionally being limited for their own needs and requests from other research agencies outside the campus. "Most of them are needed for use in prototypes of new products," said Muhammad Nizam, coordinator for the team of lithium battery researchers at UNS's Engineering Faculty, on Thursday, January 7.

The UNS, according to Nizam, has been researching and developing batteries for electric vehicles since 2012. At that time, President Susilo Bambang Yudhoyono named five state universities to conduct research and development on a national electric automobile (Molina). Each campus was asked to focus on one electric car primary component: batteries, controller, electric motor, and battery management system. UNS was asked to conduct battery research. "At that time no one was interested with batteries. In addition to being complicated, battery research is very costly," said Nizam.

Unexpectedly, electric car batteries have become a prime research field. In 2019, the Ministry of Research and Technology named this type of research as a national priority for 2020-2024. Because UNS had experience in this field, the Ministry assigned them to be the coordinator of the Lithium Battery Research Consortium. Its members include the Indonesian Institute of Sciences (LIPI), the Agency for the Assessment and Application of Technology (BPPT), the Ministry of Industry's Research and Development Center, universities, and state-owned enterprises.

Smart UNS is a lithium ion battery created by a team of researchers led by Agus Purwanto, a lecturer in chemical engineering at the UNS Engineering Faculty. There are two types of Smart UNS batteries, namely the LFP 18650, which is a 3.2 volt battery with a 1,400 milliamp hour capacity, and the NCA 18650, which is a 3.7 volt battery with a 2,700 milliamp hour capacity. The LFP 18650 is a lithium ion cell battery with a lithium iron phosphate (LiFePO4) cathode, while the cathode in the NCA 18650 is made from lithium nickel cobalt aluminum oxide (LiNixCoyAlzO2).

According to Nizam, his team has researched many combinations of materials for making lithium ion batteries. They finally decided to focus on batteries made from nickel and iron (ferrum). "Batteries made from nickel (NCA and NCM or lithium nickel manganese cobalt oxide) have high density, are more compact in size, and more economically priced. However, these batteries do not work well when hot," said this man who earned a doctoral degree in electrical engineering from Kebangsaan Malaysia University in 2008. "Batteries made from ferrum (LFP) are more expensive and heavier, but are superior from the aspects of safety and durability."

Nizam said that many famous battery producers prefer to manufacture nickel batteries. However, UNS has been more interested in developing LFP-type batteries. "We are looking for differentiation," he said. The development of nickel batteries, according to Nizam, will run up against a well-established industry. LFP batteries have a less-popular market share, for use in public transportation vehicles and heavy construction equipment. "Those do not have much of an issue with battery weight," he said.

Bambang Prihandoko, who is also a coordinator of the working group, known as the work breakdown structure 2 (for active materials and plates) at the Lithium Battery Research Consortium, said that LFP batteries are safer because they have a phosphate web structure which retains oxygen strength so that it does not easily separate, preventing a reaction between oxygen and carbon. "So no fires or explosions will occur," said Bambang, a senior researcher at LIPI's Physics Research Center, responding to a WhatsApp message from Tempo on Tuesday, January 5.

On top of that, according to Bambang, the lithium ions in LFP batteries can all move, which means efficiency is nearly 100 percent. "The lifetime of a LFP battery can reach 15,000 cycles or 21 years," said this creator of Indonesian lithium battery. In this way, he added, the life of electric automobiles and batteries can be as long as the internal combustion engine and conventional automobiles. Bambang said that the LIPI consortium has developed LFP and lithium manganese phosphate (LMP) batteries because they are safer and last longer.

According to Bambang, the ideal lithium battery for electric vehicles has a high voltage and large capacity. This can be found in NMC batteries, as long as their safety and lifetime aspects are taken into consideration. "So that NMC batteries can have fast charging and discharging capability, their graphite anodes are replaced with lithium titanate (Li2TiO3). After that, NMC batteries become titanate batteries," said Bambang, who holds patents for the manufacture of an LiMnFePO4 active material cathode, NaLiTO anode, n LiBOB electrolyte, and the Red-and-White lithium battery cell.
Lithium batteries made by UNS. Tempo
The issue of materials used in lithium ion batteries is taken into consideration by researchers when determining the preferred type of battery. According to Nizam, iron is easily obtainable domestically. "Actually, Indonesia also has nickel mines, but most of them are controlled by foreign companies," he said. According to Nizam, this has made the production of nickel-containing batteries less economical.

The lithium supply still depends on imports. Some research has been done using other materials in place of lithium. "However, lithium is still the lightest for energy storage," he said.

According to Bambang, Indonesia has a rather large reserve of lithium. "The amount of lithium carbonate (Li2CO3) in the Java Sea is three times more compared other bodies of water in the world. This consortium has the technology to collect it and it is currently being developed in order to increase production capacity," he said.

Bambang added that lithium can be taken from geothermal water, which has great potential. They are cooperating with Indonesia Power to utilize water left over from distillation at the Lontar Steam Power Plant in Tangerang Regency, Banten. "We are currently designing the process," said Bambang via WhatsApp message on Thursday, January 7.

He also said that lithium plays a dominant role in cathodes and batteries, even though its weight and composition is small compared to other metals. As a comparison, according to Bambang, 200 kilograms of lithium carbonate are required to produce 100,000 lithium ion battery cells per day. He is optimistic that the research and development done by himself and the consortium can grow the national lithium battery industry through national licensing and minerals from Indonesia.

He added that the battery factory at the Physics Research Center at the Science and Technology Research Center in Serpong, Tangerang, is still a pilot plant. Bambang is targeting future production of 100,000 lithium battery cells per day.

Unlike Bambang, Nizam said he has not seen any domestic investors interested in developing lithium batteries, even though their side is ready for partnerships. "Investment is no longer large because the research has been done," he said. "Foreign companies that invest in batteries in Indonesia mostly have their own research institutions."
DODY HIDAYAT, AHMAD RAFIQ (SURAKARTA)
W251bGwsIjIwMjEtMDQtMjEgMTY6MDQ6NDkiXQ