Between Bed and Bedlam
Covid-19 patients struggle to find isolation rooms. Occupancy rate of isolation beds in the Capital reaches 87 percent.
Edition : Monday, January 11, 2021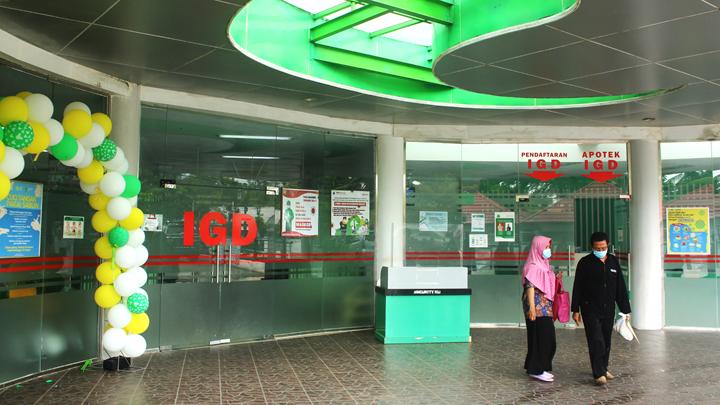 APPROACHING the end of 2020, Intania Fransiska Shalihah was never far from her phone. The 22-year-old woman was desperately calling hospitals in Semarang, Central Java, and nearby cities in search of a vacant intensive care unit (ICU) room for her mother who was being treated for the coronavirus at the Ungaran Regional General Hospital (RSUD). She sought help online through social media, asking anyone for information on a vacancy.
Intania contacted her colleagues at St. Elisabeth Hospital in Semarang during her search, but to no avail. "It had been asked to nurses of all hospitals throughout Central Java, they were all full," said Intania on Wednesday, January 6.
Intania's mother was in critical condition at that night. Oxygen levels in the 57-year-old's blood stream had drastically declined. Doctors suggested for her to be treated in a hospital with an ICU for Covid-19 patients, but the Ungaran RSUD did not have such facilities. For three days Intania sought after a vacant ICU. On January 3, her mother died without ever getting proper treatment.
Intania's mother was admitted to the Ungaran RSUD on December 28, 2020, after a quick antigen test showed reactive results. According to Intania, her mother stayed in the emergency room for three days. On December 30, her mother was moved to isolation and received a swab test which confirmed that her mother had contracted coronavirus.
W251bGwsIjIwMjEtMDUtMTEgMDU6MDY6NDIiXQ
Hospital bed capacity has indeed exceeded the safe limit. Central Java Governor Ganjar Pranowo said that ICU rooms are at 64 percent capacity. Meanwhile, general isolation rooms are 71 percent filled, despite having an occupancy threshold of 60 percent.
At the Wongsonegoro RSUD, Semarang, the bed capacity even reached 97 percent. Chief Executive Officer of Wongsonegoro RSUD, Susi Herawati, said that Covid-19 isolation rooms at her hospital were unable to accommodate patients by the end of 2020. However, the patients were willing to queue. "There were four to five people waiting (for their rooms)," said Susi.
A similar situation can be seen at the Wonosari RSUD in Gunungkidul Regency, Yogyakarta. Bayu Arsita Mandreana, 34, said that on Thursday afternoon, December 31, he came to the hospital after learning that his swab test was positive. The father of one was asked to wait because the isolation rooms in the emergency facility were full. After four hours of waiting, Bayu then sent a message to the Gunungkidul Covid-19 mitigation task force and the Gunungkidul health service. Bayu received the news that he was referred to Bethesda Hospital, Wonosari, early in the evening.
Wonosari RSUD Director Heru Sulistyowati said the hospital staff had tried to find an empty isolation room in the hospital. The Covid-19 special care room, including the ICU ward, is already overcrowded. "A number of medical personnel at our hospital also contracted the coronavirus," said Heru. Contacted on Thursday, January 7, Chief of the Gunungkidul Health Service, Dewi Irawaty, said that there were only 60 beds remained in seven Covid-19 referral hospitals. The Gunungkidul government also plans to build an emergency shelter to accommodate the increasing number of patients.
On Tuesday, January 5, government's Covid-19 spokesperson, Wiku Adisasmito, stated that Indonesia was in a state of emergency for Covid-19. Wiku said that the occupancy rate of the isolation rooms and the ICUs for corona patients had exceeded 70 percent capacity. Similar conditions are seen in Jakarta; Banten; Yogyakarta; West, Central and East Java; and Central, West and South Sulawesi.
Wiku added that the remaining bed could not necessarily be used due to the limited number of health workers. "About 237 doctors have died and the trend has continued to increase since October," he said. On Friday, January 8, the National Covid-19 Task Force recorded 10,617 new positive cases. The total positive cases in the country reached 808,000.
Rizky, a resident of Yogyakarta, fell victim to the overcapacity in mid-December. At that time, she was helping her father, Yuni Edi, to find a room for treatment. Edi is a patient at the Wisma Budi Makarti Mental Rehabilitation Foundation, Boyolali, Central Java. At the Wisma Budi Makarti, Edi and 11 other patients were suspected of contracting the coronavirus from a nurse. Some of them were referred to the Moewardi RSUD in Surakarta. However, Edi could not be admitted because the isolation rooms at the hospital were full.
Rizky called five hospitals in Yogyakarta, Solo, and Magelang. "All (hospitals) were full. It has been difficult to find a room for my father, who has a mental disorder," said the 29-year-old woman. Edi finally got an isolation room on December 19 — two days after experiencing a fever and shortness of breath. He was treated at the Dr. Suhardi Hardjolukito Air Force Central Hospital in Bantul, Yogyakarta. After being transferred to the Grhasia Mental Hospital in Sleman, Yogyakarta, Edi still tested positive according to the results of the swab test on January 5.
Even in the Capital, conditions are no better. Based on data from the Jakarta health office, the bed capacity in the intensive care rooms were filled up to 79 percent on January 3. In common isolation rooms, occupancy is higher, reaching 87 percent.
Lapor Covid-19 volunteer Tri Maharani is often asked to help colleagues and relatives to find referral hospitals for corona patients. On Wednesday, January 6, while staring at three laptop screens at once, she contacted 69 hospital numbers registered in the Jakarta Integrated Emergency Management System. Only 42 hospitals responded to Tri's WhatsApp messages. "Everyone replied that the rooms were full," she said.
When Tempo contacted the emergency services at Mitra Keluarga Hospital in Kemayoran, Central Jakarta, an officer said that the 60-bed ICU has been full since November last year. The Persahabatan Center Hospital—one of the Covid-19 referral hospitals—is the same. The spokesperson for the Persahabatan Hospital, Erlina Burhan, revealed that the Covid-19 patients who came to the hospital had to wait for other patients to leave because the isolation rooms were full.
While hospitals in Java are struggling to accommodate Covid-19 patients, the Special Hospital for Covid-19 on Galang Island, Riau Islands, is quite vacant. The hospital designated to accommodate corona patients, especially Indonesians who have just returned from abroad, is now only filled with no more than 200 people. The maximum capacity of hospitals on Galang Island is 350 people. The head of the Galang Island Infection Special Hospital, Col. Khairul Ihsan Nasution, suspects that the decline in the number of patients occurred because contact tracing of positive patients began to loosen. "We're a bit confused as well, as the number of national cases increase, our hospitals are quiet," said Khairul.
The soaring number of coronavirus cases and overcrowding of treatment rooms led the government to impose restrictions on community activities in Java and Bali on January 11 to 25. During this time, a work from home system was implemented with up to 75 percent of the building capacity and teaching and learning activities are done online. The policy reverses the government's decision to allow in-class learning starting this January.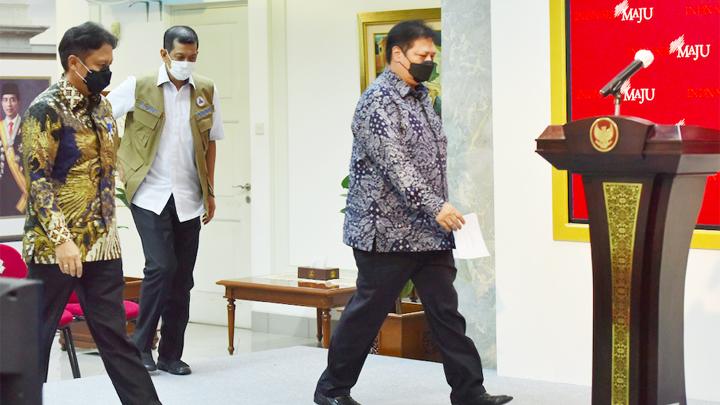 Chairman of the Committee of Covid-19 Mitigation and National Economic Recovery, Airlangga Hartarto (right), at the announcement of the implementation of community activities restrictions, in Jakarta, January 6. ekon.go.id
On Tuesday, January 5, the Coordinating Minister for the Economy who is also Chairman of the Covid-19 Mitigation and National Economic Recovery Committee, Airlangga Hartarto, contacted a number of regional heads. Central Java Governor Ganjar Pranowo said Airlangga asked him to work with governors throughout Java and Bali to suppress the spike in the number of Covid-19 cases. "Pak Governor, we have to work together with other governors," said Ganjar, imitating Airlangga's words to Tempo.
The next day on January 6, President Joko Widodo held a meeting with the governors to discuss Covid-19 mitigation. Ganjar said, in the virtual meeting, the President told the audience about the condition of other countries which were also getting worse. The governors were then asked to convey the outbreak situation in their respective regions.
To the President, Ganjar suggested that the swab test be carried out specifically to trace close contacts. The politician from the Indonesian Democratic Party of Struggle (PDI-P) also said that public health centers should be optimized to overcome the scarcity of treatment rooms and the collaboration of regional heads to reduce the spike in the number of corona cases. After hearing the governors' presentation, as quoted by Ganjar, Jokowi responded, "All the governors here are in agreement."
RAYMUNDUS RIKANG, LANI DIANA, ADAM PRIREZA (JAKARTA), JAMAL A. NASHR (SEMARANG), SHINTA MAHARANI (YOGYAKARTA), YOGI EKA (BATAM)