Sinovac Vaccine Certified Halal
Edition : Monday, January 11, 2021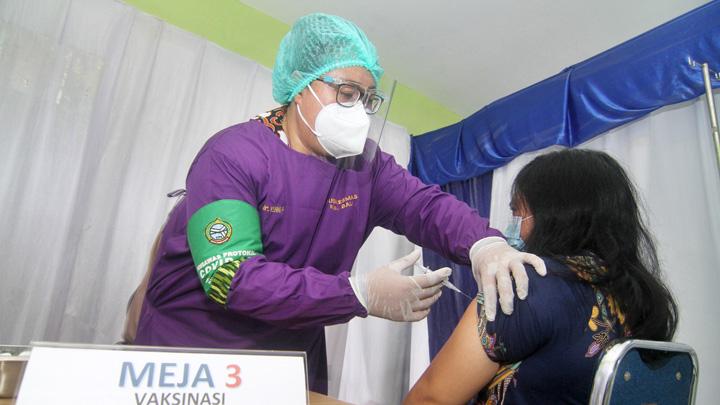 THE vaccination process in Indonesia is getting closer to implementation. On Friday, January 8, the Fatwa (Edict) Commission of the Indonesian Ulema Council (MUI) certified that the Sinovac vaccine made in China is halal (permissible in Islamic law). "After a long discussion, the Fatwa Commission meeting agreed that the Covid-19 vaccine produced by Sinovac which was proposed for the certification process by Bio Farma is legal and halal," said Chairman of the Indonesian Ulema Council for Fatwa and Halal Affairs, Asrorun Niam Sholeh.
Asrorun cannot confirm the safety aspect of the vaccine. He said the full fatwa on the use of the Sinovac vaccine awaited a decision by the Food and Drug Monitoring Agency (BPOM). BPOM Chair Penny K. Lukito is optimistic that the permit will be issued before the day of vaccination begins. In addition to using the final stage III clinical trial data from Bio Farma, BPOM will use data from Brazil and Turkey, which are also conducting clinical trials. Penny said her agency was guided by the World Health Organization (WHO) and the European Medical Agency in granting permits.
Sinovac is one of seven vaccines that will be imported to Indonesia. By the end of December 2020, there were 3 million doses of Sinovac vaccine imported from China. The plan is for Indonesia to start vaccination on January 13. President Joko Widodo will be the first person to be injected with the vaccine before mass vaccination in various regions.
The clinical trial team from the Faculty of Medicine, Padjadjaran University, Bandung, West Java, submitted a report on the results of Sinovac vaccine testing to Bio Farma on January 7. The 20-page report contains the complete results of immunization for 1,620 volunteers for three months. The manager of the Padjadjaran University clinical trial research team, Eddy Fadlyana, said based on the research results, the team found that immunity to Covid-19 appeared two weeks after injection. "The immune system had improved by that time," said Eddy.
W251bGwsIjIwMjEtMDQtMjEgMTU6NTI6MTMiXQ
The Four Stages of Vaccination
THE government plans to start mass vaccination on January 13. There will be four stages of vaccination expected to increase herd immunity.
7 Types of Vaccines
- Oxford-AstraZeneca
- China National Pharmaceutical Group Corporation (Sinopharm)
- Moderna
- Novavax
- Pfizer-BioNTech
- Sinovac
- Vaccines produced by Bio Farma
Vaccination Stage
Phase I (January-April 2021)
Target: health workers
Phase II (January-April 2021)
Target: soldiers, police, public servants, and the elderly (≥ 60 years)
Phase III (April 2021-March 2022)
Target: vulnerable people from geospatial, social and economic aspects
Stage IV (April 2021-March 2022)
Target: community
Principles of Vaccination
- Vaccinations are to be carried out by a qualified doctor, nurse or midwife.
- The vaccine will be injected twice with a gap of 14 days from the first injection.
- The Covid-19 vaccine will be administered through intramuscular injection in the upper left arm with a single-use syringe.
---

Recruitment of Civil Servant Teachers Abolished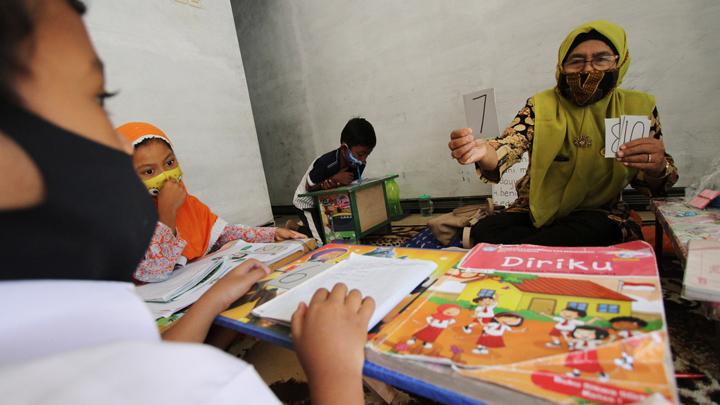 A first grade teacher visits her students by dividing groups at the house of one of the students in Solo, Central Java, last August. Tempo/Bram Selo Agung Mardika
THE government will not recruit teachers as candidates for civil servants this year. Bima Haria Wibisana, Head of the State Civil Service Agency, said 1 million teachers would be recruited as contracted government employees or PPPK. "We've come to an agreement that teachers' (employment status) will be changed to PPPK, instead of CPNS (candidates for civil servants)," said Bima in a press conference on Tuesday, January 5.
Chairman of the Indonesian Teachers Association (PGRI), Unifah Rosyidi, criticized that the regulation discriminates and degrades the teaching profession. She is worried that interest in becoming a teacher will fade even further because of these regulations. The PGRI asked the government to keep two recruitment channels open, namely CPNS and PPPK.
Minister of Education and Culture Nadiem Makarim, through his Instagram account, stated that teacher recruitment through the CPNS route would still exist. "The recruitment of CPNS teachers in the future will still exist because this policy will be in line and complementary with the recruitment of PPPK," he said.
---
Police Fill in Structural Positions at the KPK
CHAIRMAN of the Corruption Eradication Commission (KPK), Firli Bahuri, inaugurated 38 new officers on Tuesday, January 5. Six of them were police generals. The inauguration included Deputy for Enforcement Insp. Gen. Karyoto, Director of Investigation Brig. Gen. Setyo Budiyanto, and Director of Investigation Brig. Gen. Endar Priantoto.
KPK Deputy Chairman Nurul Ghufron stated that the inauguration of the new officers was to implement a new structure in the anti-graft commission. "The structure of positions and the appointment of personnel (was established) through joint discussions," said Ghufron. Now the KPK has nine active police generals. Firli Bahuri is also a three star police general.
Indonesia Corruption Watch researcher, Kurnia Ramadhana, assessed that the large number of police filling structural positions has the potential to erode the independence of the KPK. "Since Firli Bahuri led the KPK, there has been a trend of key positions being filled by the police," said Kurnia.
---
Abu Bakar Ba'asyir Walks Free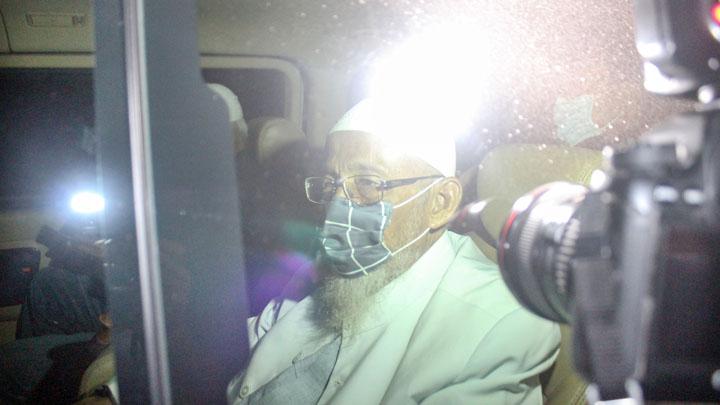 Abu Bakar Ba'asyir leaves the Gunung Sindur Prison in Bogor Regency, West Java, January 8. Antara/Yulius Satria Wijaya
CONVICTED terrorist Abu Bakar Ba'asyir was released on Friday, January 8. Ba'asyir left the Gunung Sindur Penitentiary, Bogor, West Java, and was picked up by his family and lawyer.
In 2011, Ba'asyir was sentenced to 15 years for his involvement in terrorists training in Aceh. "His release has been in accordance with procedures," said Chief of West Java Regional Office of the Ministry of Justice and Human Rights, Imam Suyudi. Ba'asyir received a remission of 55 months.
Chief of the National Police's Public Information Division, Sr. Comr. Ahmad Ramadhan, said the police would monitor Ba'asyir's activities after he was released. "Not specifically, but monitoring is carried out," said Ramadhan. Meanwhile, Al Chaidar, a terrorism observer said Ba'asyir no longer had an influence on terrorism activities in Indonesia.
---

Sriwijaya Airliner Crashes
THE Sriwijaya Air plane with flight number SJY 182 on the Jakarta-Pontianak route is believed to have crashed in the vicinity of Laki Island and Lancang Island, in the Thousand Islands, Jakarta, last Saturday, January 9. Transportation Minister Budi Karya Sumadi said the plane carrying 62 people lost contact at 2:40pm.
"Seeing that the plane was not heading to its proper destination, the ATC (air traffic controller) asked the pilot to report its trajectory. Within seconds, SJY 182 disappeared from radar," said Budi Karya.
The crash site was confirmed on Sunday by the rescue team deployed to search for the wreckage. Deputy for Search and Rescue Operations and Preparedness of the National SAR Agency, Maj. Gen. (Mar) Bambang Suryo Aji, said that scattered pieces were found around Lancang Island and Laki Island.