The Mystery of SJ-182 Flight
The aviation authorities discussed a number of factors related to the crash of Sriwijaya Air Flight SJ-182. The pilot was profiled and new information about suspected damage to the plane was examined. 
Edition : 18 January 2021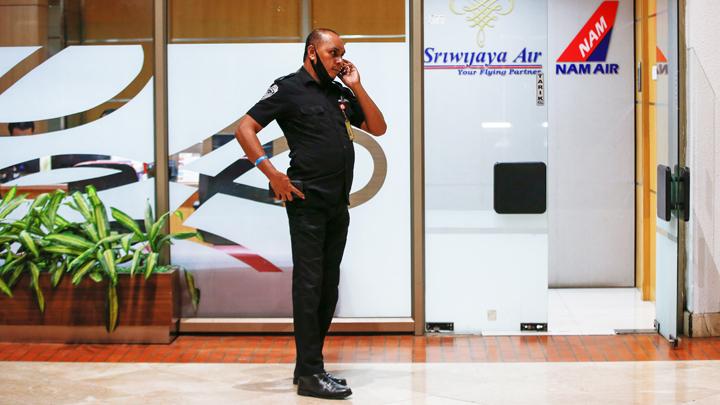 A DAY after Sriwijaya Air Flight SJ-182 disappeared from radar, friends of Captain Afwan Zamzami visited the residence of that airline pilot who met a dreadful fate on a flight from Jakarta to Pontianak, West Kalimantan, on Saturday, January 9. They were friends from Afwan's graduating class at the Indonesian Military Short-Duty Volunteer Soldier Flight School (PSDP-TNI).
They learned from Pipit Rachmawati, Afwan's wife, that their colleague had misread his flight schedule. Captain Afwan thought he would be flying on Saturday afternoon, at 5pm. So he was taking it easy that Saturday morning, and planned to leave his residence at the Bumi Cibinong Endah Housing Complex in the Sukahati, Cibinong subdistrict, Bogor Regency, West Java, at around 2pm.
As it turned out, the car that picks up Sriwijaya Air pilots arrived at 9am. The 2pm time was not his home pick-up schedule, but the time the flight was scheduled to take off. When Afwan did not come out at the appointed time, the driver of the car repeatedly attempted to telephone the pilot.
Afwan, a man who on February 26 would be turning 55 years old, woke up in rush, got ready and headed out. "His shirt and pants hadn't been ironed yet. They were still wrinkled," said Pipit. She only had enough time to prepare two boiled eggs and hot tea for her husband.
W251bGwsIjIwMjEtMDItMjYgMjM6MzY6NDMiXQ
Decy C. Widjaja, the wife of Captain Hasan Basri, wrote about what Pipit said had happened that morning for Jayakartanews on January 11. Captain Hasan, a friend in Afwan's graduating class at the PSDP-TNI flight school, verified what his wife had written. "We visited and gave support to Captain Afwan's wife ," Hasan said when met in Bekasi, West Java, on Tuesday, January 1
Those who graduated with Afwan from the PSDP-TNI or IV Short Military Duty Class of 1987 are among his closest associates. They were high school graduates who enrolled in the Air Force Flight School in Yogyakarta. Those who graduated from there were bound to military service as Air Force pilots for 10 years, known as short-term duty. After that, they are given the choice of either continuing their military service or becoming civilian pilots. Captains Afwan and Hasan chose to become civilian pilots after completing their military service.
•••
THE background of Captain Afwan Zamzami became a topic of discussion in a meeting between the National Transportation Safety Commission (KNKT), transportation ministry, and aviation authority in a shared office at Terminal 3 of Soekarno-Hatta Airport in Tangerang, Banten, on Monday, January 11. During that meeting they went over the initial data related to that airplane with registration code PK-CLC which had crashed in the sea in the vicinity of Laki Island, in Jakarta's Thousand Islands, two days earlier
The discussion about Captain Afwan's background took a rather long time because the initial data, such as weather conditions, communication between the pilot and the Jakarta air traffic controller (ATC), and the maintenance history of the PK-CLC aircraft all appeared to be normal before the disaster. According to a report from the principal operation inspector and the principal maintenance inspector—officials supervising airlines under the directorate of airworthiness and aircraft operations at the directorate-general of air transportation—that airplane had been out of service from March to mid-December 2020, due to the Covid-19 pandemic.
On July 23, 2020, the United States aviation authority FAA warned about potential engine corrosion issues in Boeing 737s which have been out of use for some time. A day later, the Indonesian transportation ministry forwarded this warning to the airlines, so that they could check on the airworthiness of their fleets. These checks were conducted by the airlines on December 2.
A supervising inspector from the transportation ministry did a repeat inspection on December 14. Three days later, this airplane received a certificate of airworthiness which was good until December 17, 2021. The PK-CLC aircraft had flown without passengers on December 19. A commercial flight with passengers on board took place three days later, on December 22.
It was when the initial data about the PK-CLC aircraft all appeared to be in order that the Minister of Transportation Budi Karya Sumadi began asking about the pilot's background. He did not explicitly say why he was asking about the pilot's background information. However, two government officials who attended that meeting understood the direction of this line of questioning. Since the disaster occurred, a lot of news reports about Haji Afwan—the Captain's nickname. Afwan was portrayed as a very religious person, known for never being without his kopiah (white cap commonly worn by Muslims) while on duty.
When discussing the captain's profile, KNKT Chairman Soerjanto Tjahkjono and his team came up with a theory. According to Soerjanto and his team, if the pilot had any intention of deliberately crashing the aircraft, there would have been resistance from the other pilot. Such a scuffle would have been heard on the communications or a code would have been sent to the ATC. "But no such communication or code was given," said that official, relating the explanation given by the KNKT team.
Contacted since Thursday, January 14, Ministry of Transportation Spokesperson Adita Irawati has been reluctant to reply to Tempo's questions about that meeting. Another official close to Budi Karya who wished to remain anonymous verified that is indeed what happened at that Monday meeting. "That's what happens when there is a crash. All aspects must be studied. The final result still waits for the data from the flight data recorder (FDR) and cockpit voice recorder (CVR)," said that official.
The FDR and CVR are the equipment usually referred to as the black box. On Tuesday, January 12, the joint search and rescue team found the FDR at a depth of 20 meters. The CVR was still being searched for as of last weekend.
Captain Hasan Basri has known Afwan for decades. Hasan said that this friend of his does not shy away from expressions of his religious devotion. However, Afwan's devotions, he added, are limited to his person. For Christmas in 2020, said Hasan, Captain Afwan sent a Merry Christmas and Happy New Year wish in their Graduating Class chat group. "Good evening to everyone who is celebrating XMAS/NEW YEAR this night and after. May you always be healthy and happy," wrote Ajo Af-1—their nickname for Afwan. "He is originally from Batusangkar (West Sumatra). We call him Ajo (big brother) Af-1 (Af-one)," said Hasan.
•••
SRIWIJAYA Air's airplane with registration code PK-CLC which was flying the Jakarta-Pontianak route with flight number SJ-182 was declared to have lost contact on Saturday, January 9, at 2:20pm Western Indonesia Time (WIB). The Boeing 737-500 aircraft was carrying 40 adult passengers, seven children and three infants. There were 12 crew members on board that ill-fated flight, including two pilots, Captain Afwan Zamzami and co-pilot Diego Mamahit.
The flight was initially scheduled to depart at 1:25pm. Due to inclement weather, takeoff was delayed until 2:36pm. During takeoff, at 2:37pm, Captain Afwan asked for clearance to climb to an altitude of 29,000 feet.
That afternoon, the PK-CLC aircraft was flying on instruments. Each maneuver had to be cleared by an ATC officer. However, after flying for just four minutes, at around 2:40pm, the airplane suddenly banked to the left, veering away from the scheduled flight path.
Recognizing that the plane had banked left at an altitude of 10,900 feet—about 3,322 meters above sea level—at a speed of 287 knots or 531 kilometers per hour, an ATC officer inquired. "Why have you turned?" the officer asked the pilot, as was imitated by one aviation authority official. This was the start of the mystery which has remained unanswered one week after the crash: what happened to Flight SJ-182 as it was flying over the Thousand Islands?
Vincent Raditya, a licensed Airbus A320 pilot and YouTuber, read the data on Flightradar24.com which recorded the movements of Flight SJ-182. He said that at 2:37pm, the PK-CLC airplane pitched three degrees to the left at an initial 46-degree angle. Less than a minute later the airplane has strayed from the flight path, 16 degrees from the initial point.
In less than a minute the airplane had rolled 339 degrees to the left, in other words turning upside-down. "This means that the airplane dived down from an altitude of 10,500 feet (3,200 meters) to 8,950 feet (2,728 meters)," said Vincent on his YouTube channel, on Sunday, January 10. The ground speed of the airplane was 224 knots or about 415 kilometer per hour. "This indicates its altitude had dropped."
The final data recorded by Flightradar24.com indicated that the aircraft had fallen to an altitude of 250 feet and had a ground speed of 358 knots or 663 kilometers per hour. Even though that flight-tracking website summarizes data from the automatic dependent surveillance-broadcast, multilateration, and radar, Vincent pointed out that it does not necessarily mean that all of those figures are correct. "Even though they can be taken as decent indicators, they are just estimates," said Vincent.
Captain Shadrach Nababan, a non-active licensed Boeing 747-400 and Airbus 330 pilot, concurred. The data from Flightradar24.com cannot be fully relied upon. According to him, its system is similar to a global positioning system (GPS). "We don't know how the Flightradar system records data," said Shadrach when contacted on January 15.
It was 2:40pm and 11 seconds, on Saturday, January 9, when a Jakarta ATC officer was waiting for a reply from Captain Afwan or Copilot Diego. Four seconds later, the airplane disappeared from the ATC radar. The ATC officer in Jakarta asked pilots of other airplanes in the area if they had any contact with the missing flight, but no one knew the whereabouts of airplane PK-CLC.
•••
WHEN listening to the presentation of the initial data on the missing airplane at Terminal 3 of Soekarno-Hatta Airport, Minister Budi Karya did not come across any records which were cause for concern. The aircraft was airworthy despite being 26 years old.
Recently, an official at the transportation ministry said that a month before the crash the PK-CLC's automatic throttle (A/T) was repetitive. By this, they meant that it was a recurring problem for a month. This official indicated that this issue was not handled seriously by the airlines, and had escaped the attention of supervising inspector from the transportation ministry.
The automatic throttle or autothrottle is a stick control which is located between the seats of the pilots. It enables them to take control of engine power by setting the desired flight characteristic. In addition to conserving fuel, the autothrottle can extend the life of the engines.
Captain Shadrach Nababan explained that damage to the autothrottle is not actually very significant in aviation. The pilot can still replace its role by taking manual control,. "For a manual flight, it is usually limited. It cannot be done for more than a certain number of flight hours," he said.
The autothrottle works in conjunction with the auto flight director system. This system automatically regulates the flight plan and greatly reduces pilot's workload. "If the setting is off a bit, it can be manually adjusted by the pilot," said Shadrach.
In addition to mentioning the issue with the autothrottle, the ministry official said that the airplane's right side engine had been replaced. "I did hear that. There is no problem with that," said KNKT Chairman to Soerjanto Tjahjono to Francisca Christy Rosana from Tempo at the Flight SJ-182 Crash Coordination Post at the Jakarta International Container Terminal 2 port, on Wednesday, January 13.
According to KNKT's interim investigative findings, the airplane's engines were not dead when it hit the water. At an altitude of 250 feet—the last available data—the system was still functioning and able to send data. "From this data we suspect that the engines were still running before the airplane hit the water," said Soerjanto.
Debris from the airplane was spread over an area 100 meters by 300-400 meters, indicating that the plane had not exploded before it crashed into the sea. The KNKT said that it did not have any data about the suspected recurring issue with the autothrottle.
Contacted since Friday, January 15, Dadun Kohar, Director of Airworthiness and Aircraft Operations has not replied to questions about suspected recurring problems with the PK-CLC airplane's autothrottle. Adita Irawati also did not respond when contacted starting on the same day.
The transportation ministry has only said that the airplane was airworthy. In a written statement, Adita said that the directorate-general of air transportation had conducted routine supervision in the context of extending Sriwijaya Air's air operator certificate (AOC) last November. "The conclusion was that Sriwijaya Air had met the stipulated provisions," said Adita on Monday, January 11.
Sriwijaya Air Chief Executive Officer Jefferson Jauwena and Operational Director Didy Iswandi did not respond to questions about suspected recurring issues with the PK-CLC airplane's autothrottle. On Saturday, January 9, Jeffry—Jefferson's nickname—only said that the airplane was airworthy. "Because it had flown to Pontianak, a round trip to Pangkalpinang (Bangka-Belitung Islands)," he said at Soekarno-Hatta Airport.
Captain Rama Noya, Deputy Chairman of the Indonesian Pilots Association, and a Boeing 737 Next Generation pilot for Sriwijaya Air, also said that, as far as he knows, there was nothing noteworthy in the PK-CLC airplane's deferred maintenance item document before the plane crash. "If there had been any complaints from pilots before that, they certainly would have been written there," said Rama when contacted on Friday, January 15. "So that problem item mentioned (the autothrottle) was no longer there."
The KNKT usually releases initial airplane crash data a month after the occurrence. The final investigative report often takes a year to complete. That is where one will find complete answers regarding the cause of the crash of airplane PK-CLC while on Flight SJ-182 on Saturday, January 9.
KHAIRUL ANAM