Jokowi's Adjutant for the Top Cop Spot
President Joko Widodo named Comr. Gen. Listyo Sigit Prabowo as the sole candidate for National Police chief. Their closeness is considered as being a determining factor.
Edition : Monday, January 18, 2021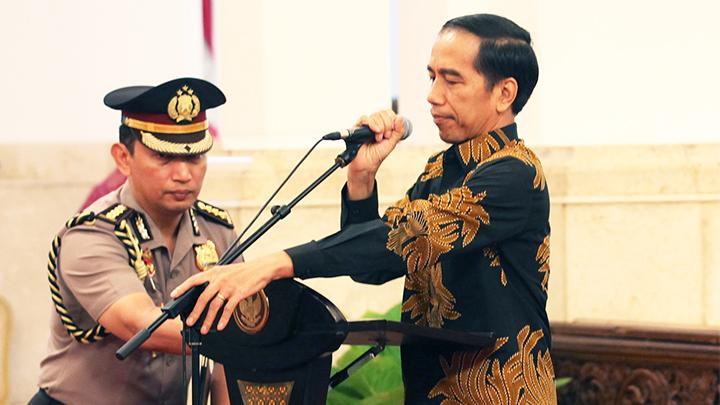 SPEAKING by phone, West Nusa Tenggara Police Chief, Insp. Gen. Muhammad Iqbal, joked with Comr. Gen. Listyo Sigit Prabowo. On that day, Monday, January 11, news had spread that President Joko Widodo had selected Sigit as the lone candidate to become the new National Police chief. "Yes, Mister National Police Chief. Ia am ready for your orders," said Iqbal.
The Chief of the National Police's Criminal Investigation Department (Bareskrim) replied to Iqbal's banter. "Don't be like that," said Iqbal, imitating Sigit's words, on Friday, January 15. Iqbal explained to Sigit that his statement was a prayer of support. The two had a good chuckle of the call.
Iqbal and Sigit were in the same graduating class at the Police Academy. They were in the Graduating Class of 1991. As Chairman of the Bhara Daksa—the name of the Class of 1991—Iqbal said that he had called Sigit representing their class. "Nothing is impossible if God wills it," Iqbal said to Sigit. The latter informed him that he was focusing on his work in the Bareskrim. "He is still a humble person," said Iqbal.
Rumors that President Joko Widodo had chosen Sigit as a candidate for the National Police chief was confirmed two days later. On Wednesday, January 13, Minister/State Secretary Pratikno delivered a letter from the President about Sigit's selection as a candidate for National Police chief to the leaders of the House of Representatives (DPR). "The government greatly hopes that this process is quickly followed-up on at the soonest," said Pratikno. Two DPR members from a coalition party said that even though Pratikno had just delivered that letter to the DPR on Wednesday, January 13, that letter recommending Sigit had been signed by Jokowi on Saturday, four days earlier.
W251bGwsIjIwMjEtMDUtMTEgMDU6MDE6MDAiXQ
The man born in Ambon on May 5, 1969, is set to replace Gen. Idham Azis, who will retire on January 30. Idham, from the Class of 1988A, took over as top cop when Tito Karnavian was appointed minister of home affairs in October 2019. On his way to becoming National Police chief, Sigit has bypassed candidates from the Classes of 1988B, 1989, and 1990. There were also police officers who had graduated before him, in 1987 and 1988A, who still had more than two years of active service left.
Signs that Sigit would be chosen were already apparent at the end of last year. A high-ranking member of a coalition party and a DPR member from the Indonesian Democratic Party of Struggle (PDI-P) said that Jokowi summoned Sigit to meet a week before the National Police Commission sent the names of five candidates to the Presidential Palace on January 6. In addition to Sigit, the others suggested by the Commission were: Chief of the National Police's Education and Training Institution, Comr. Gen. Arief Sulistyanto; Chief of the National Police's Maintenance and Security Agency, Comr. Gen. Agus Andrianto; Deputy National Police Chief, Comr. Gen. Gatot Eddy Pramono; and Chief of the National Counterterrorism Agency (BNPT), Comr. Gen. Boy Rafli Amar.
Poengky Indarti, a commissioner at the National Police Commission, said that their institution had gone through all of the police commissioner generals who were still on active duty, then narrowed it down to five suggestions based on various considerations. "Achievements, integrity, and track record were our main focus, including their retirement date," said Poengky.
At 51, Sigit is the youngest of those five candidates. He is not set to retire until 2027. Arief, Gatot, and Boy will retire in three years. Agus will retire in 2025.
In addition to the suggested candidates from the National Police Commission, Jokowi asked for input from the top officials of coalition parties last December. According to one person who took part in that meeting, Jokowi asked his guests to name potential candidates. This source said that they did not suggest anyone.
High-ranking officials from other parties suggested three police generals. They were: State Intelligence Agency (BIN) Chief Secretary Comr. Gen. Bambang Sunarwibowo, Agus Andrianto, and Listyo Sigit. Bambang Sunarwibowo is considered to have exceptional planning skills. However, this graduate from the Police Academy's Class of 1988B has never been a regional police chief.
Agus Andrianto is seen as having greatly helped the government. He is also said to be close to Jokowi's son-in-law, Bobby Nasution, who recently won the election to become Mayor of Medan in North Sumatra. When he was police chief of North Sumatra, Agus was considered to have successfully handled public order for the 2019 presidential election. Jokowi won by 350,000 votes over Prabowo Subianto in North Sumatra.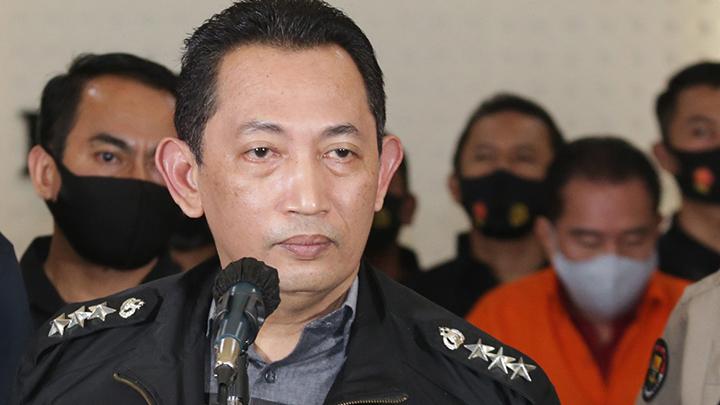 National Police's Criminal Investigation Department Chief Comr. Gen. Listyo Sigit Prabowo after arresting Joko S. Tjandra at the Bareskrim building, Jakarta, Thursday, July 30, 2020. TEMPO / M Taufan Rengganis
Sigit is seen as having a calm demeanor and good relationships with leaders of religious communities, and able to get on well with all segments of society. "Jokowi's consideration is to safeguard stability until 2024 by avoiding any commotion," said that source. "Of all the candidates, Jokowi has more personal knowledge of Sigit." Two other sources corroborated this information. One of them, a former Presidential Palace official, said that Sigit has long been prepared to become police chief because he has proven his loyalty. "Jokowi will select someone whose character he is familiar with," the source said.
Sigit started becoming close with Jokowi in 2011. At that time, Jokowi was in his second term as Mayor of Solo in Central Java. Sigit was chief of the Solo Police Department, holding the rank of senior police commissioner. Five months after Sigit was appointed, in September 2011, a suicide bomb detonated at Bethel Injil Sepenuh Kepunton Church in Solo.
This took place just three days before Solo planned to host the Asian Parliamentary Assembly. At the time, Jokowi was busy campaigning for Solo to become a tourist destination. The two worked closely to restore security in Solo, and the event went smoothly. They have grown closer over time.
When Jokowi won the 2014 presidential election, Sigit was appointed as president's adjutant. At the time, Sigit was director of the general crimes investigation unit at the Southeast Sulawesi Police Department. After two years as Jokowi's adjutant, Sigit was promoted to become chief of the Banten Police Department.
As a Christian, Sigit was initially rejected by the ulama and leader of Islamic boarding schools in Banten, a region with a Muslim-majority population. After visiting the kiai (cleric) there, Sigit was able to pacify their objections.
Sigit became increasingly connected to the "Solo Gang" when he was chosen to head the Bareskrim in December 2019. That group refers to people who are close to Jokowi who had worked with him in Solo. Reportedly Jokowi himself asked the National Police chief to name Sigit to take up the position.
After Jokowi appointed Sigit, the four three-star police generals who were his competition reportedly immediately congratulated him. Deputy National Police Chief Gatot Eddy immediately went to Sigit's office. Speaking to Tempo, Gatot voiced his commitment to support Sigit. "I am with the Bhayangkara (police force) known for satya prabu (loyal to the nation and leadership). Together we are going to build the institution to continue to serve the nation," he said.
• • •
COMMISSIONER Gen. Listyo Sigit Prabowo visited the top officials of coalition parties after the DPR received the President's letter on Wednesday, January 13. It turned out that these visits produce good results.
Suharso Monoarfa, General Chairman of the United Development Party (PPP), who was visited by Sigit, considered his guest to have the qualifications to become National Police chief. He believes that Sigit gives precedence to dialogue in maintaining public security and order. "Sigit's style is calm and not rushed," said Suharso.
Trimedya Panjaitan, a member of the DPR's Legal Affairs Commission from the PDI-P Faction, said that he predicted that Jokowi would choose Sigit. He said that Jokowi was set on choosing Sigit after New Year's Day. He said that he heard at the end of December that the new National and deputy National Police chief would be Sigit and Gatot Eddy. "We already counted on Sigit's appointment," he said.
However, Sigit's journey to the police top spot was not particularly smooth. He was tied up in a case of removing Joko Soegiarto Tjandra from the police's wanted list. Tommy Sumardi, a businessman who helped that fugitive in a corruption case involving Bank Indonesia Liquidity Assistance funds to arrange for his Interpol red notice to be dropped, was said to be close to Sigit. Anonymous letters spread connecting Sigit with Tommy.
Speaking to Tempo last October, Sigit said he has long known Tommy. He sees their acquaintance as being normal because Tommy knows many high-ranking police officers. "He met me several times at my office, but they were all ordinary meetings," said Sigit. He did not deny the suspicion that the Joko Tjandra case heated up the competition among the police generals. "Some did connect the Joko Tjandra case with who will become the new National Police chief," said Sigit.
Later a transcript circulated of a conversation recorded between: Tommy; former chief of the National Police International Relations Division Insp. Gen. Napoleon Bonaparte; and former chief of the Civil Servant Criminal Investigators Coordination and Supervision Bureau in the National Police's Criminal Investigation Department, Brig. Gen. Prasetijo Utomo, which took place in prison on October 14, 2020.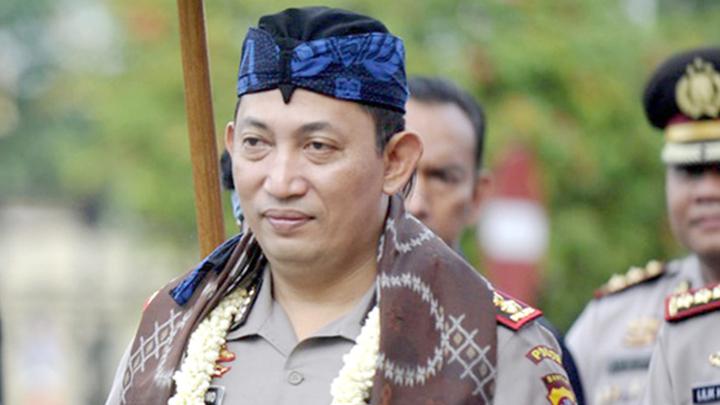 Listyo Sigit Prabowo as senior commissioner during a welcoming party at the Banten Police Headquarters in Banten, October 2016. Antara/Asep Fathulrahman
Napoleon and Prasetijo were suspected of being involved in efforts to secure the elimination of a Joko Tjandra's red notice and asking for compensation from Joko for doing so through Tommy. The Bareskrim detained the three of them in October last year. Tommy was sentenced to two years imprisonment. The cases against Napoleon and Prasetijo are still being tried at the Jakarta Corruption Court.
In the transcript of the recorded discussion read by Tempo, Napoleon pressured Tommy. Napoleon considered that Sigit was taking advantage of the red notice case to prove himself to the public and to clear his own name.
Napoleon's lawyer, Haposan Batubara, said that conversation occured when Tommy had just been imprisoned. According to him, that conversation took place upon Tommy's request through Prasetijo. "He asked to meet three times. Finally Napoleon met him in his cell and recorded that conversation," said Haposan.
Tommy's lawyer, Dion Pongkor, said that the transcript of the recording does exist. However, he said that the meeting took place upon Napoleon's initiative. It is also Napoleon who is suspected of directing the conversation in that recording and pressured his client to take part in the scenario in question. "They made a simulation but did not record it. It was only after discussing several matters that it was recorded by Napoleon. But how could a cell phone be brought into the prison?" Dion asked.
Commissioner Gen. Listyo Sigit denied various accusations from the transcript. He reminded that there are potential criminal charges for disseminating the transcript of that conversation. "Especially since it was engineered," he said.
He emphasized that the criminal investigation into the Djoko Tjandra case was unrelated to who would become the new National Police chief. The Djoko case, according to him, was a big occurrence in July of last year, before there was any talk of who would replace Idham Azis. "Bareskrim exposed this case as a form of public accountability," he said.
LINDA TRIANITA