Claimed by the Sea
The rising sea is turning the lives of Bendono village residents in Central Java upside down. Fertile rice fields and productive fishponds are now under water.
Edition : Monday, January 18, 2021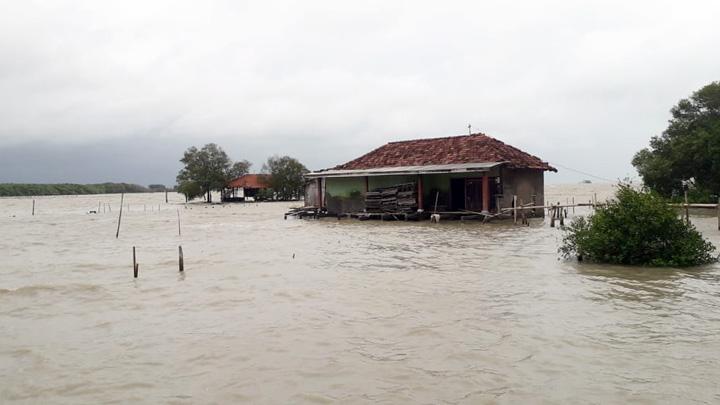 WAHYUDI, a resident of Bendono village in Demak Regency, Central Java, still remembers what his village was like 30 years ago. His house was around a kilometer away from the shoreline. "Between my house and the beach, there were a vast expanse of rice fields and fishponds," said the 57-year-old man on Friday, January 8. His yards are now covered in seawater.

Life in his village has changed since the coastal flood began sweeping inland in the 1990s. Initially, it only went as far as the paddy fields and fishponds. Then seawater spread out and inundated most of the area, forcing the residents of Tambaksari hamlet to relocate in 1999. Residents of Rejosari followed suit seven years later.

The two hamlets now have practically become part of the sea, yet a handful of their original residents are still living there. Wahyudi is one of them. He is holding on by raising the floor of his house. Some others built stilt houses with wooden or bamboo flooring.
Aslor, secretary of Bedono village, said the village once prospered from the fertile land. Residents worked the rice fields and fishponds. Harvests from both the land and sea were abundant. "That time, most of the people in Demak who went on the haj pilgrimage were from here," he said.

The situation took a 180-degree turn upon the arrival of the abrasion disaster. The fertile farmland was swallowed by the sea, and the fishponds lost their productivity. "People here used to not go elsewhere (to work). Now there are many who work in factories and building construction," said Aslor.
Aslor told that the coastal flood first came to their village in 1994, inundating the land on the northernmost part of Bedono before spreading out from there. "Now only 20 percent of land is left," he said. Another hamlet, Mondoliko, is asking for relocation, but is not yet approved. The flood in Mondoliko is quite severe, cutting access to the village. Its residents are trying to hold on by planting mangrove.
Bosman Batubara, a researcher in the University of Amsterdam's Department of Human Geography, Planning and International Development in the Netherlands, said that based on Landsat satellite imaging, abrasion has claimed 4,274 hectares of dry land in Sayung, Demak, between 1972 to 2019. Bosman, who has joined the Semarang-Demak Coastal Coalition, investigated the abrasion in Sayung in May to December 2019.
W251bGwsIjIwMjEtMDUtMTEgMDU6MDM6MDYiXQ
Factors affecting the abrasion in Demak, according to Bosman, include coastal flooding, rising of sea level, and subsiding coastline. Bosman explained that, based on a study by geological experts, land subsidence in Sayung measures as high as 10 centimeter per year. Meanwhile, sea level rises 0.5 centimeter every year. These two factors contribute to the massive coastal flood inundating the area.

A researcher from the Bandung Institute of Technology's Geodesy Expertise Group, Heri Andreas, said that what happened in Demak is the common abrasion pattern along the coastline of Java. The Earth's increasing temperature melts the polar ice caps, triggering the rise of sea levels and coastal floods. "Moreover, there is land subsidence along the coast," said Heri on December 31.
Land subsidence, according to Heri, may be caused by excessive groundwater extraction, oil or gas mining activities, or natural, tectonic factors. A similar situation is found in Muara Gembong, Bekasi Regency, West Java. Based on data not yet published by Heri, land subsidence in Muara Gembong to Cirebon measures between two to 10 centimeters per year.

Muaragembongkita Community head, Yusuf Maulana, said severe abrasion started sometime between 1997 and 1998. As more water came in and sea level rose, residents began to relocate. The coastline moved inland by one to two kilometers. At least four villages were affected by the severe abrasion. "The results of which are still visible now, such as houses being in the middle of the water like an island. There are also remains of destroyed buildings," said Yusup.

Coastline that has moved further inland is also found in West Kalimantan. According to a study by Kiki Prio Utomo, an Environmental Engineering lecturer in Tanjungpura University Engineering Faculty, Pontianak, the coastline in the area has retreated some 220 meters between 2008 to 2019. He said that the abrasion may have been caused by strong currents and high waves.

Muhammad Zulkifli, a resident of Tanjung subdistrict, Mempawah Hilir, West Kalimantan, experiences the change. When Tempo met him on Wednesday, January 13, he pointed to a coconut tree standing on what used to be a football field. The tree is now a kilometer away from the coastline, with only a small part of its trunk remaining above water. "That is where we used to play football," he said.
ABDUL MANAN, JAMAL A. NASHR (DEMAK), ANWAR SISWADI (BANDUNG), ASEANTY PAHLEVI (PONTIANAK)