Awaiting Cure for Sriwijaya
The crash of flight SJ-182 is expected to put Sriwijaya Air under immense pressure and the shadows of heaping old debts. 
Edition : 18 January 2021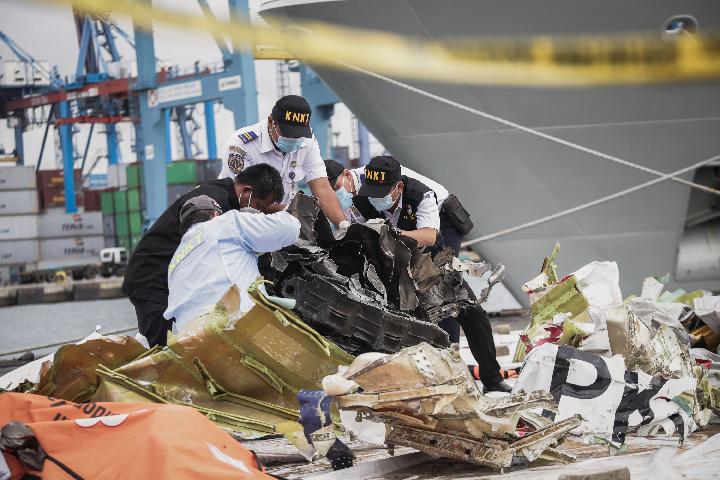 AS predicted, the aviation business is unlikely to return to its glory this year. The increasing Covid-19 positive cases and a new variant of the virus discovered in late 2020 have forced governments around the world to reinforce public restriction and close borders again. There are now predictions that domestic flights will be affected as well.
For Sriwijaya Air, the Boeing 737-500 airplane crash on January 9 makes things even worse. The plane, registered as PK-CLC, crashed to sea when flying from Jakarta to Pontianak, West Kalimantan, which is one of the airline's top five routes over the last year.
The management declined to say how the tragedy is affecting Sriwijaya Air's business plans. The airline's spokesperson, Theodora Erika, said the company is focusing on dealing with the accident to the airplane with flight number SJ-182. On Saturday, January 16, she said the company will release a statement a week after the evacuation process is completed.
Last November, Sriwijaya had expressed optimism ahead of the Christmas and New Year's holiday. The company's financial records from January to October revealed that the Jakarta-Pontianak route contributed well to the airline's finances, along with the Pontianak-Jakarta, Makassar (South Sulawesi)-Jakarta, Surabaya (East Java)-Makassar, and Makassar-Surabaya routes. "Based on our evaluation, the five routes provided positive performances to the company," Sriwijaya Air's corporate communication team said at the time.
W251bGwsIjIwMjEtMDItMjYgMjI6MzU6MTEiXQ
But the pandemic affected the airline nonetheless. As of October, the airline only served 69 flights, down from the 112 they flew as per October 2019. "Based on the data, we will carry out the strategy we have drawn up so far with routine evaluations, whilst keeping an eye on the development of the national aviation industry," the company had said.
Sriwijaya Air has just started a new chapter of its operations after splitting from the Garuda Indonesia Group in November 2019. The two airlines ended their co-management by putting the blame on each other. Through its lawyer Yusril Ihza Mahendra, Sriwijaya Air owners said that partnering with Garuda resulted in losses.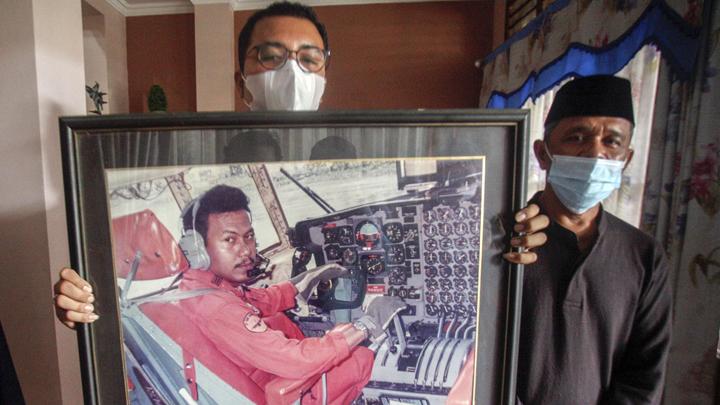 Family members carrying a framed photo of Sriwijaya Air SJ 182 pilot, Capt. Afwan, at his home in Cibinong, Bogor, West Java, January 10. Antara/Yulius Satria Wijaya
Sriwijaya said that its market share plummeted due to unfair competition and conflicts of interests with Garuda's subsidiary airlines. They also said they debts increased instead of declining as a result of management fee and profit sharing provisions.
Meanwhile, Garuda Indonesia spokesperson Ikhsan Rosan at the time said that the operational cooperation was a step to secure state assets and receivables on the Sriwijaya Air Group. With the partnership ended, Ikhsan requested Sriwijaya Air Group's goodwill to settle its obligations to several state companies.
Aside from the pandemic and the SJ-182 plane crash, Sriwijaya Air has long been neck-deep in debts. According to Garuda Indonesia's financial statement per September 2020, the receivables from Sriwijaya Air amounted to US$37.5 million or around Rp527 billion. The figure was down from December 31, 2019, when it stood at US$40.25 million. The financial statement also noted that Garuda has made fiduciary bonds on certain fixed assets belonging to Sriwijaya Air.
In the same period, Sriwijaya's debt to Garuda Maintenance Facility AeroAsia reached US$54.28 million or roughly Rp763 billion; up from 2019's US$47.85 million. Garuda Maintenance Facility also recorded other receivables from Nam Air, a subsidiary of Sriwijaya Air, worth US$9.18 million or approximately Rp129 billion.
The fate of Sriwijaya Air's debt to a number of other state-owned enterprises remains unclear. The company still owes to, among others, Pertamina, Angkasa Pura I, and Angkasa Pura II. According to an aviation observer Gerry Soejatman, Sriwijaya Air's business will still be in a lot of hardships. However, Gerry said that the airline's current condition is still better than staying with the Garuda Group. He likened Sriwijaya's current condition to a sick person who is now being treated in intensive care, which is a better option compared to being a sick person who was working with the help of someone else—in this case Garuda.
Gerry also said that the airline now can only operate fleet units according to their ability to pay for operating costs. He said that out of a total of 30 aircraft, Sriwijaya only operates no more than 10. "Some are in maintenance. The good planes are working to make money to pay that maintenance cost."
The truth is, Sriwijaya has worked on a variety of options to overcome their liquidity crisis. Chandra Lie, owner of the company, even mentioned an initial public offering (IPO) plan. "An IPO is a big dream for our company," he said in September 2016. At the time, Chandra Lie was hoping that funds from the tax amnesty program could be used to buy shares in Sriwijaya Air.
However, Sriwijaya Air Group's Chief Executive Officer Jefferson Jauwena asserted that the company was focusing on restoring its finances after the chaotic cooperation with Garuda. The situation, he said, had caused flight frequency to drop, leading to airplanes being grounded.
The plan to raise funds failed as the economy weakens. Meanwhile, Sriwijaya Air's Finance Director Andreas Gunawan said that the IPO is just one of several options the company prepared to source funds. The company is currently opening up to accept investors or lenders.
However, this option is not without obstacles. The aviation industry and most of the tourism sector have been severely injured by the pandemic after Covid-19 spread to Indonesia in March last year. In early January, the Central Statistics Agency (BPS) noted that the number of passengers on domestic routes throughout November 2020 was only 2.97 million, down by more than half from the 6.6 million recorded in the same period the previous year.
Amidst all of these troubles, Gerry suggested airlines, including Sriwijaya, to be creative. New opportunities, he said, arise from cargo services, with volumes that continue to increase. As of December, the cargo business' monthly volume almost matched the figures in November and December 2019, which are between 37,000 and 38,000 tons per month. "This can reduce the company's production costs," he said. "It will not cover everything (airline operating costs), but at least it could ease some of airline's financial burdens."
RETNO SULISTYOWATI, FRANCISCA CHRISTY ROSANA